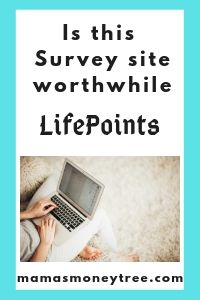 If you are trying to figure out: Is LifePoints a scam? Then you are not alone.
Welcome to my LifePoints review.
LifePoints is a relatively new survey panel, which previously used to be a mobile app. It is currently a website version only, having merged Global Test Market and MySurvey into a platform that looks sleek and modern.
Among so many survey panels out there, is this one that's worth your time and effort? Or are you better off taking your energy elsewhere?
Join me in this honest and in-depth review of LifePoints, as I walk you through its pros and cons, showing real users' feedback, so that you can make a better-informed decision for yourself.
Without further ado, let's dive right in now!
---
LifePoints Review Summary
Product: LifePoints
URL: https://www.lifepointspanel.com
Product type: survey panel, GPT (get paid to) site
Price: free to join
Scam / Legit? : Legit
Recommended or not? : Not recommended
LifePoints is a legitimate survey panel that pays out to its members, with mainly surveys and some other ways to earn points, which can be cashed out via PayPal, or exchanged for gift cards.
Its earning potential is average compared to other survey sites, but its large number of negative reviews stand out, hence I cannot recommend this platform.
If you are open to the idea of creating something much bigger with the time you have, instead of just earning peanuts on survey sites, check out my #1 recommendation to making money online:


Read on for the detailed review of LifePoints, and why I do not recommend it.
---
What is LifePoints
To find out what is LifePoints, we hop right onto its website.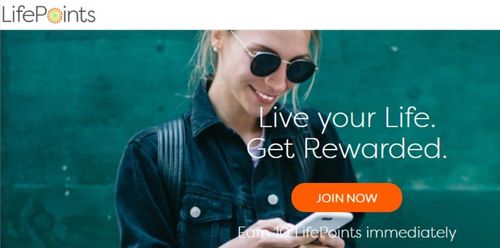 LifePoints is essentially a survey panel, that helps its clients reach out to the masses, to conduct market research which will help them make certain products or marketing decisions.
There are so many such survey panels out there, you can't possibly sign up to every single one.
The strategy is to find just a few great ones that pay well for your time, pay promptly, and give you the least amount of the common frustrations that you would typically encounter on such platforms.
Does LifePoints look promising as a potential candidate?
Let's start digging around to see what we can uncover.

Signing up with LifePoints
Signing up is easy, requiring just your name, email address, password, and your home address.
Complete this process and you will get 10 LifePoints!
Complete your profile on LifePoints
Before you start receiving your first survey, you are required to complete your profile, by answering some basic questions that are typical of all survey sites.
The information may seem sensitive and personal, but they do need these details in order to serve you surveys that match your profile in some ways.
Examples of the questions include:
– what is your occupation
– what is your income
– what is your marital status
– how many children do you have
and so on.
It should take you about 10 minutes to complete, after which you will be awarded with another 10 LifePoints!
Do make the effort to enter your information as accurately as possibly in your profile, as it would avoid you wasting time going through too many pre-qualifications for surveys, only to find out you actually do not qualify.

Ways to earn with LifePoints
Completing Surveys
This is the main way to make some money on this platform.
Completing a survey earns you an average of 50 to 100 LifePoints, taking up an average of 10 to 20 minutes of your time.
Generally, the longer time required of a survey, the higher it should pay.
One common complaint about the surveys on LifePoints is that the estimated time shown for the survey seems to show longer once you click through to get into the survey.
Also, be prepared for instances of being kicked out during the pre-qualification stage, while answering the pre-qualification questions.
This is common across all survey platforms, because there is no way your profile information is detailed enough to let companies know whether you meet their exact demographic profile, which will have much more specifics that relate to each particular survey.
The good thing is that LifePoints actually awards you between 2 to 3 points if you get kicked out of surveys! Though it's tiny, it's still a kind gesture that you do not find on many survey sites.

Video surveys
This is a concept similar to MindSwarms, where some companies prefer to collect their data in the form of video recording of a person answering their survey questions.
This allows them to tell a person's attitude towards the subject, through tone of voice, body language, eye contact, and so on, that they will not be able to get through traditional 'written' forms of surveys.
Opportunities for video surveys are rarer, though. And more likely made available to active members who have gained the trust of the platform.

Testing of products
Some companies may require participants to test out their new products, and provide their feedback after a certain period of usage.
Depending on the nature of the product, it could be an app you download, a subscription you try out, or a physical product that will be sent to your home address.
Not only do you get paid for your feedback, chances are you will get to keep the products as well.
Opportunities like this are rare too, so if presented to you, grab it after you check out the terms and conditions, and are happy with them.

Community Discussion Boards
These allow you to engage in conversations with other LifePoints members, for each topic that is set up.
It won't make you rich overnight, as such participation only earns you a few points.
But I think it makes for a fun and lively way to get your voice heard.
Especially if you already love commenting in forums or social media platforms outside of LifePoints anyway, without earning a single cent, you might as well spend a bit of time here.

Getting paid on LifePoints
The LifePoints that you earn can be exchanged for cash (PayPal option is available) or a variety of gift cards.
The smallest amount that you can exchange for is 345 points – getting you a $4 Starbucks voucher.
That works out to about 100 points for $1, thereabouts.

Now that we have seen how LifePoints works as a survey panel, let's move on to take a look at the feedback from its users, especially those who have transitioned from the two older survey sites, Global Test Market and MySurvey.

Feedback from LifePoints users
On SiteJabber, LifePoints was given a 1.5 stars rating, based on a large number of 129 reviews.
To me, this is pretty bad. Let's take a closer look at what these LifePoints users have to say.
There are quite a number of complaints about how people get to the end of surveys only to get an error page, or a bug, whatever that causes them to have wasted all that time.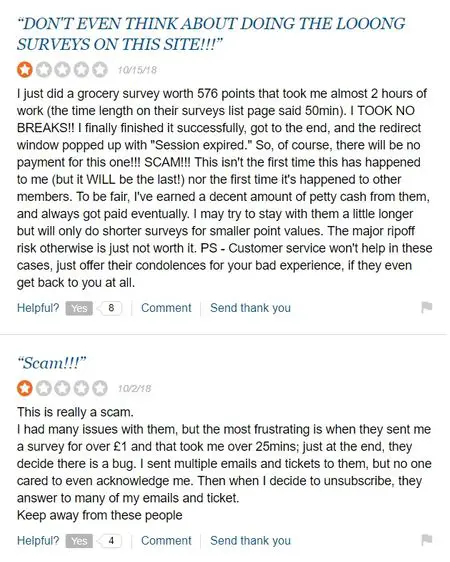 Then there are those who have migrated over from the two older platforms unsuccessfully, ending up losing all their previously accumulated points.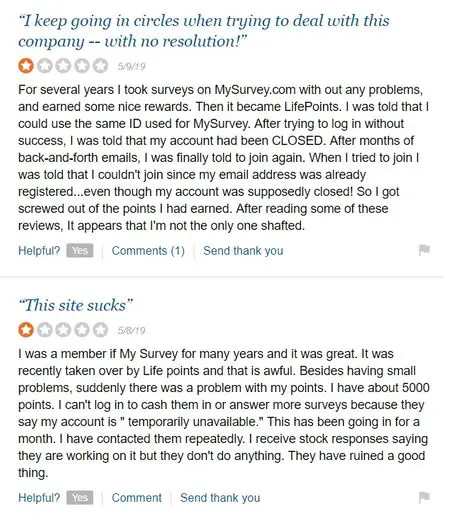 Apparently, their customer service seems to be very much lacking too, as you can see from these comments above.
There are too many such negative reviews about LifePoints at the moment, so I won't be recommending this survey platform to anyone for now.

Go for these surveys and GPT sites
These are the ones that I will recommend, if you are looking to make some extra pocket money while passing time.
Swagbucks
Inbox Dollars 
InstaGC
OfferNation
OneOpinion
PointsPrizes
PrizeRebel
RewardingWays
Survey Junkie
Toluna
Vindale Research
The thing about such platforms is you won't be able to make a part time income out of it, much less a full time one.
Do you believe that if you gather all those little pockets of time, and mindfully use it to build up an online business, it can eventually replace your regular job?

How I make my online income
Let me show you something.
Here's a peek into my earnings on a recent day:



That's almost $200 in just one single day. It's nothing to boast about, though, as it's just a small fraction of its full potential. I just wanted to show you the possibilities.
I'm using the model of affiliate marketing, to leverage on existing products, and earning a commission by promoting them to people.
No face-to-face selling, as I get all my traffic from the internet. All my work is done with my laptop, so I enjoy the luxury of working from home.
I started this from scratch, without any idea of what I was getting myself into. And now I wouldn't exchange it for anything in this world.
Check out this training platform that provides all the resources, tools, along with an entire community of aspiring as well as already successful affiliate marketers. The best part is, you get to start for free:
---
To round up this article, let me recap and summarise the pros and cons, before I finally make my conclusion.
Pros of LifePoints
1. A variety of ways to earn points
Though it is mainly a survey panel, it does offer other ways to earn.
2. Token of appreciation as you get disqualified from surveys
I know 2 to 3 points is nothing much, but it is still a gesture of goodwill.

Cons of LifePoints
1. Surveys take longer than what is stated upfront
People usually find that the surveys' estimated duration actually increase once they go right in.
2. Poor quality of customer service
There are many complaints of non-existent customer service on this platform.
3. Teething issues for customers who migrate over
For members migrating from Global Test Market and MySurvey, many had their accounts inactivated, losing all their earnings inside. And to add salt onto the wound, they could not even create a new account with LifePoints.
This aspect really has not been handled well at all.
4. Surveys completed without earnings
There have also been a number of complaints about members completing surveys only to get timed-out, or some error message, leading to a complete waste of their time, as they did not get to earn any points.
---
Is LifePoints a Scam? 
That brings us back to this question that was posed right at the start of this article.
My personal take on this is that LifePoints is still a legitimate survey platform, that does pay out its members.
It is unfortunate that so many people have had negative experiences on the platform, so hopefully the team behind LifePoints can get their issues sorted out, and set their reputation right back on track.
---
Recommendation
To me, the frustrations one would have to normally encounter on any survey site, for that little amount of money, is just not worth the time and effort.
There are much bigger things that you can do with that time.
Let me show you what got my started on my online journey. I had never looked back ever since.
This real deal does not promise instant results, but instead provides the knowledge and lifelong skills required to grow a successful online business, which is exactly what I have done. Check it out by clicking on the button below:


And for reading all the way to the end of the post, I believe you have it in you to make this work. Here is your FREE PDF Guide: 4 Simple Steps to Making Money Online. Fill in your details to claim it:

If you have any concerns or questions regarding this LifePoints review, do comment below, and we will start a conversation from there.
---