Welcome to my Star-Clicks review.
Is this PTC (paid to click) site worth your time, or even money?
How does it work exactly, and what are the various levels of membership?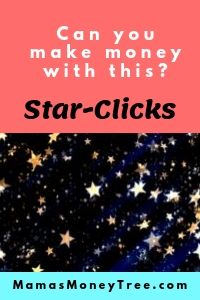 What is the minimum cashout amount, and will you be able to earn more than what you put in, or will you be making losses through it?
We will answer these and more, in my honest and in-depth review of Star-Clicks.com, which will show you the ins and outs of this platform, as well as real users' feedback.

Without further ado, let's dive right in now!
---

Star-Clicks Review Summary

Product: Star-Clicks
URL: https://www.star-clicks.com
Parent company: Easy Logic Limited
Product type: PTC (paid to click) site
Price: Free for Silver membership, $29.95 for Gold, and $49.95 for Platinum
Scam / Legit? : Legit
Recommended or not? : Not recommended
Star-Clicks is a PTC (paid to click) site that allows advertisers to place their promotions or links back to their websites, and for members to earn by clicking on and viewing these ads.
A totally legitimate platform that pays out, its free membership allows you to earn peanuts, and takes ages to reach the minimum cash out amount.
Paid membership on such low-paying platforms like this carries a risk that you would have to assess, before taking the plunge.
---
---

What is Star-Clicks.com

To find out what is Star-Clicks, let us first take a look at its home page.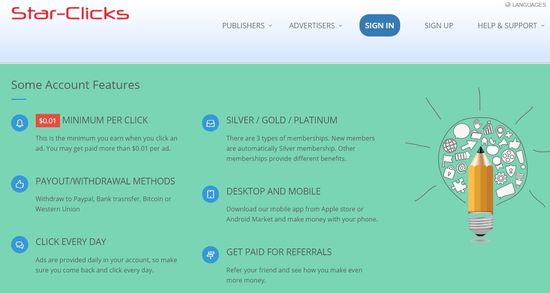 Star-Clicks.com has Easy Logic Limited as its parent company. This PTC (paid to click) website has been around since 2008, so I would say it is established and has built a reputation for itself.

How does Star-Clicks work

The concept is a simple one. Just as with any other PTC website, Star-Clicks allows for advertisers to pay them to place their offers, promotions, and advertisements on their platform. These can also bring viewers back to their own websites.
As a member, you would click on and view those ads for a few seconds, to qualify for earnings in the range of $0.01 to $0.02 per click.
This is about the right kind of rate for PTC sites, so there is nothing here that would raise my suspicion about its legitimacy.

Signing up on Star-Clicks
Signing up would take just a few minutes, requiring you to enter your date of birth, home postal address, and phone number as well.
Though usually I wouldn't be too comfortable providing these information, Star-Clicks appears to be a legitimate platform, so I would go ahead to provide these if I really want to try to earn from this website.
There will be a verification code sent to your mobile number, as well as an email that you would have to activate, then you are all set to start using Star-Clicks.com.

Membership levels on Star-Clicks

These are the three membership levels:


Silver Membership
Once you are signed up, your membership is Silver, which is free. It allows you to make $0.01 per ad that you click on and view.
The main issue with this is: the minimum amount for payout is $50, which is extremely high, and will take you ages to hit.
Moreover, there is a maximum number of ads that you are eligible to click on per day. For this Silver membership, this cap is about 7 to 10. It means the maximum amount you can earn is $0.10 per day.
I'm not sure about you, but I definitely will not be spending any of my time here on Star-Clicks, the earning potential is way to low, it is just not worth the time and trouble at all.
---
---

Gold Membership
The Gold membership of Star-Clicks.com is priced at $29.95, but at times they do offer a discounted price of $19.95, so you may want to keep a look out for that if you intend to upgrade.
Do note that this fee only gives you one month on the membership.
The pay per click rate can be slightly higher, but it still starts at $0.01.
The advantage of getting on this Gold membership is the feature of unlimited ads, subject to availability. This means if there are few advertisers using the platform in the first place, you will never be able to get a significantly higher number of ads to click.
You can get access to HTML code, which is supposed to provide you with more ads.
Gold also provides you with 25% higher referral commissions than the Silver membership. I will explain more about this in a later section.
However, do note that the minimum threshold for paying out is still $50, which is still rarely achievable despite the seemingly higher earning potential.

Platinum membership
This is the highest level of membership available, and costs $49.95.
Do note that you CANNOT upgrade from a Gold membership to this Platinum one. So you should give it careful consideration before taking up the Gold or Platinum membership.
On top of various other perks, the Platinum level earns you a minimum of $0.02 per click, with no minimum payout limit, and a 25% higher referral commissions as well.
There is no minimum threshold for cashing out. This must be the greatest advantage for the Platinum membership, but it comes at a considerably higher cost, which increases your risk.

Though the Gold and Platinum memberships sound more attractive than the Silver, personally I really wouldn't recommend putting up any investments on such PTC platforms, since the earning potential is way too low.
Remember, you came to the Star-Clicks platform to earn, not to spend.
There is no guarantee that you will be able to earn more than your membership costs, so you could be making a loss from this.

Earn through referral commissions
This is the other way you can earn on Star-Clicks. When you refer people to join the platform, you earn $0.08 per sign up.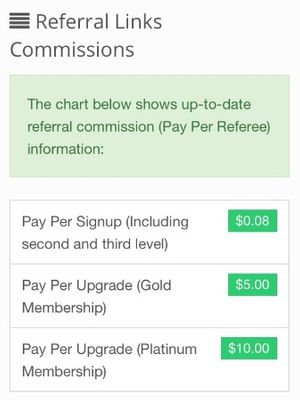 When your referral refers others, and their referrals refer yet others, you get to earn $0.08 per sign up too. This means you get to earn referral commissions for three levels down.
It is not much, though, and will not make you a substantial income, unless you have sufficient internet marketing expertise and skills to bring in hoards of targeted traffic.
The earnings do become quite significant when your referrals upgrade – you make $5 per Gold membership upgrade, and $10 per Platinum membership upgrade.

Payment Methods on Star-Clicks.com
Star-Clicks processes its payments through PayPal, direct bank transfer, or Bitcoin.

What others are saying about Star-Clicks.com

There are definitely lots of positive reviews about Star-Clicks, with happy members saying they are earning and able to withdraw their payments with ease. Those are mostly people on the Platinum membership, cashing out $2 at a go.
Then there are about the same number of negative reviews, finding the support of Star-Clicks not so responsive when there are membership or payment issues to be sorted out.


It seems to me that the Star-Clicks support is much more responsive on general feedback and review sites than on their own website, which is a point of frustration for its members.
Other bigger problems show up in its Gold membership, which seems to be the more popular paid option. Firstly, people are not getting a good number of ads to click that they are expecting with this membership. Earnings are typically limited to between $1 to $2 a day.
Most are unable to hit the minimum cashout amount of $50 at the end of the month, which means they are losing money with the first month of the membership. If they continue to take up the Gold membership for the 2nd month, they may barely break even.
So you see how this can be a huge waste of time, effort, and possibly money.
---

To round up this article, let me recap and summarize the pros and cons, before I finally make my conclusion.

Pros of Star-Clicks

1. Established PTC website
Having been around since 2008 gives this platform some credibility. It is also obvious that Star-Clicks does honor its payment to many members, hence it is a safe place to earn a little extra pocket money, if you think it is worth your time.

2. Free membership option
The option of a free membership is certainly welcoming, though the earning potential is way too low for me to want to even try it out, and minimum cashout threshold is way too high, it could easily take more than a year to accumulate that amount.

Cons of Star-Clicks

1. Paid membership has its risks
Though the earning potential with its Gold and Platinum memberships look much better, especially with Platinum where you simply need $2 to cash out, I still think it may not pay back sufficiently to warrant an initial investment on its paid memberships.

2. There are a number of negative reviews
There are enough negative reviews floating around, for me to be concerned about the smooth running of its system.
With people saying their memberships not being upgraded even after payment has gone through, or not being able to cash out, I would be slightly wary.
---

Is Star-Clicks.com Scam or legit? 

Star-Clicks.com is definitely a legitimate PTC website. It can possibly make you a little extra pocket money on the side.
Similar platforms include My Adds Up, EmeraldBux and Neobux, which I wouldn't be too keen to recommend too.
If you really want to try to earn on PTC sites, the best one I have come across so far is Scarlet Clicks.
---

An Alternative

No matter how much time and effort you spend on PTC sites, the earnings are not going to be anywhere close to even a part-time income.
Moreover, there are so many things that are not within your control, like abruptly having your account deactivated due to whatever reason, not being able to cash out, unresponsive support team, etc.
If you have the time, why not spend it on building up something much bigger? Something that can be grown into a full time income and beyond?
There are many legitimate ways to make money online, and I want to show you the best method that I have come across so far, which is also exactly what I am doing right now.
I am working full time from home, growing my internet business, and making an online income.
I started from scratch with zero knowledge in this area.
If I can do it, you can, too.
Here's a peek into my daily earnings: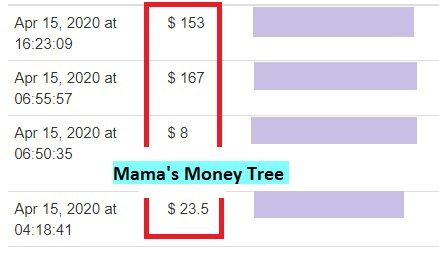 That's $350 in a day. Nothing to boast about, as it is still far from reaching its full potential. I just wanted to show you the vast possibilities here.
Check out this training platform that provides all the resources, tools, along with an entire community of aspiring as well as already successful online income earners:


And for reading all the way to the end of the post, I believe you have it in you to make this work. Here is your FREE PDF Guide: 4 Simple Steps to Making Money Online. Fill in your details to claim it:


If you have any concerns or questions regarding this Star-Clicks.com review, do comment below, and we will start a conversation from there.
---