What is Scarlet Clicks? Is it a worthwhile PTC (paid to click) site to invest your time (and possibly money) in? Does it actually pay out?
Welcome to my Scarlet Clicks review.
If you are looking for some easy ways to make some quick bucks while on the go, making full use of your spare time, there are many legitimate PTC sites around, just as there are zillions of scammy ones.
Should you be spending your precious time on Scarlet Clicks? What are the other possible ways to earn on this platform? Should you fork out money for its membership levels?
We will answer these and much more, in my honest and in-depth Scarlet Clicks review, as I walk you through the members area, pointing out the stuff to look out for.

With further ado, let's dive right in now!
---

Scarlet Clicks Review Summary
Product: Scarlet Clicks
URL: https://www.scarlet-clicks.info/
Product type: PTC (paid to click) site
Price: free standard membership, with paid options ranging from $5 per month to $700 per year
Scam / Legit? : Legit
Recommended or not? : Recommended, if you don't mind spending lots of time to earn a little money
Scarlet Clicks is a very legitimate PTC (paid to click) platform that has been around since 2008, and is a trustworthy site that pays out to its members.
Its main drawback is that the earning potential is much too low. To make any substantial amount of money on it, you have to be very active, and spend lots of time clicking advertisements.
You can choose to increase your earnings by referring more people, or renting referrals, which is an added cost and risk to your money making attempt, as you can't control the quality and hence activity of your referrals.
---
---

What is Scarlet Clicks
To find out what is Scarlet Clicks, let us first take a look at its home page.



Scarlet Clicks is mainly a paid to click (PTC) site, that works just like any other: click on advertisements, stay on the website that you land on for a certain amount of time, then do the captcha to claim your earnings.
On top of being a PTC site, Scarlet Clicks has various other ways that you can earn, similar to GPT (get-paid-to) sites, which I will also go through in this review.
Though it is written that you can get paid up to $0.01 for each ad that you click, most available ads are actually paying only between $0.0001 to $0.001, which is extremely low. It will take lots of clicks, and lots of time spent on the platform, to earn even a few dollars.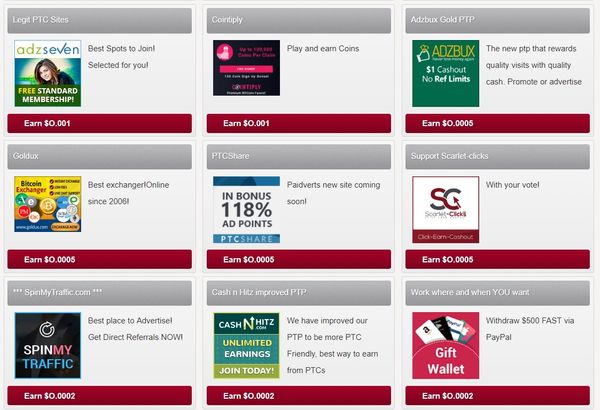 Signing up to Scarlet Clicks
Signing up is easy, and the good thing is anyone from any country can sign up and try to use this platform to start making money. But the ads available in your country will be different from others, earnings potential will also be different.
Here is what you need to fill in when signing up: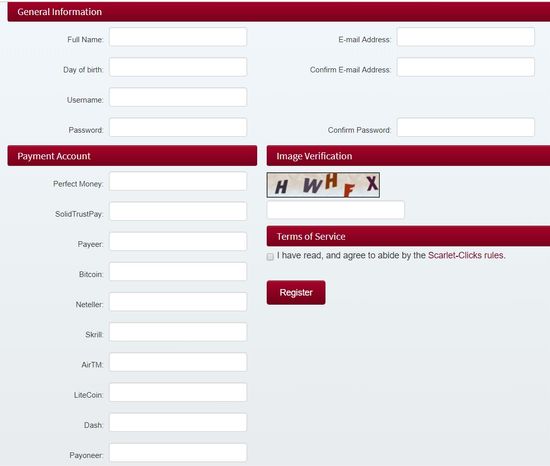 Other earning methods in Scarlet Clicks
There are a few offer walls on Scarlet Clicks, which you can explore to see the various activities that you can engage in to earn some money.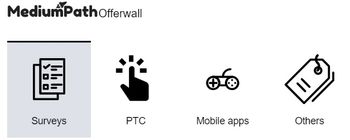 They include stuff like completing surveys, downloading apps, and more PTC ad options to click on.
You can also earn by signing up to offers put up by other people, where they pay to display these offers. When you sign up, you become their referral, so they get to earn off referral fees as well as activities that you do on those platforms.
Those are sites similar to Scarlet Clicks, including other PTC sites, as well as get-paid-to sites, and survey platforms.
One thing to note is that you should read the terms and conditions carefully before you sign up.
For instance, some may require a minimum activity level on that platform before you can claim your earnings for signing up.
This will mean it takes your time and energy away from Scarlet Clicks. Well, it may not be a bad thing, if you happen to chance upon a better paying site, then all the more you should move away from Scarlet Clicks.

Refer others to Scarlet Clicks
When people sign up through your referral link to join Scarlet Clicks, you can earn a commission based on their earnings. The percentage of commission (up to 100%) depends on your own membership level.
This will not affect the amount earned by your referrals, it comes out of Scarlet Clicks' pockets, for bringing them more members to click the ads on their platform.
But you can only earn from referrals if you had clicked on at least 4 ads the previous day. Which means that if you miss any day, you will not be able to earn referral commissions the following day.
The thing about earning through commissions of referrals' activities is that you will need a HUGE number of referrals, to make anything substantial.
Firstly, not all referrals you bring in will take to the site. Some may join, look around and then leave right away, unwilling to spend time on such platforms.
Others may just sporadically click on some ads once in a while, when they can find time and can remember to do so.
Hence it is not easy at all to try and earn through referrals.
You may have seen many people spamming their referral links, not just for Scarlet Clicks, but for many similar PTC and GPT platforms, on social media, forums, and basically everywhere on the internet.
It is not a good way to promote your referral links, because it is irritating, and you can easily get yourself banned by those social media platforms, and even forum platforms, depending on their rules towards spamming.
If you want to get a huge volume of referrals, you need to master internet marketing, not through ads as you will never earn enough to cover advertising costs, but through free traffic.
It is in fact what I am doing now, internet marketing, but it has nothing to do with PTC sites, as the earnings are too little.
---
---

Renting or buying referrals on Scarlet Clicks
This is another way to get referrals on Scarlet Clicks, but it means an initial investment on your part, which also means increased risks.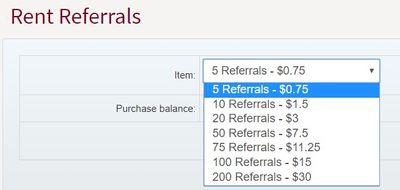 So to rent 5 referrals, you pay $0.75 per month, $1.50 for 10 referrals, and so on.
You see, you earn only when your referrals earn on the platform. There is no guarantee that the referrals you rent or buy will be active. So you could be throwing money down the drain this way.

Membership on Scarlet Clicks
Apart from the free standard membership, the other options are paid membership, allowing you to earn more commissions off your referrals' earnings.
The membership structure is quite complicated in terms of earnings, so I will not go into the details here.
I will just show you the prices for each level of membership:
– Silver: $5 per month or $50 per year
– Gold: $10 per month or $100 per year
– Gold Plus: $30 per month or $300 per year
– Diamond: $700 per year.
If you have your own traffic source that you know to be high quality that you can send to your referral link, then paying for a membership level on Scarlet Clicks could be worthwhile for you, as it means more earnings through your engaged referrals' activities.
If you do not have a marketing strategy, then I suggest you try out the platform for free first, to sense more clearly its earning potential, before you decide whether it is worthwhile to invest your money in it or not.
The same platform can have different earning potential for different people, depending on the time you are willing to spend on it, whether you have better-paid click ads available to you in your dashboard, etc.

To advertise on Scarlet Clicks
If you have an online business, or any promotions or offers which you can monetize, advertising on Scarlet Clicks is one way to drive traffic to those offers.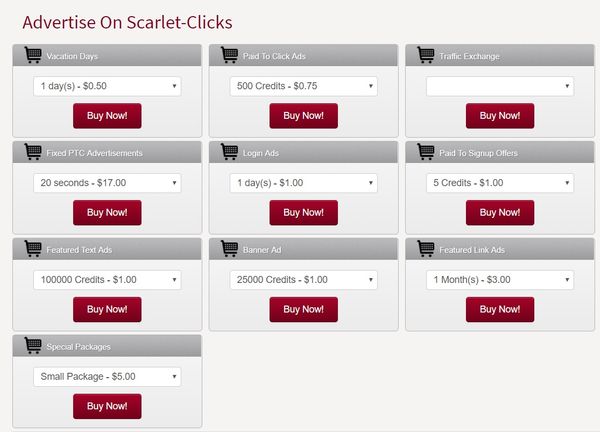 A word of caution though: I always feel that PTC sites can never drive targeted traffic that will convert into buyers, simply because the people using these sites are there to just click on ads as a means to earning a little extra money.
They are not genuinely interested in what you are offering.
So personally, I will never advertise my business on there.

Cashing out on Scarlet Clicks
Once you have accumulated $2 in your Scarlet Clicks account, you can choose to cash it out, using any of the following payment options:
Perfect Money
SolidTrustPay
Payeer
Bitcoin
Neteller
Skrill
AirTM
LiteCoin
Dash
Payoneer
Notice that PayPal (my personal favourite) is not available on Scarlet Clicks.
This is because PayPal tends to not work with PTC sites, due to their not-so-good reputation in general, as many of these sites are dishonest.
Not Scarlet Clicks, though.
But somehow PayPal just doesn't take a liking for them.

Users' reviews
Generally, most people using Scarlet Clicks love it. They get their payment promptly, and are happy with the low cashout threshold, which allows them to get paid frequently. This motivates people.
If you are keen to try out Scarlet Clicks, look for people who offer to provide tips if you sign up through their referral links. I can't guarantee you will get anything useful, but it beats just randomly signing up with one who doesn't offer anything.

An alternative (because you are capable of much more)
Although PTC sites seem like an easy way to make some money, since what you have to do is simply click on ads, the earning potential is much too low.
I have never used any PTC site to make money, I only join them to write reviews. Because I know my time is worth so much more than a few dollars an hour.
Here, I want to show you how you can build something much bigger.
Something that you can call your very own online business, in a niche of your choice.
Here's a peek into my earnings on a recent day:



That's almost $200 in just one single day. It's nothing to boast about, though, as it's just a small fraction of its full potential. I just wanted to show you the possibilities.
I have to be frank with you, this isn't easy. It takes much more effort than clicking through ads mindlessly.
But to me, it is all worthwhile.
I am now working full time from home, growing my internet business, and making an online income. I started from scratch with zero knowledge in this area. If I can do it, you can, too.
Check out this training platform that provides all the resources, tools, along with an entire community of aspiring as well as already successful online income earners:

---

Pros of Scarlet Clicks
1. Established platform that pays out
I guess as long as a site has been proven to pay out, then it is safe to give it a go, if that is really your choice.
It can be an easy way to earn a little extra pocket money, since you can do this on the go, whenever you have some small pockets of time to spare.
2. Low minimum payout threshold
The $2 minimum threshold for paying out is very low, so that is a motivation for you to click more ads, so that you can cash out more often.

Cons of Scarlet Clicks
1. Earning potential is too little
Life is too short to spend it on a PTC site, that's just my personal take on it.
2. No PayPal payment option
For me, I do not have an account with any of the payment options available in Scarlet Clicks. It means if I want to earn from this platform, I will have to create a new account with any one of them.
---

Is Scarlet Clicks Scam or legit?
Scarlet Clicks is definitely a legitimate PTC site that will pay out, and has proven to be trustworthy.
It is at least much better than some other PTC sites I have reviewed that are not so legit, including EmeraldBux, Star-Clicks, NeoBux, Click2Sell and Seven Dollar Click, to name just a few.
---

Final Words
If you want to make some serious money online, there are much better ways to do it than using PTC sites.
Why limit your own income, when in reality the sky is the limit?
Invest in yourself, learn how you can leverage on the internet to carve out your own space, so you can turn your passion into profit, and make a living off it.
This real deal does not promise instant results.
It provides the knowledge and lifelong skills required to grow a successful online business. Check it out:


And for reading all the way to the end of the post, I believe you have it in you to make this work. Here is your FREE PDF Guide: 4 Simple Steps to Making Money Online. Fill in your details to claim it:


If you have any concerns or questions regarding this Scarlet Clicks review, do comment below, and we will start a conversation from there.
---