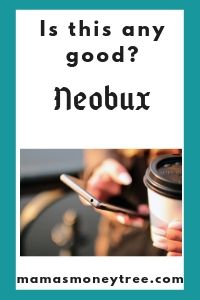 There are so many PTC (paid to click) sites around these days, it can get pretty confusing. If you are doing your research and asking what is the Neobux scam, then you have landed at the right place.
Welcome to my Neobux review.
PTC sites may be an easy way to make some extra pocket money, but you can't possibly do all of them, they are very time-consuming! So the trick is to find one that has reasonably good earnings, allows you to cash out easily, and works well for your needs.
Is Neobux the answer? Or is it going to be a complete waste of your time (and possibly even money)?
We will answer these questions and more, in this honest and in-depth review of Neobux, as we look at the various ways that you can earn, the cash out minimum, and all other aspects of the platform.
Without further ado, let's dive right in now!
---
Neobux Review Summary
Product: Neobux
URL: https://www.neobux.com
Product type: PTC (paid to click) platform
Price: free to join, with options of paid membership (Golden member at $90 per year)
Scam / Legit? : Legit
Recommended or not? : NOT recommended
Neobux is a PTC site that has been around for more than 10 years, so it is definitely a legitimate paying site. Besides clicking on ads, there are other ways to earn on the platform.
The main reason I do not recommend Neobux is because of its extremely low earning potential, as well as many negative reviews by real users, about its rental referrals, how they get banned from the forum space when they question certain things, and the poor customer service.
If you do not want to waste anymore time and money on platforms that will not get you anywhere, check out my #1 recommendation to making money online:


Read on for the detailed review of Neobux, and why I do not recommend it.
---
What is Neobux
To find out what is Neobux, let us first take a look at its home page.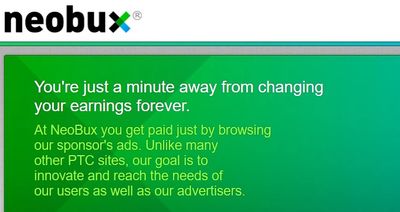 It is mainly a PTC (paid to click) site, where Neobux shares their revenue from advertisers when you click on their advertisements, and stay on there for a specified duration.
This is a legitimate and mindless way to make some extra cash, but due to the nature of the work being so straightforward, you can be sure the earnings are not going to replace even a small part of your regular income, even on the best paying sites in this industry.
What's worse, Neobux has one of the lowest paying rates. At only $0.001 per ad that you watch (based on the free membership), you need to watch 1000 ads just to make $1.
My personal take on this is it is totally not worth your time and effort.

Other ways to earn on Neobux
There are other ways to earn on Neobux, that you may find interesting and a refreshing change to just clicking on and watching ads.
But because Neobux is still primarily a PTC site, the earnings you can get from these other activities are going to be much lower than other GPT (get paid to) sites that offer the same nature of activities.
Tasks and offers on Neobux
You may earn a small amount by signing up for free trials, or downloading apps, etc. But do read the requirements carefully before you actually decide to engage in these trials and offers.
For instance, free trials may require you to enter your credit card information, such that when the trial period is over, should you forget to cancel the subscription, you may get charged for the first month's bill on your card.
Or when downloading apps, you may be required to play a certain game to accumulate points up to a certain level, before you qualify for the payment. That takes time, so you need to be aware before deciding to take up the offer.
Mini tasks, or what is sometimes called Figure Eight tasks, again take up lots of your time on some mundane actions, it could be boxing up some texts, or identifying logos, and stuff like that.
Playing games on Neobux
They have a wide selection of games that you can try to play, but again, the earnings will never be something you can brag about.
On average, you are required to stay on a game for at least 2 minutes before you earn your $0.001. And there is a limit of 100 games each day. So to earn that $0.10, you have to spend more than 4 hours. How is that even worth the while?
Referring people onto Neobux
This is another way to earn on Neobux: through the activities of your direct referrals. When the people whom you referred onto the platform engage in the activities and start to earn money, you make a commission off their earnings (their own earnings are not affected, don't worry).
Though it sounds like a good passive income, to make anything substantial, you need a huge number of referrals. Not just that, they have to remain active, otherwise all your effort in getting people to sign up through your referral link would go to waste.
Moreover, there are conditions to be met before you are allowed to have direct referrals: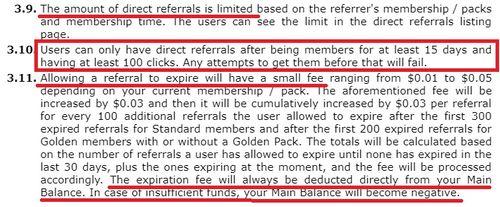 You must have been a Neobux member for at least 15 days, and have clicked on at least 100 ads, before you can start referring people onto the platform.
And when a referral expires (they did not state clearly what constitutes a referral expiring, but I am guessing it means somebody has been inactive for a certain number of days), you would have to pay a fee!
This means your account could be in the red! I was quite shocked at this. If your referrals are inactive, it's already bad enough that you are not reaping any rewards for the effort to bring in referrals, now you even have to pay them for it?! I have never seen such a clause on any other PTC site before.
Rental referrals on Neobux
Where are you going to get the huge number of referrals, all willing to sign up to Neobux and do the activities on there? Some family and friends may trust you enough to take up this opportunity, but you can't count on them to make up the numbers.
One prominent feature of Neobux is their rented referrals, which they will try to sell you. Though this method can possibly increase your earnings, you have to realise there is a risk too.
There is no guarantee that these rented referrals will remain active, though the criteria for them getting onto the rented referrals list is to have clicked on at least 11 ads in the past 5 days, so it sort of gives you a bit of assurance that they are not completely inactive.
However, before you actually try out the platform and know it well enough, I really wouldn't recommend forking out any money on it, not for its paid membership nor for renting its referrals.

How do you get paid on Neobux
Currently, Neobux only pays out through Skrill, Neteller and AirTM. They are not the most common forms of payment, so if you do not have an account with any of these, you have to get one set up.
The minimum threshold for cashing out is a bit more complex than what we commonly see on other PTC sites.



It starts off with $2 on your first cash out, and increases by $1 for every subsequent cash out, until it reaches $10, and the cap then stays at that amount.
I guess they want to encourage newbies on the platform, by giving a lower cash out amount. But if you continue to use the platform, ultimately your minimum cash out becomes $10, which is very high, considering you are only making $0.001 per clicked ad, how long would it take you to reach that threshold?

Account suspension on Neobux
Another thing that I would like to point out is the account suspension policy on Neobux. After 30 days of inactivity, your account gets temporarily suspended.



I can totally foresee myself being in that position, knowing how life can catch up on me in so many different ways, and when it does, leaving my account unattended for 30 days would be such a common occurrence.
And to get permanently suspended after 60 days of inactivity, would mean you lose all your earnings that you had accumulated. So if you are not committed to spend time on this platform, then I would suggest not getting on it at all in the first place.
And for newbies who just joined, inactivity in the first 72 hours gets your account suspended permanently. So sign up only when you have a pocket of time on your hands to engage in the ads and other activities on Neobux.

Neobux Forum
This is an aspect of Neobux that I especially like: a forum space for members to engage in authentic conversation, where they can share tips, troubleshoot issues, learn from the more experienced users, etc.
This makes it a lively platform.
The forum even exists in many other different languages besides English, which is an awesome thing.
There is something not so positive about the forum that I need to point out, though. That is, when people start discussing about how the clicks from rented referrals seem to be going down, they get blocked from the forum.
You can see it for yourself in the next section below.

Feedback from real users
This is what I mean: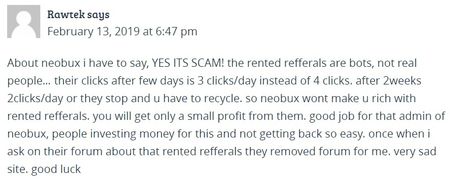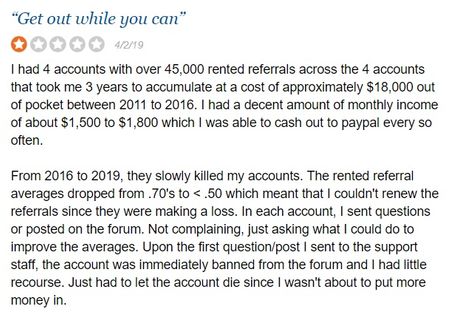 It seems many of the complaints stem from these two issues: click rates from rented referrals see a drop, and when users try to post this on the forum, they get blocked.
It is such a shame, because forums should be transparent platforms for people to voice their issues and concerns properly, and for these problems to be addressed by the website owners, instead of thumbing them down and sending them off the face of this planet.
No doubt, there are many positive reviews as well. On this review site, out of 68 reviews for Neobux, it seems there is an equal number of positive and negative reviews.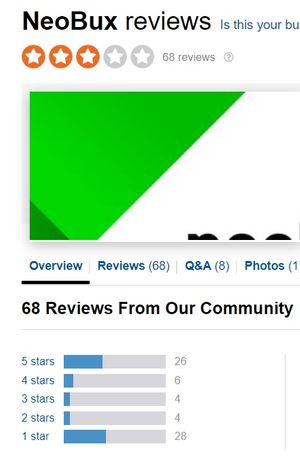 So go ahead if you really want to give Neobux a try, at least now you are in a better-informed position (hopefully) to make the best decision for yourself.
If you ask me, I will never use any PTC site for hustling, because the earnings are really too low, not worth the time and effort, in my opinion.

What I do to make my online income
With the time that you spend on PTC sites, you could have created something much bigger than those extra dollars.
Let me show you what I am doing with all my time.
I am using a business model called affiliate marketing. It is the coolest way to make money online because of how hassle-free it is.
I do not have to own any products, or handle deliveries or customer complaints. I do all the work from home, being my own boss, dictating my own hours.
I do not scramble for those few cents, because what I am doing is to build up a rock solid foundation for an affiliate marketing business, by following the exact path taken by countless successful internet marketers ahead of me.
When a business like that takes off, the earnings see no limit, because of the way that I am getting free organic traffic to my offers.
Here's a peek into my earnings on a recent day:



As you can see, more than $100 a day is very do-able. And this is not even at its maximum potential yet, I'm still growing this business every single day.
Check out this training platform that provides all the resources, tools, along with an entire community of aspiring as well as already successful online income earners. The best part is, you get to start for free:
---
Pros of Neobux
1. Real legitimate platform
Neobux has proven itself to be a legit PTC site that does pay out to its members.
2. Has other ways to earn on the platform
Besides clicking on ads, you can also take up some paid offers, tasks, or play games, which provide some interesting choices when on the platform.

Cons of Neobux
1. Earning potential is really low
Its earning potential is very low, whether we are talking about clicking on ads, or doing the various other activities.
2. Forum space not very transparent
It would seem that banning people who try to voice out issues on rented referrals defeats the purpose of having a forum space, which is meant to be genuine and authentic.
3. Rented referrals seem to see a drop in clicks over time
This is a controversial issue, which can exist on any PTC site that offers rented referrals. There will always be users who feel that they are using bots, instead of real people in the rental package, especially if the clicks are not what they expect.
This is something that nobody can ever verify, so you have to understand the risks, before you decide whether or not to fork out money for rental referrals.
---
What is the Neobux Scam? Is it real?
If you ask me, I do not think Neobux is a scam, simply because it does pay out. But its earning potential is too low for me to recommend it.
If you really want to get onto a good PTC site, one that I can recommend is Scarlet Clicks.
You have to be careful in the industry of PTC sites, because there are some that are outright scams, including Seven Dollar Click and Two Dollar Click.
---
Recommendation
If you want to make some serious money online, PTC sites will never make the cut.
Do consider exploring affiliate marketing. With how people are all bringing their shopping online these days, this business model is actually a no-brainer.
But to do affiliate marketing properly, and in the most profitable way, you need to know how to get free traffic to your offers.
This real deal that I am going to show you does not promise instant results, but instead provides the knowledge and lifelong skills required to grow a successful online business, which is exactly what I have done. Check it out by clicking on the button below:



And for reading all the way to the end of the post, I believe you have it in you to make this work. Here is your FREE PDF Guide: 4 Simple Steps to Making Money Online. Fill in your details to claim it:


If you have any concerns or questions regarding this Neobux review, do comment below, and we will start a conversation from there.
---