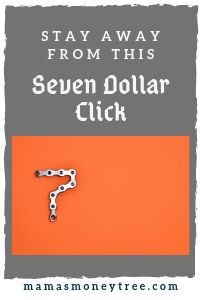 You may be hearing of this because somebody is trying to get you onto the platform through their referral link, and so got you wondering: what is Seven Dollar Click?
Do they really pay you $7 for each advertisement that you watch and click? Can there really be such an easy way to make money that you have not heard of until today? Or is this just another scam, going to be a huge waste of your time?
We will answer these questions and more, in my honest and in-depth Seven Dollar Click review, as I show you all the red flags on their website, that tells us to steer clear of it.
Without further ado, let's dive right in now!
---
Seven Dollar Click Review Summary
Product: Seven Dollar Click
URL: https://sevendollarclick.com/
Creator: Unknown
Product type: PTC (paid to click) site
Price: free to join and start earning, but membership required to cash out (at least $59.99 per month for Bronze membership)
Scam / Legit? : SCAM
Recommended or not? : NOT recommended
The $7 per click is out of this world, unheard of on any legitimate PTC (paid to click) site. They will never be able to afford this payment to you, and they had no intention to pay at all, it is all to lure as many people in as possible.
Full of blatant lies, this platform earns money off your efforts as you click on those ads. They may also sell your information to third party advertisers, and try to do other funny things with your personal information.
If you do not want to waste anymore time on scams that will do you more harm than good, check out my #1 recommendation to making money online:



Read on for the detailed review of Seven Dollar Click, and why I call it scam.
---
What is Seven Dollar Click
Let's find out what is Seven Dollar Click by first taking a look at its home page.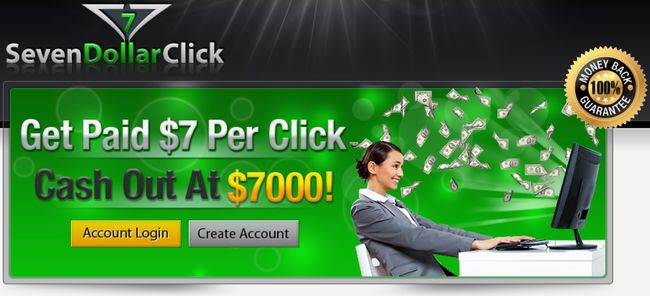 Simply by clicking on an ad link and staying on a website for 25 seconds, you get $7 credited into your Seven Dollar Click dashboard. Yes, you really do get that. But does it really let you cash out?
That brings us to the first red flag screaming (if it can even do that) and waving at us:
Cash out at $7000! If it were true that you can really make $7 per click, then I do not think they have your welfare at heart to be holding on to thousands of dollars of your hard earned money, until you accumulate $7K in order to let you cash out.
Why would they want to hold onto so much of members' earnings?
Intuition tells me this platform will not pay out, but I will need the proof to convince myself, and you.
The 'money back guarantee' also had me wondering.
But what I checked out next was the BBB A+ rating at the bottom of its home page.

BBB rating of Seven Dollar Click is a lie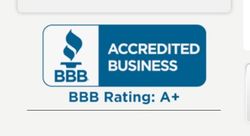 Apparently it's a huge lie. Blatant lie. Look at what I uncovered: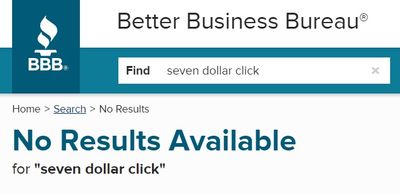 It is not even BBB (Better Business Bureau) accredited at all, not the mention the A+ rating.


Pay to cash out
Yes, you have to pay to cash out. And by the time you hit 1000 clicks (to make the $7K minimum threshold for cashing out), goodness knows how many months of membership you would have paid for.



The memberships include
– Bronze at $59.99 per month (this was strategically placed right at the bottom of all the membership options, I guess so that people who do not look carefully would think Silver is the cheapest option)
– Silver at $79.99 per month
– Gold at $99.99 per month
and other yearly as well as lifetime options that are much more expensive.
It seems a good deal to pay about $60 per month for a few months to earn $7000, but to me the risks are too big, as you will see in the various clauses in their terms of service that I will discuss below.
What's more, you cannot use your earnings to pay for the membership:



Why not? If it is real money that they are going to pay you anyway, what difference does it make whether you credit it in, or they deduct it from your earnings?
If it makes such a difference to them, then I really do question their legitimacy.

Where has the money back guarantee gone to?
Look at the refund policy in their terms of service:



Payments and purchases are all non-refundable. Then why the huge 'money back guarantee' claim on their home page?

75 business days to process the payment
After you hit the $7K eligible for cashing out, you put up your request, and they will take 75 business days to process the payment.



That is a ridiculously long time! Considering there are only 5 business days in a week, that would amount to 15 weeks, which is almost 4 months! One-third of a year to process one payment!

They rob you after 6 days of inactivity
If your account is inactive for more than 5 days, all your earnings will be cleared. Meaning they empty all the money out of your account.



But why should that be the case? What gives them the right to rob you? 6 days of inactivity is so easy to 'meet', who does not get caught up in life and forget to access their accounts?
This is definitely not good for you, and seems like a hooligan's act to me. There is no good reason for them to do this, except for greed.

Another clause that puts you at a huge disadvantage
They can change the agreement anytime. If in any event you are not happy with the changes, contact them and your account will be removed.



And there goes all your earnings.
To me, this seems like laying the groundwork for doing whatever they want with the terms of service to suit their own needs. Definitely a big no-no from a member's point of view, I would never enter into such an agreement that gives them the right to do whatever they want, and I have to agree to, or else there goes all my earnings.
Again, in the FAQ, laying more groundwork to give themselves a valid reason for not paying out.



By pointing the fingers at you? I am not comfortable with the fact that they shove it down members' throats: if you do not get paid, it has to be that you breached their terms, and nothing is of their fault.

How exactly does Seven Dollar Click work
See how much advertisers pay them:



$10 for 1000 clicks. That is what Seven Dollar Click will earn. So how on earth are they going to pay you $7000 from the $10 that they get from advertisers?
If you ask me, this is a huge scam.
They will make money from the advertisers as you click through those ads, but they will not pay you a single cent.
They will make you believe that you are earning $7 per click on the dashboard. And you will pay for their membership in order to cash out. After the payment, when you try to cash out, they will tell you that you breached their terms of contract. By using bots to click on the ads or some other lame rubbish.
Being the unscrupulous platform they are, I wouldn't be surprised if they sell your information to third party advertisers, to make even more money out of you.
And with your password for Seven Dollar Click, they may try to get into your email account, or payment account, etc.
Seven Dollar Click is not a safe place, my advice is to get out of there.

The proper way to make money online
I guess everyone starts off wanting to make it rich fast. It's a very natural thing, that's just human nature. I wasn't spared of all the temptations on the internet myself.
But when I realised those empty promises are only going to make other people rich, and not me, I stopped looking for shiny objects.
I found a dull-looking object, but I knew in my heart that is the real deal. From then on, I have never looked back.
I am now working full time from home, growing my internet business, and making an online income. I started from scratch with zero knowledge in this area. If I can do it, you can, too.
Here's a peek into my earnings on a recent day:



As you can see, more than $100 a day is very do-able. And this is not even at its maximum potential yet, I'm still growing this business every single day.
Check out this training platform that provides all the resources, tools, along with an entire community of aspiring as well as already successful online income earners. The best part is, you get to start for free:

---
Pros of Seven Dollar Click
There is not a single pro here. Seven Dollar Click will not pay out, because they themselves are not even earning that kind of money. They just want you to do some free labour for them.

Cons of Seven Dollar Click
1. Complete waste of time
Whatever you try to do on the website to make some money will be a total waste of your time, whether it is clicking on ads and staying on websites for a fixed time, or trying to get referrals to join the platform. Because they will not pay out.
2. You information may be sold to third party advertisers
If they can blatantly tell lies on their website, then it would seem likely that they would engage in other kinds of dishonest activities as well, anything that makes them money.
Your name and email address can be sold to third party advertisers for a high price, as these people behind Seven Dollar Click can show that its members are all looking for a quick way to get rich on the internet.
So you can be prepared to receive promotions of more useless stuff that promise to get you rich quick.
3. Your password may be wrongfully used
They may try to use your password for Seven Dollar Click to get into your email account, or even your payment accounts. So please change the passwords for those important accounts, if you had used the same password for this platform as those personal stuff.
---
Is Seven Dollar Click Scam or legit? 
Yes, Seven Dollar Click is a huge scam that will never pay out. Stay away from it.
It will cause you lots of frustration and wasted hours, just like some other products I have reviewed: CloutBucks, EmeraldBux, and MoneyRewards.co, to name just a few.
---
Recommendation
Anything that promises to pay you big time for easy or very little work, you've got to run in the opposite direction, because there is no such thing in this world.
Amidst all the noise and chaos on the internet, the good news is there are in fact many legitimate ways to make money online.
The trick is to find a proven method that has worked for lots of successful people, learn the ropes, and stick with it until you see results.
That is exactly what I have done: found a huge community of online income earners, which is also an all-in-one platform of tools, resources, and training catered for the complete beginner.
This real deal does not promise instant results, but instead provides the knowledge and lifelong skills required to grow a successful online business. Check it out by clicking on the button below:



And for reading all the way to the end of the post, I believe you have it in you to make this work. Here is your FREE PDF Guide: 4 Simple Steps to Making Money Online. Fill in your details to claim it:


If you have any concerns or questions regarding this Seven Dollar Click review, do comment below, and we will start a conversation from there.
---