What is EmeraldBux, that is offering 0.10 euro per click, and 0.01 euro per referral's click? How does this scheme work, and most importantly, do they pay out?
Welcome to my EmeraldBux review.
There are trillions of PTC (paid to click) sites all over the internet, nobody can even count them. EmeraldBux is one of them. The thing about such sites is that some are legitimate and actually pay out, while others are there just to cheat you of your time and effort.
Which side does EmeraldBux belong to? Can you really trust their payment proof?
We will answer these and more, in my honest and in-depth EmeraldBux review, as I point out the red flags that tell me I have to caution my readers against this website.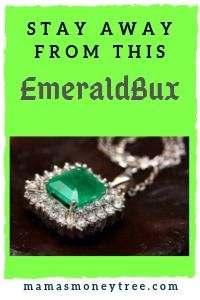 Without further ado, let's dive right in now!
---
EmeraldBux Review Summary
Product: EmeraldBux
URL: https://emeraldbux.com/
Product type: PTC (paid to click) site
Price: free and paid memberships available
Scam / Legit? : SCAM
Recommended or not? : NOT recommended
EmeraldBux is a PTC (paid to click) site that promises huge earnings for this industry, with no minimum cashout. They claim to pay you 0.10 euro per click, which is 10 times the market rate among legitimate PTC sites.
By probing around more, I realise that they do not pay out.
If you do not want to waste anymore time on scams, check out my #1 recommendation to making money online:



Read on for the detailed review of EmeraldBux, and why I call it a scam.
---
What is EmeraldBux
Let's find out what is EmeraldBux by first taking a look at their home page: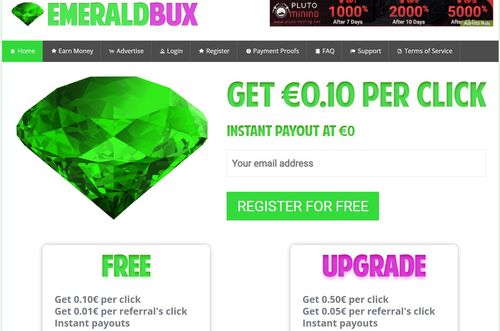 EmeraldBux is simply a PTC (paid to click) site, which acts as the link between advertisers and consumers like you and me. Companies that want to put up their advertisements will pay EmeraldBux based on the number of clicks that reach their websites or other promotions through this platform.
In turn, EmeraldBux shares its profits with its members.
This is a very easy way to make some money, simply by clicking through some ads. But do not expect to get rich out of this.
Frankly, I cannot quite understand why companies want to spend money on advertising this way, as the audience they get come from all over the place, they are not going to get targeted audience who are ready to convert into buyers of their products or services. It is simply more for their brand exposure and consumer awareness.
And that is why the amount that companies pay out to these PTC sites will not be high. The 'market rate' for each click is usually between $0.001 to $0.01, for the legitimate PTC sites.

Red flags in EmeraldBux
Promised payment is too high
The amount that EmeraldBux is paying is way too high. At 0.10 euro per click, it is 10 times to 100 times higher than what other sites are actually paying.
This does not make me happy, in fact, my scam antenna goes right up when I see such outrageous rates.

Terms of service are not to your advantage
As I went through their terms of service, there were a few things that I wasn't too comfortable with, which I had underlined in red:



Firstly, they claim they can choose not to pay members if their earnings are less than their expenses. But who is to audit their accounts? This means they can simply refuse to pay each time someone tries to cash out, just by using this reason.
No legitimate PTC site that I have seen has ever written such a clause in their terms of service. So I think this is a huge indicator that they have something up their sleeves.
Next, they claim that they primary use of their service is to let you earn money so you can invest it back in EmeraldBux. Huh? I believe people who try to use any PTC site simply want to earn and cash out their money, not to use it for any form of advertising.
The next point is what many members miss out because the cash out condition is hidden within these terms of service: you need to click 100 advertisements, and get 10 active referrals. The second condition may never be met at all.
How and where are you to find 10 referrals who would want to spend time and effort on the site just to make a bit of extra money?
It gets even better:
They use a secret algorithm to count your active referrals. Well… what can I say?
There is one last thing that I did not underline in the screenshot above, because if I did, it would be a messy sea of red all over the place.
If you dare (yeah, I added this word myself) to open a case in PayPal, you would be kicked off the face of this planet forever!
I don't know about you, but these terms of service definitely sound to me like setting the stage for their ill intent of non-payment.

Misleading FAQ
Look at question 10 on their FAQ page, which is so not true:



No minimum cashout? Seriously?
But technically they are right, because what you need for cashing out are 100 clicks and 10 active referrals, and not any minimum threshold in your account balance.
Nowhere on their FAQ page do they specify these two conditions for cashing out. To me, the intent to deceive is obvious.
Next, let's look at what some real users of the platform have to say:

Feedback by real users about EmeraldBux
I do not trust the payment proof on their website, because those are too easy to fake.
I'd much rather find authentic feedback from elsewhere: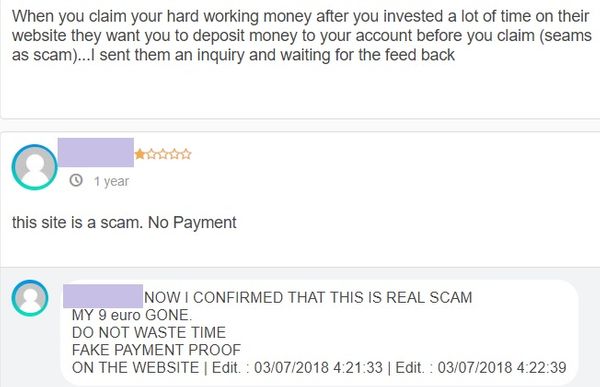 As you can see, some are frustrated that the conditions for cashing out were not made known explicitly to them. All the time wasted, for nothing. While those people behind EmeraldBux are getting 100% of the payment from the companies that advertise with them.
It is also clear that EmeraldBux had no intention of paying out, right from the start.
If you do have any proof of payment received from them, please comment below, so that we know they are actually not as bad as we thought.
In the meantime, all I can say is to steer clear of this platform. There are too many legitimate PTC sites. I will link to them here as I do up reviews for them.

How I make my online income
I also want to show you how I am making money online, using a model that I think is the best so far, because it is neat and hassle-free, and is something that can replace your 9 to 5 job in time to come, as you build it up.
Ever since I found this method, I dove right in and never looked back.
I am now working full time from home, growing my internet business. I started from scratch with zero knowledge in this area. If I can do it, you can, too.
Here's a peek into my earnings on a recent day:



As you can see, more than $100 a day is very do-able. And this is not even at its maximum potential yet, I'm still growing this business every single day.
Check out this training platform that provides all the resources, tools, along with an entire community of aspiring as well as already successful online income earners. The best part is, you get to start for free:

---
Pros of EmeraldBux
Unfortunately, there is zero pro to this platform that I can think of right now. It does not pay out as far as I know, so you will be wasting all your time just making money for them, and none for yourself.
Cons of EmeraldBux
1. Total waste of time
After all the work that you do on the website, they will not pay you a single cent. And they have the terms of service to cover themselves, that if they cannot make the money to pay you, they do not have to pay. Such crooks (sorry, getting emotional here).
2. How about the people whom you have referred
These people would be wasting their time too. If they are your friends or family, then they would have lost some trust for you, when they discover EmeraldBux does not pay out.
---
Is EmeraldBux Scam or legit? 
EmeraldBux is a scam. Avoid it.
It is going to cause you much frustration, just like MoneyRewards.co, Kids Have Money, and Notion Cash, to name just a few.
---
Recommendation
Even on legitimate PTC sites, the earnings are not going to be that great. Instead of chasing after that little bit of money, would you consider building up something of your own, that is going to earn you passive income down the road?
This real deal does not promise instant results, but instead provides the knowledge and lifelong skills required to grow a successful online business, which is exactly what I have done. Check it out by clicking on the button below:



And for reading all the way to the end of the post, I believe you have it in you to make this work. Here is your FREE PDF Guide: 4 Simple Steps to Making Money Online. Fill in your details to claim it:


If you have any concerns or questions regarding this EmeraldBux review, do comment below, and we will start a conversation from there.
---