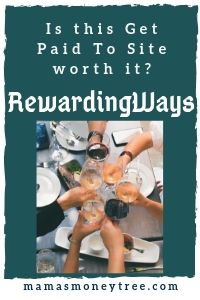 What is RewardingWays? Is it really the best get-paid-to site around, as what they claim to be? Or is it going to be a waste of your precious time?
Welcome to my Rewarding Ways review.
There are so many get-paid-to (GPT) sites around these days, nobody can possibly try to use all of them. Some are definitely more worthwhile than others, in terms of time and effort spent versus earnings.
The strategy is to find one or two that pay out the most, with activities that are enjoyable for you, and stick to those as you try to earn a little extra each month, in your free time.
In this honest and in-depth review of RewardingWays.com, I will walk you through the various ways that you can make money on this platform, its payment method, users' feedback, etc. so that you can make a decision as to whether it is something worth spending your time on.
Without further ado, let's dive right in now!
---
RewardingWays Review Summary
Product: Rewarding Ways
URL: https://www.rewardingways.com/
Product type: get-paid-to (GPT) site
Price: free to join
Scam / Legit? : Legit
Recommended or not? : Recommended, if you are just looking to earn a little extra
Rewarding Ways is a reliable and honest GPT site that pays on time. There are numerous ways to earn cash or points on the site, and the minimum threshold for cashing out is very low, at $1. Which is a very good thing, as it keeps one motivated to complete the tasks and surveys on the platform.
If you are looking to creating something much bigger with your spare time, instead of earning just a little extra, check out my #1 recommendation to making money online:


Read on for the detailed review of RewardingWays, and why I recommend it for some extra pocket money.
---
What is RewardingWays
To find out what is RewardingWays, I will walk you through the signup process, as well as inside the members' area, showing you the various ways that you can make money with.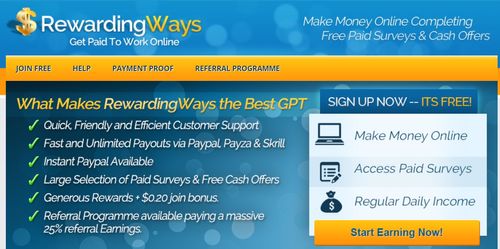 Rewarding Ways is owned by a UK based company called 99 Ventures. It provides worldwide online advertising, and owns various GPT sites including Offernation.com and Superpay.me.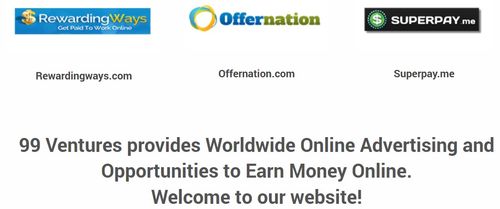 Signing up to RewardingWays.com
You can sign up as long as you are 18 years old, and no matter which country you are in. But do note that opportunities will be different for different countries, as it really depends on the companies that partner with RewardingWays in each country.
The signup process took me about a minute, as they require a mailing address, and payment method like PayPal, Skrill, Payza, or Coinbase or Bitcoin.
Once you are done filling out these information, you're done and get to go right into the members' area.

How to earn on RewardingWays
Take surveys
This is the most common way to make some money on any GPT site. If you have the patience, and spend some time in this section of the platform, you will be able to get some decent earnings.
The thing with RewardingWays.com is that they work with survey providers, so each time you try to take a survey for the first time with a provider that you have not encountered before on RewardingWays' platform, you will have to fill in your personal details.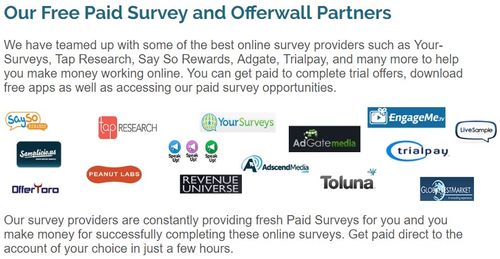 The advantage is that you get a lot more choices of surveys that are available to you, since RewardingWays work with many survey partners.
As with any survey platform, you will not qualify for every single survey, as you have to meet their demographic profile requirements, among other things like consumer pattern, etc.
Usually you will get to know during the pre-qualification section. But there will be the infrequent times when you get disqualified from a survey midway through it. This is something that you will have to live with, whenever you decide to take paid surveys.

Offer walls
On the offer walls, you can find a variety of activities and tasks to complete, in order to earn points (which can be converted into cash), or earn cash directly.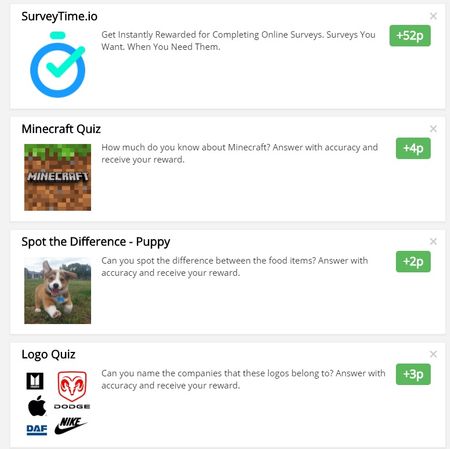 Some examples of offers include downloading and playing some games, taking a quiz, answering some questions, more paid surveys, taking a free trial for some subscription, watching some video ads, etc.
Some offers do not earn you much, others can be quite lucrative. Take your pick carefully, at the same time making sure you read the terms and conditions. If you are providing your credit card details for some free trial, for instance, make sure to cancel the subscription before the free period ends, otherwise you may get billed.

$1000 cash contest
This is something very unique to RewardingWays, in the sense that I have never seen such a huge sum of prize money being awarded at any GPT site before.
Within a specified 3 month period, the member who makes the most money on RewardingWays.com will be awarded with $350 cash prize, the 2nd highest earner gets $200, 3rd highest earner gets $100, and others down the line earning lesser amounts, with the 11th to 20th top earners getting $10 each.
I will never be spending enough time on any GPT site to reach the top 20 earners' ranks, but I guess if you put in full time hours on the platform, you would stand a chance at these prizes.
It is a generous gesture by Rewarding Ways, to entice its members to spend more time and effort completing tasks and surveys on their platform.

Promo Codes
Promo codes are published randomly on Rewarding Ways' Facebook page and Twitter page. So follow them to spot the promo codes, to get a small cash reward (for doing practically nothing!).
Do not bank on this for any substantial earnings, though. The amount is usually small, and promo codes are released only very rarely.

Referring others to join the platform
Referring friends and family, or even people you may not know personally, to join RewardingWays.com can be an easy way to make some passive income.
You get paid 25% of all your referrals' earnings. That is, provided they decide that this platform is good for them, and engage in the tasks and surveys. If they sign up and do not actively use the platform, you wouldn't be earning through them.
Whatever you earn through the referral program will not affect your referrals' earnings in any way.

How to cash out on RewardingWays
For some surveys and tasks, you earn points. For others, you earn cash. All these will be reflected on your dashboard clearly.
Points can be converted into cash, using: 1 point = $0.01.
The minimum threshold for cashing out is $1, which is a very good thing, because it keeps one motivated, as it is easy to see the tangible results of your time and effort. It also means you can practically cash out every single day.
My favourite payment method will always be PayPal, as it is fast and gets you hard cash. There are other payment methods available, like Skrill, Payza, Bitcoin or Coinbase, and Amazon gift cards.

Users feedback about RewardingWays
In general, the feedback for RewardingWays has mostly been very positive.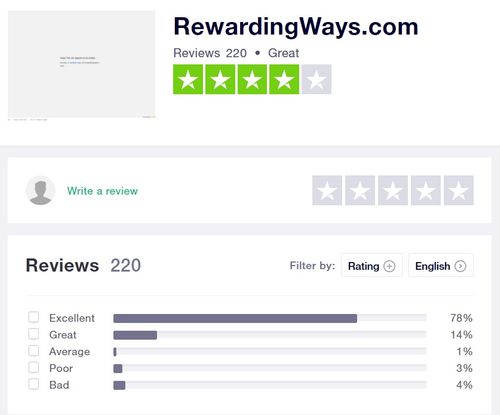 There are some users who have had negative experiences, mainly for accounts being flagged out for security checks when they try to cash out their earnings. I believe these can be resolved by working with the site support on RewardingWays.com to find out what the exact issue is.
There are also accounts that get banned because users have logged in from another country different from the one they registered in. So if you are going overseas, do not try to log in to any GPT site, as it will be very likely to sound a security alarm in their system.
All in all, Rewarding Ways is a great site to earn some extra cash, with the top 20 earners making an average of close to $700 per month, which seems like a very good part time income, but I believe these people are putting in more than full time hours into the platform.
Ultimately, the time versus earnings may still not be very worth it. If you are open to other money making methods, allow me to show you how I am using my time to build up something bigger.

How I am making my online income
I have never considered using any GPT as a steady income stream, because it takes so much work to earn something decent, and once you stop working on it, the extra money stops coming in.
Moreover, it is not a platform I can control. Due to whatever reason if my account gets banned, the income stream stops too.
So I choose to invest my time in something much larger.
I am now working full time from home, doing something that is my very own business. Whatever work I put into it accumulates and sets the foundation for a passive income down the road. It is not MLM if that is what you are thinking.
I started from scratch with zero knowledge in this area. If I can do it, you can, too.
Here's a peek into my earnings on a recent day:



That's almost $200 in just one single day. It's nothing to boast about, though, as it's just a small fraction of its full potential. I just wanted to show you the possibilities.
Check out this training platform that provides all the resources, tools, along with an entire community of aspiring as well as already successful online income earners.
---
Pros of RewardingWays
1. Established platform that pays out
This should be the most crucial deciding factor when you are considering whether to get onto a GPT site or not. There are some not so transparent ones that tend to erase members' efforts with multiple excuses, but not RewardingWays. It has proven to be an honest site that pays out efficiently and on time.
2. Multiple ways to earn
There are a multitude of ways to make some money on the platform, including surveys, doing simple tasks, watching videos, downloading games and apps, etc. I'm quite sure you can find something to do that you enjoy, that allows you to earn a little pocket money at the same time.
3. Very low minimum threshold for cashing out
I admire GPT sites that do not hoard members' money.

Cons of RewardingWays
1. You may have to fill out your personal information multiple times at the start
When you just start off using this platform, you will find yourself having to fill out the same personal particulars as you encounter each survey provider for the first time. This may be a hassle, but once you get past the initial stage, things should get a lot better.
---
Is RewardingWays Scam or legit? 
Rewarding Ways is definitely a legitimate get-paid-to site that can make you a part time income for full time hours.
Other great GPT sites include InstaGC, Swagbucks, and InboxDollars, to name just a few.
---
Recommendation
If you have time on your hands, I would strongly recommend that you look into building up your own online business, in any niche of your choice that you are passionate about, which adds value to people and at the same time allows you to monetise it.
This is exactly what I have been doing, building up one income stream after another, after I found a training platform that provides all the tools, resources and training that I will ever need, as a complete newbie to internet marketing.
This real deal does not promise instant results, but instead provides the knowledge and lifelong skills required to grow a successful online business. Check it out by clicking on the button below:


And for reading all the way to the end of the post, I believe you have it in you to make this work. Here is your FREE PDF Guide: 4 Simple Steps to Making Money Online. Fill in your details to claim it:


If you have any concerns or questions regarding this RewardingWays review, do comment below, and we will start a conversation from there.
---