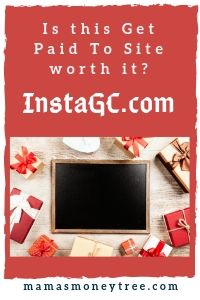 What is InstaGC.com? Is it a worthwhile get-paid-to site to spend your time on? Does it even pay out, or will all the effort be for nothing?
Welcome to my InstaGC.com review.
There are so many survey sites and get-paid-to platforms around these days, nobody can possibly spend their time on all of them.
So the thing is to find one or two that caters to your interests, and expected earnings, so that you can focus your efforts to derive the maximum pay outs.
In my honest and in-depth InstaGC review, I will be going through in detail the ways you can earn, cashing out terms and conditions, users' feedback about the site, etc. so that you can decide for yourself if you are adding this to your approved list.
Without further ado, let's dive right in now!
---
InstaGC.com Review Summary
Product: InstaGC
URL: https://www.instagc.com/
Product type: get-paid-to site
Price: free to join
Scam / Legit? : Legit
Recommended or not? : Recommended (only if you are looking for some extra pocket money)
InstaGC.com is a legitimate get-paid-to site that can really make you some extra cash or gift cards. It has an array of interesting ways that you can earn, from completing surveys and watching videos to promo codes and small tasks.
It has a low minimum cash out threshold of $1, that makes it easy to be motivated by the results you are seeing from the time and effort put in.
InstaGC is a great way to make some extra change. If, however, you want to put your precious time into creating something much bigger, check out my #1 recommendation to making money online:


Read on for the detailed review of InstaGC.com, and why I recommend it only if you are looking to earn a little extra.
---
What is InstaGC.com
InstaGC is a get-paid-to site, similar to many others like Swagbucks, Inbox Dollars, PrizeRebel, etc. where you get paid to complete surveys, try out offers, do certain tasks, or even participate in mini draws or contests.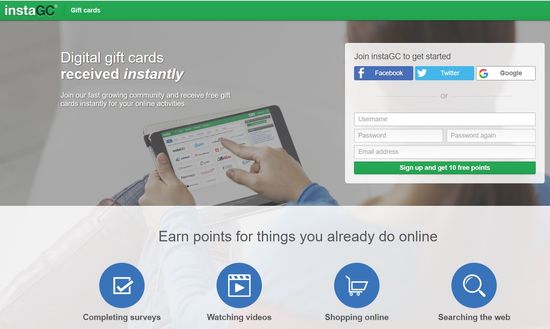 InstaGC.com has been around since 2011. It is owned by Day Online Solutions, which has obtained an A+ rating on BBB (Better Business Bureau).

Signing up to InstaGC.com
Signing up is easy, though there is one additional step of connecting to a verified PayPal account, before you can get started on the platform.
Anyone (above 18 year old) from any country can join InstaGC, though the opportunities and available tasks, surveys, and offers can be vastly different among different countries.

What are the ways to earn on InstaGC.com
There are many fun and interesting ways to make money on InstaGC. We will take a look at each of them in turn.

Complete surveys in InstaGC
This is a good way to earn on InstaGC.com. But just like many other platforms that offer surveys, the usual frustrations you have to deal with are getting disqualified after spending time on a survey, as the answer you provided led the system to the conclusion only at that time.
The earnings versus time spent on each survey is a fair one, in comparison with some of the common survey sites.

Watching Videos
This is an easy way to make some money, but it's really going to be very little.
Somehow there have been a number of complaints by users who are banned from this section of InstaGC, possibly in a bid to curb the practise of people leaving the video to run on their computer while they go away to do other stuff.

Shopping Online
Technically you do not earn money with this, since you are spending money while you shop.
But there are great coupons that give discounts to the retailers that have linked up with InstaGC, making it a worthwhile effort to print out those coupons for groceries and stuff that you would be buying anyway.

Searching the Web on InstaGC.com
Using the search engine on InstaGC can make you some points, but again it will not be much.
Also, the points awarded will not be in a predictable manner.
But an average of 1 cent per 10 searches is a reasonable expectation. Do not try to game the system, though, by doing many searches just for the points.
Another drawback is that the search engine on InstaGC will not give you the same results as others that you may be used to, though the results you get will definitely be relevant to your search term.

Taking up Offers
Offers can be a fun and fast way to earn points, which can include stuff like downloading and playing a game to a certain level, taking a free trial of some subscription, buying some products, etc.
No matter which offer you decide to take up, it is important to read the terms carefully. Some require credit card information, others may need more personal particulars than what you had provided to InstaGC.com.
So it is up to your discretion, as long as you go in fully aware of what you are signing up for.

Redeem Point Booster Codes
InstaGC will randomly put up promo codes on their social media platforms, which allows you to earn some easy bonus points.
Do note, however, that to use these promo codes, you need to have done some survey, task, or earned in some way on the platform in the past 5 days before using the code.
This makes sense, as they want to reward people who are actively using the site.

Figure Eight Tasks
This can be one of the most lucrative way to earn points on InstaGC.com. Examples of Figure Eight tasks include stuff like checking search results, checking some website for error, etc.
When you are just starting off, the number of tasks may be rather limited, and lowly paid.
But as you advance and show your credibility and trustworthiness in completing the tasks, you will find more tasks available to you, which are also worth more points.
If you are serious about making some money on InstaGC, this is really one earning channel that you should focus on, as the long term rewards will be worth it.

Decimal Pot
This is an interesting and fun idea. Anyone can contribute to the Decimal Pot with the decimals they have in their account (whatever after the dollar place) to take part in the draw.
The 1st prize winner gets 50% of the pot, the 2nd prize gets 35%, and the 3rd prize winner gets 15%.

Refer others to join the platform
Lastly, you can earn by referring family and friends, or anyone who would click through your referral link, to join the platform.



For this, you get to earn 10 points (equivalent to 10 cents) for each signup, as well as 10% of their earnings (not including bonuses).

Cashing out on InstaGC.com
From InstaGC points system, you can easily do the conversion into cash this way: 100 points is equivalent to $1.00.
The minimum cash out threshold is $1.00, which is a huge plus point, because it is very low. This means you can practically cash out anytime, and this certainly provides some motivation to complete tasks, surveys, offers, etc. when you need some change.
The cash out options include PayPal, giftcards, as well as coins like bitcoin, litecoin, and ethereum. But for the coins option, you need to have cashed out at least $50 through giftcards or PayPal, before you can choose that.

Users Feedback on InstaGC
When it comes to user feedback, there are a lot more positives than negatives.
The strong advantage of this site is that if you take it seriously and spend a good few hours completing tasks, offers and surveys each day, you can possibly earn up to $20 to $30 a day, which is huge for a get-paid-to site, enough for a part-time income.
As for the negative feedback, the more common ones involve getting logged out from watching videos, getting their account shut down, and rude customer service from InstaGC's support.
These are not common occurrences, and it is likely InstaGC detected some kind of fraudulent activities taking place in an account, which may not have been intentionally done by the account owner, hence the frustrations, which is something quite common on all get-paid-to sites.

Is InstaGC a reliable income stream?
Though there are people making a happy side income from InstaGC.com, but I wouldn't rely on it even for a side income.
Firstly, you do not have any control over what happens to your account, they may decide to shut it down due to some suspicious activity that you are not even aware of, then there goes all your effort collecting points and building up your credibility in Figure Eight tasks.
Secondly, you do not have control over the number of surveys and tasks available to you, as well as the points they can earn you.
I have seen some get-paid-to sites that started off paying really well and on time, but over the months and years, their service quality and integrity seemed to just deteriorate and go downhill.
If you are spending any amount of blocks of time on get-paid-to or survey sites, would you consider using this time to create something much bigger?
If you are open to this idea, read on to learn what it is all about.

How I am making my online income
Instead of using precious time to chase after a little money, allow me to show you how you can build up an online business, something that is yours to own, in a niche of your choice that you are passionate about, adding value to people and at the same time monetising it.
After I found this proven method of making money online, I have never looked back.
I am now working full time from home, growing my internet business. I started from scratch with zero knowledge in this area. If I can do it, you can, too.
Here's a peek into my earnings on a recent day:



That's almost $200 in just one single day. It's nothing to boast about, though, as it's just a small fraction of its full potential. I just wanted to show you the possibilities.
Check out this training platform that provides all the resources, tools, along with an entire community of aspiring as well as already successful online income earners. The best part is, you get to start for free:
---
Pros of InstaGC.com
1. Established and reliable platform
InstaGC.com has been around for a good number of years, with a good reputation of paying out on time, without any hassle.
2. Great earning potential
Among the popular get-paid-to sites, this one is mediocre if you are simply going on it for a few minutes a day. You will not be earning much.
But if you are able to spend good chunks of time completing tasks, offers and surveys, it can provide a considerable side income, in the standards of get-paid-to platforms.
3. Numerous interesting ways to earn
The platform is never boring, as it can cater to all sorts of interests and preferences, from shopping and surfing the web to decimal pot and referring friends.
4. Very low cash out threshold
Among all the get-paid-to sites that I have come across, this must be the one with the lowest cash out threshold, which is a fair and transparent system to users, as the platform is not hoarding their earnings.

Cons of InstaGC.com
1. Earning potential may be low at the start
Though I have pointed out that offers and tasks can provide a lucrative means to earn on the platform, when you are just starting off, it is no different from other get-paid-to sites. The available tasks may be limited, so are their points allocated.
So you need to persevere if you want to reach higher levels of earnings. Once you get there, it will be much more worthwhile.
---
Is InstaGC.com Scam or legit? 
InstaGC.com is definitely a legitimate get-paid-to site that is honest and pays out to its members on time.
No matter how great it is, it can never earn you a full time income.
---
Recommendation
If you have time to spare, there are in fact many better ways to make money online. But you need to be able to discern between the real deals and the scams, as the internet is flooded with noise and chaos.
As long as you find a proven method that speaks to you, and you think you can put in the effort to make it work, then what you need to do is learn from those who have walked the path before you, put to practise all your learning, and stick to it until you succeed.
I found the business model that works perfectly for me, allowing me to fully work from home, without any face to face selling, without recruiting anyone, and with huge earning potential for a full time income and beyond.
I want to show it to you, so you can decide for yourself if it is something that you may like to do.
This real deal does not promise instant results, but instead provides the knowledge and lifelong skills required to grow a successful online business, which is exactly what I have done. Check it out by clicking on the button below:


And for reading all the way to the end of the post, I believe you have it in you to make this work. Here is your FREE PDF Guide: 4 Simple Steps to Making Money Online. Fill in your details to claim it:


If you have any concerns or questions regarding this InstaGC.com review, do comment below, and we will start a conversation from there.
---