If you have stumbled upon this traffic exchange site and are trying to figure out what is Infinity Traffic Boost exactly, you have landed at the right place.
Welcome to my Infinity Traffic Boost review.
Confused by how exactly Infinity Traffic Boost works, wondering what it means by infinite depth referral rewards plan that pays you 30% to 80% commission instantly? Then you are not alone.
As I probed around on their website to do up this review, it dawned on me what this scheme is all about, and I can see how they are presenting information in a way that protects themselves, and yet not be totally transparent to their viewers.
In this honest and in-depth Infinity Traffic Boost review, I will explain the entire scheme, pointing out its loopholes and why you should stay away from this program.
Without further ado, let's dive right in now!
---
Infinity Traffic Boost Review Summary
Product: Infinity Traffic Boost
URL: https://infinitytrafficboost.com/
Creators: Clinton Clark and Frank Bauer
Product type: Adcredit MLM scheme
Price: free to join as affiliate member, 0.0005 to 0.5 BTC to earn from MLM opportunity
Scam / Legit? : Borderline, just stay away from this
Recommended or not? : NOT recommended
Infinity Traffic Boost appears to be a traffic exchange site, where members gain exposure to their sites and campaigns by viewing those of other members. You can also buy advertising in the form of traffic package options. Earning potential comes in when you refer people to join and purchase those traffic packages, with a compensation plan like any MLM's (multilevel marketing scheme).
Since there are no retailable products except for the affiliate membership and the traffic packages, this scheme will not hold up on its own. When recruitment tapers off, the structure will collapse, and majority of its members will lose money.
If you do not want to waste your time and money on risky and useless programs, check out my #1 recommendation to making money online:



Read on for the detailed review of Infinity Traffic Boost, and why I absolutely do not recommend it.
---
What is Infinity Traffic Boost
To find out what is Infinity Traffic Boost, let's first take a look at its home page: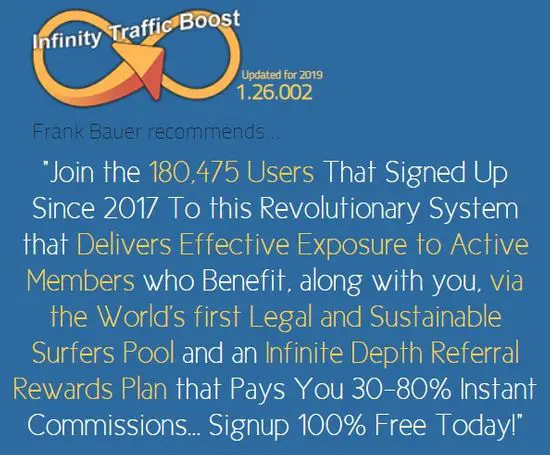 It is made to look like a traffic exchange site, which runs on a system whereby members view one another's sites, to increase exposure.
Visitors have to view your site for at least 15 seconds, under their system, to be counted as a view. They claim that this way, your visitors will be engaged and focused.
Come on, who are we trying to cheat? If you are looking at Infinity Traffic Boost because you want to increase engagement to your site, then this is not for you. Your website visitors are all affiliate members of this program, in this just to make some money.
They stay on your site for at least 15 seconds because they have to, not because they are really interested in what you are offering. So there will be nearly zero conversion of these visitors into buyers. It is simply poor quality, untargeted traffic, because this is not real advertising, even if you buy their traffic packages.
Then what if you are considering the earning potential of Infinity Traffic Boost? That is what I will be covering in depth in the next section:

Infinity Traffic Boost Products
There are no real products that can be retailed to customers outside of Infinity Traffic Boost. This is basically a form of closed advertising. The only 'products' are its affiliate membership, and the traffic package options, for which your website or whatever advertising campaigns can be shown to other members on the platform.

How to join Infinity Traffic Boost
It is free to join as Infinity Traffic Boost's affiliate member, and you can earn commissions off referrals who purchase their traffic packages.
But in order to benefit from the compensation plan connected to the MLM opportunity, you have to be a paid member, paying between 0.005 to 0.5 BTC. To maximise your commissions, you will be required to sink in some ongoing investments.

Compensation Plan of Infinity Traffic Boost
Basically, you can earn commissions when you surf on some websites in the system, as well as by investing in the Traffic Package Options (TPO).
TPO1 – 0.0005 BTC
TPO2 – 0.001 BTC
TPO3 – 0.002 BTC
TPO4 – 0.004 BTC
TPO5 – 0.008 BTC
TPO6 – 0.016 BTC
TPO7 – 0.032 BTC
TPO8 – 0.064 BTC
TPO9 – 0.125 BTC
TPO10 – 0.25 BTC
TPO11 – 0.5 BTC
The compensation structure is a unilevel one, with commissions earned via a reverse 1-up plan, which I won't go into detail here. It is sufficient to know that this means commissions earned from every second referral are passed up to your sponsor, or upline.
That is how those few people who got into the game in the early stages, as well as the founders of the company, are the ones who will benefit the most from this.
Also, the more people you refer into the program who buy TPOs, the more you earn. Free affiliate members and those who have bought at least one TPO themselves will earn a 30% commission.

80% commission boost
If you want to boost your commission rate to 80%, you can view up to 10 supplied ads a day, as well as continually investing.
The more you invest, the less ads you have to watch to meet the requirements for commission boost.

Why Infinity Traffic Boost will not work for you
From what I can see, Infinity Traffic Boost is a very shady scheme. It is a pay to play system, where you have to keep investing in order to earn more commissions.
Though they have the free affiliate scheme to try and cover this fact, ultimately it boils down to the issue that there is no real product or service that is involved here.
What they call advertising and traffic packages are not even real, they will not serve your website or any other online business well at all.
When people see through the game and recruitment slows down, the entire scheme will collapse, because it is a shell with no substance. The company will no longer be able to pay out the commissions, so you would have lost whatever you invested in. While those at the top who had pocketed the most money simply move on to start some other program.

The proper way to make money online
Do not fall for shady schemes like Infinity Traffic Boost that make it sound so easy to make money, simply by viewing and surfing some websites.
I guess everyone starts off wanting to make it rich fast. It's a very natural thing, that's just human nature. I wasn't spared of all the temptations on the internet myself.
But when I realised those empty promises are only going to make other people rich, and not me, I stopped looking for shiny objects.
I found a dull-looking object, but I knew in my heart that is the real deal. From then on, I have never looked back.
I am now working full time from home, growing my internet business, and making an online income. I started from scratch with zero knowledge in this area. If I can do it, you can, too.
Here's a peek into my earnings on a recent day:



As you can see, more than $100 a day is very do-able. And this is not even at its maximum potential yet, I'm still growing this business every single day.
Check out this training platform that provides all the resources, tools, along with an entire community of aspiring as well as already successful online income earners. The best part is, you get to start for free:

---
Pros of Infinity Traffic Boost
1. There may be earning potential if you had entered early
But remember, it will be at the expense of many other people who do not know better, and fall for the scheme, when they badly need to earn some money too.

Cons of Infinity Traffic Boost
1. Scheme relies on continuing recruitment in order to run
Purchasing of traffic package options looks like their only form of revenue. So once recruitment slows down, the company will be in trouble.
2. No marketable products
The traffic packages are far from any form of real advertising.
---
Is Infinity Traffic Boost Scam or legit? 
Infinity Traffic Boost is not a good program to get involved in, though I won't outrightly call it a scam, I will leave it to you to decide for yourself. There is no real value to members who join, except for the hope to get some earnings.
But considering all the money is coming out from the pockets of its members, and the founders of this program definitely set this up because they want to make money out of it, I think you can see clearly where it goes from here.
Stay away from this, as it is likely to do you more harm than good, like some other products I have reviewed: Digital Income System, Cents for Freedom, and 8 Figure Dream Lifestyle, to name just a few.
---
Recommendation
If you are serious about making money online, opportunities abound. You just have to find a proven way that works, settle down to learn the ropes, and stick with it until you see some results.
This is exactly what I did.
I found a community and training platform, and I knew it would work because I saw real people there having real results. And now I have my own results to show too.
This real deal does not promise instant results, but instead provides the knowledge and lifelong skills required to grow a successful online business. If you think this could be for you, check it out by clicking on the button below:



And for reading all the way to the end of the post, I believe you have it in you to make this work. Here is your FREE PDF Guide: 4 Simple Steps to Making Money Online. Fill in your details to claim it:


If you have any concerns or questions regarding this Infinity Traffic Boost review, do comment below, and we will start a conversation from there.
---