If you have landed on this page, you are probably open to new ideas, and are willing to explore these two options: freelance or affiliate marketing.
It is worthwhile to give this decision some deep thought and consideration, because it can bring you down an otherwise unknown path that can lead to immense satisfaction and freedom.
I have done both freelance writing and affiliate marketing.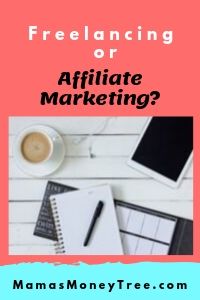 Right now, I am making 100% of my online income through my affiliate marketing businesses.
You can surely guess the direction that this article is taking, so I will not beat about the bush.
Let's dive into why I choose affiliate marketing over freelance writing, as I walk you through my personal story, as well as the pros and cons of each path.
---
My Work at Home Journey
I left my full time job two years ago, to care for my young kids who were having to deal with some health issues.
I wanted an earning opportunity that allowed time and space flexibility. Naturally I gravitated towards freelance writing jobs, as writing has been my passion and a form of expression and outlet since young.
At the same time, in my search, I stumbled upon affiliate marketing, which seemed very attractive to me. As I did the same stuff – writing, I would be building up my own business, instead of someone else's.
For a while, I was juggling both.
Then my affiliate marketing business took off, and I saw how the same work led to vastly different results in terms of sustainability as well as financial freedom.
I ditched freelance writing as I finished up the last few assignments, and have been fully focused on my affiliate marketing business ever since.
Here is a peek into my earnings on a recent day, from just one income stream: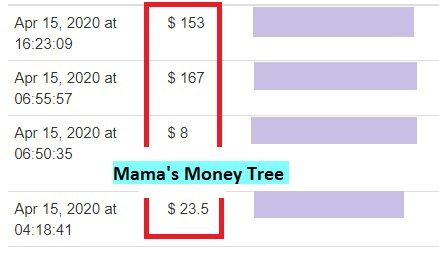 That's $350 in a day. Nothing to boast about, as it is still far from reaching its full potential. I just wanted to show you the vast possibilities here.
I wouldn't have gotten here without this awesome affiliate marketing training platform, called Wealthy Affiliate.

---

What is affiliate marketing?
Let me briefly explain what affiliate marketing is all about, before I dwell on how it compares with freelance writing.
The concept of affiliate marketing is ultra simple.
Say you like the service provided by your property agent, so you refer a friend to this agent. When a transaction is made, the agent shares a cut of his earnings with you, as a gesture of thanks for bringing him business.
This is affiliate marketing, there's nothing more to it than that.
Now, we take this model online, to the internet.

Affiliate marketing – the proper way
Imagine you are about to buy an electric kettle online. Chances are you would go on the internet to search for the best electric kettles, and read up on their reviews before deciding on the brand and model to get.
You would land on some of the websites that show up on the first page of your search results, read their recommendations, click through the links to land on some online stores or shopping platforms to make your purchase.
As you do that, the owner of the website that led you to the purchase earns an affiliate commission!
And this is how affiliate marketers use their content to earn an income. The beauty of it is that single piece of content is going to make the website owner money for many months and years to come!
As more content is built up, every single article would have the potential to bring in a continuous stream of income!
Now that you've gotten an idea of how affiliate marketing works, let us examine its pros and cons against freelance writing.

How Freelance Writing Beats Affiliate Marketing
Freelance writing provides an immediate source of income. This is the greatest advantage it provides over affiliate marketing.
Affiliate marketing takes time to see results, with the method I use to drive free organic traffic. For a few months, you may have to work for free. But this is about building your own business, all this work sets the foundation to build skyscrapers.
If you need the money to sustain your daily living, freelance writing is one of the best ways to make money from home, especially since it is your passion. It gives you the flexibility of choosing when, where and how much you want to work.
But it doesn't have to be exclusive.
You can always do a combination of both: carrying on with your writing assignments, while at the same time building up your affiliate marketing business, which is going to be so much more profitable in the long run.

---

How Affiliate Marketing Beats Freelance Writing
1. You're your own boss
When you write for yourself, you do not have to go around looking for writing assignments, prospecting, submitting proposals and samples, being scrutinised, waiting for the perfect client to find you.
Neither do you have to suit your writing style to your clients' needs, make amendment after amendment whilst trying to grasp the concepts and tone that they want to portray, etc.
With your own website, you are just writing for yourself, which makes it immensely satisfying.

2. Earning potential is much higher
One article written as a freelancer can possibly earn you $50 to $100 if you are an established writer, and much less if you are just starting out without much experience.
Freelance writing jobs are very competitive nowadays. If you do not charge a reasonable fee, you wouldn't even see yourself landing the first assignment in the first place.
It doesn't matter how well you write, the bottomline for clients is their profit margin. If they can find a good writer at a low cost, that's who they will hire. So as a beginning writer, you would often find yourself having to make do with a fee that is much less than what you deserve.
On the other hand, when you write on your own website, there is no limit to your income potential.
My best performing post on this site is sending me 70 daily organic visitors, which works out to be 2K visitors a month, just to one single article. And this figure is just going to grow as the search engines trust my website more and more.
I currently have about 300 posts on this site. I just need a small fraction of my website visitors to take my recommendations, for me to earn a full time income. That is how powerful affiliate marketing is, if done right.

3. Multiple income streams
With freelance writing, the day you stop working, your income falls right down to zero.
There is also a limit to how much you can earn, based on how much time you have each day for writing, as this earning method is based on trading time for money.
With affiliate marketing, as you establish a website's authority in the search engines, you can ease off on the frequency of publishing, or take a short break, and still generate the same amount of income.
This also means you can now use the time to create another website, get it up and running, and generate another income stream, and so on.


I hope you can see the benefits of affiliate marketing, and are ready to give it a chance. If so, let me now show you the training platform that has paved the way for me, as a complete beginner, by providing the blueprint for success.

What Wealthy Affiliate Offers
Affiliate marketing can be done in many ways – paid traffic vs free traffic; spamming your affiliate links vs building a brand that your audience can trust; offers that solely benefit the affiliate marketer vs genuinely adding value to customers.
What is taught in Wealthy Affiliate is low cost, targeting free traffic, completely newbie-friendly, and sets the stage for long term success with your own empire.
The entire process is broken down into 4 simple steps.

4 Simple Steps of Affiliate Marketing


1. Choose an interest
This can be almost anything under the sun, from a hobby to any health issue that you may be dealing with.
The training in Wealthy Affiliate teaches you to not just follow your passion, but also find affiliate programs as well as research on the market to make sure your chosen niche will be a profitable one.

2. Build a website
If you have never done this before, this step may seem daunting, but I can assure you, this is really the easiest part.
(Related: 5 compelling reasons to create your own website)
In a few clicks, your brand new website will be up and running.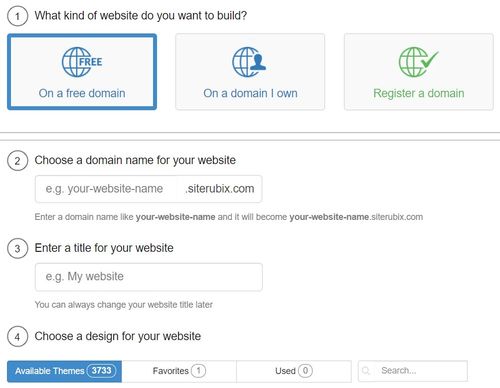 It was exhilarating for me, without any prior knowledge about creating websites, to be able to do it with such ease. The website builder incorporated onto the Wealthy Affiliate platform is such a lifesaver.

3. Attract visitors
This is where the real work starts. But it is nothing you cannot accomplish, especially if you have a flair for writing.
You see, out of the millions of websites out there, search engines will only rank those that are consistently generating authentic content that serve to help their readers.
It is also important to know what your audience are searching for, and target those keywords in your posts, so that you can answer their questions or solve their problems. You don't want to create content that no one is looking for.
These are the most precious skills that will be taught in Wealthy Affiliate, so that your website shines and ranks above the rest.

4. Earn revenue
With traffic landing on your site in hoards, it would be time to monetise by putting in affiliate links to your recommendations, and learning how to nurture your website visitors into buyers.

---

Wealthy Affiliate is more than a training platform
The training in Wealthy Affiliate is world-class and top-notch, that's without a doubt. It is what has led countless internet marketers to success, earning a full time income and beyond.
Some training programs leave you to figure things out on your own once you complete the training materials.
Wealthy Affiliate is so much more than that. It has literally everything you need to find success, from tools, resources and technical support to mentoring and an entire vibrant community of like-minded entrepreneurs.

1. Tools and site support
Wealthy Affiliate is a website builder, hosting provider, and domain name registrar, all in one.
Its technical team works behind the scene to ensure the fastest site speed is delivered to your readers, with site security and other site features that optimise it for the search engines to rank it.

2. Resources
To be frank, I have not seen any other platform where teaching, sharing and learning take place so freely and generously.
Successful internet marketers, or even beginning ones who have snippets of information to share, will create classroom tutorials and training that is made available to the members of the community.
There are weekly webinars that add such value that people would make a conscious effort to attend the live sessions, though everything would still be accessible afterwards.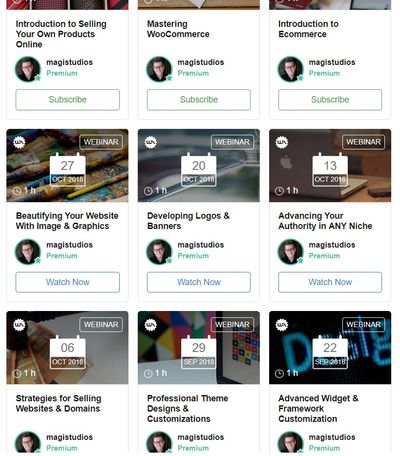 3. Mentoring
If you sign up through my website, I would be more than happy to hold your hand throughout the journey, giving advice and suggestions, answering whatever questions you may have.

4. Community
This is a huge factor in driving me to success. Wealthy Affiliate is like family to me now. When people with the strongest desire to succeed come together, the inspiration and immense support for one another is hard to put in words.
You have to experience it for yourself to understand what I mean.

---

Success stories
There is no lack of success stories in Wealthy Affiliate. These are all real people who have worked hard to make their dreams of earning an online income come true.
This is Grace, a stay at home mom who saw huge success after months of toiling on her website: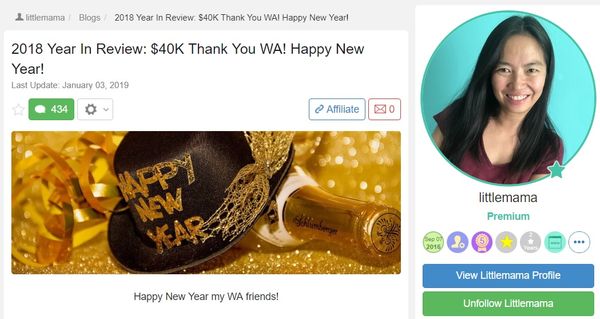 Jerry, a young man with great aspiration, who skipped his University education when he saw how far affiliate marketing could bring him.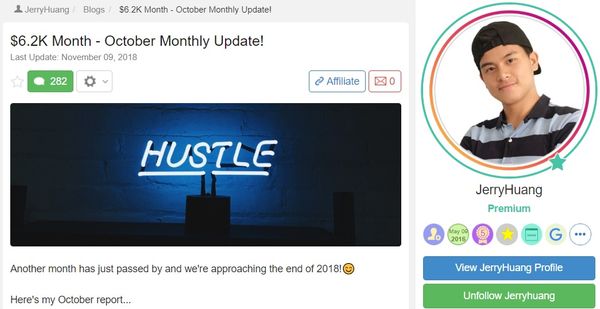 And Miren, whose hard work reaped the rewards she so deserves today.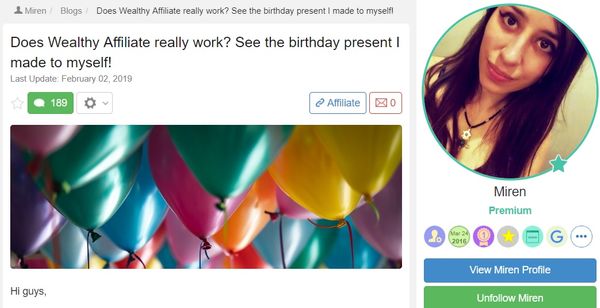 ---

Is Wealthy Affiliate free?
Yes and No.
Yes, Wealthy Affiliate is free to join as a starter member, but it only serves to provide a taste of the training, along with 2 free websites so that you can start putting what you learn into practise.
The free starter membership also allows you to explore the platform, so that you know what you are getting into, before deciding whether or not to pay for the premium membership.
No, Wealthy Affiliate is not free, because you should not expect to start making an online income on just the starter membership.
The complete training is accessible only to premium members, along with all other features, tools and resources on the platform.
The premium membership costs $19 for the first month, $49 per month subsequently, or a discounted price that works out to $1 per day if paid yearly.

What other upsells are there?
None. Zero.
Wealthy Affiliate is a transparent platform, offering only the free starter membership and the premium membership.
There is no other payment that is required, unless we are talking about buying your own domain name for your website, which will be your very own online property, costing in the range of $13 to $15 per year.
Without buying your own domain, your website can still be on the subdomain of Wealthy Affiliate's SiteRubix domain, and that will be entirely for free.
I will end off this post with the comparison table for the free starter and premium memberships of Wealthy Affiliate.


Hope to see you on the inside!
If you have any questions regarding affiliate marketing or Wealthy Affiliate, feel free to leave them in the comments section below.
---