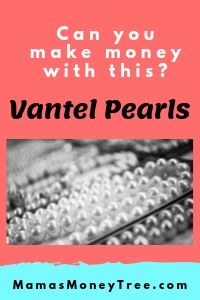 Why do people call Vantel Pearls scam? Is it a fair thing to say about this MLM company that has existed since the 1980s?
Welcome to my Vantel Pearls review.
Are the pearls of high quality? Where do they come from? Is the business opportunity a worthwhile venture to enter? Do you have to recruit heavily in order to earn from this?
Join me in my honest and in-depth review of Vantel Pearls, as I answer all these questions and more, so that you can make a better informed decision as to whether or not to join them as a consultant.
Without further ado, let's dive right in now!
---
Vantel Pearls Review Summary
Product: Vantel Pearls
URL: https://www.vantelpearls.com
Creator: Joan Hartel Cabral
Product type: MLM (multilevel marketing) company, in the jewelry niche, specifically pearls
Price: $99 starter kit (+$100 oyster deposit)
Scam / Legit? : Legit
Recommended or not? : NOT recommended
Vantel Pearls has a compensation plan that I would have really liked, because it focuses on retail commissions, if not for the fact that the main marketing strategy taught is too traditional – in the form of house parties. This means you are not able to reach the masses.
The quality of its pearls and jewelry appear questionable, based on feedback from its consultants and customers. To top it off, their products are not cheap. Hence I do not recommend this MLM (multilevel marketing) company as a business opportunity.
If you are interested in the jewelry niche, there are various business models you can consider apart from MLMs. Click on the button below to learn more:

---

What is Vantel Pearls
Let's start off with some history and background of this MLM (multilevel marketing) company.
A brief background of Vantel Pearls
It all started way back in the 1980s, when Joan Hartel Cabral returned from a holiday in Hawaii with a gift for her neice – an oyster with a pearl inside it.
The awe and wonder in opening the oyster inspired Joan to share this experience with others, hence the start of Vantel Pearls.
Online and home oyster parties are the mainstay of how Vantel Pearls consultants market their products. People get to choose their own oyster shell, open it, and have the pearl mounted on some jewelry item of their choice, which will be delivered to them after it is done.

Vantel Pearls Product Line
The jewelry pieces include the usual: necklaces, bracelets, rings, earrings, charms, keychains, and so on. From what I could see, all the jewelry items have got one or more pearls affixed onto them.
I like the looks of the jewelry, they exude an elegant air about them (though I know looks can be deceiving).
What is starkly staring back at me are also the exorbitant prices of these jewelry. A simple necklace can easily cost upward of $100, and a small charm costs around $55.

Vantel Pearls Product Quality and Feedback
According to the company, their genuine freshwater cultured pearls are from oyster farms that adhere to high quality and environmental standards. Apart from this, I was not able to find any other information pertaining to the quality of the pearls.
Hence I find the quality assurance aspect somewhat lacking.
Here are what some of their consultants and customers are saying about the quality of the jewelry pieces and pearls.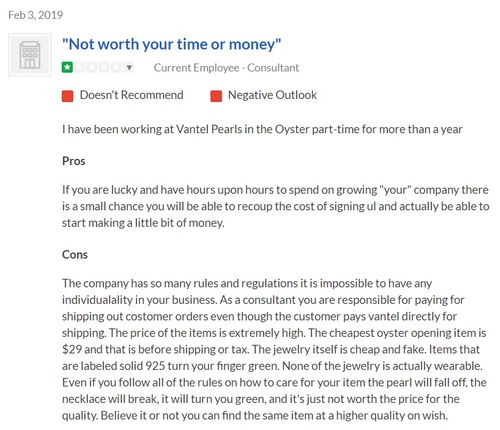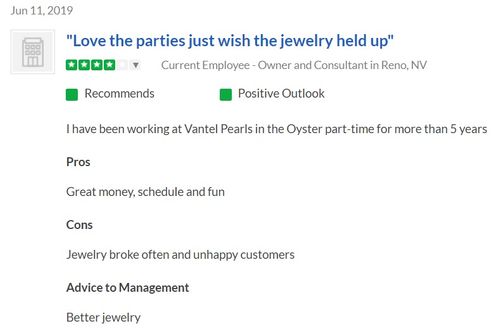 It also seems that consultants have to bear part of the shipping cost, only because the delivery system of Vantel Pearls is so inefficient.
Customers pay for shipping, which only covers for the products to be shipped from jeweler to consultants.
The consultants then have to pay for and handle the shipping to the customers.
Why can't the jeweler ship the items directly to customers, instead of passing this load to consultants and adding another layer of unnecessary work, all being labour and time intensive?
---
---

Vantel Pearls Business Opportunity
How to become a Vantel Pearls Consultant
You can join Vantel Pearls by purchasing a $99 starter kit, or $149 pro kit.
There is also a $100 oyster deposit, that can be refunded if you return the oysters provided to you on consignment, undamaged and unopened. These oysters are for you to hold parties, where customers can open them only after they agree to purchase the oysters.

How to make money with Vantel Pearls
There are various ranks within the Vantel Pearls compensation plan:
Consultant
Star Consultant
Silver Leader
Gold Leader
Platinum Director
Pearl Director
To achieve each rank, there are various requirements to be met, which I will not go into detail here. If you want to learn more, here is the complete Vantel Pearls compensation plan.
Basically, there are two ways to earn from any MLM opportunity: retail commission when you makes sales, and recruitment commission when you refer people to become consultants as well.
Retail commission
When you first start off as a consultant with Vantel Pearls, there is no monthly sales quota to be met. This means once you purchase the starter kit, you are able to start earning commissions at 25% of the commissionable volume (CV), for whatever sales you make for the company.
This is a plus point, since the startup cost is low, with just a one time purchase. And there is no pressure to meet monthly sales or purchases.
Unfortunately, it is negated by the fact that the main marketing strategy taught is to host oyster parties, where potential customers are invited to your home, to open oyster shells, find a pearl inside, and select the jewelry item that they would like to mount it on.
This very traditional form of promoting an MLM company is super outdated. At the beginning, there may be keen interest from your hot and warm market (your own family and friends), since it could be a novel experience to them.
So you may be able to make a small initial profit.
But you can't expect the same group of people to keep turning up at your place for oyster opening sessions, as the novelty wears off fast.
Then you would have to start looking into some cold market, and that is where the uphill task starts. This is when consultants tend to get frustrated from all the time and effort spent, to see so little results.
The fact that the jewelry pieces tend to break easily, and the pearls are not guaranteed of their quality really does not help.
In this time and age, it is rare to find any business not leveraging on the internet to reach out to the masses. I guess when the quality is not there, Vantel Pearls would just have to heavily rely on their marketing gimmick of getting customers all hyped up with shucking oysters.

---

Recruitment commission
To earn by recruiting people into Vantel Pearls, to me it seems very tough, because there is a minimum of $500 total sales volume over a 2-month period that you must meet, on top of some other requirements.
Only then are you considered an active consultant, and become eligible for consultant overrides, which are commissions off the sales made by your referrals, as well as additional commissions on top of the 25% of your personal CV.
I won't be going into the detail here, as I feel that what is most important to you is the earning potential when you first start out as a consultant.
As you climb the ranks, which is never an easy feat in any MLM company, your earning potential increases. But it could take many months or even years of toiling and earning an amount much less than what your time and effort is worth, before you rise up the ranks.

Why Vantel Pearls may not work for you
There are a few major issues that I see here, that makes Vantel Pearls something that I wouldn't recommend to anyone.
Though the focus on retail commissions is very good and shows its legitimacy as an MLM company, its apparent poor quality of the jewelry pieces and over-the-top pricing simply means that it is not likely for you to get repeat customers.
That is why the oyster shucking home parties, but there is obviously a limit to the market that you can reach using this traditional method. And again, unlikely to get repeat customers with this.
Hence market saturation is reached very quickly, putting a cap on what you can earn with this opportunity.
My sincere advice: find some great quality pearls or jewelry, whatever is your passion or interest, and promote them through affiliate marketing, which is by far the most profitable method if you know the proper way of doing it.

---
Pros of Vantel Pearls
1. Established company
Vantel Pearls has been around for about 30 years! It doesn't mean that most consultants are making money, but it does say a bit about the sustainability of the products and the business.
2. Evergreen niche
Jewelry is a niche that will always be in demand, as long as there are women on this planet. Not everyone will take to pearls, though. But I believe there is a sufficiently large market to tap into. If only its quality can be improved.
3. Focus on retail commission
This is the fairest way to reward consultants who bring in sales for the company, so it's what I really like about the compensation plan.
And there is no minimum monthly sales requirement if you just want to earn the 25% CV, which is a great thing.

Cons of Vantel Pearls
1. Exorbitant pricing
Prices for the jewelry pieces are on the high side. Personally, I wouldn't spend this kind of money unless there is quality assurance for the pearls as well as the metals used in those items.
2. Poor quality
It seems to be quite a common complaint that the jewelry will stain fingers, or break easily. This is something I cannot quite grasp about Vantel Pearls, because quality says everything about the company's ethics. I'm not sure how they can compromise on it.
3. You may not profit out of this
If their consultants were making good money, Vantel Pearls would have published their income disclosure, which I have not been able to locate anywhere online.
I'm sure there are some consultants who are doing very well, it's just that such a business model is not for the majority of people who do not have the flair for direct selling.
Plus the fact that the drop off rate tends to be very high for any MLM company, due to the frustrations of not seeing results despite all the hard work, it is definitely not easy to build a team and ensure it stays intact.
4. Family and friends start to shun you
Since you will be targeting friends and family as your first customers, they may oblige for the first time, and attend the oyster party you host. Subsequently, you can be sure that if you try to approach them again, they will probably be avoiding you like the plague.

Is Vantel Pearls Scam or legit? 
Vantel Pearls is definitely a legitimate MLM company, much like Paparazzi, Optavia, Emris, and Cili by Design, to name just a few.
I do not recommend it, due to its high price, low quality, and traditional selling method which limits your market.
---
Recommendation
Here are some other business models that you may want to explore, if you are thinking of selling jewelry from home, and making it your online business:


My favourite model, which is exactly what I am doing now to make my online income, is called affiliate marketing.
Here is a peek at my earnings on a recent day:



That's almost $200 in just one single day. It's nothing to boast about, though, as it's just a small fraction of its full potential. I just wanted to show you the possibilities.
It is what has allowed me to work full time from home, working around my kids' schedule, without ever having to meet any potential customer for any face-to-face selling, leveraging on the limitless shoppers' market on the internet instead.
Do check it out. I started from scratch, without knowing a single thing about affiliate marketing. If I can do it, anybody can too.


And for reading all the way to the end of the post, I believe you have it in you to make this work. Here is your FREE PDF Guide: 4 Simple Steps to Making Money Online. Fill in your details to claim it:


If you have any concerns or questions regarding this Vantel Pearls review, do comment below, and we will start a conversation from there.
---