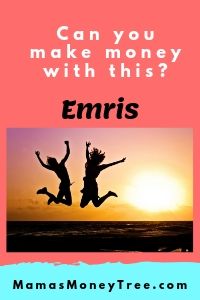 Here, I will be dwelling in depth into this relatively new MLM company, to answer the question: Is Emris International a scam?
Welcome to my Emris review.
What are the products and their quality sold by this health and wellness company? How does the compensation plan look like, and will it work for you? Do you have to engage in mass recruiting in order to earn from this opportunity?
We will answer these and more, in my honest review of Emris International.
Without further ado, let's dive right in now!
---

Emris International Review Summary

Product: Emris International
URL: https://www.emrisinternational.com
Creators: Aspen Emry, Ilean & Matthew Harris
Product type: MLM company in the health and wellness niche
Price: $49 business kit to be signed up as a Brand Ambassador for a year, 80 PCV (personal commissionable volume) over the latest 5 weeks to be considered active.
Scam / Legit? : Legit
Recommended or not? : Recommended to focus on retail aspect of the business
Emris is a very new MLM (multilevel marketing) company launched this year (2019), selling a few products in the health and wellness niche, including a CBD product.
Its products are great, and its compensation plan has a strong component for retail commissions, which I think looks promising. If you hop on the wagon early (which is now), and learn how to market the business online, it can possibly see you soaring to success.


However, if you are open to other ideas, check out another business model (my personal favourite) to making money from home:


Read on for the detailed review of Emris International, and why I recommend focusing on its retail aspect.
---

What is Emris International

This is a very new company in the network marketing (a.k.a. direct sales) space, launched only this year, in 2019.

A brief background of Emris International

Its three founders have accumulated vast experience and success in the network marketing industry before coming together to set up Emris.
Aspen Emry previously built a big team with It Works, couple Ilean and Matthew Harris saw their success in direct sales with TLC (Total Life Changes).
Along with a clean record, this combination of power network marketers seem set on creating a name for themselves.



In their own words, "This isn't a company. This is a movement."

Emris International Product Line

For now, there are only three products to Emris. Things may change in the future, but I like it the way it is now.
I love it when things are kept simple, and how marketing and development efforts can be focused and streamlined, when a company has less products to take care of.

Synergy
This is their only CBD product, containing full spectrum hemp extract oil from American grown hemp plants.
It's reassuring to see that they have made their 3rd party lab testing results available to the public, so you can scrutinise them if you would like to.
Synergy has also been tested to be free of solvents, pesticides, metals, and unnatural substances.
It is for sublingual application, by using the dropper to place a drop of the CBD oil under the tongue.
Claimed to manage discomforts, support relaxation and well-balanced sleep cycles, I personally do believe that CBD is effective in relieving many ailments and symptoms, working on the endocannabinoid system.
Available in 150mg (retail price $74) or 250mg (retail price $99), a bottle of CBD oil contains 30 servings, each serving is one drop. It comes in either lemon or natural flavour.
I must say the price is on the high side, for sure. But if one is going to take Emris products regularly, they can become a VIP customer by opting for easy-ship (setting up a monthly order), and get a 20% discount off the retail price.

Vitality Plus
This is a herbal blend, to promote overall wellness and vitality, including ashwagandha root, turmeric root, cinnamon bark powder, holy basil leaf, garlic bulb, and cordyceps in its ingredients, among many others.
30 servings in a bottle is priced at $74 retail.

Vida
Vida is a nutritional supplement that contains over 2 dozen organic fruits, vegetables, and super greens.
A bottle of 60 tablets (for 30 servings) is priced at $74 retail.

Emris International Product Quality

Though I absolutely believe in the quality of the products, and health and wellness is an evergreen niche, I must say the market is very competitive too.
Nutritional supplements and CBD oils are sold at a lower price in the open market, without foregoing on quality.
So it remains to be seen, whether Emris can rise above all its competitors, not to mention the established MLM companies in the same niche, like Jeunesse, Arbonne, Amway, and Herbalife, to name just a few.
One good thing about Emris is how the compensation plan can allow you to simply promote its products, without requiring a minimum monthly purchase, and without working on recruitment, if you just want to focus on earning retail commissions.
---

Emris International Business Opportunity

How to become an Emris Brand Ambassador

Emris International calls its distributors Brand Ambassadors.
To get yourself signed up as one, simply pay $49 to purchase a business kit, that entitles you to one year of being an ambassador.
This allows you to earn retail commissions.
However, to be considered an active Brand Ambassador (which will get you other perks), you have to maintain a minimum of 80 PCV (Personal Commissionable Volume) for the last 5 weeks.
And to be qualified for bonuses (this is the residual income aspect), you will have to maintain 2 active Brand Ambassadors, one on each leg (of the Binary compensation plan).

How to make money with Emris International

Once you become a Brand Ambassador, you can start earning with Emris. There are two main methods to earn, though the official compensation plan gives 9 different ways. I will just keep things simple and explain the gist of the plan here.

Retail commission
As a Brand Ambassador, you will get a personal Emris website.
This is in fact a duplicate, which all ambassadors will get the exact same copy of, the only difference being that your website is trackable to your unique ambassador link, so whatever commissions made through it can be accredited to you.
When someone places their order through your website, you get to make the difference between the Brand Ambassador price and the retail customer price, which could be up to 20% of the retail.
Another way to earn is when a customer purchases a product directly (physically) from you, you will also charge them the retail price, while you paid for the Brand Ambassador price when you bought it from the company.
If a customer intends to make purchases for the longer term, he or she can sign up through you to become a VIP customer, by signing up for easy-ship (monthly orders). They will get a 20% discount off the retail price.
In this case, your commission will be less: 10% of the PCV (personal commissionable volume), instead of a percentage of the retail price.
The biggest thing I like about the Emris compensation plan is that up till this point, your spending would be only $49 for the entire year, to get the rights to promote their products and earn retail commissions.
I would leverage on internet marketing to make this work for me, without ever having to recruit a single person into the business.

Recruitment commission
This is the part of every single MLM compensation plan that will make me pull out my hair. The convoluted figures and diagrams are too much for my simple mind.
And I have never understood this need to make MLM compensation plans so complicated, except for veiling the fact that distributors at the starting ranks just do not earn much at all, since most of the earnings get passed up.
It suffices to understand that the more people you recruit into the program, the high the ranks you climb, and the more you can earn.
To make a substantial income from recruiting others into the business, you have to climb up the ranks sufficiently, before all the effort over the initial months or even years finally get rewarded.
It's like working more than full-time hours, and not getting paid for all that effort until you are up there.
Especially with a Binary compensation plan as is the case for Emris, it is even more difficult to earn through building a team.
Another fact is that the drop-off rate for MLMs is just too high. When people do not see results, and with the minimum monthly requirements (80 PCV) that can add up quickly, many do not wait too long to cut the losses.
Why do I say this?
For distributors who are not even able to meet the minimum requirements, they will usually make personal purchases to top up whatever gap there is, just so that they can maintain their active status.
People will not do this for long.
So to earn through recruitment, you need a large enough audience that can sustain the size of your team even in the midst of high turnover. People come and go. If you are not able to recruit people at a faster rate than the drop-off, then it is very difficult to make this a sustainable venture.

How Emris can possibly work for you

If you are into this Emris business, my sincere advice for you is to focus on retail commissions. If not for the fact that this component of Emris' compensation plan is advantageous to the new distributor, I wouldn't be recommending it at all.
Even then, there is no guarantee for success. I can show you a proven path, but it is still up to you to learn the ropes, put in the effort and walk the path yourself.
You see, with the internet, if you do not leverage on it, you are doing a disservice to your business. If you are still promoting Emris to your warm market – friends and family around you, then you're doing it all wrong.
With Emris, as its product quality is good, I believe there will be people who really need it, or are willing to try it out, for their health purposes.
And before purchasing, they will be doing their research online.
If you can show up to answer the questions they are asking on the search engines, then you have landed yourself some potential customers.
With sufficient sales volume, just the retail commission alone is going to make you a handsome income.
See how you can increase your Emris sales with free search engines traffic:

---

Pros of Emris International

1. Emerging company
A new company would mean the market is not yet saturated with all its distributors. You won't have every interested person already attached to some distributor of the company.

2. Evergreen niche
Health and wellness is a niche that will never go away, though it also means it is highly competitive, and there are so many other network marketing companies in this area.

3. Great compensation plan
I love it that you can start making retail commissions and VIP customer commissions just by paying for a one year enrollment of $49 to be a Brand Ambassador, if you do not want to have anything to do with its residual income. This makes it much easier to see profits early on.
When you start making a good income out of this, it would then be much easier and ethical to try and recruit people into your team.
By then, you can be confident in training up your team members to follow the path you had taken to success.

Cons of Emris International

1. High pricing
This may deter some people from buying Emris products, shrinking your market to a much smaller one.

2. Still an MLM at heart
At its core, Emris International is an MLM, where the potential to earn is really through recruitment. Unfortunately, as with all MLMs, only a handful will see a life-changing income.
Many will be making losses from the monthly minimum PCV requirements, since they are wanting to earn through the residual income component as well as the retail component.
Effectively, you have a minority (those at the top of the ranks) earning off the efforts of a large group of distributors, who just may not know how to market the opportunity well enough, but you can't deny that this is how the incentive structure is set up.
And this is where MLM companies see their out-of-this-world revenue.
In this sense, I have always felt that a company that chooses the MLM business model over availing itself to the open market forces tend to prioritise profits a lot more. Well, that's just my personal opinion of things.

Is Emris International a Scam or a Legit Company? 

Emris International is a legitimate MLM company, that has a compensation plan which takes care of its distributors better than many other direct sales companies.
---

An Alternative

To make Emris your home-based business, it will take lots of hard work initially, but it can be done, much more easily through the internet than through physical connections with people.
Learn the method here, and you may see many other huge windows of opportunity open up for you:


As for me, I am working from home full time, using a different business model from MLMs. What I do is called affiliate marketing.
Here's a peek into my daily earnings:



That's almost $200 in just one single day. It's nothing to boast about, though, as it's just a small fraction of its full potential. I just wanted to show you the possibilities.
If I can get your permission to show you this method in more detail, check out the button below:


And for reading all the way to the end of the post, I believe you have it in you to make this work. Here is your FREE PDF Guide: 4 Simple Steps to Making Money Online. Fill in your details to claim it:


If you have any concerns or questions regarding this Emris International review, do comment below, and we will start a conversation from there.
---