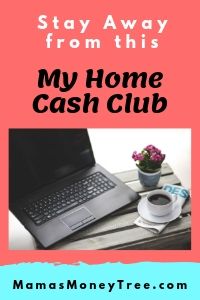 Is My Home Cash Club a scam? To tell you the truth, this is one of the most bizarre products I have come across, having reviewed hundreds of products on this website.
Welcome to my My Home Cash Club review.
Can you really make $500 per day just by working 30 minutes each day? What method exactly does it teach you help you make all that money?
We will answer these questions and more, in this honest and in-depth review of My Home Cash Club, as I walk you through the training that you will get inside, and whether it will really work.
Without further ado, let's dive right in now!
---
My Home Cash Club Review Summary
Product: My Home Cash Club
URL: http://myhomecashclub.com/
Creator: "Brian"
Product type: affiliate marketing training
Price: $47 + upsells
Scam / Legit? : Scam
Recommended or not? : NOT recommended
My Home Cash Club has a sales video that provides no information on the product but is all hype. Its sales page is clear that the product is about dropshipping and building an online store.
As it turns out, the training videos are some extremely outdated and disorganised materials on affiliate marketing that will serve to confuse you more than anything else.
If you do not want to waste anymore time and money on scams, check out my #1 recommendation to making money online:


Read on for the detailed review of My Home Cash Club, and why I absolutely do not recommend it.
---
What is My Home Cash Club
You may or may not have seen the sales video of My Home Cash Club, depending on how you entered its sales funnel. But ultimately, you will reach this landing page, which has the payment section already.


The sales video had zero information about the product to begin with. It is typical of all those hyped up sales videos that target the natural vulnerability of people to go for instant gratification, promising the big bucks instantly, with zero to minimum work.
There was fake scarcity as well, to create a false sense of urgency, so that people would buy without too much researching up on the product first.

It's about dropshipping, apparently
As you can see from the sales page, the product teaches you about dropshipping, which is a very legitimate way to make money online, by selling things in your online store.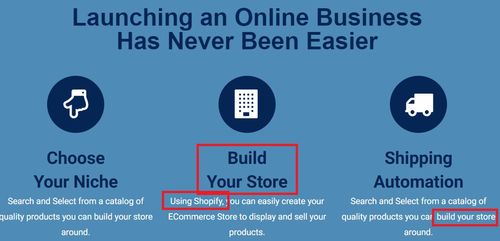 We will take a look inside the members' area in a later section. For now, let's continue to explore around on the sales page.

90 day refund policy – is it even legit?
On the payment section, it very clearly states that there is a 90 day money back guarantee.



I wasn't sure how well they will honour that, but decided to just take a look at their terms of service.



Lo and behold, it states that all sales are final and they offer no refunds of any kind unless otherwise expressly noted. What does it mean? Shouldn't they be detailing the conditions for the 90 day money back guarantee?
This led me to be suspicious and for my trust level for this product to go right down.

Support email address is fake
In the same payment section, they provided an email address that we can contact to get support.
A simple check on it revealed an astonishing fact.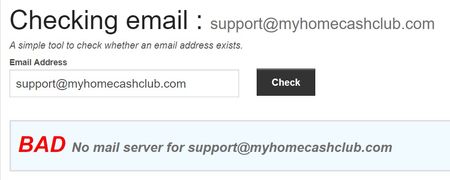 The email address does not exist. There was never any intention for "Brian" to let us get in touch with him. How on earth are we supposed to put up any request for refund, then?
It just gets more and more ridiculous, the more we probe around on its website.

What exactly is inside My Home Cash Club
Once inside the members' area, the biggest revelation awaits.
Instead of having anything remotely to do with dropshipping or E-commerce, My Home Cash Club turns out to be some outdated, chaotic assembly of training on affiliate marketing, along with links to some other websites which "Brian" will probably make money of, if you do sign up.
How bizarre can things get?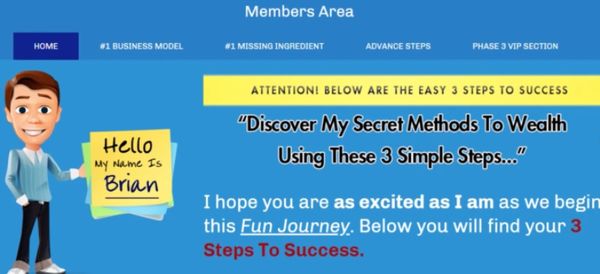 1st step to success
In the first step to success, you are supposed to call your success coach. Well, I really wouldn't do this, because this will most likely be a sales person who will try to hardsell you something expensive, if anyone were to pick up the call in the first place.
2nd step to success
Sign up for accounts with ClickBank, ClickBetter, and JVZoo. These are all affiliate networks, where vendors will put out their products, so that affiliates can choose to promote for them, and earning a commission when a sale is made.
This is how affiliate marketing works, but there is no reason to limit yourself to products on these networks, especially in recent years, digital products on affiliate networks seem to have dropped in quality.
3rd step to success
This last step brings you to MaxVisits, which is a platform where you can buy traffic, at a very cheap rate.
It is true that traffic is the bloodline of any business. Without traffic, there would be no sales, and thus no business.
But based on what I know of this traffic platform, the conversion rates are no good at all. Which means you will just be throwing your money down the drain.
---
---
Advanced steps
After the 3 main steps, there are some advanced steps, of which one takes you to sign up with GetResponse, a legitimate and good email autoresponder service provider.
Email marketing is important for any online business, but not if you are a complete beginner. There is no point paying $15/month for this service if you have not learnt to get free traffic to your business yet.
Yes, free traffic is possible, it is exactly how I am getting people to land on my website. I do not pay a single cent for advertising to get visitors to my site.
When the time is right, and you start to incorporate email marketing into your business, you will see a boost in the retention rate, as well as the trust level of your audience for your brand and what you have to offer.
In this series of advanced steps, you will also be taught to use Click.org, which serves to track the clicks on your links, and is again something that should come in later, when you are trying to optimise conversions. Not before you even get traffic to your offers.
Lastly, you will be treated to some random training videos put together in a very lame attempt to teach affiliate marketing. I'm sorry to say this, but they are quite useless.
---
To round up this article, let me recap and summarise the pros and cons, before I finally make my conclusion and recommendation.
Pros of My Home Cash Club
Frankly, I do not see a single plus point in this product. It is not going to help you in any way to set up your affiliate marketing business, much less an E-commerce store. It's really quite a joke.

Cons of My Home Cash Club
1. Misleading sales video, deceptive sales page
"Brian" does not seem like a very honest person, from how the sales video does not provide any information to allow you to make an informed decision for the purchase, to how a fake email is used, refund policy is so confusing, and lastly from the fact that he does not even know what he is selling!
2. Affiliate marketing training is outdated and useless
The training videos are of no use, you would be lucky if they do not throw you into further confusion.
3. Tools are not appropriate for beginners
The tracking tool and email autoresponder are of no use for you without a strong foundation for your business, which is content. You have to first build a brand that your target audience can trust, before there will be sufficient clicks for you to track.
The same goes for email marketing. Without traffic, there is no point setting up an email marketing campaign.
Traffic sources taught by My Home Cash Club are all low quality, like Solo ads, which is a method of sending your email campaigns to other people's email lists, and buying traffic from platforms that have not proven themselves to supply traffic that will convert well.
I would say "Brian" is more concerned about making money for himself than helping you set up your online business properly.
4. Upsells
If the front end product is no good, let's not even talk about the upsells, which are there to dig even deeper into your pockets, promising faster and greater returns, with even lesser work on your part.
---
Is My Home Cash Club a scam or legit product? 
In my opinion, My Home Cash Club is a scam. It's a complete disaster, as you can tell from how the sales page is selling a completely different business model from the actual training.
"Brian" does not have your interest at heart at all.
You do not need it in your life, just like these other products I have reviewed: Affiliate Cash Club, Cash Sniper, Your Dream Websites, Quick Home Websites, and Income Sites Online, to name just a few.
---
The proper way to do affiliate marketing
Affiliate marketing is exactly what I am doing to earn my online income, so you can trust that I know what I am saying.
The concept for affiliate marketing is very simple. Promote other people's products, and earn commissions when customers make purchases through your affiliate links.
Many people will teach beginning affiliate marketers to buy traffic, because if it works, it gets them results faster.
It is not their money that is being spent on the paid traffic, of course it is easy to say. They just want to sell their training, they do not care whether you get results or not.
Not all training products are like that, but low quality ones definitely are, their creators definitely do not care about the failure or success of your business.
The thing with paid traffic, like those taught in My Home Cash Club, is that you have to know the traffic source well. How are those leads collected? What kind of offers did they opt into? Does their interest match with whatever you are promoting?
If you do not know the players in the industry, it is very easy to get cheated of your money with paid traffic, especially when some unethical platforms actually send bot traffic to their clients!
And if we are talking about advertising on social media platforms or search engines, like Google Adwords, or Bing Ads, it takes experience to know your target audience well, in order to optimise your ad campaigns to get the best returns.
And this is done through running campaigns themselves, learning from the results, tweaking parameters, testing it again, rinse and repeat. Until you master the art of advertising.
All this takes money. And if you do not know what you are doing, you could easily end up thousands of dollars in the red.
That is why I will never recommend paid traffic for beginners.
The training platform I found when I first started my affiliate marketing journey teaches free traffic, highly targeted traffic from the search engines that are not just free, they are unstoppable once you get it.
Of course there will be some sacrifice. I am not spending a single cent on this traffic, but I put in lots of hard work, because it is not easy to get the trust of the search engines, since they only want to show the most authentic and helpful answers when people search for stuff.
But all this effort is so worth it, because it pays months and years down the road.
I am now working full time from home, growing my internet business. I started from scratch with zero knowledge in this area. If I can do it, you can, too.
Here's a peek into my earnings on a recent day:



That's almost $200 in just one single day. It's nothing to boast about, though, as it's just a small fraction of its full potential. I just wanted to show you the possibilities.
Check out this training platform that provides all the resources, tools, along with an entire community of aspiring as well as already successful online income earners:


And for reading all the way to the end of the post, I believe you have it in you to make this work. Here is your FREE PDF Guide: 4 Simple Steps to Making Money Online. Fill in your details to claim it:


If you have any concerns or questions regarding this My Home Cash Club review, do comment below, and we will start a conversation from there.
---