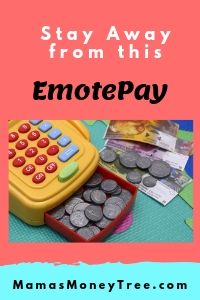 Welcome to my EmotePay.co review.
If you have come across this new website, or have seen people promoting it, and are doing your own research before joining, you are definitely doing the right thing.
This is a huge scam, and will do you more harm than good.
Join me in this honest and in-depth review of EmotePay, as I walk you through all its red flags that point towards it being a deceptive platform, with ulterior motives.
Without further ado, let's dive right in now!
---
EmotePay.co Review Summary
Product: EmotePay
URL: https://www.emotepay.co/
Creator: Unknown
Product type: referral program
Price: free to join
Scam / Legit? : SCAM
Recommended or not? : NOT recommended
EmotePay is a data harvesting site that disguises itself as a referral platform, so that it can get people to bring in more victims. They promise very high referral fees to lure people, but it has never been their intention to pay out a single dollar.
If you do not want to waste anymore time on scams, check out my #1 recommendation to making money online:


Read on for the detailed review of EmotePay, and why I call it a scam.
---
What is EmotePay.co
To find out what is EmotePay.co, let us first take a look at its home page.



They claim to be an influencer platform, which allows you to make money with social media, simply by referring friends to join them
As advertisers pay them to gain exposure and build brand awareness on their platform, they get to share their ads revenue with you.
The first sign of trouble is its huge bonus and promised payout.

Red Flags on EmotePay.co
High payout that they cannot even afford
Advertising is a very lucrative sector of marketing, but no advertisers will pay them such high fees that allow them to give a $25 signup bonus to every member.
You are not required to even pay a single cent to sign up. Where do they find their money from?
The other obvious baits are $2 per click, and $10 per referral. On legitimate sites, even $1 per referral is already considered high, and yet they are offering to pay you 10 times of that!
Nobody pays for clicks for such a program, as the focus is on actual signups. So again, that is a huge sign shouting at us that this is a fraudulent site.
They lie about their age
On their blog, this article claims that EmotePay has been live for a month, and it was dated July 19, 2019.


Which means the platform started some time after mid June 2019.
Look at what I uncovered with a little bit of digging around: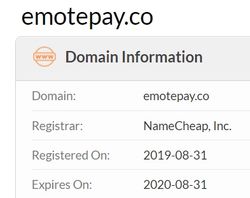 Their domain was newly registered on August 31, 2019.
That's just a few days before the time of this writing! It's barely a week old, and they claim to have been live since June 2019.
It's just a difference of 2 months, why do they need to tell a lie and jeopardise their own reputation, which should be the most important thing any legitimate company must guard?
Fake email address
The contact email address that they provided on their website is fake.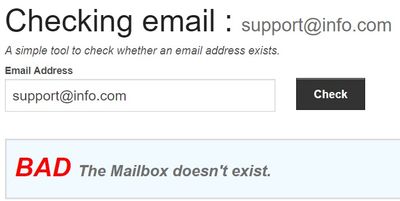 These guys are literally hiding, because they never intended to pay out to a single member at all.
They never wanted to hear from you, right from the onset. So why should we trust them at all? By this time, my trust level for them has plummeted right down to zero.
Identity Crisis
Here is another big red flag. On their terms of service page, they carelessly made mention to another platform, called Paid4Clout.



This is another scam that I had previously reviewed. So it seems that it is just the same old scam, hiding behind different names, so that people will not be able to find angry users' feedback about them.
These are some reviews I found for Paid 4 Clout, on TrustPilot. It seems that people these days are getting very creative, giving 4 and 5 stars for the platforms' huge lies, though I don't think it's a very good idea to give them the stars like that, as it can be misleading.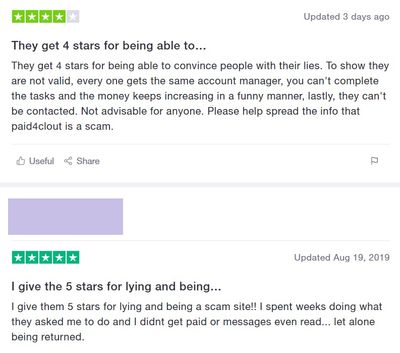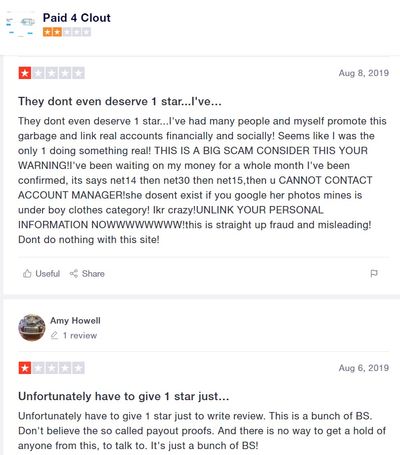 I hope I have convinced you to have nothing to do with this EmotePay.co.
---
---

What does EmotePay.co really want out of you?
Sell your contact details
First and foremost, the main objective of the website is to collect as many people's email addresses as possible, so that they can be sold to third party advertisers.
You can be sure this mailing list will fetch a good price, since the audience is a highly targeted one, for making money online.
So if you had signed up, you would be bombarded by tons of offers and promotions for products that will get you the quick buck without doing any work, or done for you systems that will get you your first $1K in the next day, and other nonsense.
Many people will then be hooked on those shiny objects, and fall for even more scams, because the scammers know people are just looking for shortcuts and the easy way out.
But the fact that you have landed on my website shows your prudence in checking things out, instead of taking things at face value.
So if you are interested, I would love to show you how I am making my online income, towards the end of this article.
For now, let's examine what may happen if you try to complete the tasks and take up offers on the EmotePay website.

Tasks and offers may lead you into danger
There are options on EmotePay.co to complete tasks, and take up offers, and earn money in the process. The promised earnings are also huge, because they simply want to bait you into taking those actions, but now you know they will never pay you.
On top of wasting your time and effort completely, downloading apps, clicking on links, and filling out more information about yourself may compromise even more of your online safety and privacy.
These people would do anything for money. You do not know what kind of shady sites you will land on, or whether some malware will be installed on your computer.
If you are convinced of their lack of integrity, then stay completely off the site, do not click anything in there, or try to check your earnings on your dashboard anymore.
---
To round up this article, let me recap and summarise the pros and cons, before I finally make my conclusion.
Pros of EmotePay.co
None, unfortunately. There is not a single plus point that I can think of. Everything puts you in harm's way.

Cons of EmotePay.co
1. Your information will be sold
You will be receiving lots of spam mail in your inbox. Though it sounds like a minor irritation, the fact is your privacy had been compromised, you never gave explicit permission to receive those promotions.
2. Doing tasks and offers may be dangerous
Frankly, I do not know what exactly you may encounter as you go about clicking stuff on the EmotePay platform. But I do know these people cannot be trusted at all.
If they can tell blatant lies on their website, I think they are capable of anything just to make money.
Just as an example, companies that are generally not allowed on mainstream advertising channels may use sites like this to advertise their products or services.
Worse still, you may be led to other sites that try to get more information out of you, like your payment details, or mailing address, etc.
3. They are not paying anyone
Whatever you try to do on the platform, or to refer people, will be all in vain, as they never had any intention of paying out a single cent right from the onset. That is why they can boast such out-of-this-world referral fees.
---
Is EmotePay.co Scam or legit? 
The EmotePay.co scam is real. Stay as far away as you can, you do not need such a thing in your life.
It is as malicious as platforms like MoneyChaser.co, TheBucks.Club, and TheMiniPay, to name just a few.
---
The proper way to make money online
I guess everyone starts off wanting to make it rich fast. It's a very natural thing, that's just human nature. I wasn't spared of all the temptations on the internet, hopping from one shiny object to the next.
But when I realised those empty promises are only going to make other people rich, and not me, I stopped looking for shiny objects.
I found a dull-looking object, but I knew in my heart that is the real deal. From then on, I have never looked back.
I am now working full time from home, growing my internet business, and making an online income. I started from scratch with zero knowledge in this area. If I can do it, you can, too.
Here's a peek into my earnings on a recent day:



That's almost $200 in just one single day. It's nothing to boast about, though, as it's just a small fraction of its full potential. I just wanted to show you the possibilities.
Check out this training platform that provides all the resources, tools, along with an entire community of aspiring as well as already successful online income earners:


And for reading all the way to the end of the post, I believe you have it in you to make this work. Here is your FREE PDF Guide: 4 Simple Steps to Making Money Online. Fill in your details to claim it:


If you have any concerns or questions regarding this EmotePay.co review, do comment below, and we will start a conversation from there.
---