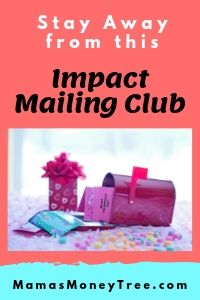 Impact Mailing Club scam is just like so many other cash gifting schemes that have sprouted all over the world. It is something you would want to avoid, and I will explain why.
Welcome to my Impact Mailing Club review.
Though it is possible to make money with this kind of program, I really wouldn't recommend it. The odds are stacked against you, plus it is illegal.
Join me in this honest and in-depth review of Impact Mailing Club, as I help you understand how it runs exactly, and why most people will lose money from it.
Without further ado, let's dive right in now!
---

Impact Mailing Club Review Summary

Product: Impact Mailing Club
URL: http://impactmailingclub.com/
Creator: Rose Alameda
Product type: Cash gifting scheme
Price: Between $100 to $2000, depending on the membership level
Scam / Legit? : SCAM, because your chances at making money are extremely low, and it is illegal.
Recommended or not? : NOT recommended
Impact Mailing Club is a cash gifting scheme that has zero product or service to sell. It relies on you mailing out letters or postcard to a given mailing list, and if anyone joins just like you, you earn a commission.
This is an unethical way to make money, because at any one time, the majority of members are losing money.
---
---

What is Impact Mailing Club

To find out what is Impact Mailing Club, I tried searching on their website, but it seems that the site is still being built out at the time of this writing, there's nothing on it yet.
They do have a Facebook page.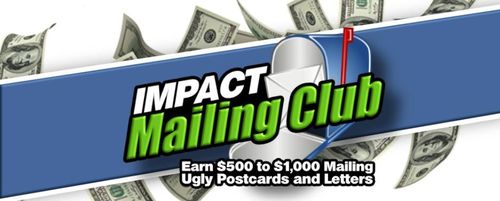 Impact Mailing Club is basically a cash gifting program whereby you pay to join at one of four membership levels. This qualifies you to earn commissions when your referrals join the scheme just like you.

How does Impact Mailing Club work exactly?

These are the 4 levels of membership: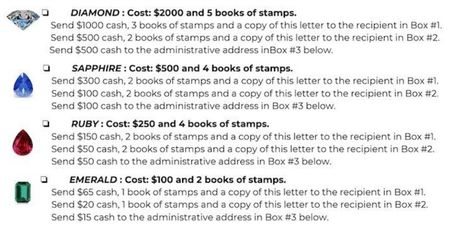 For each level, apart from the membership fee, there is also a predetermined number of books of stamps that you would have to buy (at your own cost) and send out along with the cash.
This is part of the letter that you would have received from your sponsor: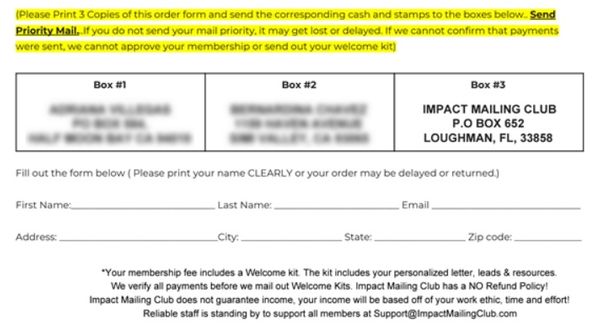 Emerald: $100 and 2 books of stamps
To buy in at the Emerald level, you will have to send out $65 cash and 1 book of stamp to the address in box 1. This is your direct sponsor.
$20 and another book of stamps goes to the person in box 2. This is the sponsor of your direct sponsor.
$15 goes to the admin, who is none other than the owner of Impact Mailing Club herself.
When these actions are complete, you will receive your Welcome Kit in the mail, which includes your personalized letter (this will have your name and address in box 1, and your sponsor in box 2), and 100 leads.
With this membership, you will be entitled to $65 commission at the 1st level (when a direct referral joins), and $20 at the 2nd level (when your direct referrals get their own referrals to join).

Ruby: $250 and 4 books of stamps
For the Ruby membership level, you will send $150 cash and 2 books of stamps to the person in box 1; $50 cash and 2 books of stamps to the person in box 2; and $50 cash to admin in box 3.
Together with your personalized letter, you will also be getting 200 leads, and qualify for $150 commissions at 1st level, and $50 commissions at the 2nd level.

Sapphire: $500 and 4 books of stamps
At the Sapphire membership level, you have to send $300 cash and 2 books of stamps to the person in box 1; $100 cash and 2 books of stamps to the person in box 2; and $100 cash to admin in box 3.
The number of leads you will be getting is 400. Commissions will be $300 at the 1st level, and $100 at the 2nd level.

Diamond: $2000 and 5 books of stamps
At this highest Diamond level, you will send $1000 and 3 books of stamps to box 1; $500 cash and 2 books of stamps to box 2; and $500 cash to admin.
As a result of joining at this membership level, you will get 1000 leads, along with 2 invites to the Company Mastermind Event.

The backend work you need to do, along with other costs
Since this program runs offline, everything has to be sent through physical post.
This means you would have to print out 100 copies of your 3-page personalized letter, so that you can send a copy to each of the 100 leads that you receive from the company.
Along with 100 envelopes and 100 stamps, these all cost money. And this is just at the lowest membership level of Emerald. At higher levels, these running costs would increase, since you would have more leads to send to.

Will Impact Mailing Club make you money?

Very honestly – no.
Though the work sounds really simple, just printing out letters, stuffing them into envelopes and sending them out to your leads, the chances of anyone actually responding to you are really low.

Those who know how to play the game are already in it
You see, cash gifting schemes are illegal. They will sprout from nowhere, run for a few years if they are lucky (because the FTC is too busy going after the big scams), slowly fade out and die a natural death when their market gets saturated and recruitment comes to a standstill.
In no time at all, the same people who are addicted to this greed will launch an exact same scheme, just under a different name.
They will email their group of loyal followers who are in it together, so the mailing starts, and they begin to spread their roots, targeting an audience by getting their hopes up about building a life-changing income out of this opportunity.
The ultimate winners are Rose (the owner of Impact Mailing Club) and her ardent supporters.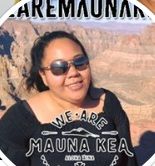 The other key factor that determines whether one makes money out of this is their leads.

Your leads are a cold list
To earn the big bucks from this scheme, you need a large mailing list that knows and trusts you. This is something Rose and her gang of marketers have.
They have their precious list, whom they will send the letters to. These people have likely profited from cash gifting schemes like this before, so will jump at the opportunity.
On the other hand, the list of leads that you get are cold. You do not know where this list comes from. Are they even vaguely interested in such a scheme?
And worse still, they do not know who you are, why should they trust you at all?
In the first place, many people do not even open up the letters. Even if they do, they take one glance, and off into the wastepaper bin it goes.
It is not easy to find even one person out of a hundred who will buy into such a dubious program.
Think about it: will people have hundreds of dollars of cash just waiting to be sent to someone they do not know?
Yes, there may be some people who will bite the bait, if you are really lucky. Anyway you just need two persons to sign up at the same level as you, to recoup your losses.
But to make a substantial income out of this shady operation? I seriously doubt so.
Though they make it sound so easy and promising, the fact is it is all hype, and things are not going to be the bed of roses that they paint it out to be.
Take a look at the comments at the bottom of this post, and you will see what I mean.

You do not earn a cent if your referrals join at a higher level
This is another catch that you would have to be aware of.
Say you join only at the Emerald level. And as your letters reach your leads, one person decides to join at any level higher than yours, say Ruby.
You will have to forfeit all your commissions, as it will go up to the next person in line who is at the same or higher membership level than Ruby.
If there is no one, then everything goes to the company.
---
---

Why Impact Mailing Club is so unethical

You see, in order for you to get back up from the red, you need at least two persons to join at the same membership level as you. So to cover your own losses, two persons (at the bare minimum) will have to see losses.
In order for you to make a profit out of this, there will be even more people who would have to be making losses.
You may say, it's easy for them to recover those, just find another two referrals each.
And that's exactly my point.
The moment Rose starts running this scheme, she is the winner, without having to bear any risk, no cost involved too. Because her earnings all come from those who join the scheme under her.
And for those people to start earning, there will be an even larger group of people who would have to suffer.
Money doesn't just fall from the sky. To make these unscrupulous people at the top very rich, thousands and possibly many more will have to fork out their hard earned money.
All given the empty promise of riches, but without the tools and skills to get highly-targeted leads, they have zero chance at this.
Is it fair?
It's precisely why such schemes are illegal.
At any one moment, if you can freeze time, and examine the entire cash gifting structure, you will definitely find that the number of people suffering losses make up the bulk of the Impact Mailing Club's membership.
The system is designed for people to fail.
Take a look at the fact sheet from the Bureau of Consumer Protection:

---
To round up this article, let me recap and summarize the pros and cons, before I finally make my conclusion.

Pros of Impact Mailing Club

1. Possible to make money
It is possible to make money out of this, if you have your own mailing list that know you, and trust your recommendations.
But the more important question to ask is: are they as well-equipped as you to succeed in this? Or will you be exploiting their trust for you?

Cons of Impact Mailing Club

1. Illegal
This is not even a proper business. I do not understand how people can have the heart to do this.
Those who are earning lots from this, I'm pretty sure they can see the big picture, and they understand how unethical this is. They know their marketing stuff, for sure. Perhaps they are just blinded by greed.
Those who are making losses or just earning a bit of commission here and there are the real victims. I hope you see the true colors of Impact Mailing Club now, and do not put yourself in such a vulnerable position, while at the same time risk getting into trouble with the law.

2. Not easy to succeed with cold leads
Even as you recognize this is unethical but would still like to give it a go, do remember that cold leads do not respond well, and the chances of success at this will be very slim.
You do not know the sources of the leads supplied to you by Impact Mailing Club.
High quality leads cost a lot of money. And I really doubt the company would be prepared to sink in that kind of investment.
Whatever high quality leads they can find, they'd keep for themselves – their own mailing list.
---

Is Impact Mailing Club Scam or legit? 

The Impact Mailing Club scam is a real one. I would strongly suggest that you stay away.
Similar cash gifting schemes that I have reviewed include Six Figure Stamp Club, Club Cash Fund, and Direct Mail Pro, and 30 Day Success Formula, to name just a few.
---

An Alternative

I guess everyone starts off wanting to make it rich fast (myself included).
It's a very natural thing, that's just human nature. I wasn't spared of all the temptations on the internet, hopping from one shiny object to the next.
But when I realized those empty promises are only going to make other people rich, and not me, I stopped looking for shiny objects.
I found a dull-looking one, but I knew in my heart that is the real deal. From then on, I have never looked back.
I am now working full time from home, growing my internet business, and making an online income. I started from scratch with zero knowledge in this area. If I can do it, you can, too.
Here's a peek into my daily earnings:


That's almost $200 in just one single day. It's nothing to boast about, though, as it's just a small fraction of its full potential. I just wanted to show you the possibilities.
Check out this training platform that provides all the resources, tools, along with an entire community of aspiring as well as already successful online income earners:

This real deal does not promise instant results, but instead provides the knowledge and lifelong skills required to grow a successful online business.
And for reading all the way to the end of the post, I believe you have it in you to make this work. Here is your FREE PDF Guide: 4 Simple Steps to Making Money Online. Fill in your details to claim it:

If you have any concerns or questions regarding this Impact Mailing Club review, do comment below, and we will start a conversation from there.
---