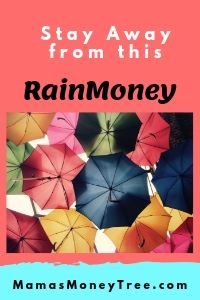 I'm so glad you are here checking out the RainMoney.co scam. Malicious websites like this are sprouting up all over the place, taking advantage of people who just want to earn some money online.
Welcome to my RainMoney.co review.
Can you really make $2000 a month as an average influencer? How about the $10 for inviting each friend, doesn't it sound too easy and too good to be true?
Well, your gut instinct is right. This site is up to no good.
Join me in this honest and in-depth review of RainMoney.co, as I walk you through all the huge red flags that point towards its blatant lies and deception.
Without further ado, let's dive right in now!
---
RainMoney.co Review Summary
Product: RainMoney
URL: https://rainmoney.co/
Creator: Unknown
Product type: referral program
Price: Free to join
Scam / Legit? : SCAM
Recommended or not? : NOT recommended
RainMoney.co is a website that is full of blatant lies. They just want your contact information, so that they can sell it at a high price to third party advertisers.
As you hang around on the site trying to complete some tasks, you may also click on some PPC (pay per click) links that make them even more money, or land yourself on some dubious sites that could be dangerous.
If you do not want to waste anymore time on scams, check out my #1 recommendation to making money online:


Read on for the detailed review of RainMoney.co, and why I call it scam.
---
What is RainMoney.co
To find out what is RainMoney.co, let us first take a look at its home page.



To tell you the truth, one look at the website was enough for me to know it's a scam, because of all the many reviews I had covered here.
There are so many of them these days, all under different names.
This is very typical of a data harvesting malicious site. I just have to uncover the evidence to convince you.

Red flags on RainMoney.co
Promised earnings are too high
The obvious giveaways are its $25 signup bonus, as well as $10 per referral that you bring onto their platform.
These earnings are way too high.
They claim that advertisers are paying them to gain exposure and spread brand awareness to their members, that is why they are able to share their ads revenue with you.
Though it sounds legit, the truth is no one is able to pay out such a large amount, considering you are not paying them a single cent to sign up. They actually turn around and offer to pay you $25?
At this rate they will go bankrupt, because even the most generous advertisers are not making them this kind of money.
The only motive to promise you such an irresistible offer is to lure you into signing up, and make you do the dirty work of getting others to sign up.
We will examine this motive in a later section. Let's continue to look at the other red flags on RainMoney.co.

Email address is suspicious
A check on the email address that they provide on their website, for support and contact, shows that it is highly suspicious.



I do not think they can be reached at all.
They never had any intention to allow you to get in touch, right from the onset. So when you have earned a sufficient amount to cash out, and you have problem with the cashing out process, you will then realise what a huge scam they are.
By then, it would be too late, as you would have spent the time and effort doing all the dirty work for them, of luring people in.

Social media buttons are fake
All the social media buttons at the button of their home page are fake. From Twitter and Instagram to Facebook and Pinterest, clicking on any one of these buttons simply opens up a new window of the exact same home page that I was on.

They lie about their age
They claim that Rain Money was founded in 2013, on their 'About us' page.
Again, a simple check is enough to expose them.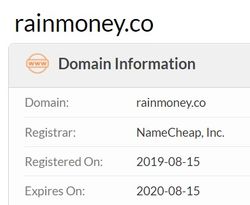 15 August 2019, that's just about half a month ago, that their domain was so newly registered.
They lie unabashedly, just to make themselves seem credible, thinking most readers will not check up on them.

No owner information
This is another loud alarm bell. If the people behind RainMoney do not dare to stand up for their platform, and make themselves heard and seen, how do they expect us to trust them?

……??
Look at how lame things can get on their site. They call this a support team?
I'm speechless, and I know I'm letting my emotions get the better of me, which is not right.
But it makes me mad to see all the atrocities going on.



I mean, come on, don't take the website visitors for fools. Even if they want to scam people's money, shouldn't they try to put in more effort than this?

Fake payment proofs
They have payment proofs on their site, but those are so easy to fake.
I couldn't even click on any of the payment proofs to enlarge it, so as to scrutinise it in more detail.
And they did such a shoddy job this time round, they simply blurred out the text that says 'payment from _____'. If it were legit, the blank should say 'RainMoney'. But even that is so easy to fake.
In the past, they would at least bother to insert the correct company name properly. Now, they are lazy to even get this simple job done!

Video testimonials link does not work
There is a video testimonial item on their main menu, as well as a call to action button to watch their video testimonials.
But they do not link you to anything at all.
Again, the extent of shoddy work is quite unbelievable. In the past, they would still hire Fiverr actors to give fake testimonials, even though those are super easy to bust as well.
---
---

What Rain Money really wants out of you
Sell your contact details
Every single thing they say on their website is to entice you to sign up with them.
Get $25 sign up bonus, get paid $10 for each referral, look at our number of years in service, look at these payment proofs, etc.
So that is all they want.
With this list of members' contact information, they then sell it at a high price to third party advertisers.
It will fetch a handsome price because the owners of RainMoney.co can prove that these people are all very interested to make money online.
The make money online niche, unfortunately, is one that has been overrun by scammers. Because it is so easy to convince people to buy something, by saying that a product is the secret formula for getting rich, or that you get a done for you system that will help you generate $5K in one week!
Hence if you had signed up with RainMoney, then be prepared for your email inbox to get flooded with unsolicited emails sending promotions and offers.
You may land on some shady website
On RainMoney's website, they say that if referring people into the program is not for you, you can still earn by completing tasks and offers.
Well, to me, this is the more dangerous thing to do, because you never know what dubious websites you will land on, that may install some virus or malware onto your laptop or desktop!
---
To round up this article, let me recap and summarise the pros and cons, before I finally make my conclusion.
Pros of RainMoney.co
There is seriously not a single plus point that I can think of for this dishonest website. Please stay away, as far as possible.

Cons of RainMoney.co
1. They sell your information
Though it may be just a small irritation to receive emails in your inbox that you never gave explicit permission to be sent, it is still an infringement of your online privacy and security.
2. You could land on dangerous website
Because there is another component to earn, as claimed by Rain Money, which is to complete some tasks, this could land you in greater trouble, as you do not know how trustworthy those sites are, that you may be sent to.
3. You will not earn a single cent
After doing all the hard work of referring people to the platform, expecting to be able to cash out, you will be sorely disappointed.
The fact that they placed such lucrative earning potential on their website simply tells us that there never was any intention to pay out, right at the onset.
4. Friends and family whom you had referred will lost their trust in you
You may have excitedly referred people onto the platform before you discovered that it was a scam. These referrals will inevitably lose their trust in you.
---
Is RainMoney.co Scam or legit? 
This is quite definitely a scam. It will do you more harm than good, so stay away as far as possible.
Some other websites that are identical in the way they run their data harvesting operations include MoneyChaser.co, TheBucks.Club, CashOG, and PayCate, to name just a few.
---
The proper way to make money online
I guess everyone starts off wanting to make it rich fast. It's a very natural thing, that's just human nature. I wasn't spared of all the temptations on the internet, hopping from one shiny object to the next.
But when I realised those empty promises are only going to make other people rich, and not me, I stopped looking for shiny objects.
I found a dull-looking object, but I knew in my heart that is the real deal. From then on, I have never looked back.
I am now working full time from home, growing my internet business, and making an online income. I started from scratch with zero knowledge in this area. If I can do it, you can, too.
Here's a peek into my earnings on a recent day:



That's almost $200 in just one single day. It's nothing to boast about, though, as it's just a small fraction of its full potential. I just wanted to show you the possibilities.
Check out this training platform that provides all the resources, tools, along with an entire community of aspiring as well as already successful online income earners:

And for reading all the way to the end of the post, I believe you have it in you to make this work. Here is your FREE PDF Guide: 4 Simple Steps to Making Money Online. Fill in your details to claim it:

If you have any concerns or questions regarding this RainMoney.co review, do comment below, and we will start a conversation from there.
---