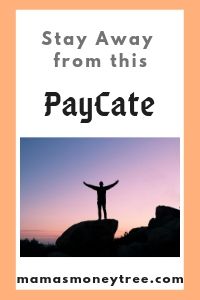 If you have seen people putting their referral links on social media platforms, forums and everywhere else, then you are doing the right thing by questioning: Is PayCate.com scam?
Welcome to my PayCate review.
I can tell you upfront, this referral platform is a scam. It is a wolf in sheep's clothing, as it hides its ulterior motives from the view of its innocent victims.
Join me as I walk you through all the huge red flags of this platform in my honest and in-depth review of PayCate.com. I will also show you how they lie blatantly about the most important things.
Without further ado, let's dive right in now!
---
PayCate.com Review Summary
Product: PayCate
URL: http://paycate.com/
Creator: Unknown
Product type: Referral platform
Price: free to join
Scam / Legit? : SCAM
Recommended or not? : Definitely not recommended
PayCate.com is a data harvesting site, that only wants your contact details so that they can sell them to third party advertisers at a high price.
They never had any intention of paying out to anyone, that is why they can so 'generously' promise such a high earning potential.
If you do not want to waste anymore precious time on scams, check out my #1 recommendation to making money online:


Read on for the detailed review of PayCate.com, and why I call it scam.
---
What is PayCate.com
To find out what is PayCate.com, let us first take a look at its website.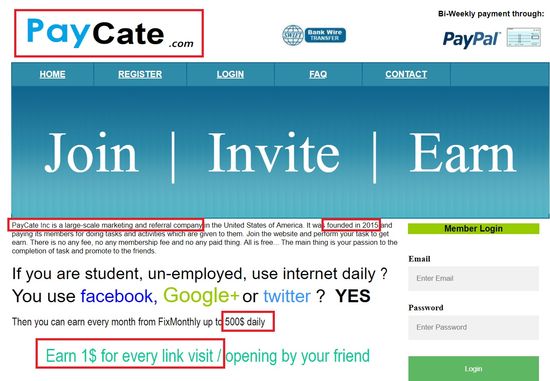 It claims to be a large-scale marketing and referral company in the US, founded in 2015.
It can earn you $500 daily, which will supposedly come from $1 for every link visit, meaning when someone clicks on your referral link, you make $1.
Sounding too good to be true, in fact I knew right from the start this is a huge scam, because I just reviewed another platform with this exact same home page design!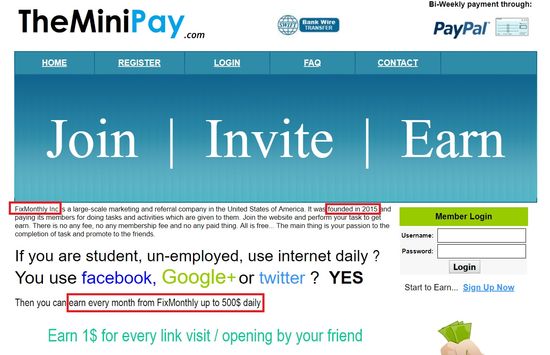 You can read my review of TheMiniPay.com here.

Huge red flags on PayCate.com
A legit site will not have duplicates in different names
Only scams have to keep changing up their website names and domain names, as people expose the older platforms, those crooks will have to create new ones to continue tricking fresh, innocent victims.
This is one of the most telling signs of a scam. So once you see the exact same websites, running the same program, but under different names, you've got to run as far away as you can.

They lie about age of company
PayCate claims to have been founded in 2015.
But look what I uncovered about their domain age: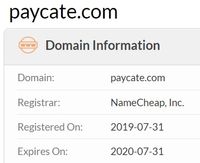 Their domain was newly registered less than 2 weeks ago, from the time of this writing!

PayCate Inc does not exist
The company does not exist. There is no information about it that can be found on the internet, except for what is on this PayCate.com website.
Also, take a look at this:


These people have never set up a company before. They can't tell the difference between a website domain and a registered company.
PayCate is PayCate, you do not register it as PayCate.com Inc Private Limited. What nonsense?!
They are just throwing in a bunch of terms to make it seem as legit as possible, not realising how miserably they have failed.

Contact form is not genuine
The only way to contact them is through a comment field that does not even require your email address. So how are they supposed to get back to you?
The truth of the matter is, they had never intended to let you get in touch with them in the first place.
It gets better:
Take a look at the so-called comments posted by some users:



It is exactly the same as the comments found on yet another scam, called WorkingMob.com.



I hope you are convinced now, that PayCate is a website full of lies no matter which corner you turn.

Why are there people earning from this?
No, there is not a single person who has made a single cent with the platform.
If you see people showing payment proof, those are not real money transferred into their bank accounts.
Those are simply the numbers on their PayCate dashboard that keeps increasing, making them excited to think that this is really working, so they are trying to get more people to join using their referral links.

What happens when people try to cash out?
They will be sent round and round in circles, tasked to do this and that, download stuff, fill in more information, etc. just to stall for time.
When the tricks are finally exhausted, they will claim that your referrals are all bots, you had violated their terms of service, so your account will now be banned.
By then, all the effort you put in trying to get more people to join through your referral links will go down the drain.

What PayCate.com really wants out of you
You may think that you have nothing to lose, since this platform is free to join, you can never be scammed of your money.
Do be aware, though, that in this time and age, scams can come in so many different forms, it may not be about money directly, but ultimately it is.
You see, they lure you to do their dirty job of collecting other people's information when they follow through your referral links to sign up onto the platform.
With the huge list of contacts, they can then sell the information to third party advertisers at a high price, since they can show their list is a highly targeted group of audience for make money products.
So you will be receiving lots of spam emails in your inbox, selling stuff that promise to make you a millionaire in an instance, but we all know such things do not exist.
Believe it or not, the only way to make money online is through hard work.
Do not let anybody tell you otherwise.
People who tell you how easy it is to make money online are in fact the scammers, trying to cheat you of your money, or other stuff.

The proper way to earn an online income
I guess everyone starts off wanting to make it rich fast. It's a very natural thing, that's just human nature. I wasn't spared of all the temptations on the internet myself.
But when I realised those empty promises are only going to make other people rich, and not me, I stopped looking for shiny objects.
I found a dull-looking object, but I knew in my heart that is the real deal. From then on, I have never looked back.
I am now working full time from home, growing my internet business, and making an online income. I started from scratch with zero knowledge in this area. If I can do it, you can, too.
Here's a peek into my earnings on a recent day:



That's almost $200 in just one single day. It's nothing to boast about, though, as it's just a small fraction of its full potential. I just wanted to show you the possibilities.
Check out this training platform that provides all the resources, tools, along with an entire community of aspiring as well as already successful online income earners. The best part is, you get to start for free:
---
To round up this article, let me recap and summarise the pros and cons, before I finally make my conclusion.
Pros of PayCate.com
There is not a single pro about this website, please stay as far away as you can from it. It is going to do people more harm than good.

Cons of PayCate.com
1. They sell your information without your permission
Without informing you about it, they are going to sell your email contact to advertisers.
2. No one is going to make a single cent from it
To pay you $1 per click on your referral link is going to see PayCate broke and bankrupt in no time at all.
Hence it is just a bait to lure people in, they never had any intention of paying up at all, from the onset.
3. Other malicious intent
If they can blatantly lie about important things on their website, we never know what else they are capable of.
Examples can be leading you to malicious websites, or sites that get your device infected with viruses or malware.
They may also make you complete tasks that earn them the money, but not you.
4. People whom you referred may lose their trust in you
If you had referred family and friends to the platform, they would understandably lose their trust in you, once they discover what a scam this is.
---
Is PayCate.com Scam or legit? 
I can confirm this: PayCate.com is a scam. There is no doubt about this.
It stands in the same 'genre' as these platforms, to name just a few:
Cash 4 Kids Club
CashLoad.net
Notion Cash
CloutBucks
DoWeeklyWork
EazyDollars.co
InfluEarn

---
Recommendation
If you really want to make some serious money online, you've first got to stop looking for the easy way out, because that is just going to get you scammed more and more each time.
What I am going to show you is the exact business model that I have used to reach success.
This real deal does not promise instant results, but instead provides the knowledge and lifelong skills required to grow a successful online business, which is exactly what I have done. Check it out by clicking on the button below:


And for reading all the way to the end of the post, I believe you have it in you to make this work. Here is your FREE PDF Guide: 4 Simple Steps to Making Money Online. Fill in your details to claim it:


If you have any concerns or questions regarding this PayCate.com review, do comment below, and we will start a conversation from there.
---