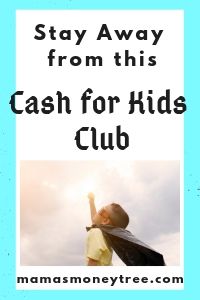 Wondering what is Cash for Kids Club that everyone is raving about and trying to get you to join using their referral links? Well, you have come to the right place, as I'm not promoting it.
Welcome to my Cash for Kids Club (Cashforkids.club) review.
Is this really the ultimate work from home job? How legit is this platform? Will it even pay out, or is it going to be another complete waste of your time?
We will answer these questions and more, in my honest and in-depth review of Cash for Kids. I will show you all the red flags on their website, so that you can decide for yourself if it is something worthwhile to invest your time and effort in.
Without further ado, let's dive right in now!
---
Cash for Kids Club Review Summary
Product: Cash for Kids Club
URL: https://www.cashforkids.club/#
Creator: Unknown
Product type: get-paid-to (GPT) site
Price: free to join
Scam / Legit? : SCAM
Recommended or not? : NOT Recommended
Cash for Kids Club is a wolf dressed in sheep's clothing. It promises huge earnings as a get paid to site, if you complete tasks on there and refer people to join as members. The reality is they will never pay out a single cent to anyone.
Instead, they sell your information to third party advertisers. The tasks you try to do are set up to get even more personal information, like phone number, home address, etc. It can also land you on other websites that are dubious and dangerous.
If you do not want to waste anymore time on scams, check out my #1 recommendation to making money online:



Read on for the detailed review of Cashforkids.club, and why I call it scam.
---
What is Cash for Kids Club
To find out what is Cash for Kids Club, let us first take a look at its website.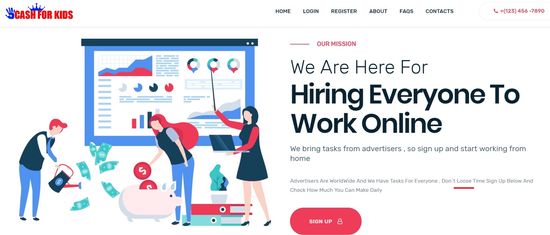 Apparently, they have tasks from advertisers that you can complete, and when you do so, Cash for Kids Club will share their ads revenue with you.
See the word I underlined in red, in the screenshot above. The first sign of poor language.
Don't get me wrong, I have nothing against individuals who may not speak or write perfect English, but I expect many people would have much higher expectation for an organisation, or a website that represents a big company. Surely they can hire someone to write?
Besides completing tasks, for which you get to earn $20 each, you can also make money by referring people onto the platform.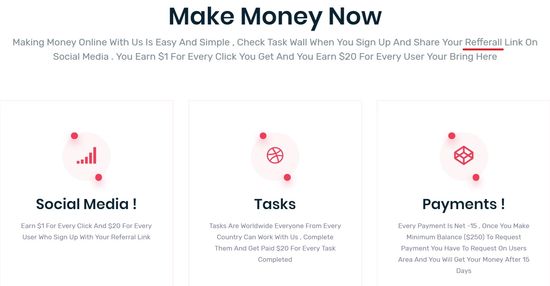 Another language error underlined in red.
Earn $1 for every click on your referral link, and $20 for every new friend you bring in.
It sounds really lucrative and enticing so far. Let's now dig just a big deeper to see all the red flags screaming at us to stay away from this platform.

Huge red flags on Cash for Kids Club
Earnings are out of this world
The rates of $20 per completed task, $20 per referral, and $1 per click on your referral link are not possible.
Legitimate GPT sites pay less than $1 per task, as well as about the same amount for each referral. This is the nature of this industry. GPT sites earn from ads revenue when advertisers use their platform to create brand awareness and exposure.
They then share their earnings with their members, who are the ones doing the work and bringing in the advertisers for them.
Hence it is a win-win situation. The down side with such GPT sites is that the earnings are really small, not worth the time and effort in my opinion.
If Cash for Kids Club can really pay the rates that they claim, then I'd gladly work full time hours on it to earn a full time income.
The high payment rates are there to lure people in, just so they will sign up onto the platform.
Poor language use
A poor language standard points to a site that is not legitimate. If it were, then the people behind the company will definitely hire good writers to product their content, or at least get someone qualified to proofread for them.
Take a look at this: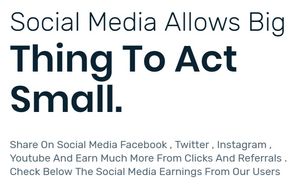 "Social media allows big thing to act small."
Erm, excuse me, what does it even mean? It doesn't make sense to me, that statement.
Or are they trying to say small actions on social media can lead to something big?
Fake counters
According to the counters on their home page, they already have 102K members, and close to $7 million paid out to their members.
I know this is fake, because of the age of their domain.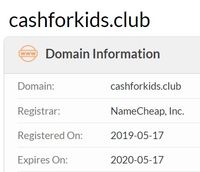 Their website is only 2 months old. How is it possible that they have already paid out almost $7 million?
More lies about their age
They state that their network was founded in 2011, which is so far from the truth. It was actually set up in May 2019.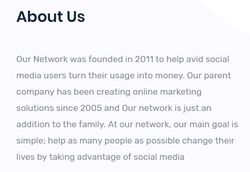 They lie to give themselves the credibility that they know they do not have.
Fake testimonials
Look at this Wall of Fame showing three people on the home page of Cash for Kids Club giving their testimonials about making money on the platform.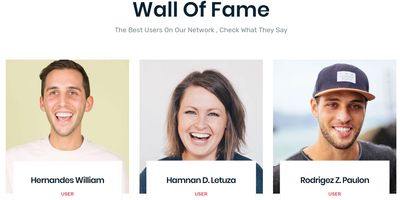 It is all fake, they have not made a single cent, because they are all taken from stock images.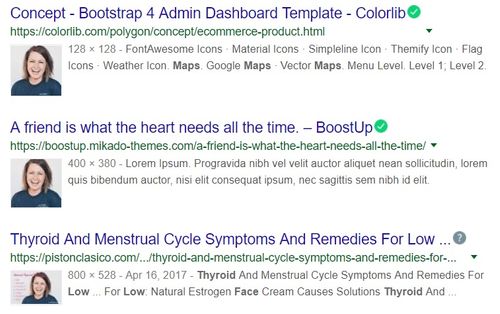 Youtube videos and other raving reviews
These are made by real people, only because they are hoping to get others to sign up using their referral links, not knowing that they will not get paid despite all their time and effort.
If you look closely enough, you will realise that not a single soul is able to show any payment proof from Cashforkids.club.
Email address is dubious
It looks like they never intended for you to contact them at all, right from the onset.


What does Cash for Kids Club want out of you?
What do they want exactly, if the membership is free to join and you will not lose any money?
Well, money is not the only thing that is valuable, especially on the internet. A targeted audience list is pretty precious too.
Once you sign up using your name and email address, this information will be sold to third party advertisers, at a high price, since these people can show that the members on their platform are all interested in making money online.
So in your email inbox, you will receive lots of spam, promoting products that get you rich quick, but we all know they don't work, because such a thing does not exist on earth.
There is no short cut, no secret formula, that is going to get you rich quick.

The proper way to make money online
I guess everyone starts off wanting to make it rich fast. It's a very natural thing, that's just human nature. I wasn't spared of all the temptations on the internet myself.
But when I realised those empty promises are only going to make other people rich, and not me, I stopped looking for shiny objects.
I found a dull-looking object, but I knew in my heart that is the real deal. From then on, I have never looked back.
I am now working full time from home, growing my internet business, and making an online income. I started from scratch with zero knowledge in this area. If I can do it, you can, too.
Here's a peek into my earnings on a recent day:



As you can see, more than $100 a day is very do-able. And this is not even at its maximum potential yet, I'm still growing this business every single day.
Check out this training platform that provides all the resources, tools, along with an entire community of aspiring as well as already successful online income earners. The best part is, you get to start for free:
---
To round up this article, let me recap and summarise the pros and cons, before I finally make my conclusion.
Pros of Cash for Kids Club
There is not a single plus point to this scam. You have to run and stay as far away from this platform as possible.

Cons of Cash for Kids Club
1. Complete waste of your time and effort
Whatever tasks you try to do, and whatever number of referrals that you bring in for them, you can be sure it will all be for naught. Because they never had any intention of paying you right from the start.
2. Your information will be sold to third parties
All your contact information will be sold, so you will be spammed with promotions that you may not be interested in at all, in your email inbox.
3. It could be more than email spams
Depending on the tasks that you may have tried to accomplish on Cashforkids.club, you may have been asked for your phone number, or home address, or even credit card details.
Or you could have been asked to download apps, and end up infecting your device with malware. Anything could happen, seeing how lack of morals and integrity these people behind Cash for Kids Club are.
4. Family and friends may lose their trust for you
If you had referred family and friends onto the platform, they would likely lose their trust in you, once they discovered what a big scam this website was.
---
Is Cash for Kids Club Scam or legit?
Cash for Kids Club is definitely a scam. It will cause you more harm than good, so please stay away from there.
Similar sites like this include Notion Cash, Cloutbucks, and CashLoad.net, to name just a few.
---
Recommendation
If you want to make some serious money online, you have to drown out all the noise and chaos on the internet.
Find a proven path that has worked for people before you, learn the ropes, implement your learning, and keep at it until you see results.
If you can see my point that it is up to you to bring yourself towards success, then I want to show you the business model that I am using.
This real deal does not promise instant results, but instead provides the knowledge and lifelong skills required to grow a successful online business, which is exactly what I have done. Check it out by clicking on the button below:



And for reading all the way to the end of the post, I believe you have it in you to make this work. Here is your FREE PDF Guide: 4 Simple Steps to Making Money Online. Fill in your details to claim it:


If you have any concerns or questions regarding this Cash for Kids Club review, do comment below, and we will start a conversation from there.
---
Please follow and like us: