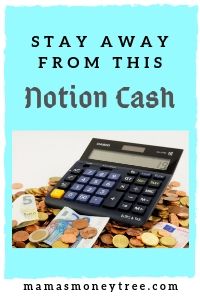 Trying to find out what is Notion Cash, that promises such huge earnings just for completing such simple tasks and referring people? Is this for real? Or just another scam and huge waste of your time?
Welcome to my Notion Cash review.
Is this platform of 185K members and $4.2 million paid legitimate? Can you really earn $30 per task and $10 per referral who signs up through your referral link?
Scams are all over the internet these days. You really can't be too careful. Not cheating you of your money does not mean it is something safe to try without risks. Your personal details could be at risk, as is in this case of Notion Cash.
In my honest and in-depth review of this platform, I will be showing you all the red flags that tell me this is an obvious scam, so do please stay far away from it.
Let's dive right in now!
---
Notion Cash Review Summary
Product: Notion Cash
URL: https://notioncash.com/
Creator: "Notion Cash, LLC" (it is made up)
Product type: get-paid-to site
Price: free to join
Scam / Legit? : SCAM
Recommended or not? : NOT recommended
Notion Cash makes itself out to be some survey site, or get-paid-to site, whereby you can earn $30 per task and $10 per referral. Promised earnings are too high, nobody has ever cashed out. They just want to lure as many people as possible to sign up, so as to collect their contact details, which they would sell.
Stay off this platform, it is run by scammers.
If you do not want to waste anymore time on scams, check out my #1 recommendation to making money online:




Read on for the detailed review of Notioncash.com, and why I call it scam.
---
What is Notion Cash
To find out what is Notion Cash, let's first take a look at its homepage:




Earn $25 bonus upon signing up, that sounds a bit far-fetched already. What's more, it says you get to earn $30 per task, and $10 per referral.
But somewhere down the page, it gets even better.




Up to $50 per task, and $15 per referral. So which is which? It seems like they can't make up their mind how much to pay you?
They are supposedly a market research panel that works with companies to collect the data they require, and get customers to download their apps, in the process making money from these companies, which they pay you 90%.
They have been in business for 3 years.




And their AI (artificial intelligence) has been developed to such an advanced stage that their sponsors see real value in being able to improve their products, hence are willing to pay them a good amount for this service, which they then share generously with you, the customers who are providing the feedback to those products.
They are a subsidiary brand of Notion Cash, LLC.
To the untrained eye, this looks like a very legit platform, with great earning potential. It even has site security, with the "https" in its domain name.
The first red flag waved at me when I tried to research on their supposed parent company, Notion Cash LLC. There is zero information about it, except on this NotionCash.com website. So I highly suspect it is a made-up name, it simply does not exist at all.


Other red flags in Notion Cash
3 years in business is a lie
Not only is the parent company highly suspicious, the number of years they claim to be in business is not true.
This site is brand new, look at this proof: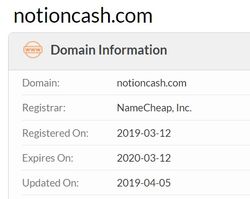 It was only registered in March 2019.
Testimonials are all fake
The testimonials they show on their website, of happy customers, are all actors hired from Fiverr: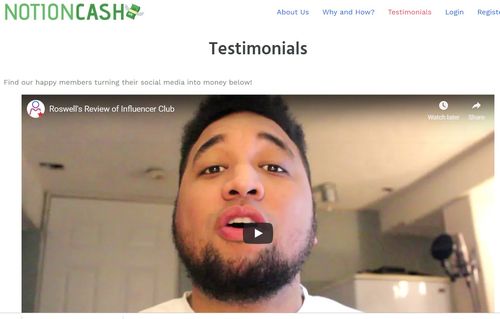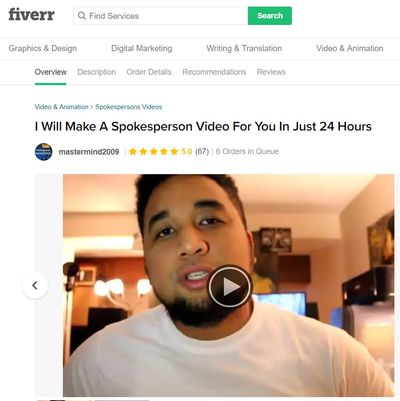 Apparently no one has made any money on this platform. And I believe they never intended to pay out a single cent right from the start. Otherwise why would they have to hire people from Fiverr to do fake testimonials?
NotionCash.com terms of service
This is their terms of service, have a read: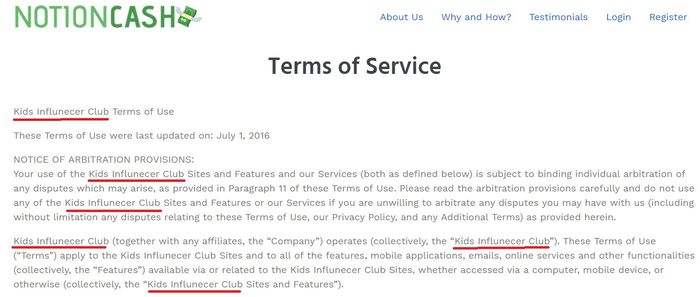 Apparently they aren't sure who they are: Notion Cash, or Kids Influencer Club. Oh, and they got the spelling of Influencer all wrong.
Scams like this frequently change their names once they have been exposed, when more people are giving negative reviews about them.
They can't use the name anymore, so they have to buy a different domain, run the same scam under a different name. Sometimes, they forget to change bits and pieces of their website pages. So that lets the cat out of the bag here.
A legit company has only one website, and will take great pains to make sure everything is written accurately and done properly.
Complaints about Notion Cash
Look at what people have written on their Facebook page: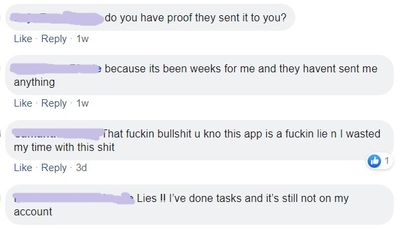 As you can see, they will waste your time, they do not pay out. There is no way they can pay out, by promising such huge earnings.


What Notion Cash really wants out of you
What these crooks really want is to collect as much data from people as possible, hence the referral program, and the high earning potential for it.
They will sell your information to third party advertisers, at a high price as they can prove that their list consists of people who are interested in making money online.
Hence you will start to receive offers and promotions for lots of junk that promise to get you rich instantly.
At the same time, they will try to use the password you used during signing up to their platform, to see if they can access any account of yours, like your email account, or whatever payment account that you would later enter.
So if you had used the same password here as other important stuff, please change the passwords to those important accounts.


There are many legit get-paid-to sites
If you just want to earn a little extra pocket money for the next cuppa, there are many legitimate sites that really do pay out to their members. Examples are Swagbucks, Societi, and PrizeRebel, to name just a few.


The proper way to make money online
If you have some free time at your disposal, instead of trying to earn the peanuts from survey sites and get-paid-to sites, spending lots of unproductive time, why not make use of the precious time to create something bigger?
The internet is full of opportunities, but at the same time it is noisy and chaotic. There are many possible ways to make money online. You simply have to pick a proven path that speaks to you, and stick with it until you succeed.
I want to show you the path I have chosen, as it is neat and hassle-free. I do not have to own any products or do any face to face selling. No deliveries or customer complaints to handle, no online shop to manage. Neither is it MLM, so I do not have to recruit anybody.
This is my very own internet business in affiliate marketing, that has allowed me to work full time from home, never missing my kids' growing up years. Once I learnt how it works, I plunged right in, and have never looked back. Here's a peek into my earnings on a recent day:



As you can see, more than $100 a day is very do-able. And this is not even at its maximum potential yet, I'm still growing this business every single day.
Check out this training platform that provides all the resources, tools, along with an entire community of aspiring as well as already successful online income earners. The best part is, you get to start for free:


---
Pros of Notion Cash
There is no pro associated with this platform. It is a scam, through and through.

Cons of Notion Cash
1. A total waste of time
Whatever tasks you try to accomplish on there, and people you try to refer, are not going to earn you any money. The dashboard may appear like you have made a lot of money, but those people behind this scam have never intended to pay anyone.
2. Your information will get sold off
They will be selling the email addresses of their members, that's for sure. So inboxes will get flooded with spams and offers that they have never opted to receive.
3. Friends and family whom you have referred will lose their trust in you
I hope you have not referred anyone to this platform. But if you have, then they may lose their trust in you once they learn that this is a scam.
Do not refer anymore people to this platform, as it only gets the scammers what they want, allowing them to make dishonest money at the expense of innocent people.
---
Is Notion Cash Scam or legit?
Notion Cash is a complete scam. Stay far away from it. It will only add stress and frustration to your life, just like Workmines, Wolfpoints, and ViralWork, to name just a few.
---
Recommendation
If you find yourself having some free time, instead of spending it on get-paid to or survey sites, you may find it much more rewarding and meaningful to pursue an online business that can be built into a passive income stream.
I want to show you something that has worked for me.
This real deal does not promise instant results, but instead gives me knowledge and the lifelong skills required to grow a successful internet business. Check it out by clicking on the button below:




And for reading all the way to the end of the post, I believe you have it in you to make this work. Here is your FREE PDF Guide: 4 Simple Steps to Making Money Online. Fill in your details to claim it:



If you have any concerns or questions regarding this Notion Cash review, do comment below, and we will start a conversation from there.
---
Please follow and like us: