If there have been people trying to get you to join this new platform, then you must be wondering what is CashLoad.net, how you can make money on it, and whether it is even a legitimate site.
Welcome to my CashLoad.net review.
How will CashLoad help you make thousands with social media? How exactly does it work, and have people been paid by it? Are there any red flags that are trying to warn us certain things do not seem quite right?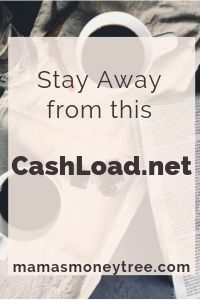 We will answer these and more, in my honest and in-depth CashLoad review, where I will walk you through some hidden secrets that the owners of the website will not want you to know.
Without further ado, let's dive right in now!
---
CashLoad.net Review Summary
Product: CashLoad.net
URL: http://cashload.net/
Creator: Unknown
Product type: referral program
Price: free to join
Scam / Legit? : SCAM
Recommended or not? : NOT recommended
CashLoad.net promises too lucrative a pay out, something that no legitimate get-paid-to platform has ever gone close to. It will not pay you, what it wants is for you to refer more people so that they can get their information and particulars. Stay away from this dangerous site, as I will show you through all its red flags.
If you do not want to waste anymore time and effort on scams, check out my #1 recommendation to making money online:

Read on for the detailed review of CashLoad, and why I call it a scam.
---

What is CashLoad.net

Let's find out what is CashLoad.net, by first checking out its home page.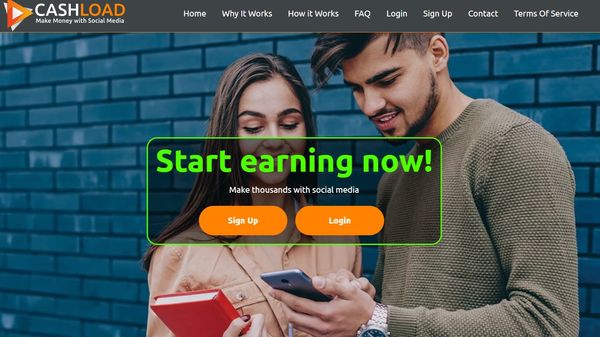 It claims you can make thousands with social media. How it is said to work, is that every click to your referral link earns you $1, and every signup makes you $5.
You can share your link anywhere, on any form of social media or forums, or even email or text it to friends.
In addition, you can make $10 to $50 for each task you complete, like downloading apps, testing products, or completing surveys.
Your earnings can be cashed out through PayPal, CashApp, Western Union, mailed checks, and more.
It sounds really enticing! But where do they get all the money from, to pay you?
Apparently they are an influencer marketing platform, that connects influencers (that's you) with top brands and advertisers. When you refer people and help CashLoad expand their membership, advertisers pay them more, and they get to share this ads revenue with you.
Their website looks quite legitimate and professional, if it had been a few years back, I would have fallen for it. Now, I know better. Let me walk you through the huge red flags waving at us.


Red flags on CashLoad

Domain age of CashLoad
The website of CashLoad.net is a newborn, it was newly registered just a few days ago, on 26th May 2019. Take a look at this: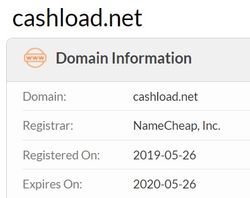 Well, everyone has to start somewhere, though brand new sites would not have proven their trust-worthiness.
But then, look at the counters on their homepage, which state that they have 233K members, have paid out 9.7 million (dollars? or cents?), and has been in business for more than 3 years.
Hmmm… they must be blatantly lying, or have accomplished an amazing feat garnering 233K members in a mere few days of existence.

Suspicious addresses (more than one)
The address of their business is shown as 176 Westmore Mondaile Street Victorian 887 NYC on their home page.

It does not take much to uncover that it is actually the address of The Greater People's Union Baptist Church.
What's happening here?
All I can say is, another huge red flag, since they are simply taking other people's address and conveniently pulling it off as their own. As long as there is some address shown on their website, it would look legitimate, most people would not bother checking it out.
Guess what? I found a totally different address on their terms of service page, and this second address is actually in United Kingdom. Isn't that rather far from the original address in New York?


As though the plot is not exciting enough, this exact same address had been used on another scam website, Kids Earn Money.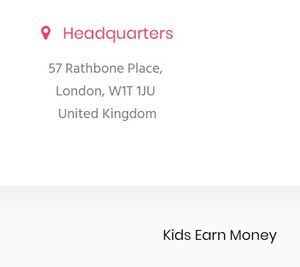 Kids Earn Money is but just one in a series of money making tools for the crooks, including Kids Earn Cash and Kids Have Money, and so many others.
---
---

Wrong URL in terms of service page
And apparently they have a problem getting their URL right, seeing this is what I found on their Terms of Service page:



Identity crisis? Or too busy setting up new websites and scamming people that they have lost sight of who they are?

Contact button does not work
The contact button on CashLoad.net sends you right back to the home page.
There are no links to their social media accounts stated on the home page, and when I tried looking for their Facebook account, I realised it does not exist at all.
I wasn't too surprised to learn that they had no intention of getting in contact with any of its members at all, right from the onset.

Earning potential is much too high
It is promising the moon and way beyond. There is no way they can ever pay you $1 per click on your referral link, and $5 per signup.
When you try to make money through their website, and manage to accumulate enough for cashing out, they will either make you do more, or shut down your account by matter-of-factly stating that your referrals are not real people.
I have seen enough of such platforms to know how to tell them apart from the legit ones from a mile away.

How CashLoad.net REALLY works

You may be wondering: how do they scam people if they are not even asking you to pay to join them? These days, scams do not necessarily come in the form of cheating you of your money.
They can cheat your time, effort, and your trust. As well as other people's trust for you, when they take your recommendation to join the platform.
What they truly want out of you is to get your name, email address, and other information, which they can then sell to third party advertisers for a good price. This is because they can show these advertisers that their members are all interested in making the big bucks online.
So you will very likely get flooded with spams in your inbox, promoting products that get you rich the very same day, and other similar nonsense.
This is nothing more than a nuisance and inconvenience.
What is worse is they will likely use your CashLoad password, to try to access your other accounts, like your email address, your payment accounts (if you had provided them), etc.
So if you had used the same password for CashLoad.net as your important stuff, please change out the passwords of those important accounts, you never know how unscrupulous these people can get, if they can tell blatant lies on their website.

The proper way to make money online

I guess everyone starts off wanting to make it rich fast. It's a very natural thing, that's just human nature. I wasn't spared of all the temptations myself, especially on the internet.
But when I realized those empty promises are only going to make other people rich, and not me, I stopped looking for shiny objects.
I found a dull-looking object, but I knew in my heart that is the real deal. From then on, I have never looked back.
I am now working full time from home, growing my internet business, and making an online income. I started from scratch with zero knowledge in this area. If I can do it, you can, too.
Here's a peek into my earnings on a recent day: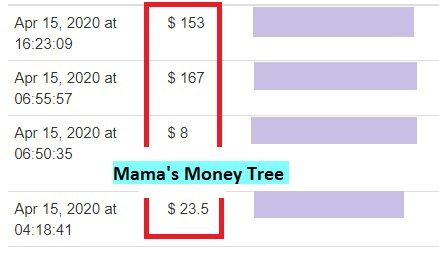 That's $350 in a day. Nothing to boast about, as it is still far from reaching its full potential. I just wanted to show you the vast possibilities here.
Check out this training platform that provides all the resources, tools, along with an entire community of aspiring as well as already successful online income earners:
---

Pros of CashLoad.net
There is not a single pro to joining this platform, just get out of there as fast as your legs can carry you.

Cons of CashLoad.net
1. Complete waste of time and effort
People unaware of the scam that the platform is would have wasted lots of time and effort trying to get more referrals to sign up through their link, as well as to complete those tasks that they thought could earn them money.
2. Your information could be at risk
Your inbox would be spammed, but more seriously your password could possibly be misused, in attempts to break into your email address, and other important accounts.
3. Friends and family may lose their trust in you
If you had referred friends and family to the platform, they would lose their trust in you once they learn what a huge scam it is.
---

Is CashLoad.net Scam or legit? 

From what I can see of it, CashLoad is a scam. It will do you more harm than good, just like some other platforms I have reviewed: CloutBucks.com, RewardDollars, CashForShare, and Wolfpoints.com, to name just a few.
---

Recommendation
The down to earth, sustainable way of making money on the internet is to build up your very own online business, with a rock solid foundation such that you are paving the way for a passive income stream.
This real deal does not promise instant results, but instead provides the knowledge and lifelong skills required to grow a successful internet business, which is exactly what I have done. Check it out by clicking on the button below:

And for reading all the way to the end of the post, I believe you have it in you to make this work. Here is your FREE PDF Guide: 4 Simple Steps to Making Money Online. Fill in your details to claim it:

If you have any concerns or questions regarding this CashLoad review, do comment below, and we will start a conversation from there.
---