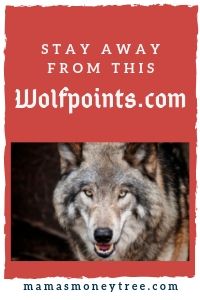 You may have seen many people putting up their referral links on social media and everywhere else, and are wondering what is Wolfpoints.com. Do they pay you when it's time to cash out, or is this going to be a huge waste of your time?
Welcome to my Wolfpoints review.
I'm so glad you found this page, and are doing your research instead of just believing things at face value. You really can't be too careful, especially with the amount of scams going around on the internet these days.
I will be upfront: Wolfpoints.com is a SCAM. In this article, I will walk you through all the red flags, so that you do not waste your time, or you can get out of there if you are already signed up.
Without further ado, let's dive right in now!
---
Wolfpoints.com Review Summary
Product: Wolfpoints
URL: https://wolfpoints.com
Creator: Unknown
Product type: get-paid-to site
Price: free to join
Scam / Legit? : SCAM
Recommended or not? : NOT recommended
Wolfpoints.com is a scam. Do not waste your time, do not refer anyone onto this website because you will be giving the crooks what they want. They do not pay out. Surveys are not genuine, they are actually a CPA (cost per action) scheme.
Those CPA just try to collect even more information about you. Ultimately, they also want to sell your contact details to third party advertisers.
Even though they do not scam you of your money, it would be a huge waste of your time and effort trying to complete the tasks and getting referrals, to end up helping these dishonest people make money instead.
If you want to make some serious money online, check out my #1 recommendation:




Read on for the detailed review of Wolfpoints.com, and why I call it scam.
---
What is Wolfpoints.com
To find out what is Wolfpoints.com, let's first take a look at its website: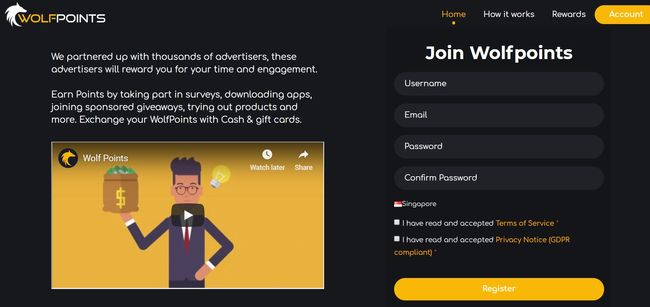 My first impression of this site was that it looked totally legitimate. Earn points to take part in surveys, download apps, try out products, join sponsored giveaways, and more.
Cash out via PayPal or through gift cards, with a low minimum threshold of $1, which is equivalent to 100 Wolfpoints.
Nothing suspicious, it seemed to work pretty much like any other get-paid-to sites, with earnings that seem reasonable.
Its website even has site security, with 'https' in its domain name, further giving the false sense of legitimacy.
Why, then, do I call it a scam?


Wolfpoints.com reveals the wolf under the sheep skin
Signing up was a breeze, took me just a few seconds. You just had to enter your user name, an email address, and a password.
Its true colours are revealed the moment I signed up and tried to complete some of the tasks and surveys.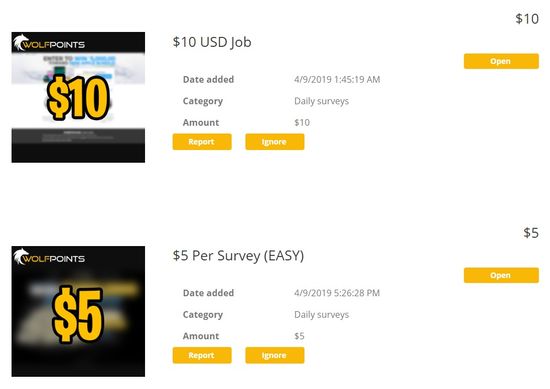 The $10 USD job is not any real job. It brought me to a page where I could choose one out of 4 prizes from different companies. Some of those brought me to a security warning page that cautioned me against proceeding, others brought me to answer two questions, and asked for my information like birth date and address to send the prize to.
I instantly knew something was wrong.
Similarly, the $5 survey was no survey at all.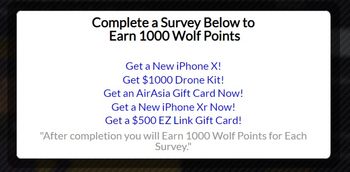 Instead, it promised prizes like a new iPhone, $1000 drone, $500 gift card, and so on. These also brought me to the website security warning page.
I shook my head and closed the browser. I had seen enough.


What Wolfpoints.com really does
This is not a legitimate get-paid-to site. It simply wants to get as much personal information out of you as possible. It is also a CPA (cost per action, or cost per acquisition) site in disguise.
Basically, advertisers pay the people behind Wolfpoints.com for certain actions taken by the audience, like clicking on some buttons or links, as well as when we enter our information onto those advertisers' landing pages.
The people behind this website will also sell your information to other third party advertisers, at a very high price because they can show that their list are all interested in making money online.
Then its members will start to receive lots of spam and promotions that they never opted in for.
That is but a small inconvenience. The danger comes with other things that they can do with your information. For instance, they could try out the password you use in your Wolfpoints.com account, to see if it matches with your email account, or even your PayPal account, if you have provided the information to them.
So if you had used the same password in Wolfpoints elsewhere more important too, please make sure you change those passwords out. You never know what these people are capable of.


Other red flags in Wolfpoints.com
As I snooped around some more, I found other red flags: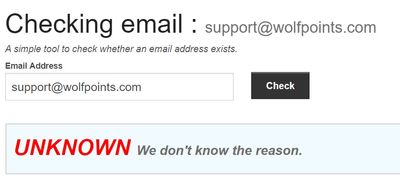 Its support email address does not exist. To confirm this, I sent an inquiry email to them, and this came back:




They do not want to be contactable by you. When you face issues trying to cash out, and try to get in touch with them, you will be faced with frustrations, only to realise they are a bunch of scammers.
By then you would have already placed your referral links on social media or elsewhere, trying to get referrals signed up under your link. And so the cycle continues.
And if you really open your eyes to look around, you would find not a single soul who had ever received any payment from Wolfpoints before. There are many people who claim they have, but go try asking them to show you the proof. Not the earnings on their Wolfpoints dashboard, that's not considered real earnings into their bank account yet.
Ditch Wolfpoints.com. Do not be tricked by the wolves.

If you just want to earn a little extra pocket money, there are many legitimate get-paid-to sites out there, like Swagbucks, Societi, and PrizeRebel, to name just a few.
But if you want to make some serious money online, then let me show you this:


The proper way to make money online
If you have some extra time at your disposal, instead of getting on these reward sites and earning those peanuts, why not put your time to much better use, by creating something big and meaningful?
The internet has boundless opportunities these days, but it is also noisy and chaotic.
I want to show you a proven path taken by countless people who reached success making money online. By that, I mean something that can actually replace a 9 to 5 job, not some side gig or paid surveys. That is, provided you are willing to put in some hard work.
I am now working full time from home, growing my internet business, and making an online income. I started from scratch with zero knowledge in this area. If I can do it, you can, too. Here's a peek into my earnings on a recent day:



As you can see, more than $100 a day is very do-able. And this is not even at its maximum potential yet, I'm still growing this business every single day.
Check out this training platform that provides all the resources, tools, along with an entire community of aspiring as well as already successful online income earners. The best part is, you get to start for free:


---
Pros of Wolfpoints.com
There is not a single plus point to signing up to this platform. Do not waste anymore time, and do not get any other people to join them.

Cons of Wolfpoints.com
1. It does not pay out
If you know of anyone who has actually received any money from them, please drop me a comment below, I will be really interested to know.
As far as I can tell, they do not have any intention to pay out.
2. They are not contactable
This is something that really screams SCAM.
3. They just want to collect your information to sell it away
Even though you do not get cheated of your money, they make money simply by you providing your contact details, and your referrals' too.
---
Is Wolfpoints.com Scam or legit?
Wolfpoints.com is certainly a scam, just like PayingType.com, and Smart Dollars Club, to name just a few.
It is dangerous to stay on that site, with so many insecure links that you do not know where you may end up at, and what you could possibly be clicking on next.
---
Recommendation
If you want to make some serious money online, there is a proven path that you can take.
This real deal does not promise instant results, but instead provides the knowledge and the lifelong skills required to grow a successful online business, which is exactly what I have done. Check it out by clicking on the button below:




And for reading all the way to the end of the post, I believe you have it in you to make this work. Here is your FREE PDF Guide: 4 Simple Steps to Making Money Online. Fill in your details to claim it:



If you have any concerns or questions regarding this Wolfpoints.com review, do comment below, and we will start a conversation from there.
---