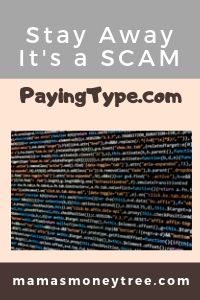 If you are asking what is PayingType.com, and sensing something fishy about this platform, your gut instincts are right!
I'm so glad for you that you are checking out this website. You really can't be too careful, especially with the amount of scams floating around on the internet these days.
You might be wondering:
What are the simple data entry jobs and tasks that can allow you to earn on this platform? How efficient is their customer service? And most importantly, do members face any problem when trying to cash out their earnings?
We will answer all these and more, in my honest, unbiased, and in-depth PayingType.com review.
Without further ado, let's dive right in!
---
PayingType.com Review Summary
Product: PayingType
URL: http://payingtype.com/index.php
Creator: Unknown
Product type: platform for data entry jobs, and referrals
Price: free to join
Scam / Legit? : SCAM
Recommended or not? : NOT recommended
PayingType.com is a scam site disguised as a data entry platform. It has nothing to do with data entry jobs. It wants members to refer others, so that it can sell people's information to third-party advertisers.
They have not paid out a single cent to anybody. Members who accumulate earnings of $300 by referring others tend to get their accounts shut down. There are too many red flags in this data entry site.
If you do not want to waste anymore time and effort on scams, check out my #1 recommendation to making money online:




Read on for the detailed review of PayingType.com, and why I call it scam.
---
What is PayingType.com
Let's find out what is PayingType.com by first looking at its home page.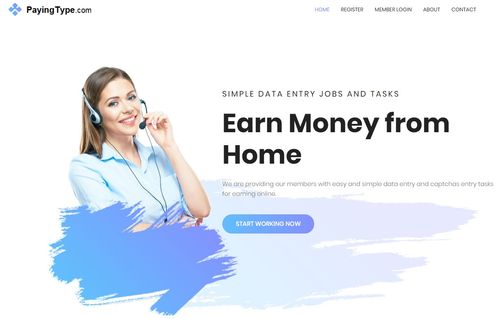 So you carry out simple data entry jobs and tasks to earn money from home.
Poor language
The first thing that struck me was the use of poor English throughout the site. Not that I judge any site by its English standard, but if it were a platform that more than 200K people are members of, then I would expect a certain level of professionalism.
No checks or verification
Since I knew something was not right from the onset of landing on this website, I did not want to use my real email account. Instead, I tried to register using a bogus email account. It actually went through!
That goes to show there are no checks in place, for security, and for verifying that members who sign up are actually real people with legitimate emails.
Where are the data entry jobs??
Once inside the members' area, I wanted to try out their data entry jobs. Guess what? There are no data entry jobs at all. Zero. There is nowhere for me to do any job or task. No buttons or links to click for data entry jobs.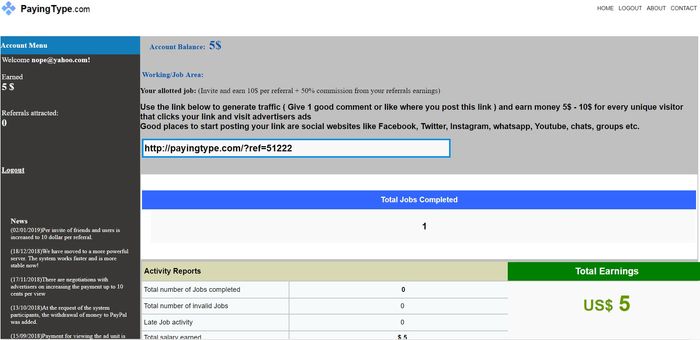 The only thing I am asked to do is to refer more people to this platform. My referral link is there, the most prominent thing in the members' area. I get to earn $10 for every referral I bring to this platform, and 50% commission from their earnings.
Look at this screenshot of one of the FAQ sections:



This is a referral site, not data entry site
I am supposed to promote my referral link literally everywhere. This is the main objective of these scammers setting up this website. They simply want as many people's contact information as possible. Period.
I can supposedly get paid through PayPal, Western Union, Money Gram, cheque, or bank transfer once I hit the minimum cash out amount of $300.
Their top earners are making more than $100 a day, and more than $1K a month.
No mention of any data entry jobs, right?
This is a big scam.
Duplicate of this scam on many domains
And see the last sentence there, about losing all your earnings if you do not log in for more than 30 days? Which legitimate site does this kind of blatant stealing of your hard-earned money?
In fact, this set of FAQ is something I have seen before, in its entirety, word for word. They are the same as two other scams I have exposed: DoWeeklyWork.com and MyWorkForLife.com. There are many other names for this exact scam.
This PayingType.com is one of them, but it has morphed from a referral site to this current home page that guises as a data entry platform. It is essentially run by the same scammers.
This is their old home page design: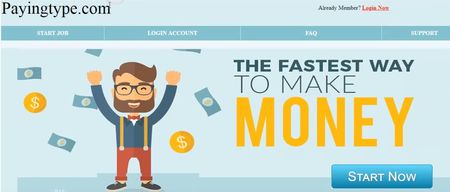 Other red flags on PayingType.com
Very new domain
This domain was only registered in September 2018. So it is really new, and is not established enough for me to trust it.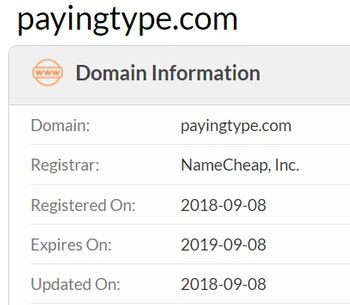 No real customer support
All attempts to reach their customer support lead to this: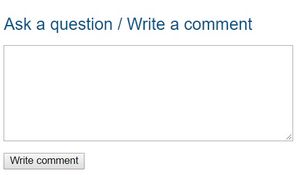 I was trying to reach them before I signed up. There was no email, all I could do was send in my question as a comment. There was nowhere for me to enter my contact details. It dawned on me that they have no intention of getting back to me at all.


Stay away from PayingType.com
I hope you can see clearly by now, PayingType.com is a complete scam, the owners have no intention of paying anyone.
They just want to collect as many emails as possible, so that they can make money by selling these to third-party advertisers at a high price, because this list can be considered highly targeted as an audience who is interested in making money online.
If you had given them your payment details in your attempt to cash out your earnings, I urge you to take steps to block them, or cancel your credit card, or something. It is not safe that they have your payment information.


Legitimate get-paid-to sites
If you just want to earn a little extra pocket money, there are many legitimate survey sites and get-paid-to sites that you can try out:
Swagbucks
Societi
PrizeRebel
OneOpinion
Inbox Dollars 
Vindale Research
But these will not get you anywhere near a part time income, much less a full time income. These can be great activities to past time, while earning for the next coffee break.


The proper way to make money online
I guess everyone starts off wanting to make it rich fast. It's a very natural thing, that's just human nature. I was not spared of this temptation to get rich quick.
But when I realised those empty promises are only going to make other people rich, and not me, I stopped looking for shiny objects.
I found a dull-looking object, but I knew in my heart that is the real deal. From then on, I have never looked back.
I am now working full time from home, growing my internet business, and making an online income. I started from scratch with zero knowledge in this area. If I can do it, you can, too.
Check out this training platform that provides all the resources, tools, along with an entire community of aspiring as well as already successful online income earners. The best part is, you get to start for free:
---
Pros of PayingType.com
Unfortunately, there is no pro that I can associate with this platform. It is a scam, through and through.


Cons of PayingType.com
1. Owners dare not show up
There is no information about the owners of this platform, or the company behind it. It is obvious they are hiding from the possible consequences of scamming people.
2. You will not get paid
It is easy for such scam sites to not pay any of their members, by simply saying that the referrals you have brought them are fake, and not real people. It's your word against theirs. When there is no intention to pay up right from the start, they will have a thousand and one tricks up their sleeves.
People whom you referred to the platform through your referral links would also have felt betrayed by their trust for you.
3. Your information will be sold
Be prepared to get spam emails in your inbox, by promotions that you never opted in to. This is a small hassle and irritation, compared to the possibility of your payment details being leaked, and fraudulent activities being carried out with it.
---
PayingType.com is a SCAM
Do not waste your time and energy on this. It takes away not your money, but your effort, and the credibility that you had among your family and friends.
It is as detrimental as some other products I have reviewed, like Paidera.com and Secret Online Goldmine, to name just a few.
---
Recommendation
If you are serious about making money online, I can show you the path taken by countless successful internet marketers.
It is also what has helped me build my very own internet business, from scratch, without any knowledge of how all this stuff works.
This training platform does not promise instant results, but instead gives me knowledge and the lifelong skills required to grow a successful online business, which is exactly what I have done. Check it out by clicking on the button below:




And for reading all the way to the end of the post, I believe you have it in you to make this work. Here is your FREE PDF Guide: 4 Simple Steps to Making Money Online. Fill in your details to claim it:



If you have any concerns or questions regarding this PayingType.com review, do comment below, and we will start a conversation from there.
---