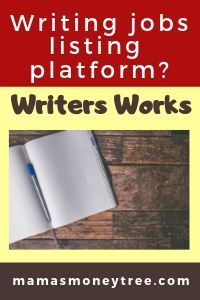 Trying to land some writing jobs, and stumbled upon this freelancing platform? You might be wondering: is Writers Work a scam?
Welcome to my Writers Work review.
Firstly, I'm so happy you are checking it out, because you really can't be too careful, especially with the amount of scams floating around on the internet these days.
Will this Writers Work land you better paying writing jobs than what you are already making now? Why does it feel like this website is somewhat different from your regular freelancing platforms? Why does it have so many negative reviews? How does it work exactly?
We will answer these questions and more here, in my honest, unbiased, and in-depth Writers Work review.
Without further ado, let's dive right in!
---
Writers Work Review Summary
Product: Writers Work
URL: https://writers.work/
Creator: Unknown
Product type: All-in-one platform for writing jobs, career training, writing tools, online portfolio, etc.
Price: $47 one time or $15/month
Scam / Legit? : Legit
Recommended or not? : Recommended if you are building out your writing career
Writers Work is a legitimate training, tools and resources platform which also pulls in job listings from other freelancing sites. It is not an exclusive job listing on its own.
Its numerous complaints could be due to the way people perceive this website, along with their own expectations of it. As long as you understand what they are offering on this platform, and it matches your needs as a writer, I say this is a fairly good deal.
If you do not want to continue trading time for money, check out my #1 recommendation where you can put your writing efforts into building up your own internet business:


Read on for the detailed review of Writers Work, and why I think it may work for you.
---
What is Writers Work
Users' feedback
I'm going to start off in an unconventional way: with what users are saying in their reviews of this Writers Work platform, so that we can get this out of the way.






I found so many complaints about Writers Work, so I went on to check out their BBB (Better Business Bureau) rating, and as it turns out, they are an F grade, which is the lowest, you can't get any worse than that.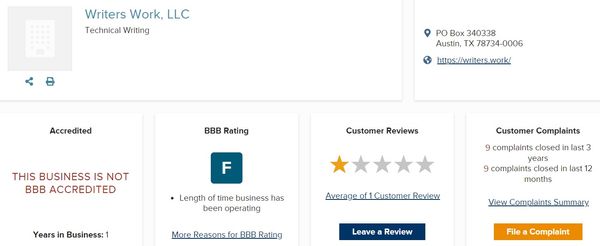 If things were really so bad, they can't be in business for more than a few months. Writers Work has existed since June 2017. That's almost two years.
Plus the fact that their website is a secure one, with an SSL certificate (with 'https') tends to imply that they are here to stay for the longer term, since they take care of their website as well as their customers' security.
These signs tell me there is more to it than meets the eye.

Are their customers' feedback valid?
On the surface, those negative feedback do seem valid. I have reviewed platforms that charge an upfront fee for access to their job listings before, and in those reviews, I have urged people to stay away from them.
Because there are so many giant freelance job listing sites around that are free to sign up, nobody should need to pay a single cent anywhere else to get access to those jobs.
On the legitimate giant listing sites, the site owners earn a commission off your actual pay. After you have completed your freelance assignment, and the employer pays you, and the platform takes a small percentage off your pay. Which makes sense, because you found the job through their site.
Whereas for sites that require an upfront payment, they get your money once you sign up to access their database. They have no incentive anymore to help you get the most suitable job, by getting more employers on board.
They can leave their database to rot, and still make tons of money through new members that join.
An example is Mommy Jobs Online.
Hence I can perfectly understand those concerns and disappointment of the negative feedback written about Writers Work by its members, if they had paid to get access to their jobs database, only to find it merely pulls from other websites that are actually free to join.
Then it begs the question: was Writers Work meant to be a freelancing listing in the first place? Or has it been widely misrepresented?
Let's get deep into the platform, and find out what it really entails.

---

What you really get inside Writers Work
Here is a screenshot of what you can see at the top of their landing page.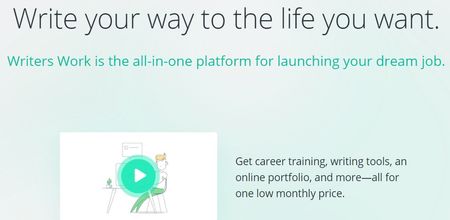 It is quite clear that this is a training and tools platform, very unlike the freelancing job sites like Freelancer, Upwork, Guru, Fiverr, and so on. They have positioned themselves towards delivering a product, rather than a job listing site.
There is a job search component, but it is explicitly stated that they are pulling those listings from other sites: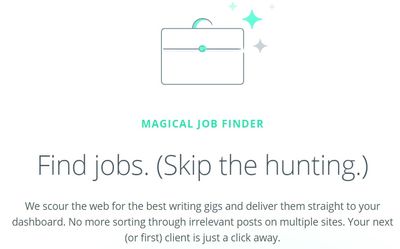 There is no attempt to deceive or mislead the audience, as it is quite clear that they are scouring the web for the best writing jobs, and delivering them to your dashboard within Writers Work.
So getting exclusive deals from employers is not the forte or focus of this platform.

Job Listing Function
In fact, the function within Writers Work allows you to set filters in your job search, so that you narrow down the available jobs to those that really meet your own criteria, in terms of salary, keywords, type of job, source of job, and so on.
This is going to save you lots of time, otherwise you would have to typically go onto the different job listing sites to look through the available jobs, most of which would not even fulfill your criteria. Now you get everything in one place.
Another helpful feature will be its notification, which you can enable, so that you can respond quickly to any new job, increasing your chances of being engaged for it.

Instant Submission Finder
This function gives you a list of publications that may pay for articles, describing the kind of content that they are looking for, as well as the amount that they are paying.
If you manage to find something that you would be passionate writing about, this can possibly pave your way to a rewarding relationship with some publications.

Writing Tools
This section has built-in audio tracks to help you clear your mind when writing, and stay focused.
It also has a text editor that provides you with various interesting parameters: readability score, which grade of reading level is required of a reader to your article, reading time, speaking time, word count, and so on.
Basic stuff are definitely included, like spell check and grammar check.
The other useful feature is this text editor is built in with your project organization function in Writers Work, so it even keeps track of the time you spend on each document.

Project Organization
Here, you can manage all your jobs in one place, linking your documents within Writers Work's text editor to your projects so you can keep track of the time spent, create sub tasks, get notified when due dates are nearing, and so on.
This is a great feature if you are progressing to become a full time writer, with many projects running at the same time, some of which may require weekly submissions, and you certainly do not want to forget those, or miss any deadlines.

Online Portfolio
You can create a professional portfolio, without requiring to build out a separate website to market yourself as a writer, as there is social media integration. But of course this feature with Writers Work will lack versatility compared to your own website, which you can design in whichever way you want.

Training materials
This section includes basic training, in the form of videos, for taking off your writing career. It provides organization tips, project management, copywriting, pitching, and so on.


Writers Work is a training and tools platform
This is what Writers Work is about. For a one time fee of less than $50, you get a whole suite of tools and resources that allow you to build yourself up as a full time professional writer, and I think it is quite worthwhile.
On their FaceBook page, I found over 20K likes, as well as over 21K followers. Apparently there are people who find value in what they are providing.
When expectations match up with what the platform is all about, then you get positive respond from its audience.
But when people hop on expecting to get hundreds or thousands of job listing like what you see on other sites, or something even more exclusive, then they will be sorely disappointed.
This is not a case where you are required to pay to find work. This is no different from paying for any form of educational resources, that equip you with the training as well as tools you need to manage a big number of ongoing projects, and time-saving features to help you sieve through the vast job listings out there, to grab the ones that matter to you most, in the shortest time.
---
If you love to write (I do, too!), would you consider not simply trading your time for money, but putting your writing skills and time into building something that you can call your very own online business?
Let me explain this idea in the next section…

How I write for my own business, not others'
Being a freelance writer gives you great time and space flexibility, and you can choose to work as much or as little as you want, depending on your earning requirements.
At the end of the day, you are trading your time for money.
The day you stop working, you stop earning too.
What if you pour your writing efforts into building up your very own online business, something that you can monetise, such that you put your passion into creating a passive income? While still enjoying all the time and space flexibility.
I am a writer at heart too. I find great fulfillment in writing.
I used to do a lot more freelance writing when I first left my 9-5 job to stay at home for the kids. But I found a platform that has equipped me with the skills and tools needed to build up my very own websites, just like this one that you have landed on.
Since then, I have never looked back. It teaches the best way to get traffic and monetise it.
I do not have to spend a single cent on advertising or promoting my sites. Everyday I get tons of visitors, because of how this platform has taught me to create content.
And the most awesome thing is:
This traffic is self-sustaining. Once I get it, it's unstoppable. I will get earnings for months down the road, even if I ease off on the content creation, and simply go into maintenance mode for my websites.
This is what is called passive income.
I am now working full time from home, growing my internet business, and making an online income. I started from scratch with zero knowledge in building a website. If I can do it, you can, too.
Here is a peek into my earnings on a recent day:



That's almost $200 in just one single day. It's nothing to boast about, though, as it's just a small fraction of its full potential. I just wanted to show you the possibilities.
Check out this training platform that provides all the resources, tools, along with an entire community of online income earners:
---
Finally, let me end off with the pros and cons of Writers Work, as a recap to what we have discussed about this platform.
Pros of Writers Work
1. 30 day money back guarantee
This basic refund policy is in place, for people who are dissatisfied with the product.
2. There is value in its tools and resources
If you are advancing your way to become a full time freelance writer, Writers Work can possibly help you in many ways, like organizing your projects, looking out for submission opportunities to publications, and stuff like that.

Cons of Writers Work
1. No trial period, requires upfront payment
You are required to pay the one-time or monthly fee if you want to just go in and see what it is all about. I think their business will run better if they offer a free or even paid (with a small fee) trial into the tools that are available, before people make a decision to go all out for it.
This will also save all the hassle of processing refunds, when there is a mismatch between the actual service and customers' expectations.
2. Upsells
There are upsells inside the members' area, though they are definitely optional. I just do not like any product that surprises me with extra features that I need to pay for, after getting through the initial pricing plan.
---
Is Writers Work a Scam?
No, Writers Work is definitely not a scam, despite what many people believe about it. It is a legitimate tools and resources platform that can bring the professional writer to a higher level in his or her career, depending on how you want to make use of it.
---
Recommendation
I do recommend giving Writers Work a go, especially if you find yourself scrambling to meet deadlines, or even if you are just starting out on your freelancing stint, but intending to take it far.
As you advance in your writing career, you may want to consider building out your very own online business alongside it, which is exactly what I did.
Now I have ditched most of the writing jobs, to focus on what gives me better returns in the long run, after I figured out, through an amazing training platform, the endless possibilities that a writer actually has.
This real deal does not promise instant results, but instead gives me knowledge and the lifelong skills required to grow a successful online business, which is exactly what I have done. Check it out by clicking on the button below:


And for reading all the way to the end of the post, I believe you have it in you to make this work. Here is your FREE PDF Guide: 4 Simple Steps to Making Money Online. Fill in your details to claim it:


If you have any concerns or questions regarding this Writers Work review, do comment below, and we will start a conversation from there.
---