Came across this microtask platform and wondering what is Hive Work (its website is hivemicro.com)? You have landed at the right place.
I'm happy that you are checking things out, before committing your time and effort to any platform that promises to make you money.
Some get-paid-to sites can be blatant scams that do not pay out, others are just not worth all your time to earn an amount that you cannot possibly get by.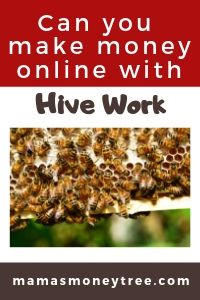 Which type does Hive Work fall under? Does it pay out honestly? What is the minimum amount required for cashing out? What type of tasks are you expected to carry out?
We will answer these and more, in my honest, unbiased, and in-depth Hive Work review.

Without further ado, let's dive right in!
---
Hive Work Review Summary
Product: Hive Work
URL: https://hivemicro.com/
Product type: Microtask site
Price: free to join
Scam / Legit? : Legit
Recommended or not? : Not recommended
Hive Work is a legitimate platform that pays you peanuts for accomplishing micro tasks for their clients requiring AI (artificial intelligence) related inputs. The tasks are very simple and repetitive, but complete 1000 of them to make 30 cents? I can only shake my head.
If you do not want to waste your time and effort on one of the lowest paying sites on the planet, check out my #1 recommendation to making money online:




Read on for the detailed review of Hive Work, and why I do not recommend it.
---
What is Hive Work
Let's find out what is Hive Work by first taking a look at the information presented on its landing page.




Talented and hardworking people to complete small jobs anywhere in the world at any time?
Hardworking – yes, definitely, if you want to make any meagre income on this platform.
Talented – I do not see its necessity at all.


Signing up to HiveMicro.com
This part is very easy, and a breeze to complete. No fuss at all. Just your name, country, password, and email address required. I set up my account in a matter of seconds.


Jobs available on Hive Work
These are the main categories of jobs that you can expect to be carrying out on Hive Work: categorization, bounding box, and text transcription.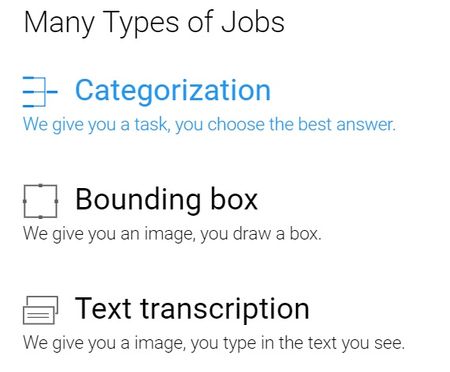 It sounds easy, and it really is. If these jobs seem strange to you, do not worry, they are genuine tasks required of artificial intelligence systems, that cannot be accomplished by computers as yet.
These input will help to build machine learning systems, and allow programs to learn concepts that would otherwise require inefficient man-hours to accomplish.
Let's see what tasks were available to me once I got into the members' area: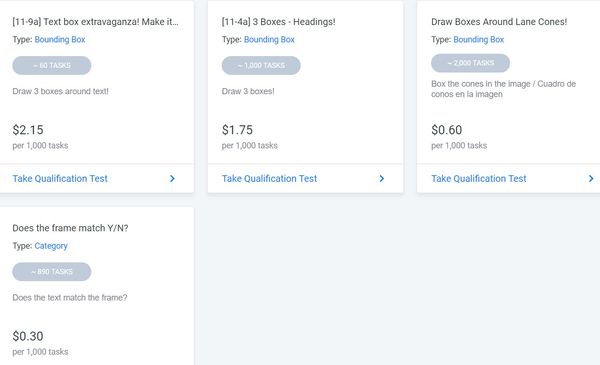 These are some examples of bounding box tasks. Which sound quite simple, to draw boxes around text, and to answer yes/no to the question of whether the text matches the frame.
What struck me was the extremely low rate of payment that is offered. 1000 tasks for $2.15 where you have to draw 3 boxes per task! Let's give the very optimistic estimate of 5 seconds per task, not counting any transition period between tasks, you would take almost 1.5 hours to earn the $2.15!
If you work on this full time for 8 hours a day, you make $11.50 for the day's hard work!
It is atrocious.
And this is already the highest-paying job among the 4.
Even the last job, answering yes or no to the question, would take 30 minutes to earn that 30 cents, again giving a very optimistic estimate of 2 seconds per task.
That's 60 cents per hour. I really thought I had some problem with my math, I kept calculating over and over again.
Let's take a look at some categorization jobs:




Again, tasks are very simple and straightforward. But the earnings are simply too little.
Seriously, for this kind of earning potential, I can't imagine anyone actually willing to do it, apart from people in poor and underdeveloped countries, where unemployment rate is high, and they do not have any other choice besides this platform which is still able to give them a small ray of hope.
If you are in that situation, my heart goes out to you. Please read to the end where I will show you a platform that is totally free to start (you do not even need to enter any credit card details), and you can choose to stay as a free member for as long as you want.


Leaderboard in Hive Work
This shows the leaderboard for the past one week:




As you can see, of all its 800K contributors that it claims to be on the platform, the highest earning is $56, for completing 14,159 tasks!
If you just want to make some extra pocket money, there are more fun ways to do it, that stimulates the mind much more, and you get a higher pay per hour. Examples of such legitimate get-paid-to sites include
Swagbucks
Societi
PrizeRebel
OneOpinion
Inbox Dollars 
Vindale Research
If these are not available in your country, check out my #1 recommendation which is totally free to start.


Minimum cash out requirement in Hive Work
The minimum threshold you must reach in order to cash out your earnings is $2. This is at least reasonable, considering how little they pay for each job.
But note that the default threshold is set to $10. You can change this to a minimum of $2 once you get inside the payment details configuration page.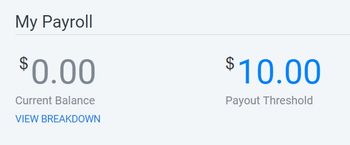 The other good thing is, they pay out weekly on every Tuesday. And they really do pay out to members. So at least they do not cheat you of all the time and sweat that you put into the platform.


Earn through getting referrals into Hive Work




This is another way to earn in HiveMicro.com, though it is equally non-lucrative, if I can call it that.
The $5 per referral is not something you get once someone signs up through your link. There are lots of conditions that must be fulfilled.
First, you must have earned at least $2. Then, your referral must make $5 for you to earn $1, up to $25 earned by your referral, or 180 days from your friend's sign up.
If you have a very hardworking friend, then you will get to make a few extra dollars. If not, it is in vain to work so hard just to refer people to this beehive, if they are not worker bees.


There are much bigger things you can do with your time
It is necessary to have something that allows you to trade your time for money, afterall everyone needs a roof over his or her head.
As long as your daily needs are met, with whatever time you spend on a regular job or sites like HiveMicro.com, earning some extra income, you should then consider using your spare time to build out something much bigger.
With advances in internet and technology, opportunities are endless. But at the same time, it is easy to get overwhelmed by all the noise and buzz, trying different things, taking different directions and not getting any results.
What's the bottom line?
You need a proven method that points you in the right direction, along with training, tools, and an entire community that backs each other up.
What I am going to show you is an amazing all-in-one platform that has allowed me to work full time from home, growing my own internet business, and making an online income.
I started from scratch with zero knowledge. If I can do it, you can, too.
Check it out through the link below. The best part is, you get to start for free:


---
Pros of Hive Work
1. Legit site that really pays out to members
This is a legitimate micro tasking site that will not cheat you of your hard work.
2. Low cash out threshold, paid weekly
This is a plus point, especially if you are short on cash, as it allows weekly cash out, as long as you meet the very reasonable threshold of $2 (which you have to configure in the payment details page, otherwise it is set at the default of $10).


Cons of Hive Work
1. The rates are way too low for lots of work
Try finding the lowest paying online job, I don't think you need to look very far.
---
Is Hive Work Scam or legit?
Hive Work (HiveMicro.com) is a totally legitimate website, that allows you to earn peanuts for too much of your time and effort.
---
Recommendation
I do not recommend Hive Work, if you can help it.
With the internet, there is no limit to what you can do. I want to show you affiliate marketing, a lucrative way to make money online, simply by promoting other people's products.
By following the training on a top notch affiliate marketing program, I get my traffic for free, without having to spend a single cent on advertising.
This real deal does not promise instant results, but instead gives me knowledge and the lifelong skills required to grow a successful online business, which is exactly what I have done. Check it out by clicking on the button below:




And for reading all the way to the end of the post, I believe you have it in you to make this work. Here is your FREE PDF Guide: 4 Simple Steps to Making Money Online. Fill in your details to claim it:



If you have any concerns or questions regarding this Hive Work review, do comment below, and we will start a conversation from there.
---