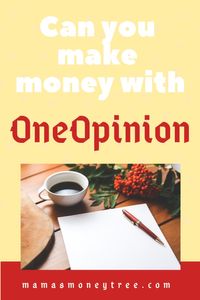 If you are into using survey sites with little pockets of your free time to earn some pocket money, and would like to find out what is OneOpinion about, you have landed at the right place.
Welcome to my OneOpinion review.
You might be wondering:
Is OneOpinion worth your time? Besides completing surveys, how else can you make money through this platform?
Does it try funny tricks when you are about the reach the minimum amount for cashing out? What are its payment methods?
We will answer all these and more here in my in-depth review of OneOpinion, so that you can make an informed decision as to whether this is worth your precious time.
---
OneOpinion Review Summary
Product: OneOpinion
Product type: Includes product testing, but mainly a survey platform
Price: Free to join
Scam / Legit? : Legit
Recommended or not? : Recommended, if you are happy with the small change for coffee
Among the survey sites that I have reviewed, OneOpinion is quite an alright one.
Not fantastic, there are definitely ones better than it, but you can be sure it's not the worst of the lot too. Minimum cash out is rather high, at $25, which can take 1 to 2 months to earn.
But at least when it comes to payment, they do pay all these people who have put in the hours and hard work, they are not like some survey platforms that behave like crooks.
Still, a survey site is a survey site, you cannot expect even a part-time income from it, despite putting in many hours.
If you do not want to waste all your free time just earning some small change for your next cuppa, check out my #1 recommendation to making money online:


Read on for the detailed review of OneOpinion, and why I recommend it if you are looking for some pocket money.
---
What is OneOpinion about?
OneOpinion was established in 2011, and is owned by Critical Mix Inc.
It helps its clients conduct market research, mostly in the form of surveys, but sometimes also by getting people to try out new products. In gist, that's what is OneOpinion about.
Those market research companies pay OneOpinion to gather the data and information they need, and the survey platform in turn pays you a token amount for the time and effort you take to complete the surveys.
This survey platform is neither very young nor very old, but the sensing I get from looking through many user reviews found on the internet has been rather positive in general, pointing to an honest company that pays what is due, and with responsive customer service.
Now, let's get down to business with figuring out how exactly OneOpinion works.

How does OneOpinion work?
Sign Up with OneOpinion
Sign up is free and very simple, takes less than a minute.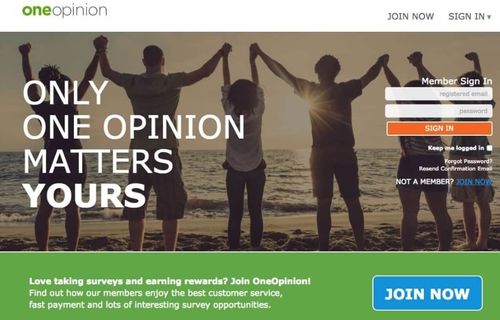 Then there will be a verification email sent to the email address that you entered on the sign up page. Once you get it verified, you are all set to go!
You have to be at least 13 years of age to sign up, but as long as you are under 18, you will need parental consent to sign up.
Only people residing in the U.S., U.K., Spain, Germany, Italy, France, The Netherlands, Australia and Canada are eligible to sign up.

How to make money with OneOpinion
Take surveys
The main method to start earning on OneOpinion is by completing surveys.
Typically, the average earnings range from $2 to $4 an hour.
It's peanuts, isn't it? But this can be considered mid-range, among all other survey sites.
Depending on the demographic of the users that the market research companies are looking for, you may sometimes find that there are no surveys for you to complete.
It seems like this is one common grouse among its users: there are too few surveys that they qualify for. But you can't blame OneOpinion for it, as this is typically a demand and supply issue.
When it is a legitimate platform, it could very possibly attract more people wanting to take surveys than companies needing to conduct research.
And that also means your earning potential may not be very high with this platform.
Another issue that is inherent of all survey sites is that many users may at times find that they get disqualified from a survey after having spent quite some time on it, say 10 to 15 minutes.
This is very common, because it could be at that particular question, as you give your answer, that the system then recognised that there is a mismatch between your exact profile and who the market research companies are looking for to complete the survey.
If you choose to use survey sites as a money-making tool, then this is something you have to come to terms with.
But of course if it occurs excessively, say for every other survey that you have attempted in the past week, then there is a cause for concern, and you may want to contemplate not wasting anymore of your time on there.
The good thing is OneOpinion does not have massive amounts of complaints regarding this. There are some, definitely, but it's not a prevalent thing that is experienced by vast majority of its users.

Try out new products
This is the other way to make money with OneOpinion. You get to see and test out very new products that are not even available in the market yet. How cool is that?
You get to do it in the comforts of your home, and then submit your feedback after using it, through filling a report or survey that is predetermined by the market research company.

Payment Terms of OneOpinion
The point system of OneOpinion works like this: 1000 points convert into $1.
The minimum cash out amount is high, at $25. Which means you have to accumulate to at least 25,000 points before you can cash out. The down side of this is, it may take 2 months or more to reach that level of points, depending on the surveys available to you.
This definitely lowers the motivation level, as you do not get the tangible rewards until after a long time.
When it comes to cashing out, there are a few main channels that you can choose from:
in cash to your PayPal account
via a Visa Debit card which will be sent to your home by UPS, and can take up to 10 days to arrive
Amazon Gift Card
Despite OneOpinion looking bright and promising, a survey site doesn't change its spots. The earnings you get out of it are simply meagre, and so not worth your time.
I want to show you how you can use the time to create something a lot bigger: build an online business that you can call your very own.
Here are my earnings on a recent day:



That's almost $200 in just one single day. It's nothing to boast about, though, as it's just a small fraction of its full potential. I just wanted to show you the possibilities.
Click on the link below to learn more about it:
---
Pros of OneOpinion
1. Honest and legitimate platform, with mainly positive reviews
I have not seen too many reviews of OneOpinion defaulting in their payment. That's a very good sign, considering how bad some survey sites can get.
On Survey Police site, they are rated 3.5 stars based on 187 user reviews.


2. Responsive customer service
Most people are happy with their responsive customer service, the main reason being they use a chatbot on their frontline.
So for people who were genuinely owed points for surveys that they had completed, the bot could actually credit the points instantly into their accounts. You'd be sure they end up with some happy users.
But this can turn into a double-edged sword. Because at times where the issue was not about points not being credited, the bot still went ahead to credit the points.
Yeah, I know right… Lol. That's the issue with bots, they think they're so smart.
Anyway I have seen a few reviews where the member got his or her account shut down because of not completing surveys but still earning the points. When obviously it wasn't even their doing in the first place. So they had to write in to assess their accounts again.
I don't know about you, but just for that few dollars, I really am not willing to go through all these hassle and frustration.

3. A fun way to past time if you have little pockets of a few minutes 
If you are just waiting for your bus to arrive, or waiting for the chicken to bake in the oven, it may be something fun to past time with.

Cons of OneOpinion
1. $25 minimum cash out is rather high
For many people, especially those who do not get many surveys that they qualify for in the first place, reaching the minimum cash out threshold can be a mounting task.

2. Earning potential is average among all other survey platforms
If you are lucky, and you work fast but still accurately through the surveys, you may be able to make $5 per hour. But that's not a common occurrence. So the earning potential on OneOpinion is not something that would get me all excited about.
---
Is OneOpinion Scam or Legit?
OneOpinion is definitely a legitimate survey platform that runs an honest business, and tried its best to ensure happy users. It is NOT a scam.
It is safe to give it a go, if you really want to.
Other legitimate and equally great platforms include:
Swagbucks
Inbox Dollars 
InstaGC
OfferNation
OneOpinion
PointsPrizes
PrizeRebel
RewardingWays
Survey Junkie
Toluna
Vindale Research
---
Recommendation
I do recommend OneOpinion, if some extra pocket money is all you are looking for.
But if you have some free time, I strongly recommend looking into doing something much more productive: building your own online business.
This is something that can start off making a side income for you, if you are willing to put some work into it. Over time, you will be able to build it into a part-time income, and even a full-time income.
When that happens, you will be able to quit your job, and work from home, having so much flexibility in time and space.
Would you like to take a look at what business model I am talking about, that I am currently making an online income with? Click on the button below to learn more:


And for reading all the way to the end of the post, I believe you have it in you to make this work. Here is your FREE PDF Guide: 4 Simple Steps to Making Money Online. Fill in your details to claim it:

If you have any concerns or questions regarding this OneOpinion review, do comment below, and we will start a conversation from there.
---