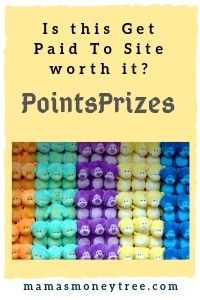 What is PointsPrizes.com? In gist, it is a get-paid-to site, where you can make a little extra pocket money by taking surveys and doing other simple tasks.
Is it legitimate, or will it be a huge waste of your time because it does not pay out?
What are the various ways through which you can earn from it? How does their point system work? What is the minimum threshold for cashing out, and what are the options to cash out?
We will answer these and more, in my honest and in-depth review of PointsPrizes. I will also reveal something that many people may not be too comfortable with. Then you can decide for yourself if this platform is something you may like to join.
Without further ado, let's dive right in now!
---
PointsPrizes.com Review Summary
Product: PointsPrizes
URL: https://www.pointsprizes.com/
Product type: Get-paid-to site
Price: free to join
Scam / Legit? : Legit
Recommended or not? : It depends on you. It is a legitimate site that does pay out, though earnings are on the low side compared to other GPT (get-paid-to) sites.
PointsPrizes has its pros and cons as a GPT site. It has numerous activities that you can engage in to earn a little money, including paid surveys. It has good reviews, and it does pay out.
However, its point system can be a little confusing, earning potential is not that great, and it only requires your email to sign in (it does not need a password).
If you want to build up a full time income instead of just making enough for your afternoon cuppa, check out my #1 recommendation to making money online:


Read on for the detailed review of PointsPrizes, and why I am on the fence about recommending it.
---
What is PointsPrizes.com
To find out what is PointsPrizes.com, let's first take a look at its homepage:




It is a GPT (get-paid-to) site, but there are so many out there these days, you can't be going on every one of them.
You should identify the best paying ones, and then focus your time and effort on just one or two, so as to maximise your earnings.
I have signed up to this PointsPrizes, to bring you this complete review, so that you can actually decide without using your own time to go through it, in order to find out all its pros and cons.

Signing up to PointsPrizes
The first thing that struck me as I signed up to PointsPrizes was the lack of an entry field for password. This means anybody who knows my email address can actually get into my PointsPrizes account, since that is the only information required.
I totally do not feel good about this, as I am someone who needs security online, having seen the kind of nonsense that people with ill intentions are capable of.
You can see I have not put up my referral link to PointsPrizes anywhere in this review, as I will be going on it just to do this review, not to earn points and money out of it.
I do not feel safe to do any payment transactions in there, knowing how easy it is for others to get into my account if they want to.

Who can join PointsPrizes
There is no geographical boundary when it comes to joining PointPrizes. Anyone from any country can join.
Having said that, the tasks and surveys available to you really depends on the companies and retailers that operate in your country. So opportunities will vary depending on where you are.

Ways to earn points on PointsPrizes
There are many fun and engaging ways to earn points in PointsPrizes, which can be converted into gift cards or cash payment.
Offer Walls
In Offer Walls itself, there are a range of activities that you can take part in, including downloading apps, free trial of products and services, some simple surveys (though there is a separate surveys section), contests, etc.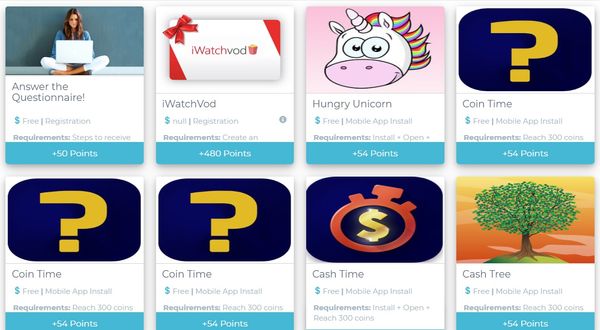 The points for each offer is stated clearly, but please do read the requirements for each offer that you are taking part in carefully.
For instance, some free trials will require your payment details, so be sure to cancel the subscription before your free trial period ends, otherwise you will be billed for the first cycle and be caught by surprise.
Or if a certain offer requires you to enter your phone number, I'd be careful about that as well, if I do not like to receive cold calls for stuff I am not actively searching for.

Survey Routers
Here, you can choose your preferred survey routers to take surveys and earn points.
As with any survey sites, it is normal to find yourself disqualified from some surveys after having spent some time on them. This is an unavoidable irritation of doing surveys, but they should not occur so frequently that it frustrates you and wastes a lot of your time.
In PointsPrizes, the earning potential for completing surveys is not great, compared to other GPT sites like
Swagbucks
Inbox Dollars 
InstaGC
OfferNation
OneOpinion
PointsPrizes
PrizeRebel
RewardingWays
Survey Junkie
Toluna
Vindale Research

Watching video ads
These are short videos that you can watch, but again the points awarded are low, and may not be worth your time, unless you enjoy watching these videos just to past time anyway.

Daily Poll
There are short and simple polls each day that you can complete to earn a little bit of points.

Use Coupons
I find this section fun and interesting. You are supposed to find PointsPrizes coupons on various parts of the internet, various websites, and earn points by keying in the coupon code that you found.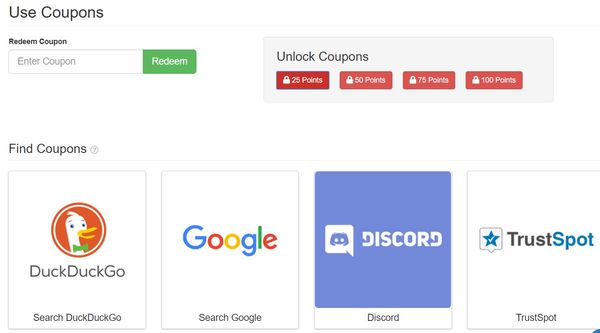 Even if you can't find any, there is a feature called unlock coupon, whose points you can unlock by completing a task (choose among a few):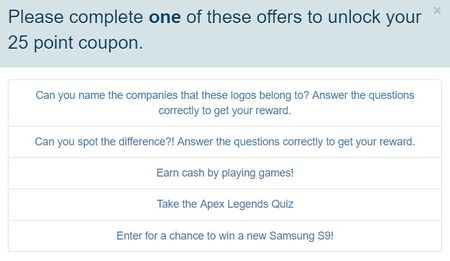 Referrals
Refer people to the platform, and you stand to earn 10% of all their earnings for life, at no reduced earnings to them.
PointsPrizes make it sound like it is very easy to earn by referring people, just copy and paste your referral links everywhere: social media, forums, your website, and so on. In fact, it is not that simple.
Say on Facebook, when you try to place your referral links on groups, you may get banned from the group rightaway, if it is against their group rules.
Whilst in groups where such links are allowed, they will be spammed with so many such links that nobody would respond to them, as there so many scams around that people do not know which links to trust anymore.

How do PointsPrizes.com points convert into cash
For everything you accomplish in PointsPrizes.com, you get rewarded in points. As you cash out, these points convert into cash.
The conversion rate is rather unique, but can be confusing and difficult to wrap my head around. 1 point is worth about $0.0066, which is less than 1 cent. This means you need to accumulate 3000 points in order to convert it into $20.
This point system is very unlike other GPT sites, where the conversion is much more straightforward: 1 point is equivalent to 1 cent, on most sites.

Cashing out your earnings in PointsPrizes
In trying to cash out, you must have hit the minimum threshold requirement of $20. This is considered a little high compared among all the GPT sites that I have reviewed.
You can cash out via PayPal, BitCoin, or gift cards (with lots of retailers to choose from).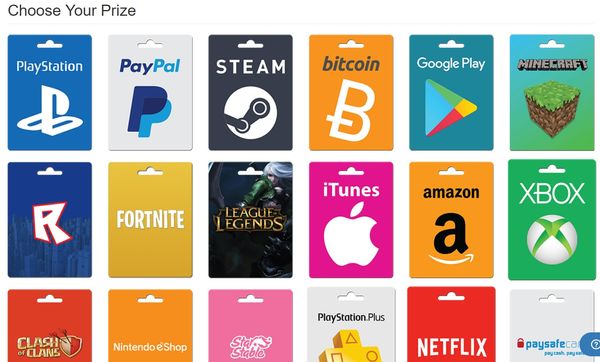 Reviews on PointsPrizes.com
There are mostly positive reviews about PointsPrizes: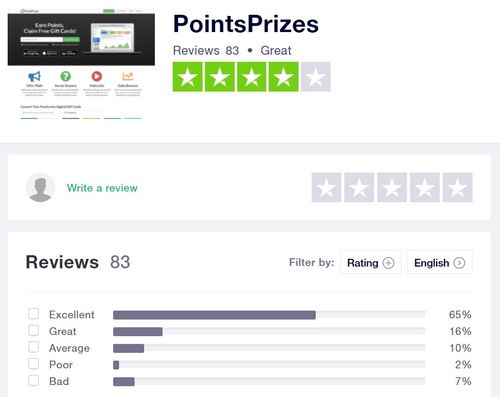 Here is one of the more detailed reviews, describing the plus and minus points of this platform: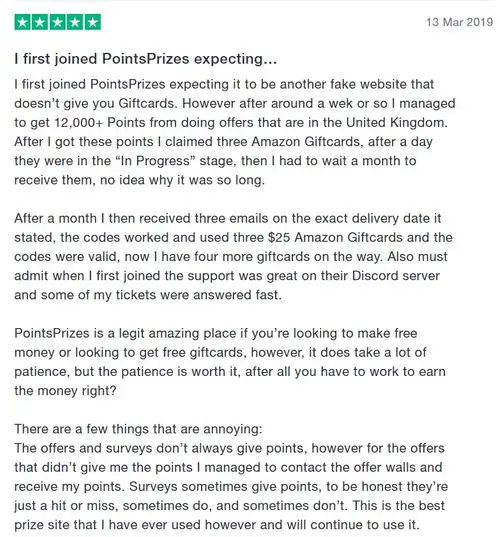 If you just want to make a little extra pocket money, PointsPrizes.com is a possible option, though its earning potential is rather low, so this would not be at the top of my recommended list.
However, if you are interested in exploring something much bigger that you can do with your precious time, that can eventually earn you a full time and even passive income, then do read on…

The proper way to make money online
If you are spending a couple of hours a day, or even more, on GPT sites and survey sites, trying to earn that little extra, then let me show you the real potential on the internet.
With this time that you have, you can actually build up your very own online business, something that can eventually make you a full time income, all by working from home, on your computer or laptop.
Here's a peek into my earnings on a recent day:



That's almost $200 in just one single day. It's nothing to boast about, though, as it's just a small fraction of its full potential. I just wanted to show you the possibilities.
With this method, you get to choose your own niche, promote existing products by companies and retailers (whichever companies you like that offer such affiliate programs), and earn a commission when people click through your links to make the purchases.
This is called affiliate marketing.
This business model is very lucrative, because everyone is doing their shopping online, as well as research into products before they buy them.
I am now working full time from home, growing my internet business, and making an online income. I started from scratch with zero knowledge in this area. If I can do it, you can, too.
Check out this training platform that provides all the resources, tools, along with an entire community of aspiring as well as already successful online income earners. The best part is, you get to start for free:
---
Pros of PointsPrizes
1. Legitimate GPT site that pays
This is definitely a GPT site that pays, as can be seen from all the positive reviews of its happy users.

2. Interesting variety of tasks
The tasks that you can do to earn points are a good variety, so you won't get too bored on this site.

3. Many great options for cashing out
Besides PayPal and BitCoin, there are so many retailers that offer giftcards, including Amazon, eBay, Spotify, and many games and entertainment companies.

Cons of PointsPrizes
1. Low earning potential
Though fun and legit, the earning potential here at PointsPrizes.com is really not high.

2. Account does not require a password to log in
Some people may not feel anything towards this, but for me, it is a deal breaker.

3. Conversion from points to cash not so straightforward
The odd conversion from points to cash makes it very hard to figure out how much in cash some task is worth. I cannot understand why they do not make it simpler by adopting the 1 point being equivalent to $0.01 approach.
---
Is PointsPrizes.com Scam or legit?
PointsPrizes.com is definitely a legitimate GPT site.
---
Recommendation
I do not spend my time on a single GPT site or survey site, because such activities to earn that little amount of money are too time-intensive.
Life is short, I want to make sure whatever I do with my time has maximum effect on my financial situation.
Amidst the noise and chaos on the internet, I'm blessed that it didn't take my that long to find a real deal that absolutely works for me.
This real deal does not promise instant results, but instead provides the knowledge and the lifelong skills required to grow a successful online business, which is exactly what I have done. Check it out by clicking on the button below:


And for reading all the way to the end of the post, I believe you have it in you to make this work. Here is your FREE PDF Guide: 4 Simple Steps to Making Money Online. Fill in your details to claim it:


If you have any concerns or questions regarding this PointsPrizes.com review, do comment below, and we will start a conversation from there.
---