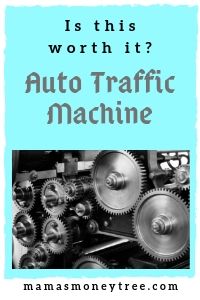 Welcome to my Auto Traffic Machine review.
What are Billy Darr and Justin Opay up to this time? A brand new software that drives unlimited buyer traffic in as little as 60 seconds? Leap years ahead of other traffic solutions? Seriously?
You may have seen people promoting this product, please do not believe them until you find one that can show you the end product of this software that is supposed to create videos for you. Because Billy and Justin are notorious for their junk that do not work.
In my honest and in-depth review of Auto Traffic Machine, I will walk you through their claims, what the software is supposed to do, and what the reality is. Then you can make an informed decision about whether this product is worth your time and money or not.
Without further ado, let's dive right in now!
---
Auto Traffic Machine Review Summary
Product: Auto Traffic Machine
URL: http://autotrafficmachine.com/platinum
Creators: Billy Darr and Justin Opay
Product type: video generation software
Price: $17
Scam / Legit? : To me this is a scam, but I will leave it to you to decide for yourself
Recommended or not? : NOT recommended
Auto Traffic Machine is a hugely hyped up software that is supposed to create videos, which it then posts on your video sharing platforms, and social media platforms, to drive traffic to your offers, like affiliate links, or whatever stuff that you are trying to promote.
The software itself does not even work, much less drive targeted buyer traffic to you. Even if it does work, there is no way some low quality video is going to boost your traffic and sales.
If you do not want to waste anymore time and money on useless products, check out my #1 recommendation to making money online:




Read on for the detailed review of Auto Traffic Machine, and why I do not recommend it.
---
What is Auto Traffic Machine
Let's find out what is Auto Traffic Machine by first looking at its sales page:




It sure is capable of big claims. Anyone who has been in the internet marketing business for even a while will know there is no way any software can get you unlimited buyer traffic in 60 seconds.
Auto Traffic Machine is simply a cloud based software that instantly creates traffic generating videos. It takes advantage of the current trend, of consumers' huge desire for videos, while requiring zero recording and editing skills on your part.
If only this world can be so simple.
In these 3 steps, you can set and forget unlimited income streams:
Grab your copy of Auto Traffic Machine now.
Enter some simple information and the link you want to drive traffic to, then click on the 'drive traffic now' button.
Sit back, relax, and watch buyer traffic and sales pour in, in as little as 60 seconds.
Now, let's check out how exactly Auto Traffic Machine is supposed to work for us…


How Auto Traffic Machine really works
Keyword research in Auto Traffic Machine
Once inside the software, the first item on the menu is keyword research. I was hopeful, but that was before I discovered it turns up nothing more than a number: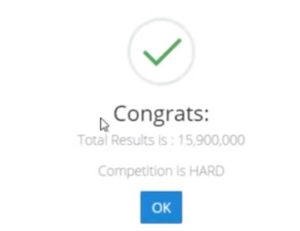 And they congratulate me for having found a hard-to-compete in keyword. Hmmm… that's funny.
To me, there is zero value in this tool, because obviously popular niches are going to show high competition, then what does it mean for me? That I forego it? A useful keyword tool will show me not just competition, but also monthly searches, and give me an indication of where I stand if I try to create a video that ranks for that keyword.
That's the whole point of keyword research. Otherwise if it's simply about sharing stuff on my social media accounts, we are talking about my immediate circle of influence, then there is no need to do keyword research at all.


Auto Traffic Machine campaigns
This is where you can create a video, just by selecting images.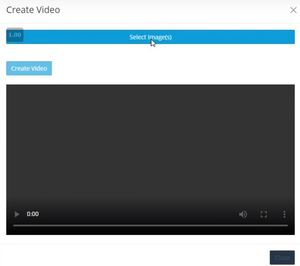 I'm sure you can imagine the quality of the video that will be generated. With just images, transitions, and maybe music in the background, this is something you can do a better job of, using Microsoft Powerpoint.
Anyway, this did not work, when I tried to create one. Maybe it was just my luck, or some glitches. I decided not to waste anymore time, and just moved on.


Video Sharing and Social Sharing in Auto Traffic Machine
These allow you to upload your videos onto video platforms like YouTube and DailyMotion.
Social sharing platforms that can be linked to include Blogger, Twitter, Tumblr, LinkedIn, Reddit, Livejournal, Instapaper, and Write.
Hmmm.. why are we missing the huge ones like Facebook and Instagram?


JVzoo and WarriorPlus tabs in Auto Traffic Machine
These simply list the current top sellers on affiliate networks JVzoo and WarriorPlus, which are mostly digital products in the internet marketing niche.
This means many (not all) products are meant to make money for the creators, by making big promises that can never deliver because that is just not how things are meant to work when people try to make money online. They are not made to help the customers succeed.


Training in Auto Traffic Machine
I didn't even want to mention this training tab, because it is nothing more than instructions on how to use this program.


Who are Billy Darr and Justin Opay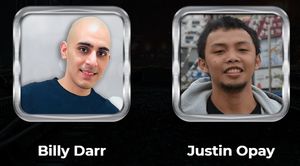 Now, I want to show you some past products created by these same people, so you can understand their reputation and track records.
I previously reviewed their Traffic Robot 2.0 in March 2019. Here is a feedback I found by a real user of the product afterwards: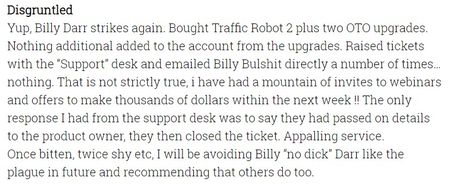 These same guys launched an earlier one called iTraffic X some time in December 2018, and this is what a user has said about it:




Another one I found on an affiliate's promotion of this Auto Traffic Machine:




So Auto Traffic Machine is just a newer version of iTraffic X. Then shouldn't it be named iTraffic X 2.0 or something? Instead of being sold as a 'brand new software' (in their own words)?
To me, these guys reek of dishonesty.


Why Auto Traffic Machine will not get you unlimited buyer traffic
As a fact of life, you can't expect unlimited buyer traffic simply by uploading some low quality videos onto your Youtube channel and sharing on your social media accounts, even if Auto Traffic Machine works as it should.
Firstly, social media traffic, the free type, is totally not targeted at all. People go on social media to socialise, interact, relax after a hard day at work, catch up with friends, watch some funny videos of cats.
Nobody is interested in what you are trying to promote. To get social media traffic that is targeted, it has to be paid traffic, through advertisements, which is not the point of this Auto Traffic Machine, so I won't be covering that here.
As for using Youtube channel to get free traffic, it is possible only after lots of hard work, creating original videos, authentic ones, that will speak to your audience. It will not work to just put some images into a slideshow, with nice music, and then expect it to convert.
People want to see value in what you are creating, before they will start to trust you as the authority in the niche, and then start to take up your recommendations to buying certain products.
Without genuinely reaching out to them, no software can help you automatically generate targeted traffic. People who are successful on their Youtube channels spent hours each day, creating and uploading videos daily, to slowly build up a following, interact sincerely with their audience, before the money comes in at the side of helping others.


How I get my free buyer traffic
Videos is just one way to get free buyer traffic, something that I need to convince myself to start using some day in the future, as I can't overcome my shyness in front of the camera.
How I am getting free targeted traffic is by creating content on my website. The exact way that you landed here, through search engines, that is how I do it.
Search engine traffic is not only free, it is also the most highly targeted form of traffic, because they are people actively searching for whatever content I have on my site. By virtue of that, my audience is mostly ready to convert.
I have to be frank with you, this takes hard work. But if you are looking for an easy way, all you find will be people like Billy Darr and Justin Opay. They offer the easy way out, which only works for them (as they laugh their way to the bank), and not for you.
If you want to succeed on the internet, earning a full time income, there is no shortcut around hard work, perseverance, and some patience.
What you need is to find a proven path, turn a blind eye to shiny objects, get to work, and stick with it until you see results.
If what I say makes sense to you, then let me show you something.
Check out this training platform that provides all the resources, tools, along with an entire community of aspiring as well as already successful online income earners. The best part is, you get to start for free:


---
Pros of Auto Traffic Machine
1. Real owners
Yup, Billy Darr and Justin Opay are real people, if that helps at all.
2. 30 day money back guarantee
This basic refund policy is in place, for people who are dissatisfied with the product.


Cons of Auto Traffic Machine
1. It did not work for me
It could have been a glitch that I did not bother to sort out, but I really did not want to waste my time with this. Maybe you would be luckier.
But my advice is still to look around at the videos and websites of affiliates trying to promote this Auto Traffic Machine, see if you can find one where it shows the software actually working, with the end products of the videos that you can actually view.
So far I have not been able to find any.
2. Even if software works, traffic does not work the way they claim
Even if Auto Traffic Machine works perfectly as the software is supposed to, traffic is not going to come and take up your offer in 60 seconds. That is just absurd, and taking it too far.
Don't people take responsibility for what they say anymore?
3. Upsells
Just like any other product that is made to squeeze you dry, Auto Traffic Machine is laden with upsells, the moment you purchase the front end product, even before you have a chance to try it out.
These are much more expensive than the front end product, and it would be terribly difficult to get refunds for them if you find out they do not work for you. So do not be in a hurry to buy them, the so-called one time offers are in fact always there waiting for you.
Upsell 1: $47 – 3000x Edition
Upsell 2: $67- Autopilot Edition
Upsell 3: $77 – Ultimate Edition
Upsell 4: $197 – Diamond Edition
If the front end product does not work, and is useless in driving traffic even if it works, would you believe in these upsells that promise to work even better?
---
Is Auto Traffic Machine Scam or legit?
I want to call it scam, but I will leave it up to you, to check it out for yourself if you really wish to. Anyway the refund policy is there, you can always use it.
In my opinion, this is as useless as some products I have reviewed, like The Freedom Formula, One Minute Traffic Machines, and 60-Minute Empire, to name just a few.
---
Recommendation
If you want to get free buyer traffic using videos, you've got to work hard everyday on your Youtube channel, creating authentic content that engage with your audience, to provide them value.
If appearing in videos is not your cup of tea, then let me show you my method, which is to rank in the search engines so that people actively searching for what I am offering get channeled to my offers.
This real deal does not promise instant results, but instead provides the knowledge and lifelong skills required to grow a successful online business, which is exactly what I have done. Check it out by clicking on the button below:




And for reading all the way to the end of the post, I believe you have it in you to make this work. Here is your FREE PDF Guide: 4 Simple Steps to Making Money Online. Fill in your details to claim it:



If you have any concerns or questions regarding this Auto Traffic Machine review, do comment below, and we will start a conversation from there.
---