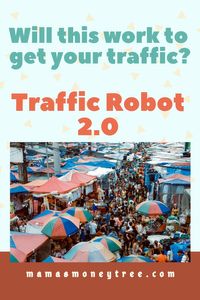 What is Traffic Robot 2.0 that promises to drive unlimited, free buyer traffic for profits and freedom in less than 46 seconds, at the touch of a single button?
Does such a thing even exist?
Having been doing internet marketing for more than a year now, I can tell you outright, no such thing exists in this world. Unless they have created some miracle.
To give it a fair review, I will still dig right into its inner workings, to figure out what sort of miracle has been created in this product.
And let me also congratulate you for doing your due diligence before deciding whether to purchase a product or not. You really can't be too careful, especially with the amount of scams going around the internet these days.
In your research, you will also come across tons of raving reviews about this product. Do not believe them. Those are done by its affiliates, throwing in their bonuses, jostling for a piece of the pie.
These unethical marketers will promote any new product, regardless of how crappy it is. They simply ride on the waves of hype created by each new launch, that's how they make their living.
Here on my website, it is different. This is your safe haven. Because I am not promoting this product. You can be assured of my completely honest and unbiased Traffic Robot 2.0 review.
Now, let's dive right in to find out what this software is all about.
---
Traffic Robot 2.0 Review Summary
Product: Traffic Robot 2.0
URL: http://trafficrobot2.co/platinum
Creators: Billy Darr, David Kirby, and Justin Opay
Product type: tool for driving traffic from social media
Price: $22.95
Scam / Legit? : I very much want to call this scam, but I will let you decide for yourself after reading this Traffic Robot 2.0 review
Recommended or not? : Not recommended
Traffic Robot 2.0 is a cloud based software that drives traffic from your social media platforms to your website, your affiliate offers, etc. If it was a working software, it is actually not that bad. But it looks like this 2nd version is bugged by bugs just like the first.
Moreover, its sales page is much too hyped up. Unlimited buyer traffic in 46 seconds with the click of a button is plain BS.
If you do not want to waste anymore time and money on totally useless products, check out my #1 recommendation to making money online.




Read on for the detailed review of Traffic Robot 2.0, and why I absolutely do not recommend it.
---
What is Traffic Robot 2.0
To figure out what is Traffic Robot 2.0, let's first take a look at the information presented in their sales video and landing page.



It gets better:
It is 100% newbie friendly, with no prior experience required. It is cloud based, so you can use it anywhere, on any device, without installing anything. At the touch of a button, you get to create free traffic streams, and can start profiting.
In fact, it is as easy as A, B, C:




Traffic Robot 2.0 taps into multiple social networks, and is the best traffic source for real visitors.
Not only can it drive unlimited free buyer traffic to your website or affiliate links, it can send these targeted traffic to your CPA link, your eCommerce store, your freelance profile, and even your squeeze pages, your social media pages, and your YouTube channel.
That's all the information we have from the sales page, and they expect you to buy the product without even telling you how exactly it works to drive traffic, and what you can expect to get in there.
What they do provide, is everything that you would like to hear: unllimited free buyer traffic in 46 seconds, with just one click.
Now, we will look at the real thing behind all these hype.


What Traffic Robot 2.0 really is, and why it will not work for you
Before you can start using Traffic Robot 2.0, you have to first connect it up to all your social media accounts that are available for integration with this software.
The available social media platforms that can be connected to Traffic Robot 2.0 include these:




Not a lot, I must say. Twitter, LinkIn, and Reddit will be the more common ones. If you do not even use these social media platforms for marketing your online business, then Traffic Robot 2.0 will not be of much use to you at all.
After connecting your social media, you can set up your campaigns: video campaign, image campaign, or text campaign.




And that's it. The software is supposed to do its job, while you wait for the free traffic from your social media accounts to flood in.
That is, if you have a sizable following to start with.
Frankly, if this software even runs properly at all (it seems there were numerous glitches in the first version, which supposedly have been fixed in this newer version), I would still not be convinced of its effectiveness in driving targeted traffic, what more unlimited traffic.
I believe if anyone had a good social media following, they would have nurtured it already, in their own unique ways, without requiring a software to help them market their website content or affiliate links.
Another point I want to make is, social media traffic is usually not targeted, because people are there mainly to socialise. Unless you have social media accounts already set up to target audience for your online business.
Otherwise, if you are just starting out on internet marketing, and have just your personal social media accounts, then this kind of traffic is never going to convert. People go on social media to socialise, relax after a hard day at work, watch some funny videos, catch up with friends, etc.
They never intended to buy anything while on social media platforms. Unless you have your loyal following by virtue of your online business, and people are following you for your authenticity, because you add lots of value to them, because you are genuine in helping people.
If the objective is simply to sell them stuff and make money for yourself, then it would be very difficult to build up a following.
So for social media to work for you, it takes time, and lots of effort, with the sincere heart to helping and engaging others. Otherwise you would just be spamming people with your offers, which I believe most people do not appreciate.


The proper way to get traffic
I daresay the traffic method I am using is the best. Because it gives me not just free traffic, but also traffic that is highly targeted, ready to convert into buyers.
How do I do it?
I create lots of authentic content around my niche, on my website. So my site gains credibility and authority in the eyes of the search engines.
When people search for answers in topics related to my niche, they see my site ranking on page 1 of their search results. In this way, I get hoards of unstoppable traffic.
Want to know the best part?
This kind of traffic is highly targeted. Because they are actively searching for what I have to offer. That is how they find my site in the first place, by virtue of the search engines. They are people with strong buyer intent.
If you want to learn exactly how to write content that ranks in search engines, how to optimise your website for search engines, or even how to set up your own website to begin with, then click on the link below to hop over to my other post, where I detail these and more with much greater depth:


---
Pros of Traffic Robot 2.0
1. Real owners
Yes, the creators of Traffic Robot 2.0 are standing up in front of their own product. To me, this is something respectable, and tells us that there is a certain level of credibility and accountability for what they are selling.
2. 30 day money back guarantee
This basic refund policy is in place, for people who are dissatisfied with the product.
3. You do get your software
Regardless of its quality, you do get a software and some training.


Cons of Traffic Robot 2.0
1. Too much hype
You are never going to get unlimited traffic in 46 seconds, at the click of a button. Internet marketing does not work like that. The world does not work like that.
Unlimited means never ending traffic, then why are they still selling you upsells (see below)? If it really works as claimed, this should be the last product that you will ever need to purchase.
2. Its effectiveness depends on your own social media following
You must have a large base of targeted social media following to start with, specific to your online business, for this product to get you loads (not unlimited) of targeted traffic.
But if you have built up your fan base to that kind of extent, then you seriously do not need this software at all.
3. Not the best kind of traffic
If you are just talking about your personal social media accounts, then the traffic that sees your offers would not likely convert, as they were not actively searching for those products at all.
4. Upsells
As with any product that is created to dig as deep into your pocket as possible, Traffic Robot 2.0 is no exception. Once you purchase the front end product, you will be bombarded with these pricey upsells, even before you get a chance to find out how well it works for you.
Upsell 1: $67 – Elite edition
Upsell 2: $47 – Rose Gold
Upsell 3: $47 – Sapphire edition
Upsell 4: $47 – Ultimate
Upsell 5: $197 – Diamond edition
Why can't they leave you alone to try out the main product? If you decide that it is useful, you may consider buying the upsells. That should be the way, instead of promoting the upsells aggressively while your wallet is out of your pocket.
So does it mean that they fear they will never hear from you again after you try the front end product?
---
Is Traffic Robot 2.0 Scam or legit?
I absolutely dislike the hype in the marketing materials of this product, it is extremely misleading, and is enough to make me want to call it scam.
But at the end of the day, you do get a software that can possibly bring you traffic, though it will never be 'UNLIMITED' traffic. So I leave it to you, to decide whether this Traffic Robot 2.0 is a scam or not.
---
Recommendation
I do not recommend Traffic Robot 2.0.
It has too much hype, like many other products I have reviewed: AZ Millionaire Method, xPress Funnels, and AffiliXPro, to name just a few.
To get quality traffic from social media, it takes lots of time and hard work to build up a loyal following. You have to keep engaging your audience as the authority in the field, provide all the help and advice they need, be generous in giving, before they will trust you enough to take up your recommendations readily.
When that happens, you would have really built up your very own source of targeted traffic. This could take years to build up, from scratch.
In fact, the very first step to this is to flood your website with relevant and engaging content in your chosen niche.
This has two effects: you are building up your brand, as your website visitors find that you are adding value to them. Secondly, the search engines will reward you with their trust, by ranking you high in search results.
This is how you first get eyeballs to land on your offers. People whom your content can connect with will stick around, and become your following.
This is also the exact way that I am getting traffic to my online business. So rest assured that I know what I am talking about.
Now, I want to show you this amazing platform, that offers you 2 free websites (including free hosting and domain names), and 10 free lessons that provide much more value than many paid courses out there.
This is what started me on building up my online business, and getting traffic for free from the search engines. Click on the button below to learn more:




And for reading all the way to the end of the post, I believe you have it in you to make this work. Here is your FREE PDF Guide: 4 Simple Steps to Making Money Online. Fill in your details to claim it:

If you have any concerns or questions regarding this Traffic Robot 2.0 review, do comment below, and we will start a conversation from there.
---