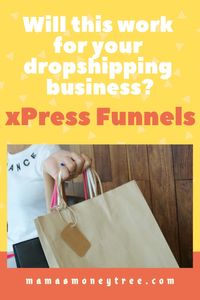 If you have received some promotional material of this newest product in your inbox, you must be wondering what is xPress Funnels. Can it really give your dropshipping business a boost? Or is it going to be yet another waste of time and money?
Firstly, kudos to you for doing your due diligence before making any purchase, especially with the amount of scams going around on the internet these days.
In your research, you must have seen lots of raving reviews about this product. Those are all done by its affiliates, jostling to bite a piece off the pie.
This is crazy:
They have never made a single cent using this product. How they make a living is to promote each and every new product launch, riding on the waves of hype created by the marketing campaigns of the product owners. They do this regardless of the quality of the products, they are just concerned with making money, without any regard for their customers.
It's different here, as you are in safe haven. I am not promoting this product, so you can be assured that my xPress Funnels review will be an honest and unbiased one.
Now let's dive right in, take it apart to study its inner workings, to try and figure out if it is as good as how it is made to sound.
---
xPress Funnels Review Summary
Product: xPress Funnels
Creator: Glynn Kosky and Leigh Kosky
Product type: Done for you eCommerce funnels for dropshipping
Price: $29.95 for Lite version, $39.95 for Pro version.
Scam / Legit? : Legit
Recommended or not? : Not recommended
xPress Funnels is a set of done for you eCommerce funnels, specifically for a dropshipping business. With this, you supposedly do not even need to set up an online store, using eCommerce platforms such as Shopify which requires a monthly subscription fee.
From how I see it, this product will not work, because the main issue with any business is always about getting traffic to what you are selling. Another thing I am uncomfortable with is these funnels are hosted on their servers, which means you do not own them, and if they decide to take down this software one day, there is nothing you can do about it.
If you do not want to waste anymore time and money on useless products, check out my #1 recommendation to making money online:




Read on for the detailed review of xPress Funnels, and why I do not recommend it.
---
What is xPress Funnels
To find out what is xPress Funnels, we first look at the information presented in their sales video and landing page.
xPress Funnels is a newbie friendly, cloud-based app that instantly makes you eCommerce funnels within 60 seconds. You will not need Shopify, Amazon, or your own store again. Forget about paying those monthly fees.




With the high-converting funnels, you can just focus on selling one or a variety of related products in the simple two-page funnels. You can source your products from AliExpress, Amazon, eBay, Walmart, Etsy, and so on.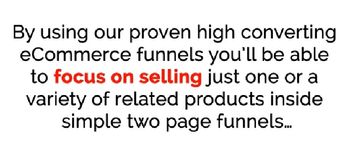 It gets better:
Triple your sales and conversions overnight – as compared to a regular online store by Shopify? I do not understand how you can possibly triple your sales when you just sell one product, or a few related products, compared to an online store with tens or even hundreds of products being sold.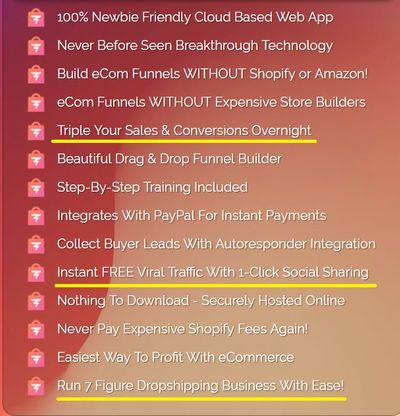 And look at the last point I underlined in yellow: run 7 figure dropshipping business with ease!
Are they out of their minds? Do they even realise 7 figure is in fact at least a million? I'm not sure what got into these guys, to actually say you can earn a million dollars with ease. Then won't the whole world be filled with millionaires walking all over the place?
So in 4 simple steps, you can expect to start generating sales and making money: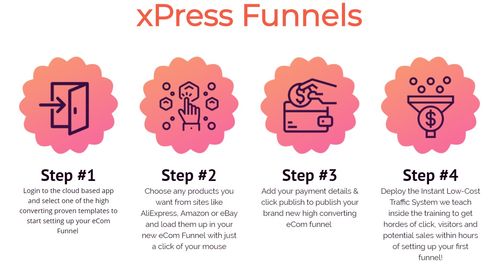 Step 1: Log in to your cloud based app, and select a template to make your eCom funnel.
Step 2: Choose your product from sites like Amazon, eBay, etc. and load it onto your funnel.
Step 3: Add your payment details, and publish your funnel.
Step 4: Use their low-cost traffic system to get sales within hours of setting up your funnel.
Erm… but earlier on the sales page they mentioned FREE viral traffic. Now they say it's a low-cost traffic system. So this is in fact a paid traffic source that they are teaching you to get.
Want to know the best part?
With this method, you can supposedly get something for say, $5 on the online shopping platforms, and then sell it for $50 on your funnel! Pocketing $45! Do this 10 times per day, and you're creating an annual profit of $164,250 with no upfront initial investment!
This sounds really attractive!
But I'm sorry I have to burst the bubble right now…


Why xPress Funnels will not work for you
Think about it:
If a product can be bought from the common online shopping platforms at $5, why would anyone want to buy it at $50 through your sales funnel? It doesn't make sense.
So you see, the sales page of xPress Funnels is full of hype, telling you things that you like to hear, just so you will buy this product from them.
Now, let's look at this entire business model, and try to understand it thoroughly:


What is dropshipping?
Dropshipping is one way of doing eCommerce, where you buy at a low price, and sell at a high price to make a profit off the difference in these selling and buying prices.
The advantages are that you do not need to stock up, and you get paid upfront, before you go ahead to buy the product for your customer.
The transaction is between you and the customer, through your online storefront, which is the conventional method. After your customer makes the order and puts in the payment, you then order the product from your own sources, which can be any of the online shopping platforms if you can find a good deal, or any vendor or supplier whom you have some agreement with.
With this method taught in xPress Funnels, you will order the product from platforms like Amazon, Etsy, eBay, AliExpress and so on, and enter the address of your customer, to send it as a gift.
So the platform that you ordered from will send the item directly to your customer, without the product having passed through your hands at all.
It all sounds neat and hassle-free so far.
But there are a few issues that are inherent in this dropshipping model.


Competitive market
With those online shopping platforms offering everything in one place, and the whole world knowing about them, people will tend to simply hop onto those platforms when they want to buy anything.
It is difficult to compete with sites like Amazon, eBay, etc. unless you can offer a competitive edge in terms of pricing.
Which means that you cannot price your items too high. This also means your profit margin will be very low, if you hope to get any sales at all.


Middleman woes
In the dropshipping model, you are the middleman. The sales transaction is between you and your customer. The delivery of the product is handled by a separate vendor, like Amazon, AliExpress, and so on.
Though established and reputable, they are not without glitches. When any issue arises, like damaged goods, wrong item, complaints, or refunds, the customer will come back to you, and you will have to deal with it, by going back to the vendor to sort things out with them.
One other thing that is bound to happen is that your customer will get to see the cost price at which you bought the item from those platforms, when they receive it. As it will be listed on the packaging.
I do not think they will be too happy to find out the exact profit that you reaped from the sale. So with this model, it is very unlikely that you will get any repeat customer.
Besides these issues that are inherent in this dropshipping business model, there are potentially big problems with this xPress Funnels software in particular.


Traffic is the key
Yes, traffic is the key to any business, whether online or brick and mortar. But on the sales page of xPress Funnels, they make it seem like a non-issue.
You see, it doesn't matter how nice your sales funnels look. If you do not get targeted traffic to eye your offers, you do not get any sales. Period.
First, they mentioned some free viral traffic from social media. You see, social media traffic that is free is not going to convert into buyers. Because people go on social media to relax, catch up with friends, and just socialise. They go there not intending to buy anything.
Which means many people will be blind to your sales funnel that shows up.
Then the owners of this xPress Funnels also say they have a low-cost traffic system that you will use. This means paid traffic.
Paid traffic is an art and a science in itself. On any single platform, it takes a steep learning curve to figure out the target audience who will respond to your sales funnel, what is their behavioural pattern and preferences, what does their demographic profile look like, where to find them, etc.
And how do you learn all these? It's by throwing money into the advertisements, see how people respond, learn from there, run another ads campaign, learn some more, and test some more.
It is a steep learning curve that is very expensive. So paid traffic is not recommended for beginners. You will likely end up sinking thousands of dollars into greater debt before you start to get any significant amount of sales.


You do not own those funnels
Because the funnels you create will be hosted for free on their servers, it basically means you do not own them, and you have no control over them.
I have my doubts about these funnels being available to you for free, sitting on their servers, for the rest of your life. You never know what's going to happen next year, or a few months from now.
The owners can simply say this business is not sustainable to them anymore, so they have to take down the software. Or they can suddenly decide to charge a monthly subscription for hosting the funnels on their servers.


No proper online store
The very selling point about xPress Funnels: that you do not need to have a proper online storefront, thus saving you expensive monthly fees, to me is not a good thing.
You see, eCommerce platforms like Shopify are there for a purpose. The most important aspect of their existence is the payment processes being set up properly for you, and your customers' information and payment details are secure.
This is necessary and ethical: to protect your customers.
With a cloud based software like this, I'm really not sure how safe your customers' information will be.
Moreover, people will sense that a proper eCommerce storefront, with a number of products lined up, is definitely more legitimate than a sales funnel that gets shown to them from nowhere, which would feel very spammy.
Now:
Having studied the business model behind dropshipping, and the potential pitfalls of this product xPress Funnels, I want to share with you the method that I am using to make money onlline.


The proper way to make money online
In my business model, I do not have to deal with any customers complaints, because the sales transaction takes place between the customer and the vendors themselves, directly.
I come into the picture simply by bringing these customers to the virtual storefront of the vendors. When they buy, the vendors pay me a commission.
This also means I do not have to worry about setting the prices for the products, since I am not the one selling those products.
And my method of getting traffic is such that I do not go for paid ads, or social media. In fact, I do not have to go out to look for traffic. People will come and find me. This is called free organic traffic.
You must be asking:
How is this possible?
Let me show you. Click on the link below to hop over to my other post, where I describe the method in much more detail:


---
Pros of xPress Funnels
1. Real owners
The owners of this product are real people, willing to stand in front of it, and to me this means a certain level of credibility and accountability.
2. 30 day money back guarantee
This basic refund policy is in place, for people who are dissatisfied with the product.
3. You do get to set up some sales funnels
Yes, the software will do what it claims to do.


Cons of xPress Funnels
1. Dropshipping woes
Should you decide to use this product, you will be faced with the middleman issues of having to deal with customer complaints, refunds, ensure reliability of the delivery service by the vendors, etc.
You will also have to study the market to figure out what price to sell the product, such that you can make a decent profit, while still remaining competitive enough.
2. Traffic is the key
Traffic determines the success or failure of any business. Unfortunately, this xPress Funnels does not equip you with the best tools and skills to get targeted traffic.
3. No ownership of the funnels
This is definitely not a good thing, as you may lose all the hard work you put into the funnels, should there come a day when the software gets taken down from their servers.
You certainly want to have full control and ownership of anything that affects your online business.
4. No storefront
With just sales pages popping up everywhere and no storefront for your customers to browse the products, it makes your offers lose credibility.
5. Upsells
Just as with any product that is created to make money for the owners, xPress Funnels is no different. You will be bombarded with these pricey upsells right after purchasing the front end product, even before you get to find out if it works or not.
Upsell 1: $67 – xPress Funnels Gold
Upsell 2: $67 – xPress Funnels Platinum
Upsell 3: $67 – xPress Funnels Titanium
Upsell 4: $147 – xPress Funnels Agency
Upsell 5: $297 – xPress Funnels License

---
Is xPress Funnels Scam or legit?
xPress Funnels is a legitimate product, allowing you to create eCommerce sales funnels to place your product offers.
---
Recommendation
I do not recommend xPress Funnels.
It is all hype, promising huge earnings in an instant. It will not work as claimed, pretty much like these other products I have reviewed: AffiliXPro, 12 Minute Affiliate, and Secret Millionaire Bot, to name just a few.
To succeed in any business, traffic is key.
The method that I am using to get traffic is free, and is the best kind of traffic, because it is highly targeted, with strong buyer intent.
If you are interested to find out how I do it, click on the button below:




If you have any concerns or questions regarding this xPress Funnels review, do comment below, and we will start a conversation from there.
---