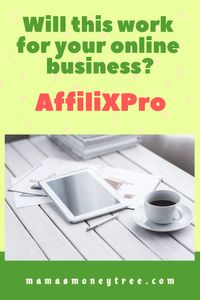 So what is this newest product that promises daily commissions while it builds your list with 100% free viral traffic? Is AffiliXPro scam? Or is it finally the answer that you have been searching for all these while?
First of all, let me congratulate you for doing your due diligence, in checking stuff out before making any purchase. I'm sure in your research, you would have seen tons of raving reviews about this product.
This is crazy:
Those reviews are by its affiliates, who have not made any money using this AffiliXPro. Instead, they earn their living by cashing in on each new product launch, riding its wave of all the hype surrounding it.
Here, you're in safe haven.
I'm not promoting this product, so you can be assured that my AffiliXPro review will be a completely honest and unbiased one.
So let's dive right in to take it apart, and study its inner workings, to see how it may or may not work for you.
---
AffiliXPro Review Summary
Product: AffiliXPro
URL: http://www.getaffilixpro.com/discount
Creators: Jason Fulton and Mosh Bari
Product type: done for you affiliate marketing system
Price: $22
Scam / Legit? : Legit
Recommended or not? : Not recommended
AffiliXPro is a done for you affiliate marketing system, which includes sales funnels for list building, and integration with 7 social media networks, to generate the so-called 100% free viral traffic.
The main flaws in this system are:
– free social media traffic tends to have a very low conversion rate, and
– those funnels and sales pages are hosted on their servers, which means you do not own them, and have no say if the owners of AffiliXPro decide to take them down in future.
If you do not want to waste anymore time and money on useless products, check out my #1 recommendation to making money online:




Read on for the detailed review of AffiliXPro, and why I do not recommend it.
---
What is AffiliXPro
Information presented in sales video and landing page
This is your passive income shortcut, with top converting affiliate sales funnels ready to go in under 60 seconds.
Get ready to bank 3+ figure daily commissions starting from tomorrow, as it builds your list automatically at the same time.
With zero technical skills required, even complete newbies can start making $100+ per day, as this is a hands free commission system. You will also get 100% free viral traffic from seven social media networks.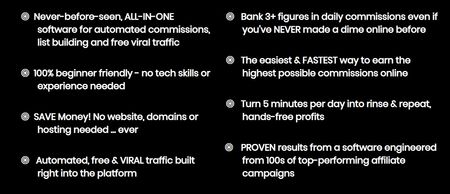 It gets better:
You get to save your money with this system, because you will not need to pay for anymore website hosting and domain, ever.
Reverse-engineered from the most successful affiliate campaigns, this all-inclusive software automates everything for you. Commissions, list-building, and traffic, all on autopilot.
Never do you have to follow the gurus' advice anymore, to build websites, create massive amount of content every single day, write in-depth reviews for products you are promoting, make videos, and try to rank your website.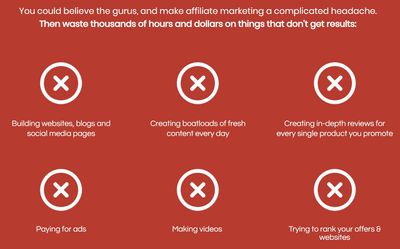 Now, you get to fast track your profits in 3 simple steps:
Step 1: Choose from dozens of top-converting offers to promote, and pick your funnel template.
Step 2: In 1 click, integrate your email autoresponder so that the software can automatically build your list for you.
Step 3: Turn on free viral traffic from 7 giant social platforms. Then sit back and watch your commissions and list grow automatically.
It all sounds so good. Who wouldn't want it? I would love to press a few buttons and just watch the commissions roll in too.
Except I know this world doesn't work like that.


Why AffiliXPro will not work for you
Let me very briefly explain how affiliate marketing works: you promote other people's products or services, and when people buy those products through your affiliate links, you earn a commission from the owners of the products.
This is a very legitimate way to make money online. In fact, I am making my online income through affiliate marketing too. But not through the methods taught in AffiliXPro.
Here are some rather big flaws in this product:
Hand-picked for me? No, thanks
Firstly, when I heard that you will be promoting their hand-picked high converting offers, I didn't have a good feeling about it.
True enough, in the members' area, they teach you to promote ClickBank product. Nothing wrong with ClickBank per say, it is a fantastic platform that links mainly vendors who create digital products, and affiliates who want to promote their products.
The issue is that these days, many products on there are such low quality, and some are even outright scams. This is something inherent of the internet marketing niche.
You see, people are looking for methods to get rich quick. So that is what the vendors will create, products that promise the moon, but these will never deliver, precisely because that's not the way to succeed.
Success only comes with hard work. But if they tell people the truth, and try to teach the proper way to make money online, then nobody will buy from them, because nobody likes to work hard. Everyone just wants the easiest and fastest way.
So if you use AffiliXPro, then you know many of the products you will be promoting to your customers are actually not good for them.
Those products will be just like AffiliXPro, saying all that everyone likes to hear, but failing to deliver.


Social Media Traffic
Sure, using social media platforms can drive traffic to your affiliate offers. But social media traffic tends to be very low in conversion rates.
People go on social media to socialise, catch up with friends, watch some funny videos, and basically to relax after a hard day's work. They have no buyer intent.
So when a sales pitch is presented to them, most people tend to just click away, or simply scroll past it without registering much.
That is why, even though you may get more eyeballs on your offers, but those would very unlikely convert into buyers.
Another issue with promoting on social media platforms is that generally, they frown upon affiliate promotions, or even any form of self-promotion. So if you're not careful, especially with an automated integration over which you have no control once you set it up to run, you may risk getting banned and having your accounts terminated.
On the other hand, with a website (the exact thing that AffiliXPro owners told you you do not need), it's a lot more alright to promote, because you're linking to a post on your site, and on it you have your affiliate links. You're not linking directly to your affiliate offers on those social platforms.


You do not own those funnels and landing pages
Since they are not hosted by service providers that you pay for, but rather, are hosted on the servers of the product creators, I would say you have absolutely no control over these online 'properties'.
One fine day, they can very simply say this business is not sustainable for them anymore, and require a monthly fee from you to continue hosting those landing pages. Or they may just shut down everything.
Then all the work you put in would be wasted. All the templates you customised, all the integrations with your email autoresponder, etc.


Email autoresponder is an added cost
To use the methods in AffiliXPro, you do need to subscribe to an email autoresponder of your choice. This would mean a monthly cost upward of $20, depending on which email service provider you use.


The proper way to do affiliate marketing
You know what's the irony here?
The best way to do affiliate marketing is the exact way that the creators of AffiliXPro teach people not to do: build a website, flood it with content, and try to rank in the search engines.
When you put in the hard work this way, you are building up an online empire. Because you will be rewarded with the best kind of traffic: free organic traffic.
When people search for answers related to your niche, your website will be ranked very high, on page 1 of the search results, if it has been established enough for the search engines to trust your authority.
By virtue that your content is the perfect match with what people are searching for, your website visitors will be happy to engage in the content, learn to trust you enough to take up your recommendation, and that's how you can earn commission!
You see, people searching for stuff have strong buyer intent, so they will convert into buyers at the highest rate. They are actively searching for what you are promoting.
That is why free organic traffic is the best kind of traffic, and yet it is free – only if you work hard for it, by building up authentic content on your site that will add value to your website visitors.
If this makes sense to you, and you would like to learn how exactly you can build a website, and create content that the search engines will love, click on the link below:


---
Pros of AffiliXPro
1. Real owners
The owners are real people, well known and established internet marketers. So there should at least be some level of credibility and accountability for their product, which is a good thing for consumers.
2. 30 day money back guarantee
This basic refund policy is in place, for people who are dissatisfied with the product.
3. There is some value in the software
I seriously do not think it will start making you 3 digit commissions the very next day. But you do get a software that will do what it is supposed to do.


Cons of AffiliXPro
1. Only works in the internet marketing niche
This is a big thing for me, considering many products in this niche are just worthless, created only to make money for its owners, and not for you.
2. Not minimum effort like what it is made to sound
Affiliate marketing takes lots of time and effort, just like anything else that you want to do on the internet, or in life, for that matter.
Ask any millionaire, no one will tell you they succeeded on a short cut system that they bought. Because it simply does not happen.
3. Social media traffic is not the best
Besides being not targeted, you also run the risk of earning a bad reputation on those social media platforms, for your salesy pitch. Worse still, you may get banned, or have your accounts terminated by those platforms.
4. You do not own those funnels
Imagine if you were to really depend on AffiliXPro for all your affiliate commissions one day, then they announce that they cannot provide the free hosting service anymore. Not a very pleasant thought…
5. Upsells
Just as with any other product that is created solely to make money for its owners, AffiliXPro is no different. You will be bombarded with pricey upsells right after purchasing the front end product, even before you get a chance to fully try it out.
Upsell 1: $47 – Non stop traffic
Upsell 2: $67 – Deadliest secret trigger
Upsell 3: $197 – done for you money machines
Upsell 4: $97 – commission jacker
Upsell 5: $147 – license rights
---
Is AffiliXPro Scam or legit?
To answer this question: Is AffiliXPro scam? My answer is no.
It is a legitimate business model, with proper traffic methods, but it would be really difficult to earn tons of commissions from non-targeted traffic.
AffiliXPro is more about all the hype than about really doing something beneficial for you. It is similar to many other products I have reviewed, like 12 Minute Affiliate, Secret Millionaire Bot, and Funnel Freakz, to name just a few.
---
Recommendation
I do not recommend AffiliXPro, because it limits your niche to only internet marketing, you do not own the funnels that you build, and social media traffic is not the best targeted traffic.
With affiliate marketing, the sky is the limit when it comes to choosing your niche. It does not have to be digital products. Physical products have affiliate programs too. Amazon Associates is a big one, just as an example.
Any hobby can be a niche too – trekking, drones, reading, fishing, etc.
The thing is to choose something you are passionate about, because this online business is for the long haul.
If you build it up the proper way, free organic traffic will become a passive income stream, because once you get it, it becomes unstoppable.
To learn how exactly it can be done, hop over to my other post, where I explain in much greater detail:




If you have any concerns or questions regarding this AffiliXPro review, do comment below, and we will start a conversation from there.
---