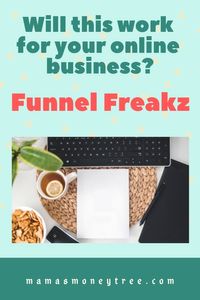 If you are asking: is Funnel Freakz scam, because you have received some promotional material about this newest product launch in your inbox, you have landed at the right place.
First of all, congratulations on your due diligence, especially with the number of scams going around the internet these days, you really can't be too careful.
In your research, you would have come across raving reviews about this product. Those are all done by its affiliates, throwing in their own extra bonuses, so that you buy from them rather than the next affiliate. They're all jostling for a piece of the pie.
This is crazy:
These people will promote any product, regardless of its quality. Because this is how they make their living: riding on each wave of product launch, using the hype and all the sales materials provided by the vendor, to earn their affiliate commissions.
It's different here.
You are in safe haven, because I am not promoting this product. So you can be assured of my honest and unbiased review of Funnel Freakz, through the following sections:
---
Funnel Freakz: Review Summary
Product: Funnel Freakz
URL: https://funnelfreakz.com/mainsales/
Creator: Mike McKay
Product type: Funnel builder software
Price: $16.93
Scam / Legit? : Legit
Recommended or not? : Not recommended
Funnel Freakz is a funnel builder, which essentially helps you build landing pages, to do things like getting your website visitors' to opt in to certain campaigns, promoting your offers, leading your potential customers through a series of squeeze pages to ultimately buy your products, etc.
Though funnels are important, you do not need this Funnel Freakz because there are many page builders created by established developers that can do the job. One big drawback of this product is that the funnel pages are hosted on the product creators' server, so technically you do not own them, and you can't be sure they will be around forever.
For a beginner, getting traffic to your website is much more important and fundamental to your online business.
If you do not want to waste anymore time and money on useless products, check out my #1 recommendation to making money online here:

Read on for the detailed review of Funnel Freakz, and why I do not recommend it.
---
What is Funnel Freakz
Information presented in sales video and landing page
Funnel Freakz is basically a cloud based software that consists of templates, to allow you to build your high converting sales funnels in just 60 seconds.

It is beginner-friendly and easy to use, with drag and drop interface. You can instantly create sales pages, one time offer pages, upgrade pages, and thank you pages.
With zero technical skills required, it is great for affiliate marketing as well as ecommerce sales funnels.
In addition, it is SEO (search engine) optimised for free traffic.
Most importantly, you do not have to pay monthly fees for this funnel builder!
So far it sounds good, as a tool that can convert your traffic into buyers, and thus increase your sales, and of course your earnings.
What I'm impressed with is the down-to-earth presentation of this product, without promising any huge instant earnings. They simply state the functional aspects of the software, and its features and advantages, to help you make your decision.
Does it mean you do ahead with the purchase right now?
Not so fast…
Do read on for my reasons of why I do not think this software is suitable for beginner internet marketers.
Why Funnel Freakz will not work for you
Hosting 
The main selling point of this product is that your funnel pages will be on their server, which you can use for free. So you do not have to find your own hosting server and pay a monthly fee for that.
However, I see this as a double edged sword, which can work against you much more than for you.
Without hosting these pages on a server of your choice and paying a monthly subscription, you have zero control over it. In fact, you can't even be sure they will still be around next year, or even next month for that matter.
Anything can happen, which will mean that all your time and effort spent in building up those funnel pages would go to waste.
Personally, I'd much rather go for one of the many page builders created by established developers, which can be incorporated with my website. At least it can be guaranteed that anything I build is there to stay, because it is mine.
There are different pricing packages that come with these page builders, some charge a one-time fee, and others a monthly subscription, which would definitely include more features and services like customer support, access to training, and so on.
SEO optimised? I do not think so…
The sales page of Funnel Freakz mentions that the funnel pages that you build will be SEO (search engine) optimised, which I definitely do not think so.
Without any content built around it, with simply some landing pages on which you write short sales pitches, people on search engines will certainly not be able to find your pages. That's for sure.
They can say they are optimised for the search engines, but it does not mean your landing pages will be found on page 1 of people's search results, because there are hundreds and thousands of websites that are far more optimised than yours, especially if you are using Funnel Freakz on its own, without your website, and without writing solid content on it
Distraction for beginners
That brings us to this next point. Funnel Freakz is a distraction for beginners.
Let me use the analogy of a storefront that is located in a bad spot, with hardly any traffic. You can spend all your time and money doing up the shop nicely, decorating it tastefully, giving massive discounts, etc.
The fact is, there is no traffic to see your offers. No traffic means no sales. Nothing gets simpler than that.
Instead of spending all the resources on decorating the storefront, which is not the essential aspect of the business, you should put up signages from the main street to lead traffic to your store, distribute pamphlets, set up a website to establish an online presence, etc.
In the same sense, Funnel Freakz is a distraction from your core business. When you are just starting out trying to make money online, content is what you should focus on. Put all your time and energy creating content on your website, because this will serve you well in the long run.
Traffic is key to any business
Again, that leads us to this next point. When you build content on your website, search engines start to recognise your site as the authority in your niche. Then when people search for answers related to your niche, your website will show up on page 1 of their search results, and you will get free organic traffic.
This is the best kind of traffic because it is free, of course. But more importantly, it is highly targeted traffic.
What your website visitors were searching for and what you are offering are the perfect match. That is how they landed on your site in the first place.
So they are people with strong buyers' intent, and will be very likely to buy your products, or take up your recommendations to buy other people's products, allowing you to earn an affiliate commission in the process.
This concept is simple, but simple does not equal to easy.
In fact, free organic traffic is the most precious form of traffic, but also the hardest to attain. Simply because there are so many other websites vying for page 1 ranking, and obviously there are very limited spots.
Hard does not mean impossible. In fact, I have done it, and I want to show you how this can be done. Click on the link below:
Paid traffic is very high risk
Many people will tell you, free organic traffic is such a big hassle, and too much work. Go for paid traffic instead.
In my opinion, paid traffic is not for the beginner, neither is it for the faint-hearted.
It takes a steep learning curve, and you learn by paying and paying out of your pocket, to test out your campaigns, test out your target audience to see which demographic profile will respond best to your offers, etc.
If you are not prepared to throw at least thousands of dollars down the drain before starting to recoup them, then I would strongly advise against going for paid traffic.
---
Pros of Funnel Freakz
1. Real owner
Yes, the owner is a real person, so there should be at least some level of credibility and accountability for this product.
2. 30 day money back guarantee
This basic refund policy is in place, for people who are dissatisfied with the product.
3. You do get your software
You do get to build your landing pages, sale pages, etc.
Cons of Funnel Freakz
1. "Hosted on our servers" is not in your best interest
This means you have no control over the funnel pages that you build, as they could be taken down anytime, when the owners decide that it is not sustainable for them to provide free hosting anymore.
2. Where do you get traffic
For any business, the most important aspect is always getting traffic to your offers. Other things are peripheral.
With just funnel pages, there is no way to get search engine traffic.
Paid traffic is too high risk.
These are things you have to consider for your online business, before simply buying bits and pieces of softwares that do not work in synergy with each other or your main website.
3. Not for newbies
Funnel Freakz may be newbie-friendly in terms of user interface, but that does not mean it is the right software for a newbie.
Any beginner on the internet should focus on building up the foundation of their online business, instead of jumping the gun and trying to increase conversions when there is no one for you to convert into buyers in the first place.
4. Upsells
Just as with any other product that is created to make money for its owners, Funnel Freakz is no different. It is full of upsells, which will be bombarded to you right after you purchase the front end product, even before you get a chance to try it out for yourself, to see if it works for you or not.
Upsell 1: $37 – Funnel Freakz Pro
Upsell 2: $57 – Funnel Preakz Enterprise
Upsell 3: $67 – Funnel Freakz Agency
---
I do not recommend Funnel Freakz for beginners, as it is a distraction from giving your online business a solid foundation.
You do not need this, just like so many other products that I have reviewed, like Shockwave Profits, Easy Pro Funnels, and Affiliate Funnel Studio, to name just a few.
Instead of simply having some random funnel pages, you should set up your own website, as that allows you to build your own brand and establish your online presence.
More importantly, a website allows you to build content on it, which is essential if you want to get high converting free organic traffic from the search engines.
To learn how it can be done exactly, click on the button below:

If you have any concerns or questions regarding this Funnel Freakz review, do comment below, and we will start a conversation from there.
---