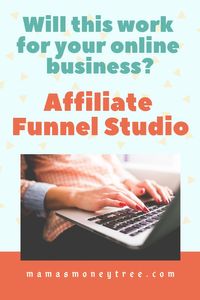 If you are checking out this product because someone has sent promotional materials to your inbox, and you are wondering what is Affiliate Funnel Studio, you have landed at the right place.
First of all, let me congratulate you on doing your own research before deciding to buy any product, especially with the scams floating around the internet these days, it pays to be extra careful.
This is crazy:
You would have seen raving reviews of this product during your research, with lots of extra bonuses thrown in. Those are done by its affiliates, all jostling for a piece of the pie, hoping that with their own bonuses, you would buy from them instead of the others.
Here, you are in safe haven, as I am not promoting this product. So you can be assured of my honest and unbiased views. By digging right into the inner workings, I will provide an in-depth review of Affiliate Funnel Studio, through the following sections:
---
Affiliate Funnel Studio: Review Summary
Product: Affiliate Funnel Studio
URL: http://www.affiliateacademics.com/
Creator: Alan Magliocca
Product type: affiliate marketing through funnels and email marketing training
Price: $1 for first 7 days, $37/month thereafter
Scam / Legit? : Legit
Recommended or not? : Not recommended
Affiliate Funnel Studio is a done for you funnel, or a series of landing pages, on which you can promote your affiliate offers. It also has some training on email marketing.
Though legitimate, it is not something I would purchase for my own business, because anything "done for you" is made to work for the creator, not for you. I'd much rather build my own funnel, since it is my own business and only I will know what is best for myself.
Moreover, even with a perfect funnel, you're not going to get any sales if there is no traffic landing on your offers. They do not teach you the proper way to get free traffic. It's a very risky business if you are going to use paid traffic.
If you do not want to waste anymore time and money on useless products, check out my #1 recommendation to making money online here:

Read on for the detailed review of Affiliate Funnel Studio, and why I do not recommend it.
---
What is Affiliate Funnel Studio
To answer: what is Affiliate Funnel Studio?, let's take a look at its sales video and landing page.
What is this amazing new software that activates unlimited income streams in just 28 seconds, and generates 5 figures a month?
So, he's going to share with a limited number of people (fake scarcity tactic) his software that takes under 60 seconds to siphon massive amounts of traffic, leads and sales daily on autopilot.

You don't need a website or hosting, no complicated and expensive funnel software, you don't need to install or learn anything, and you don't need to waste money on testing out traffic sources.
Best of all, set this up before you go to bed tonight, and tomorrow morning you will wake up to affiliate commissions in your account.
Then he went on to demonstrate how easy it was to set up the funnel, but that was only on the set up page. He failed to show how the funnel actually looked like when it's done.
Basically his funnels are just landing pages on which you can place your affiliate links, and with call-to-action buttons to get people to purchase the products.
This is but a tiny part of the equation when it comes to affiliate marketing.
Then he brought in list-building, describing how essential it is to build your own email list, to have your own loyal group of followers.
This bit is fine, but without any traffic, there is no way you are going to build up your email list.
This is the gist of what the sales video is all about. Next, we look at the loopholes in this product, and why it will not work for everyone.
What Affiliate Funnel Studio really is, and why it will not work for you
Affiliate Funnel Studio offers bits and pieces of what a successful affiliate marketer is doing, not the whole picture. And these methods work only after you have gained some experience doing affiliate marketing.
What is affiliate marketing
Affiliate marketing is about promoting someone else's products, and placing these offers in front of your traffic, so they can purchase those products, and you earn a commission when a sale is made.
Simple concept, and it works if you know the proper way to do it.
What is in the funnel
The funnel in this product refers to the landing pages that you send your traffic to, it will have your affiliate link in a call-to-action button, so people can choose to click on it to buy the product.
Creating landing pages is easy. There is no fixed format. You do not need this software to do it. A landing page can be simply a page or post on your website, where you send people to, so they get to see your offer presented in a clear and enticing manner.
The difficult part is finding traffic to send your offers to. More on traffic later…
Why does list building matter?
This is one way that you can send traffic to your affiliate offers. When you build up your own email list, and they stick around, you can send regular offers to them through emails, as and when you find great products or vendors offering discounts, coupons, etc.
But again, to even start building up your list, you need traffic to reach a landing page that has an opt-in form, so they can enter their email address and opt to be on your list.
This also means you need to apply for an email autoresponder service provider, so that you can roll out your marketing campaigns to your list.
Depending on which provider you choose, this is definitely a hidden cost, as it will be a monthly subscription. It also depends on the size of your email list.
But why would you pay for such a service before you learn how to get traffic to your offers?
It brings us back to the question of: where do I get my traffic?
Traffic 
Traffic is the most important aspect of any business. No traffic, no sales. It's as simple as that.
Traffic is also the most difficult part.
People may teach you, put up advertisements to get traffic. But I really wouldn't advise paid traffic for beginners. Because it takes time and experience to know your customers well enough to know how to target them through your advertising campaigns.
You cannot just go in blindly, otherwise you will be simply throwing money down the drain.
Even the experienced marketer needs a steep learning curve before he or she can master paid traffic on any specific platform, be it FaceBook, Instagram, Google AdWords, and so on.
You have to be prepared to spend huge amounts on testing several campaigns, to find out which works best for your business, with the demographic profile of users on that particular platform. Lots of testing, lots of money, usually thousands of dollars, before you can start getting a decent amount of conversions to recoup your previous losses.
Without a website (as what Alan is trying to teach you, he said you do not need one), there is no way you can get any search engines traffic, because search engines only serve up websites to its users. More on that later…
So without the most critical factor: TRAFFIC, you can't build your email list even if you have subscribed to an email autoresponder. And nobody is there to see the offers on your nicely done up landing pages. This product is no use for the rookie affiliate marketer.
The proper way to do affiliate marketing
To build your affiliate marketing business from the ground up, you need a website. That forms your home base. It is an online asset, so people know where to find you in the vast expanse of the internet space.
On your website, you build content around your chosen niche area. It can be anything under the sun that you are passionate about: parenting, pets, knitting, a health issue, etc.
As you write content on it, search engines begin to see you as the authority in your niche. They will start to give you good rankings, so that people searching for answers related to your niche will see your website on page 1 of their search results.
They will land on your website, where they see the products or services you recommend. Those are actually your affiliate links. When they take up your recommendations, and click on those links to land on the retailers or vendors' sites to make a purchase, you earn your affiliate commission.
This kind of traffic is called organic traffic. It is free, and it is the most highly sought after traffic, because it is highly targeted. It is because these people are searching for what you are offering, it's the perfect match, and that is how they found your site in the first place.
They have very strong buyers' intent, with wallets already out of their pockets, just finding some affirmation for some decision they may have already made. So it will be relatively easier to close the deal, compared to all other sources of traffic.
This is how a beginner should start: start with a firm grounding, establish your website and the search engines will reward you for it. Once you get free organic traffic coming to your site, it's unstoppable, and your business will just take off from there.
If this sounds good to you, learn the exact steps to do this, from setting up your website (which is in fact the easiest part), to writing content that ranks in search engines. Click on the link below to see a platform that offers you 2 websites for free:
---
Pros of Affiliate Funnel Studio
1. Real owner
At least we know the product creator is a real person, who is willing to stand up for his product, so there is some credibility and accountability.
2. Money back guarantee
This basic refund policy is in place, for people who are dissatisfied with the product.
3. There is some value in the software and training
You may be able to learn something about email marketing from this product.
Cons of Affiliate Funnel Studio
1. Traffic will be an issue
Without traffic, it does not matter how nicely done up your landing pages are. Without traffic, no one will join the email list. So traffic is still key to any business.
2. Not minimum effort like what it is made to sound
No matter what method you use to try and make money online, it comes with a learning curve and hard work in order to succeed. Success does not come overnight, the sales materials of Affiliate Funnel Studio are simply too hyped up.
If you want to do an online business properly, you still need a website. If you simply buy this product, it's not going to get you anywhere because there is no traffic. And paid traffic is too risky for a beginner who has not even started earning anything yet.
3. Not for beginning marketers
If you set this thing up tonight and go to bed, you will not get affiliate commissions the next morning, unless you are experienced, and already have your own traffic to start with, that you can send to the landing pages.
Anyway if you are experienced, you will not be needing this Affiliate Funnel Studio, as you will be building your own landing pages instead of getting these done for you ones.
4. Most suitable for the internet marketing niche
Even though you are given the impression that you can promote affiliate offers in any niche, this Affiliate Funnel Studio is created mainly for the internet marketing niche. The funnels, the sales pitch, the email training, are all skewed towards this niche.
Nothing wrong with the internet marketing niche, except that so many products are out to scam people, promising they can get rich quick. So whatever you promote really have to be chosen with your own judgement and stringent criteria, so that you can add real value to your audience.
That is why it is not a good idea to just take and use anything that is done for you, as it may not be the best thing for your own business.
5. Upsells
As with any product that is created to make money for its owner, Affiliate Funnel Studio is no different. You will be bombarded with expensive upsells once you purchase the front end product, even before you get a chance to try it out and see how it can actually work for you.
It just shows how much they care about you, compared to their own wallets.
Upsell 1: $97 – Affiliate Funnel Clones
Upsell 2: $47 – Email Vault
Upsell 3: $297 – Affiliate Forward
---
I do not recommend Affiliate Funnel Studio, because it is just a small part of the whole picture, something that you should not be focusing on right now, if you are just starting out.
It will not earn you money overnight, just like all the other products I have reviewed, like Social Video Suite, Spring Profits, and Affiliate Cash Club.
It is important that you find the proper path amidst all the noise on the internet, all telling you they can help you get rich fast. You've got to stay far away from those, because the only ones getting rich are the owners of those products.
If I tell you very frankly, hard work is the way to success. Will you buy it?
No one is selling it, because no one wants to work hard. It is human nature to go for the easiest way out: lots of money with little to no effort. That's why scammers go laughing all the way to the bank.
Since you have found my website, give yourself a chance at it here, take a look at the less traveled path that all the success stories have walked through:

If you have any concerns or questions regarding this Affiliate Funnel Studio review, do comment below, and we will start a conversation from there.
---