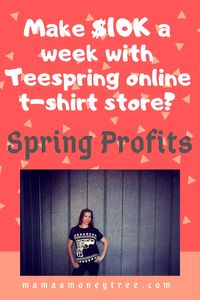 If you are here checking out this product because you received some promotional material in your inbox, and are curious to find out: Is Spring Profits Scam? You have landed at the right place.
First of all, I want to congratulate you for doing your due diligence in researching up on anything that you are considering to buy. Especially since there are so many scam products floating around on the internet these days, you really want to keep a close watch on your wallet.
So, what method are they teaching exactly, that the product creator is able to make $3.9 million with? Can it really come true for you too, or is this out to rip you off?
Find the answers to these and more here, in my honest, unbiased, and in-depth review of Spring Profits, through the following sections:
---
Spring Profits: Review Summary
Product: Spring Profits
URL: http://www.springprofits.com/?hop=0
Creator: "Daniel Green"
Product type: T-shirt store with Teespring
Price: $37
Scam / Legit? : Legit
Recommended or not? : Not recommended
Spring Profits teaches a legitimate business model: to use Teespring to design your own T-shirts, and sell them to make a profit based on the difference between your selling price and the rate charged by Teespring to manufacture and ship them.
Spring Profits is all hyped up about the earnings potential of this business, it is not as simple as they make it sound. Because competition is stiff, so you cannot charge too high a price. And yet, you will have to spend lots of money on paid advertising, to drive traffic to your store.
It is high risk, with no guarantee in any earnings. So I do not recommend it.
If you do not want to waste anymore time and money on products that do not deliver what they promise, check out my #1 recommendation to making money online:

Read on for the detailed review of Spring Profits, and why I do not recommend it.
---
What is Spring Profits
Information presented in sales video and landing page
The sales pitch of Spring Profits is ALL HYPE.
It is touted as an incredible system that turns ordinary people into millionaires. Average Joes make in excess of $25,000 every single week.
You don't need any special skills or experience to get started, and it requires no more than 10 minutes of your time each day!
Want to know the best part?
You are one of the lucky few people who will ever see this message that will completely change your life!
So it goes on and on… About how easy this system is to make money, it allows you to work from anywhere, and most importantly, live the dream life that you've always wanted.
So what is this method all about?
Set up a Teespring online store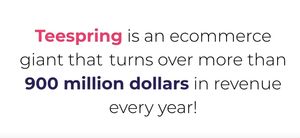 Teespring has been around since 2011, and is a completely legitimate company that manufactures t-shirts and some other apparels. It allows people to set up an online store, create their own designs, and sell those t-shirts.
They will supply the t-shirts with the designs printed on them, and ship them to your customers, even handling customer service. Of course for all these, you pay them a fee. It is a fixed rate, which you are charged only when they go ahead to process your orders.
You get to make a profit off the selling price of the t-shirts minus the flat rate charged by Teespring.
Which means if you price the shirt at $22 on your online store, and Teespring charges you $10 for it, you get to pocket 100% of the profit which is $12.
Here is an example of a Teespring online store, so you get a better picture of how it works.
Sounds like a simple and lucrative business model.
Why, then, do I not recommend it?
In the next section, we will look at what you need to put in, behind the scene, in order to make this business profitable. Then you will understand why this may not work for many people.
Why Spring Profits may not work for you
Before we dwell into the business model, I want to show you some stark red flags in this product:
Owner does not show up
"Daniel Greens" is just a name that nobody knows. There is not a single picture, and he does not make a single appearance in the sales video of Spring Profits. He is hiding behind the screen, all ready to run if anything crops up. I do not trust this kind of product.
Fake testimonials
I will just bust one of the testimonials, and not waste time on the rest. Because one busted is one too many. Look at this guy who claimed he got rich with Spring Profits.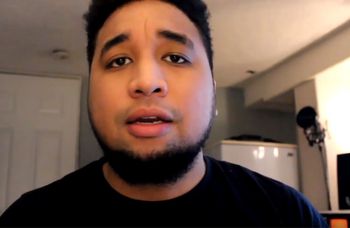 He is actually a freelancer selling his video gigs as a spokesperson on Fiverr, whom "Daniel" has engaged to give his fake testimonial.
It simply tells me that no one is making millions of dollars using this method.
Next, when it comes to the business, why Spring Profits will not work for many, the short answer is: it requires a lot more effort and time than 10 minutes a day, and it requires a huge upfront cost, even before you start making a single sale.
Market survey
Since the barrier to entry for this business is extremely low, as Teespring does not charge any upfront cost to use its website to build your online store, you can be sure the competition will be stiff.
So how are you going to stand out from the thousands of online stores that are all selling t-shirts of the same quality, the only difference being their design and pricing?
First, consider if you have a flair for designing, and anything artsy. If this is not your forte, then it may be difficult to get the attention of visitors arriving at your store.
If you love designing, you also have to give thought to which niche market are you targeting? In other words, who are your customers? Are you going to design t-shirts for kids? Or teenagers? Or pet lovers? Or men? Or housewives?
You may think, it's easy, just make various designs that cater to everybody. So you will have a larger market share.
Then you will run into problem with your advertising campaigns (more on that later), because when your niche is too broad, you are not able to cater your marketing materials to a specific group of people, then its effectiveness will drop. Only huge giants in the industry can cater to a wider audience, not when you are just starting out a small business.
Next, you have to look at what your competitors with the same target audience are designing, as well as what kind of prices they are charging.
You do not want to charge too high, and kick yourself out of the business even before you start.
Charging a low price will mean you need a good sales volume in order to see some healthy earnings that make the business sustainable.
All these take time and effort to carry out your market survey, ponder over your business strategy, check out what competitors are doing, etc. It will definitely take way more than 10 minutes a day! You can't just enter a business blindly and expect instant success.
Getting traffic to your online store
Traffic must be the biggest thing for any business, whether online or brick and mortar.
No traffic, no sales.
Regardless of how awesome your designs are, and how competitive your pricing is.
To get traffic to your online store, there are a few ways to do it:
Paid advertising: this can be advertising of your store on any platform, like Google Adwords, FaceBook ads, Instagram ads, or any other places that allow people to place paid ads.
This is where a huge investment comes in. Paid traffic is a very risky thing, because it takes an expensive and steep learning curve, to even make enough to cover your advertising costs.
Paid traffic does not mean sales. It gets you traffic, yes. But if you do not understand the demographics of your market, their behaviour pattern, where to find them, etc. then you are going to be throwing money down the drain.
To master paid traffic on any one platform, it requires you to keep paying while you learn. You need to do lots of testing, varying parameters, tweaking your campaigns, in order to find out what works best for your business. You can't just learn it from the books.
So unless you have lots of cash to spare, having to get paid traffic to your online store will be the biggest hurdle that any beginner going into this business has to cross.
Besides using advertisements, your next option would be to leverage on social media platforms, for free. You can set up a FaceBook page for your business. You can do Pinterest. Instagram. Twitter. It's up to your creativity, how you want to increase exposure of your online store.
But bear in mind the issues with social media traffic: it takes consistent work, and conversion rates are on the low side.
You see, social media platforms are all abuzz with activities, feeds, from everyone on the internet. Minutes to hours after you post something, it gets drowned beneath all the other stuff going on. You have to put in consistent work, everyday, in order to remain visible.
Even if you do get social media traffic to your online store, conversion rates will be low, because these people have no buyers' intent. They went on social media to catch up with friends, catch a funny video, browse through random topics that may interest them.
They are not actively searching for a designer t-shirt to buy for a friend's birthday. So there are less chances that the social media traffic you drive to your store will buy anything from there.
Having seen all the potential pitfalls in running a Teespring online t-shirt store, I want to show you a much better business model, one that I am using to make my online income.
The best way to make money online
When it comes to traffic, which is the largest deciding factor in the success or failure of a business, I do not have to pay a single cent. I use a totally free traffic source, one that can sustain itself for months and years, turning my business into a passive income stream.
Here's how I do it.
Instead of having just a store that sells products, I write content on my website, in a niche that I choose, something that I am passionate about.
When you create content, your website is unique, and is able to add value to your visitors who are there to find some solutions related to your niche, or check out some recommendations.
The search engines will also start to trust you as the authority in your niche, and will rank your website on page 1 when people search for keywords related to your niche.
When these people land on your site, and take your recommendations to buy certain products, you make money.
Once you get traffic to your site, there are many ways to monetise it. You can sell your own stuff, you can do arbitrage and sell stuff that you paid a low price for, or you can promote other people's products and earn a commission from it.
The last method is what I chose, and it is called affiliate marketing.
I simply leverage on the millions of products that already exist in the market, choose great quality ones that I know will benefit my readers, and recommend them through my affiliate links. When they make a purchase, the retailers or vendors pay me a commission.
I do not have to design my own products, or worry about pricing of the products being not competitive in the market, because I am tapping on products that are already selling extremely well, and biting a piece off the pie.
My website visitors will have a high conversion rate into buyers, because they were actively searching for what I am promoting, and that is how they landed on my site in the first place. This kind of traffic, called free organic traffic, is the best and most valuable, because they have strong buyers' intent.
Sounds good?
Want to learn the exact method to get free organic traffic to your offers? Click on the link below:
---
Pros of Spring Profits
1. Money back guarantee
This basic refund policy is in place, for people who are dissatisfied with the product.
2. Legitimate method
What they teach is a completely legitimate method, to use Teespring online store to build a profitable business. Not everyone will succeed, in fact most give up, simply because it is too competitive, and advertising costs are way higher than what you can make out of it.
Cons of Spring Profits
1. Where is the owner??
Zero trust for an owner who does not show up.
2. Fake testimonial
This simple fact that they hire people to give fake testimonials really make me feel like calling it a scam. But I do want to respect its training and the opportunities provided by Teespring.
3. Not minimum effort or instant earnings like what it is made to seem
It is not just 10 minutes of work a day. Neither is it $10K earnings in the first week. It takes much more time and hard work than that, just like anything else in life that you want to succeed in.
Market survey, deciding on your niche market, artistic streak, pricing survey, etc. It's a real business, so definitely there will be real work involved.
4. High risk in using paid traffic
Don't use paid traffic, then. You may say.
Then there is no way you can drive targeted traffic to your online store.
Paid traffic takes time to master, but once you master it, it will pay off, because the kind of traffic you will be getting has a high chance of converting into buyers on your store.
It's the initial cost that is very steep, because of lots of learning and experimenting in the beginning. After thousands of dollars, you should start to get the hang of it. So it really depends on your financial situation, and how long you think you can last in this business, in order to go beyond the break even point.
5. Upsells
As with any product that is out to get your money, Spring Profits is no different – full of upsells right after you purchase the front end product, even before you have a chance to try it and see if it works.
These smart people know that it is much easier to get customers to buy the next item, and the next, and the next… after the initial purchase, while your wallet is out of your pocket.
So that is what they will do: bombard you with some upgrade that will get you more traffic, or more sales, make you a pro, etc. They are all like that.
You see, they are only concerned about lining their own pockets, they do not care to wait for you to try out the front end product before promoting the upsells. In fact, they know after you try it out, they are most likely not going to hear from you anymore.
---
I do not recommend Spring Profits.
Instead, I want to show you a better way to build an online business: through affiliate marketing. Using this method, I do not have to fork out a single cent on traffic. And the kind of traffic I get has the highest conversion rates, because these people are actively searching for what I am promoting.
It's the perfect match.
So they will convert into buyers.
Check out how to start this affiliate marketing business from scratch, through an awesome training platform that gives you 2 free websites, and 10 free lessons. Click on the button below:

If you have any concerns or questions regarding this Spring Profits review, do comment below, and we will start a conversation from there.
---