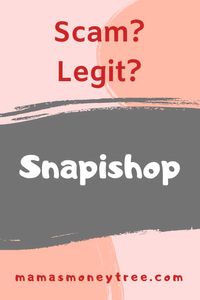 If you have received some promotional material in your inbox, and are here to check out is Snapishop scam, you have landed at the right place.
Kudos to you for doing your due diligence in scrutinising the product before deciding whether to go ahead to purchase it.
You must have seen all the raving reviews about Snapishop. Do not take them at face value, because they are all written by affiliates of this product, jostling for a piece of the pie by throwing in all their own bonuses to try and make you buy from them instead of the others.
This is crazy:
They have not even used it themselves to earn a single cent. The way they earn their income is to ride on the wave of each product launch, regardless of how low quality it is.
This website is different.
This is a safe haven, because I am not promoting this product.
I will uncover its inner workings, and actually point out huge flaws in their marketing materials, in the "logic" they use to try and convince you that Snapishop is something you must have.
In this article, I will provide an in-depth review of Snapishop, through the following sections:
---
Snapishop: Review Summary
Product: Snapishop
URL: http://www.snapishopapp.com/live2/
Creators: Mo Miah and Misan Morrison
Product type: affiliate store
Price: $29 for one store, $39 for unlimited stores
Scam / Legit? : Legit
Recommended or not? : Not recommended
Snapishop is a software that allows you to set up your affiliate store, which links up to your social media accounts on FaceBook, Instagram, Twitter, and Pinterest. You can grab any of your own images from these social platforms to use in the store.
Although affiliate marketing is a totally legitimate way to make money online, but setting up an affiliate store is not the way to do affiliate marketing. If you do not build content around your niche, firstly you are not able to get the most precious form of free traffic. Secondly, there is no incentive for anyone to purchase through your store, since you do not control the products' pricing, so there is no competitive edge over anyone else.
I am making my online income through affiliate marketing, and I can show you the exact way to do it right.
If you do not want to waste anymore time and money on useless products, check out my #1 recommendation to make money from affiliate marketing:

Read on for the detailed review of Snapishop, and why I do not recommend it.
---
What is Snapishop
Information presented in sales video and landing page
Snapishop is a software that can help you build an affiliate store in just a few clicks.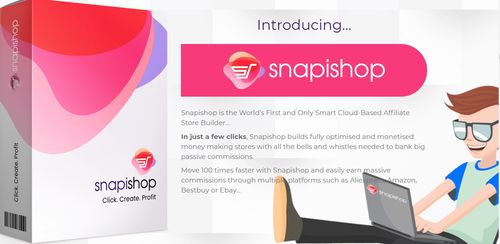 Without any skills or experience, you can set up highly profitable affiliate stores in just 60 seconds, and without paying any monthly fees, unlike ecommerce platforms like Shopify.
It is super easy to use, and allows you to customise everything in the store to your own taste and preferences.
It gets better:
You can use their servers for free, so you do not need to pay for any hosting of your stores.
In just these 4 easy steps:
Pick a store template.
Connect to your social media profiles, and grab the hottest relevant images from Pixabay or any of your own social media profiles, including FaceBook, Instagram, Twitter, and Pinterest.
Customise your store and products to your own style.
Click go, and Snapishop creates everything for you in just a click
Snapishop is an all-in-one affiliate store builder that does everything for you. Without it, it will be painfully tough, to:
spend days researching dozens of niches before you decide on one
spend weeks trying to build the store out
spend many hours finding hot products to add to your store
find a domain name, buy it, and go through the process of setting up your store
find images
build and optimise the store
waste thousands of dollars on outsourcing if you do not want to do these on your own
no guarantee that it will even work
The reasons why many people fail at affiliate marketing are: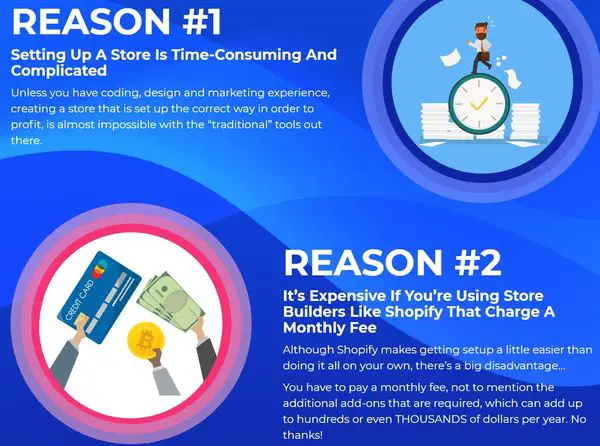 Setting up a store is so time-consuming and complicated, it is almost impossible with all the traditional tools out there, unless you have coding, design and marketing experience.
It is expensive if you are using store builders like Shopify that charge a monthly fee.
You don't have any marketing experience, and you're not sure where to start.
All these are so untrue, all these that they tell you are the reasons people fail at affiliate marketing. Shopify is not even intended to be a platform for affiliate marketing!
It's so ridiculous, the way they try to rationalise why you need Snapishop.
Let me explain why I say that, in the next section.
Why Snapishop will not work for you
First, let me start off by explaining affiliate marketing.
What is affiliate marketing?
This is a very neat and hassle-free way to earn an online income, because you do not need your own products, or deal with any inventory, delivery, or customer complaints.
You simply leverage on the millions of products and services that already exist in the market, and identify some great ones that you want to recommend to your customers, that are related to your niche.
By bringing customers to the virtual doorstep of companies, those retailers, vendors, and suppliers, you get paid a commission. The sales transaction is between the customers and those companies, without you being in the picture.
That is why it is such a popular business model among people trying to make money online.
Who uses Shopify?
Shopify is an ecommerce platform that allows you to build your own store. Because it is intended for you to sell stuff in the store, there are functions that allow your store visitors to make direct payment to you, just like how you make payments on any online shopping platforms.
In this case, the sales transaction is entered into between your store visitors and you.
It is for people who:
have their own products to sell, like for example, if they made some handicraft, or lotions, or wrote some books, then they will need an online store to sell those stuff if they want to do ecommerce.
want to do dropshipping: enter into sales transactions with their store visitors, and on the back end, enter into agreements with suppliers and wholesalers to provide their products at some discounted rate, and those suppliers to also ship their products directly to the online store visitors.
practise arbitrage: buy at low price, sell at high price. There are many ways to get lower priced products, for example, through garage sales, eBay, Amazon, or other platforms that allow individuals to go in and sell their products. After purchasing at low prices, these people can then sell the products at higher prices on their Shopify store.
For all these methods described above, Shopify will be one of the best choices as it is able to support all aspects of ecommerce, from collecting personal information securely and facilitating smooth payments and refunds, to catering for discount codes and generating finance reports.
Shopify is not made for affiliate marketing
Do you see now, why it is completely irrelevant to bring Shopify into the picture, when we are talking about affiliate marketing in this Snapishop product?
In affiliate marketing, the customers do not enter any sales transaction with you. They buy directly from the retailers and suppliers, you simply reap the rewards the companies are willing to offer to people who bring them more business.
So you do not need Shopify at all.
Hence, it is pointless for Snapishop's marketing materials to keep comparing itself against Shopify, and keep highlighting that there is no monthly fee, unlike Shopify which charges a high monthly subscription.
It is like trying to sell an oven by comparing itself against a washing machine, and keep stressing that the oven can cook food, but the washing machine cannot.
With this kind of marketing pitch, either the creators of Snapishop really do not know their stuff (which I doubt), or they are simply trying to pull a fast one on beginners who are new to the internet marketing space.
Why running a Snapishop affiliate store does not work
With the Snapishop affiliate store, you are simply putting together some products to promote. These are other people's products, not your own. If you are talking about affiliate programs of Amazon, eBay, AliExpress, etc., these are well-known online shopping sites that everyone knows.
There is no reason for people to come to your online store, when the same products are sold on those giant platforms at the same price.
You are not offering any incentive, and you are not able to fix the price. There is simply no competitive edge in running this kind of store, that will sustain your business.
There is no value added to your customers.
Traffic is an issue
Then there is also the issue of traffic.
There is no content built on your affiliate store. There will be duplicates of this format of store all over the internet, once people start implementing Snapishop. In the eyes of the search engines, they will not trust your site or see your store as the authority, since there is simply nothing authentic and helpful enough for them to want to show your store to their users.
If you are thinking of paid traffic, I'd advise strongly against it. Because paid traffic can be a steep learning curve, especially for newbies. You need to try things out, really implement your advertising campaigns, make lots of mistakes, to eventually understand the demographic profile of your potential customers, their preferences and behaviour patterns, and where to find them.
By the time you mastered paid traffic, you could easily have spent thousands on dollars. It may be worth it in the long term, but now is not the time, when you are just starting out.
The proper way to do affiliate marketing
The best way to do affiliate marketing is to build your own website (this is in fact the easiest part, can be done in 15 minutes).
Build content on it around your niche, flood it with information, research, your experience, your own stories, etc. so that search engines see you as adding value to your visitors, and will start to accord you the trust and authority that you badly need.
Once that happens, this kind of traffic, called free organic traffic, becomes unstoppable.
When people land on your site, interact with all the useful and engaging articles on it, they learn to like and trust you, and will be ready to take up your recommendations. When they click through your affiliate links to purchase some products, you make money.
It is hard work, but it is worth it, because you get to nurture it into a passive income stream.
To learn this method of doing affiliate marketing in much more detail, click on the button below to hop over to my other post:
---
Pros of Snapishop
1. Real owners
At least the owners of the product are standing out in front of it to take responsibility towards their customers.
2. 30 day money back guarantee
This basic refund policy is in place, for people who are dissatisfied with the product.
3. You do get to set up an affiliate store if you really wish to give it a go 
You do get this software that you can customise to your liking, and is easy to use.
Cons of Snapishop
1. Affiliate marketing does not work with just a store
Since the price of the items are not controlled by you, you cannot mark down the pricing to make your store more competitive than others. And it will definitely not be as big a store as online shopping platforms like Amazon, eBay, etc. where people are spoiled for choice.
With no other kind of value addedness, just an affiliate store will not work. This is not how affiliate marketing works, otherwise just anybody can very easily set up a store to make money from it.
2. Traffic will be difficult to find
Organic traffic is out, since there is no content, search engines will not trust the site as an authority in the niche.
Paid traffic is too risky for beginners, and takes very steel learning curve, which also means lots of money, to master advertising on any platform.
Social media traffic is not targeted, since people are there to interact, socialise and relax after a hard day at work, without intention to buy anything.
3. Superficial features
The ability of Snapishop that allows you to grab pictures from your own social media profiles is a very superficial one, that keeps getting highlighted on the sales page.
When you apply to affiliate programs, links will be made accessible to you, with pictures if that is your preference, to be placed on your site. So I do not see the need to use your own social media pictures, and I don't see the relevance here.
4. Difficult to get approved for affiliate programs if you have no content
To do affiliate marketing, you will have to apply to the affiliate programs of vendors and companies individually, or apply to affiliate networks like Amazon and eBay.
I am on the Amazon affiliate program myself, and I know they do not approve you if they find your site to be lacking content. Look at this: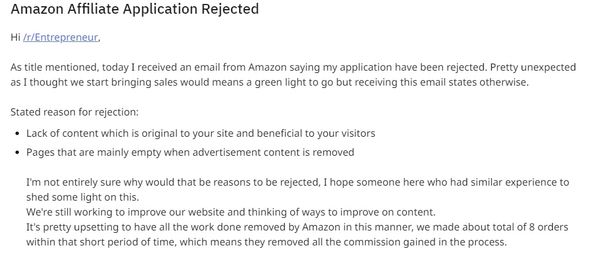 It is precisely because you need to add value to the customers, before you can succeed in affiliate marketing. Hence, to build content on your website is the key strategy.
5. Sales content of Snapishop is not trustworthy
Look, they keep selling themselves as a much cheaper option, with just a one-time fee, compared to Shopify which has a monthly subscription fee. They are simply trying to confuse and pull a fast one on beginners to internet marketing.
Also, do not think that this Snapishop can replace Shopify, because there is no feature for customers to make direct payment to you, which is the exact reason for the high subscription cost of Shopify.
And they say that with Snapishop, you do not need to pay for hosting, as you can use their servers for free. I do not trust this, and will not be eager to take it up, because it means I do not own this site. Whatever effort I put into it can be all washed down the drain, if one day they just shut their servers because it is not sustainable for them to run it free for you anymore.
6. Upsells
Like any other product that is out to get your money, Snapishop is no different. Look at all their pricey upsells, which you will be bombarded with once you purchase the front end product.
Upsell 1: $47 – Snapishop Pro
Upsell 2: $67 – Snapishop Traffic Academy
Upsell 3: $97 or $147 – Snapishop Agency License
---
I do not recommend Snapishop.
To do affiliate marketing, you must have a niche website. That is the way to build a sustainable online business.
By becoming the authority in your niche, you can get free organic traffic from the search engines, which are ready to buy, because these people are actively searching for what you have to offer, and that is how they land on your site in the first place.
When they see how authentic you are in trying to help people solve their problems, they will trust you, and take up your recommendations, to buy the products through your affiliate links.
To learn exactly how this can be done, hop over to my other post, where I will show you the method in detail. Click on the button below:

If you have any concerns or questions regarding this Snapishop review, do comment below, and we will start a conversation from there.
---