You have probably seen their sales page, and are wondering: is My Traffic Business legit? Well, you have landed at the right place.
Welcome to my review of My Traffic Business.
In this post, I will be taking it apart, so that you can see for yourself how they are trying to get your money by promising the moon, which will never be delivered.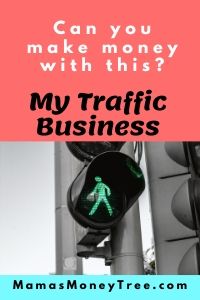 It is another of those products that will leave you feeling frustrated at not seeing results in your online journey.
As we examine all its red flags, I will also show you what has worked for me, that is allowing me to work full time from home. You may be amazed that there is no secret to making money online at all.

Without further ado, let's dive right in now!
---

My Traffic Business Review Summary

Product: My Traffic Business
URL: https://pro.mytraffic.biz/ and http://mytrafficbusiness.com/
Creator: Corey Lewis
Product type: website creation and email marketing
Price: It seems to have changed over time, the current pricing is $297
Scam / Legit? : SCAM
Recommended or not? : NOT recommended
My Traffic Business is an old program that has seen quite some changes, including various versions of its sales page. Even its creator's name seems to be not a constant.
It is full of unrealistic claims targeted at the newbie who is eager to make money online without understanding there is no done-for-you turnkey system that will ever be created in their best interest.
I absolutely do not trust My Traffic Business, and cannot recommend it at all.
---
---

What is My Traffic Business

To find out what is My Traffic Business, I discovered two domains associated with it: http://mytrafficbusiness.com/ which has been around for 10 years now, and https://pro.mytraffic.biz/ which is relatively new, created in 2017.
Both websites name Corey Lewis as the owner of the program.
Having two different domains aside, what is even stranger is the near-empty dashboard in the members' area of pro.mytraffic.biz, making it seem like some defunct site.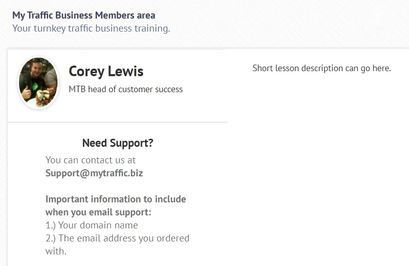 While on mytrafficbusiness.com, all the hype you would expect from low quality or even scammy products reeks strong.
What captured my attention was the exorbitant price of $297.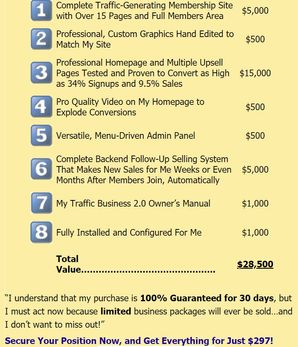 Though at first glance it looks like quite a lot of stuff have been included for the program, allow me to explain in a later section why it is all fluff, and will not work to deliver the results you are hoping for.
Basically you get access to a traffic membership site, which promises high quality traffic to your very own customized website all built out for you.
If everything goes according to plan, this traffic will be put through some email marketing campaign that sees them signing up to the affiliate offers that you are promoting on your website, and you will start seeing some handsome commissions rolling in.
That is the gist of how My Traffic Business is supposed to work. Now, let's examine a few points about this program that raised my suspicion about its legitimacy,
---
---

Red Flags in My Traffic Business

Off to a bad start
MyTrafficBusiness.com was launched in 2009, and you can see from this discussion thread on Warrior Forum (if you scroll to the bottom half of the thread, since the top half is more excitement prior to and during its launch) that there were various pertinent issues that were not resolved satisfactorily, leaving many frustrated users in the lurch.
Of course 10 years is like eons in the real world, given how rapidly internet technologies are advancing.
So one would expect them to redeem themselves for the mistakes made during those initial startup years, especially if they are serious about being in business for the long run.
But after its initial 2 to 3 years, My Traffic Business has apparently eased into a silent standstill, from what I can make of it.
Moreover, its owner seems to have been a different person from the current Corey Lewis. So I'm not sure what exactly is going on, it could have been a change of hands or something.

Email contact for support is unavailable?
I did a quick check on the email addresses provided on both websites of My Traffic Business for contact when customers require support, and it turned up something fishy.



Seriously, I wouldn't trust any product that does not seem to have a transparent and open line of communication with its customers.
If we cannot even get in touch with them, the refund policy guaranteed for customers' satisfaction then carries no weight at all.

Why My Traffic Business won't work

You don't need a done-for-you website
With the advancement in website building technology, these days literally anyone can create a professional looking website from scratch, without having to know a single line of coding, and without having to spend hundreds of dollars hiring experts to do it for you.
Yes, it is as amazing as that.
In the past, you would need to engage developers to do the job for you, unless you have some computing background. Not anymore.
This exact website that you are on was created in less than 10 minutes. And I knew nuts about website-building before I embarked on this.
Check out the platform that has all the tools, training, and resources that has allowed me to own this online business, making it really simple for newbies like me (then) who was just trying to figure my way trying to make money in the complicated internet space.


The traffic from membership site is low quality
The other big reason why My Traffic Business will not work for you is because its members are all here trying to make money.
They are not likely to be a targeted audience for your business, since they are less likely to be spending money.
No matter what business you are in, you sell the most easily to people with search intent, who are actively looking for the products or services you have.
You do not just go to anyone out there and try to promote your offers, you will be setting yourself up for lots of frustration and ultimately failure.
Hence it is critical to understand your target audience, so that you can focus your efforts to attract the right people who will respond to your marketing campaigns.
Even if you are in the business of promoting My Traffic Business, by promoting its paid membership to people, so that you earn a commission from it, you can't run away from the fact that you need a targeted audience.
Which brings us to a more fundamental question: is the paid membership of My Traffic Business even worth promoting?

Would you promote its paid membership?
Who do you think My Traffic Business' membership will work best for, when everyone is here trying to make money, or trying to find traffic to their businesses?
I really do not see who can benefit from this, except for the owner of My Traffic Business.
Hence my personal advice to you is that you do not need this. It will not become a sustainable form of online income, as it does not have your best interest at heart.
---

To round up this article, let me recap and summarize the pros and cons, before I finally make my conclusion.

Pros of My Traffic Business

1. 30 day money back guarantee
This basic refund policy is in place, for people who are dissatisfied with the product.

2. It is possible to make some money
People who are beginners in the make money online niche may perceive this as a good opportunity, and you may be able to earn a little side income promoting My Traffic Business.

Cons of My Traffic Business

1. Expensive
Not everyone is ready to fork out hundreds of dollars for a traffic membership site and building their own websites. In fact, I do not think it is worth this money at all.

2. Not minimum effort like what it is made to sound
It is definitely not as easy as what the sales materials of My Traffic Business makes it out to be.
Yes, owning a website is the first step, and is the way to go if you want to venture into anything online. But that is not the solution in itself. Ultimately, it boils down to your own ability to find highly targeted traffic to your business, and getting them to convert into buyers.
If you do not equip yourself with these high income skills, you will keep on looking for shiny objects, and be at the beck and call of glib-tongued internet marketers who may only care about their own pockets.
---

Is My Traffic Business Scam or Legit?

Traffic membership sites are generally a legitimate way to find some form of traffic to your business, though they are definitely not the best.
But in the case of My Traffic Business, there are some observations that make it seem rather suspicious, so I cannot recommend this platform at all.
Examples of other traffic exchange sites and advertising platforms include SoManyHits, Click2Sell, My Adds Up, OneAdPack, Ad Flippers Bot, ClicksGenie, Build My Downlines, Ripple, Crazy Crypto Club, and ADCode.
---

An Alternative

Everyone wants to be rich, but guess who will make it?
It's a very natural thing, that's just human nature. I mean, find me someone who doesn't want to get rich fast, and with minimum effort.
I wasn't spared of all the temptations on the internet, hopping from one shiny object to the next.
But when I realized those empty promises are only going to make other people rich, and not me, I stopped looking for shiny objects.
I found a dull-looking object, but I knew in my heart that is the real deal. And from then on, I have never looked back.
An honest, down-to-earth method that will get you there. It's not going to be easy, but it will get you there.
Versus the fast and easy way to empty your pockets and get you nowhere.
Which would you choose?
I am now working full time from home, growing my internet business, and making an online income. I started from scratch with zero knowledge in this area. If I can do it, you can, too.
Here's a peek into my daily earnings:



That's almost $200 in just one single day. It's nothing to boast about, though, as it's just a small fraction of its full potential. I just wanted to show you the possibilities.
Check out this training platform that provides all the resources, tools, along with an entire community of aspiring as well as already successful online income earners:


This real deal does not promise instant results.
Instead, it provides the knowledge and lifelong skills required to grow a successful online business.
And for reading all the way to the end of the post, I believe you have it in you to make this work. Here is your FREE PDF Guide: 4 Simple Steps to Making Money Online. Fill in your details to claim it:


If you have any concerns or questions regarding this My Traffic Business review, do comment below, and we will start a conversation from there.
---