Welcome to my Ad Flippers Bot review.
I'm so glad you landed on here, because I have seen some fake reviews about this Ad Flippers Bot platform, encouraging people to join the investment in Bitcoin and cryptocurrency.
It's disgusting.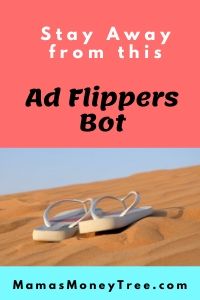 AdFlippersBot.com has nothing to do with those at all.
Though in itself, it is a HUGE SCAM that I want to expose here in this honest and in-depth review of the banner advertising platform.

Join me as I walk you through all its red flags that point towards it being a hyped-up program that is an empty shell designed with the sole purpose of stealing your money.
Without further ado, let's dive right in now!
---

Ad Flippers Bot Review Summary

Product: Ad Flippers Bot
URL: https://adflippersbot.com/
Creator: Unknown
Product type: banner advertising platform
Price: $250 minimum
Scam / Legit? : SCAM
Recommended or not? : NOT recommended
Ad Flippers Bot makes up a tall tale about ad flipping, how you can invest in banner ads and make a passive income as they are being clicked. It is utter nonsense.
Advertising does not work this way. There is nothing to their platform. No infrastructure, no liaison with companies that actually put up those ads, seriously… just nothing.
They blatantly ask for your money and then more, when you try to cash out your earnings. Or they simply refuse to answer your emails or take your calls.
---
---

What is Ad Flippers Bot

To find out what is Ad Flippers Bot, let us first take a look at its website: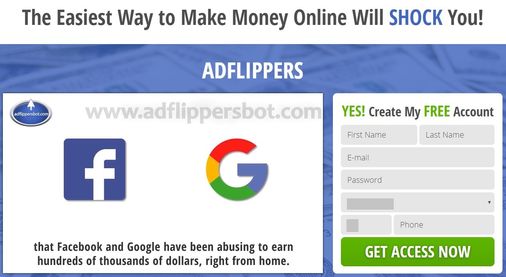 According to the sales video, this is a method that has been abused by Facebook, Google, Youtube, and all the other giants, to make all their riches.
They do not say how exactly the method works, but fills the entire sales video with hype.
They get paid actors to provide testimonials about how lucky they were to have found Ad Flippers Bot, and how they are raking in $20K a month now.
It is definitely enticing, who wouldn't want that kind of money?
The spokesperson then compares this method to buying a piece of real estate, except this is digital real estate. And mind you, it is something not many people know about.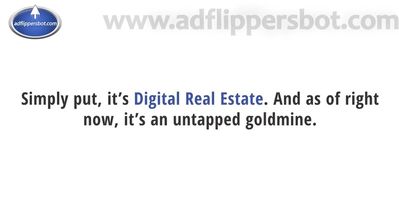 After the initial investment, all you have to do is sit back and collect rent, totally passive income.
Though it sounds good, they never really explain how the same concept are being applied to ads.
Some questions that will never be answered include:
– which companies are serving those ads?
– where will people see these ads, on which websites?
– what is the quality of traffic that will see those ads?
– how much money can you make when one person clicks on the ad, or when a thousand people have viewed the ad?
I hate to burst any bubble you may have, but I have to be bluntly honest about this.
This is pure crap.
The advertising industry does not work like that.
No legitimate company is going to make you pay for their banners, run their ads and then pay you money when they get clicks.
Advertising cost is borne by the companies running the ads, they have an advertising team with full control over where and how often they run those ads, tweaking the campaigns, analyzing the quality of their traffic, etc.
It does not make sense for you to get involved, and run ads on their behalf.
These scammers behind Ad Flippers Bot are building some castles in the air, and you will make their dreams come true if you fork out the money to 'invest' in those elusive ad banners.
To further prove my point, let me show you the other red flags on the platform.
---
---

Red Flags on AdFlippersBot.com

Besides the obvious flaw in how the acclaimed ads flipping method works, here are the other red flags that tell us AdFlippersBot.com should be totally avoided.

Fake scarcity
These are pressure tactics to make you believe there is an urgency to signing up. If you took so much as a few minutes to try and research up on the company, the last available slot would be taken, and you would have missed the opportunity of a lifetime.



Or the entire platform will be closed for registration the very next day, due to its high demand.
Strangely, no matter which day you hop onto their website, that always seems to be the last day that they will accept new members.



Top earners? Nay…
Here, they show their top earners for the week, earning tens of thousands of dollars after just days of their initial investment.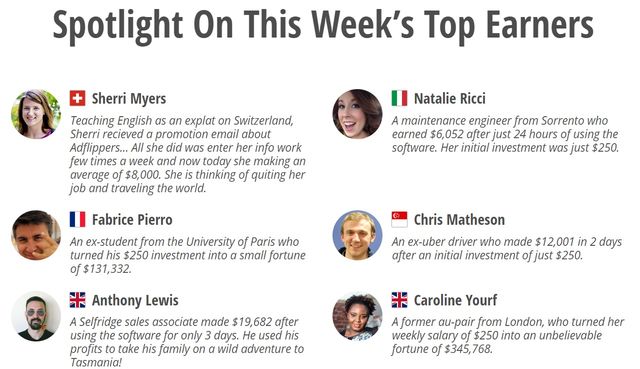 It wasn't too difficult to find out these are not real members. They are stock photos, used on all kinds of dubious websites.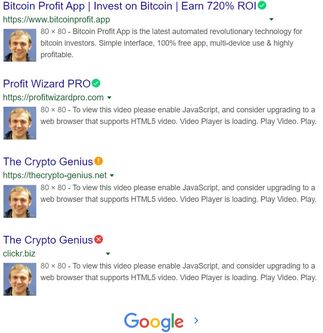 Fake testimonials
The actors in the sales video of Ad Flippers Bot are hired from Fiverr. Take a look at this: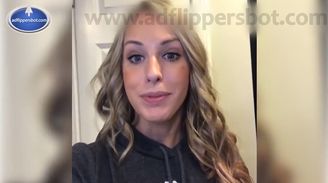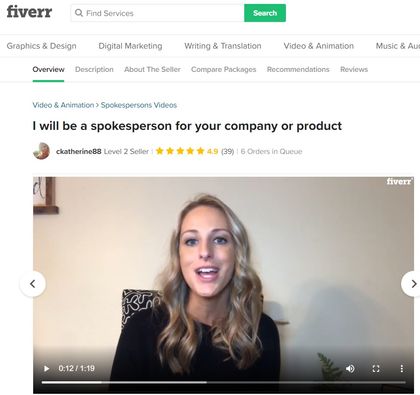 It's quite a scheme, isn't it?
I hope you are convinced by now that these guys are going all out to scam vulnerable, unsuspecting victims out there into parting with all their hard-earned money.

What Ad Flippers Bot Does Exactly

It does NOTHING. Except take your money.
After you fill in your details on the sign up form, providing your email address, name, password and phone number, someone would call you shortly to convince you to invest a minimum of $250 into the banner ads.
Depending on your luck and who you encounter, they may just disappear right after this.
Or more likely as you see the earnings in your dashboard go up, it wouldn't take much effort on their part to convince you to invest even more money into the program.
But when you try to cash out, that's when the suspicions may start to creep up, when they keep finding excuses, or ask you to verify stuff, or even simply disappear from the face of the earth.
---
---

To round up this article, let me recap and summarize the pros and cons, before I finally make my conclusion.

Pros of Ad Flippers Bot

There is not a single plus point to this scam platform of Ad Flippers Bot. Stay as far away from it as possible.

Cons of Ad Flippers Bot

1. You will get conned
Yeah, unfortunately this is the largest con of Ad Flippers Bot: it gets you conned, if you are not careful.

2. People whom you recommended to the platform will suffer too
If you had recommended family and friends to the platform, genuinely thinking that it were a legitimate way to make some quick bucks, then their wallets would have suffered greatly too, if they had invested a good amount in the banner ads.
---

Is Ad Flippers Bot Scam or Legit?

AdFlippersBot.com is quite certainly a SCAM. It will do you all the harm, and not a single piece of good. Steer clear of it totally.
Other platforms like this include Click2Sell, Seven Dollar Click, OneAdPack, ClicksGenie, Build My Downlines, Ripple, My Traffic Business, My Adds Up, Crazy Crypto Club, and Two Dollar Click.
---

An Alternative

Everyone wants to be rich, but guess who will make it?
It's a very natural thing, that's just human nature. I mean, find me someone who doesn't want to get rich fast, and with minimum effort.
I wasn't spared of all the temptations on the internet, hopping from one shiny object to the next.
But when I realized those empty promises are only going to make other people rich, and not me, I stopped looking for shiny objects.
I found a dull-looking object, but I knew in my heart that is the real deal. And from then on, I have never looked back.
An honest, down-to-earth method that will get you there. It's not going to be easy, but it will get you there.
Versus the fast and easy way to empty your pockets and get you nowhere.
Which would you choose?
I am now working full time from home, growing my internet business, and making an online income. I started from scratch with zero knowledge in this area. If I can do it, you can, too.
Here's a peek into my daily earnings:



That's almost $200 in just one single day. It's nothing to boast about, though, as it's just a small fraction of its full potential. I just wanted to show you the possibilities.
Check out this training platform that provides all the resources, tools, along with an entire community of aspiring as well as already successful online income earners:


This real deal does not promise instant results.
Instead, it provides the knowledge and lifelong skills required to grow a successful online business.
And for reading all the way to the end of the post, I believe you have it in you to make this work. Here is your FREE PDF Guide: 4 Simple Steps to Making Money Online. Fill in your details to claim it:


If you have any concerns or questions regarding this Ad Flippers Bot review, do comment below, and we will start a conversation from there.
---