There is a buzz going around town these days, and everyone's wondering if the Click2Sell scam is real, or is it a legit opportunity for earning some passive income.
Welcome to my Click2Sell review. This post is specifically about Click2Sell.co only.
Update: After this piece was published, several readers have commented below, and it seems this is really a huge scam. Please steer clear of it.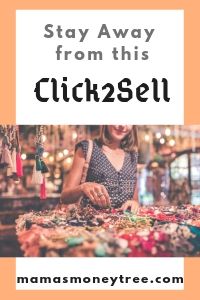 What is this expensive platform that claims to provide the fast-track for running your own effective advertising campaigns?
How does it work exactly? What are the risks involved? Are there people making money out of this?

We will answer these questions and more, in my honest and in-depth review of Click2Sell.
Most importantly, I will be pointing out all the red flags in this relatively new platform, as well as showing you real users' feedback, so that you can hang on to your hard-earned thousands of dollars safely.
Without further ado, let's dive right in now!
---

Click2Sell Review Summary

Product: Click2Sell
URL: https://click2sell.co/index.html
Creators: Unknown
Product type: banner advertising platform
Price: $250 to $25K just for membership + thousands for ad banner campaigns
Scam / Legit? : SCAM
Recommended or not? : NOT Recommended
Once you become a member of Click2Sell, you can buy banner ads to try and make money when people click on those ads, or buy the products in the ads. This supposedly gets you in the advertising game without having to own a business or products.
To me, the model does not make sense, and it is too easy to manipulate.
There is no way to tell how many people actually click or purchase, you do not even know where they place your ads, how targeted the campaigns are, etc.
Even if your dashboard shows profits, you will not be able to cash out, which is the common experience of many users of the platform.
If you do not want to waste anymore time and money on scams, check out my #1 recommendation to making money online:


Read on for the detailed review of Click2Sell, and why I call it scam.
---

What is Click2Sell

To find out what is Click2Sell, let's first take a look at its home page.


Apparently you can participate in this online advertising revolution, without any experience or technical knowledge.
If advertising were so straightforward, everyone would be making money by now.
Any form of advertising comes with a risk, because of the upfront investment, which you can potentially lose if you do not know what you are doing.
So do not let anyone tell you that you can run ad campaigns without any experience or technical knowledge. They are targeting beginners who do not yet know better, making the opportunity sound like a sure-win.

How does Click2Sell supposedly work?

In gist, once you become a member (by paying a hefty sum), you can start to buy ad banners to run your campaigns. You make money when people click on your ads, or make purchases through those ads.

Memberships of Click2Sell
These are the membership levels and their exorbitant fees.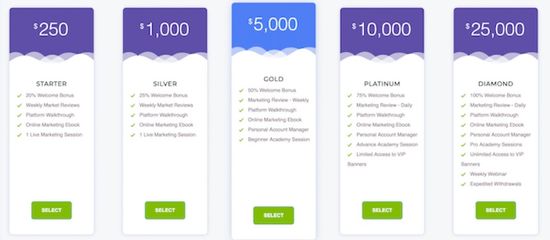 The cheapest membership at starter level is already a whooping $250, and that does nothing but get you onto the platform.
Diamond membership is an outrageous $25K.
I don't know about you, but this is enough to put me off.

Create your ad campaign in Click2Sell
Once you're in, you can start creating your campaign. It looks pretty simple.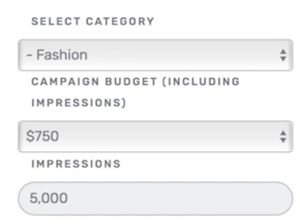 But the red flag here is precisely its simplicity. All you have to do is select the category, and your budget, which comes packaged with the impressions that you will get.

The Click2Sell model is not the way to run ads

Advertising does not work like that at all. This is pure nonsense.
Who owns those ads? Which companies are they advertising for?
Where are the ads going to be placed? This part is really vague. And who is to guarantee that you really get those impressions that you are buying?
To me, it looks too easy to manipulate what actually happens to those campaigns.
If you spend this money and end up with zero clicks, and zero sales, who do you blame? Are the ads even shown to a targeted audience in the first place?
In this model, the people buying those ad campaigns seem to have no say or control at all, over how the ads are run, to maximize their effectiveness. The only parameter they can control is the exact ad location on the predetermined websites.
Look at the amount of uncertainties here:



You basically pay into this scheme, just for the hope of generating some profits. You do not own the ads or run them in your own way, with your own audience or traffic.
To me, it feels like a sure-lose.
They present you the hype upfront on the main pages of the website, while hiding the real risk in their terms and conditions:



Confusing payment terms in Click2Sell

Here, they claim that you get to earn 85% commission per click of the ads, and per sale generated.



It is completely different from what is stated in their terms and conditions, as you can see here: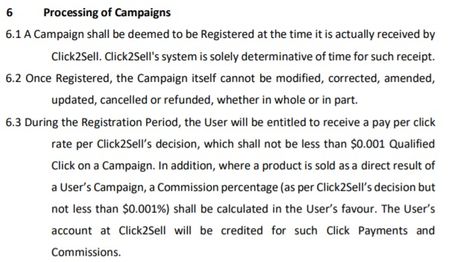 The pay per click rate is to be based on Click2Sell's decision, and the commission per sale also based on their decision, but not less than 0.001%.
This really threw me in utter confusion. Why is the lower limit set so low at 0.001%, when on their site they state the rate as 85%? Will they ever bring it down to that low a rate?
If you are or have been a user of Click2Sell, I would really appreciate it if you could shed some light on this: is there transparency on the commission rates that they are paying?

Unreasonable request for information when you try to withdraw funds

This is what they will ask from you when you try to withdraw funds from Click2Sell: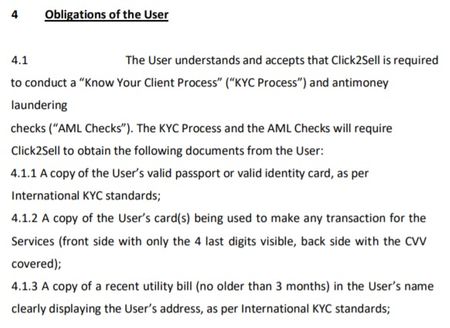 Passport or identity card, a copy of your card being used to make the transactions in their services (which could mean your credit card!), and a copy of your recent utility bill with your name and address clearly stated.
To me, it's quite a no-brainer why you should never furnish this information to people you do not really know.
In fact, it is straight up another huge red flag that we have no idea who are behind this platform, and yet they are trying to obtain every personal detail about you.
The tricky thing is, you may not have spotted this requirement in their terms and conditions before paying up for the membership and ads packages.
By the time you find out, either you lose all that investment to protect your privacy, or you risk identity theft to try and withdraw the money.
Either way, they win.

Real users' feedback about Click2Sell

So far, all the feedback and reviews out there by real users are negative, and it seems that not one single person has made money on this platform. Most have lost hundreds or thousands of dollars.
Take a look at these taken from funender.com.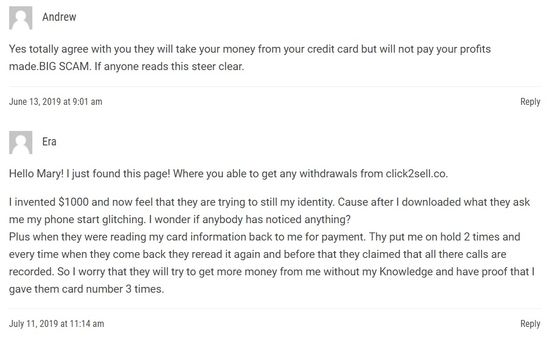 It looks like everyone should really steer clear of Click2Sell.co.

How the advertising world really works

In the real world of online advertising, companies, small businesses, you and I, can run ad campaigns for our own products or affiliate links.
When our target audience buy our products directly or through the affiliate links, we make money.
In another model, companies may use our property to run their ads, for instance, our websites. In that case, we get to earn based on the number of impressions, or based on the number of actual clicks.
There is no such model as the one in Click2Sell, where companies put out their products for you to buy ad packages, design your own ads, and pay you when people click on the ads or buy their products.
It just does not make any sense that they should put their brand's reputation at stake by making online marketers pay an upfront fee that is so exorbitantly high.
Advertising costs have to be born by the companies, it should not be passed down to online marketers like that, in such an exploitative manner.
Nobody should have to dig such a deep hole for themselves to climb out of, which is what you will be doing if you buy into the scheme of Click2Sell.

The proper way to make money online

There are too many legit ways to make money online, do not go for such shady schemes, that promise you will get rich fast.
Because methods that will earn you some serious money online are never easy, it will involve lots of hard work.
I guess everyone starts off wanting to make it rich the fast and easy way. It's a very natural thing, that's just human nature.
I wasn't spared of all the temptations on the internet myself.
But when I realized those empty promises are only going to make other people rich, and not me, I stopped looking for shiny objects.
I found a dull-looking object, but I knew in my heart that is the real deal. From then on, I have never looked back.
I am now working full time from home, growing my internet business, and making an online income. I started from scratch with zero knowledge in this area. If I can do it, you can, too.
Here's a peek into my daily earnings:



That's almost $200 in just one single day. It's nothing to boast about, though, as it's just a small fraction of its full potential. I just wanted to show you the possibilities.
Check out this training platform that provides all the resources, tools, along with an entire community of aspiring as well as already successful online income earners:

---

To round up this article, let me recap and summarize the pros and cons, before I finally make my conclusion.

Pros of Click2Sell

I seriously cannot think of anything good about this platform Click2Sell.co.

Cons of Click2Sell

1. Their business model is too peculiar
I do not know of any legit platform that runs a banner ads program with this model.
I can quite confidently say this is a scam.

2. No one has made any money on Click2Sell
They come up with excuses, or try to get you to pay even more, or simply ignore your requests to withdraw.

3. Too much personal information required
No money-making site should ask personal information of you like passport or identity card, photocopy of payment transaction card, and recent utility bill.
They are not any authority organisation, they do not even dare to show their faces, the people behind this platform.
So there is just no reason to put your trust in them.

4. Investment is too high
The membership fees and ad packages are just over the top. You would be taking a very huge risk, as you have little to zero control over how effectively the ads are run.
---

Is Click2Sell Scam or legit? 

In my personal opinion, the Click2Sell scam is a real one.
It will do you more harm than good, just like these products I have reviewed: CashLoad.net, CloutBucks, Seven Dollar Click, and Secret Profit Club, to name just a few.
Other programs similar in nature to Click2Sell include OneAdPack, Ad Flippers Bot, ClicksGenie, Build My Downlines, Ripple, My Traffic Business, My Adds Up, and Crazy Crypto Club.
---

An Alternative

Even legitimate advertising is a risky business, due to the existence of upfront costs, with no guarantee that you will recoup these sufficiently to start making profits.
Hence the realm of advertising is not for beginners, unless you know what you are doing.
The way I run my online business, I get all my traffic totally for free.
Through an awesome training platform that focuses on setting up your very own website and getting free traffic to it, I have never spent a single cent on any form of advertising so far.
This real deal does not promise instant results, but provides the knowledge and lifelong skills required to set up and grow an internet business that you can call your very own.
Check it out by clicking on the button below:


And for reading all the way to the end of the post, I believe you have it in you to make this work. Here is your FREE PDF Guide: 4 Simple Steps to Making Money Online. Fill in your details to claim it:


If you have any concerns or questions regarding this Click2Sell review, do comment below, and we will start a conversation from there.
---