Welcome to my Ripple Review.
This is about the software by Dan Ashendorf, Billy Darr, and Al Cheeseman, that promises to get you buyer traffic in 60 seconds.
This has nothing to do with cryptocurrency or Bitcoin, so do make sure you've landed at the right place.
I'm sure you're seeing plenty of raving reviews about this newest traffic software. Can it really get you the single most important thing that is stopping you from making money online right now – TRAFFIC?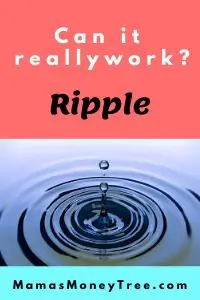 We will answer this question and many more here in my in-depth review, where I will explain how Ripple works to get you instant traffic, and my own misgivings about it. To be frank, I think this will be another disappointment, another one that adds to the collection of products that drive you mad because they simply do not work.

Without further ado, let's dive right into the review now!
---

Ripple Review Summary

Product: Ripple
URL: http://rippleapp.co/vip
Creators: Dan Ashendorf, Billy Darr, and Al Cheeseman
Product type: traffic software
Price: $17.39 (at the time of launch)
Rating: 1 out of 5
Scam / Legit? : Legit
Recommended or not? : NOT recommended
Ripple is nothing more than a traffic exchange system where you click on other people's links in the app to earn points, which you can use to ask for clicks to your own offers or website.
Yes, you will get real traffic, that's for sure. But this is not buyer traffic. Do not expect to start making sales out of this.
---
---

What is Ripple

To find out what is Ripple, let us first take a look at its website: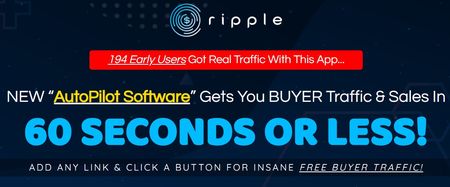 What is this new autopilot software that gets you buyer traffic and sales in 60 seconds or less?
You're just 3 steps away from insane free buyer traffic:
Step 1: Grab a copy of Ripple.
Step 2: Add your link (can be your website, your affiliate link, your CPA link, etc.).
Step 3: Click Go, then watch your traffic and sales explode.
Well, if only life were that simple.
What Ripple really is, is a traffic exchange software. When you log into the members' area, you can click on others' links to earn points.
Using these points, you can then request other members to click on your links, so as to get traffic (and hopefully some sales).
The software allows you to input your own website URL, or affiliate links, CPA links, etc. Basically whatever you want to drive traffic to, you will enter those links.
You can also share people's links on social media (Facebook and Twitter), and others will be sharing your links on their social accounts too.
On top of that, for every person whom you invite to the traffic exchange system, you earn 20 credits.
Although it sounds like a workable concept which is win-win for everyone involved, let me explain the real deal behind it, and why it may not get you the desired results afterall.

Red Flags in Ripple

Traffic is not targeted – NO sales
If you buy Ripple and start clicking those links on there to earn points, your main objective will be to ultimately use those points to exchange for clicks to your offers.
So if you put yourself in the shoes of other Ripple members, do you think they will make purchases through your affiliate offers?
They are there to find traffic and get sales, not to spend money. So you can be sure not many people will be interested in anything you are promoting.
Traffic exchange visitors are simply not targeted buyers at all.

Website authority may take a dip
If you are using Ripple to get a massive amount of traffic to your website, to help you gain the traffic momentum, yes it may get you what you want at first.
But in the long term, there is a high likelihood that your website ranking will take a dip.
This is because the visitors are not genuinely interested in your content, so engagement will be low, duration spent on the page will be low, and bounce rate will be high.
These Ripple members are there to earn more points for themselves, so that they get more traffic to their own offers.
They will quickly click through whatever links they have to, spending minimum time there, and moving on to the next one as soon as they can.
As search engines detect this kind of user behavior on your website, it tells them that your content does not engage the visitors, so they will deem your site not worthy of a place on page 1 of their search results.

CPA networks may not like it
If you are intending to promote your CPA (cost per action) link on Ripple's traffic exchange, do check the terms and conditions of your CPA network carefully.
Though some are fine with clicks from traffic exchanges, others may not be, simply because the conversion rates are really low.
Members from Ripple may click to get onto the landing page of your CPA offer, but that doesn't mean they will proceed to enter whatever personal information that is required, or take the action for you to earn.
Even if they do count as a lead, subsequent sales to the company may be almost non-existent, hence CPA networks may not like traffic exchanges, depending on the nature of the business.
---
---

What Ripple Does Exactly

From what I see of it, Ripple will get you traffic, but it will NOT be buyer traffic, neither should you expect to be making sales that will allow you to lead a laptop lifestyle like what is claimed on its sales page.
If you are looking for the all-elusive traffic, nothing beats organic traffic.
People will tell you it's too much time and hard work. I will tell you it can be done.
I have done it, and I'm getting almost all of the traffic to my websites through search engines. This organic traffic has the strongest buyer intent, because they were searching for what I am promoting, that's how they found me in the first place.
Position yourself so that your customers can find you. Then you do not have to waste time and resources on those who aren't even looking for what you are selling.
Unless you have a budget for running ads to get paid traffic (and are able to take the risk of losing it all), otherwise free organic traffic is what I'd recommend to every beginner in internet marketing.
Do not be swayed by people trying to sell you short cuts or the easy way out, because these will not lead you to results. Instead, you will be more frustrated than before you bought the product.
---

To round up this article, let me recap and summarize the pros and cons, before I finally make my conclusion.

Pros of Ripple

1. Real owners
The creators of this software are real people, known in the internet marketing space. This says a lot about accountability, and is at least more credible than products whose owners do not even dare put their names or faces on them.

2. 30 day money back guarantee
Though this basic refund policy seems to be in place, I want to highlight something here. On the sales page, it is stated that if you apply everything inside the program and for some strange reason do not get traffic, they will fully refund you.
To me, it just means it may not be that easy to get the refund, because you WILL get traffic as long as you start using the traffic exchange system properly.
But whether you get sales or not, that's a completely different question.

3. The software will do what it is made to do
Well, you will get some traffic to your website or offers, as long as you patronize other Ripple members' sites and offers as well.

Cons of Ripple

1. Traffic does not equate to sales
I do not like it that the sales materials of Ripple makes it sound like once you get traffic, sales will start pouring in as well.
While it is true that traffic is the bloodline of every business, conversion is what ultimately gets you sales.
When the traffic in question is not targeted at all, I do not see how it is ever going to lead to sustainable sales.

2. Your website authority may suffer
When you send waves of low quality traffic to your website, the search engines are going to pick up their interaction and engagement pattern, and mistakenly conclude that your content does not serve the needs of your website visitors.
Otherwise why would they be in such a hurry to leave the page?

3. Traffic exchanges may not convert well even for CPA offers
CPA, though easier to convert than affiliate links, still do best on organic traffic too. Check out this post by Brian Dean of BackLinko, who describes his three favorite traffic sources for his CPA sites being organic traffic, PPC ads, and social media.

4. Upsells
I do not appreciate one-time-offers that are pushed into my face before I even get the chance to try out the front end product.
Do not be pressured by scarcity tactics to get these upgrades on the spot, because they will always be there.
Take your time to try out the product. It is my experience that if the front end product is not able to deliver the results you expect, then forget about those upsells. They won't be much good either.
These are the upsells in Ripple:
Upsell 1: $39 – Ripple Unlimited
Upsell 2: $197 – Ripple DFY
Upsell 3: $197 – Ripple Traffic
Upsell 4: $39 – Reseller
Upsell 5: $77 – Group coaching
---
---

Is Ripple Scam or Legit?

I can't call Ripple a scam, because it will do what it does – allow members to exchange traffic to their websites or offers.
Other traffic softwares by these creators include Auto Traffic Machine, Traffic Robot 2.0, and Traffic Mojo, to name just a few.
Some programs similar in nature to Ripple include OneAdPack, Ad Flippers Bot, ClicksGenie, Click2Sell, Build My Downlines, My Traffic Business, My Adds Up, and Crazy Crypto Club.
---

An Alternative

Everyone wants to be rich, but guess who will make it?
It's a very natural thing, that's just human nature. I mean, find me someone who doesn't want to get rich fast, and with minimum effort.
I wasn't spared of all the temptations on the internet, hopping from one shiny object to the next.
But when I realized those empty promises are only going to make other people rich, and not me, I stopped looking for shiny objects.
I found a dull-looking object, but I knew in my heart that is the real deal. And from then on, I have never looked back.
An honest, down-to-earth method that will get you there. It's not going to be easy, but it will get you there.
Versus the fast and easy way to empty your pockets and get you nowhere.
Which would you choose?
I am now working full time from home, growing my internet business, and making an online income. I started from scratch with zero knowledge in this area. If I can do it, you can, too.
Here's a peek into my daily earnings:



That's almost $200 in just one single day. It's nothing to boast about, though, as it's just a small fraction of its full potential. I just wanted to show you the possibilities.
Check out this training platform that provides all the resources, tools, along with an entire community of aspiring as well as already successful online income earners:


This real deal does not promise instant results.
Instead, it provides the knowledge and lifelong skills required to grow a successful online business.
And for reading all the way to the end of the post, I believe you have it in you to make this work. Here is your FREE PDF Guide: 4 Simple Steps to Making Money Online. Fill in your details to claim it:


If you have any concerns or questions regarding this Ripple review, do comment below, and we will start a conversation from there.
---