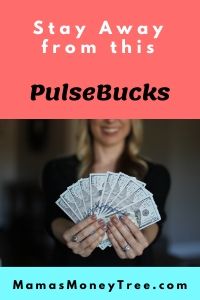 Welcome to my PulseBucks review.
What is this #1 influencer network that wants to give you a $5 sign up bonus, on top of $15 for every friend you invite?
Are they legit? Can you really make a full time income out of this, simply by inviting friends to the platform and completing tasks in there?
I hate to burst the bubble to early on, but I also do not want you to waste anymore of your precious time.
Pulse Bucks is a scam, through and through. In this in-depth review, I will be showing you all the red flags and explaining their real motive behind setting up this website. If you stick with me till the end, I will also show you how I am making real money online, which has allowed me to work full time from home.
Without further ado, let's dive right in now!
---

PulseBucks Review Summary

Product: PulseBucks
URL: https://pulsebucks.com/
Creator: unknown
Product type: influencer network
Price: free to join
Scam / Legit? : SCAM
Recommended or not? : NOT recommended
PulseBucks.com lures people to sign up as members with large baits. It will never pay out a single cent.
The wolf under sheep's skin is in fact a data harvesting site that sells your contact information to third party advertisers. In addition, as you engage in the tasks, your online safety may be at risk while these crooks continue to make money at your expense.
---
---

What is PulseBucks

To find out what is PulseBucks, let us first take a look at its website:


Self-proclaimed to be the #1 influencer network, it wants to give you $5 just for signing up for free, and $15 for every friend you invite to join the platform.
You may be wondering: if it's free to join, where do they find the money to pay you?
Well, they say advertisers love to work with them, for they are able to bring in the crowd (that's you, the influencers who get more friends to join them), helping companies gain exposure for their brands and products.
Pulse Bucks then shares its ads revenue with you.
It sounds totally logical and workable, but the biggest red flag is here, right under our very noses.
They will not be able to pay you $15 per referral, not even the $5 sign up bonus, because the advertising industry does not see this kind of phenomenal numbers. A few cents per referral sounds more like it, definitely less than one dollar. That is the norm for the industry.
If this cannot convince you, let's examine all the other red flags in the next section.

Red Flags in PulseBucks.com

1. Sign up Page
Firstly, let's take a look at the sign up page.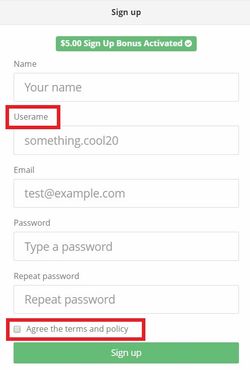 In normal circumstances, I do not pay much attention to grammatical or spelling errors. I'm not perfect myself, who doesn't make mistakes?
But for the #1 influencer network, wouldn't you expect some minimum quality on its website? At least it should have an editorial or marketing team that takes care of its branding?
How can they leave such a glaring spelling mistake ('Userame' boxed up in red) on their sign up form?

2. No terms and conditions page
On the same sign up page, near the bottom there is a box to check 'Agree the terms and policy'.
People usually do not give much thought to this, and many would just check it mindlessly.
But guess what?
There is actually no terms and conditions, or any policy page on the PulseBucks.com website!
This really raises some serious suspicion, considering it is supposedly such a huge company that is paying some big money to its members.
---
---

3. No address
Where it is supposed to give its address, the only thing we see here is 'Houston, TX'.


I don't think it would be that easy to find a PulseBucks office in Houston, that does not even have a street name.

4. They are confused over how much sign up bonus to give
On the same screenshot above, they want to give you $5 sign up bonus, and then $25 sign up bonus, all in one breathe.
They do not know how much they want to give you exactly.
In fact, it does not really matter, because no one is going to get paid even a single cent.

5. Fake email address
I ran a quick check on the email address they provided at the bottom of their home page.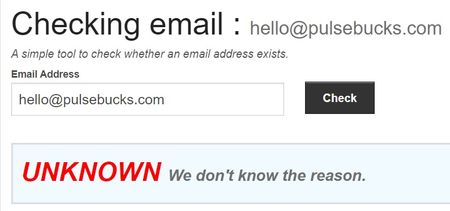 It bodes a very bad feeling. Apparently these people behind PulseBucks.com never had any intention of letting its members get in touch with them, right from the outset.

6. Fake social media buttons
Those social media buttons for Facebook, Twitter, etc. lead you nowhere except on the exact same page, after clicking on them.
The #1 influencer network does not even have its own social media accounts on the various platforms?

7. Very newly registered domain
Look at how new the domain of PulseBucks.com is.

It was registered only on November 21, 2019.
So in a bit over two months, they have beaten all the other 'influencer networks' to become the number one?

There are more to this, and we were only looking at one page – the home page, on its website. It does not have any other pages. No 'about us', no testimonials, no payment proof.
Looking at the amount of mounting evidence that this site is up to no good, let's not waste anymore time picking on all the discrepancies and dubious points.
Let's now discuss what exactly is going on backstage. What are the purposes and intent of PulseBucks, why are they doing this?

What PulseBucks Does Exactly

Data Harvesting
First and foremost, PulseBucks.com is a data harvesting site that collects all the contact details when people sign up, and sell them to third party advertisers for a high price.
They make good money out of this because firstly, the make money online niche is a very lucrative one. Secondly, the act of signing up with PulseBucks is enough to show that its members are interested in making money on the internet, making them a very targeted audience.
So if you had signed up, be prepared to have your email inbox spammed by unsolicited offers and promotions from people or companies you have never heard of.
They will try to sell you crappy stuff – a done for you system that makes you hands free income for the rest of your life; the secret formula to instant success and that luxury lifestyle, etc. You get the idea.
---
---
Your online safety will be compromised
Besides referring people, there are other tasks within the platform that you will be encouraged to engage in.
Unfortunately, they are all designed to make money for PulseBucks. And seeing how shady their platform is, you really do not know what they are capable of, just to make money out of you.
For instance, signing up to some free trial could get your credit card information stolen. Or downloading an app for a promised $3 could earn you some malware installed on your device instead.
Clicking on some link may get you onto another shady site that sells unknown brands of weight loss supplements. And creating Youtube videos for a promised $15? That is these crooks making use of you to do the dirty work for them.
At the end of the day, no matter how many referrals you have brought in, or how many tasks you completed, they are not going to let you cash out.
---

To round up this article, let me recap and summarize the pros and cons, before I finally make my conclusion.

Pros of PulseBucks
There is not a single pro to the PulseBucks.com platform. It will do you more harm than good.

Cons of PulseBucks

1. Your contact details will be sold
Though it may sound like just a minor irritation, the fact remains that they betrayed the trust you had for them when you signed up, took those information you entered, and sold it for their own profits. Without your knowledge and of course consent.

2. Your online safety will be compromised
These guys are capable of stooping low to get what they want. Every minute you stay on the site, you are exposing yourself to possible identity theft, virus infection, and so on. It's not safe on there.

3. Nobody is getting paid
This is the bottomline.
---

Is PulseBucks Scam or Legit?

PulseBucks is a real scam. It will do you more harm then good. I'd strongly urge you to stay away, and do not leave your referral link lying around for others to pick up.
Similar scams that I have very recently exposed include SurveyJunkies, SocialBounty, Use2Earn, Swipe2Earn, and Tap2Cash, to name just a few.
---

An Alternative

Everyone wants to be rich, but guess who will make it?
It's a very natural thing, that's just human nature. I mean, find me someone who doesn't want to get rich fast, and with minimum effort.
I wasn't spared of all the temptations on the internet, hopping from one shiny object to the next.
But when I realized those empty promises are only going to make other people rich, and not me, I stopped looking for shiny objects.
I found a dull-looking object, but I knew in my heart that is the real deal. And from then on, I have never looked back.
An honest, down-to-earth method that will get you there. It's not going to be easy, but it will get you there.
Versus the fast and easy way that gets you nowhere except round and round in circles.
Which would you choose?
I am now working full time from home, growing my internet business, and making an online income. I started from scratch with zero knowledge in this area. If I can do it, you can, too.
Here's a peek into my daily earnings:



That's almost $200 in just one single day. It's nothing to boast about, though, as it's just a small fraction of its full potential. I just wanted to show you the possibilities.
Check out this training platform that provides all the resources, tools, along with an entire community of aspiring as well as already successful online income earners:


This real deal does not promise instant results.
Instead, it provides the knowledge and lifelong skills required to grow a successful online business.
And for reading all the way to the end of the post, I believe you have it in you to make this work. Here is your FREE PDF Guide: 4 Simple Steps to Making Money Online. Fill in your details to claim it:


If you have any concerns or questions regarding this PulseBucks review, do comment below, and we will start a conversation from there.
---