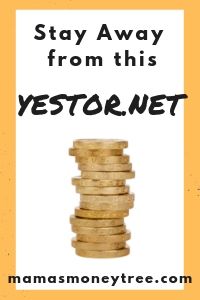 What is Yestor.net? Does it really share profits from their professional traders' financial investments? Or is it going to be a complete waste of your time?
Welcome to my Yestor.net review.
This Yestor! platform seems to be getting quite a bit of attention these days, and at one of my readers' request, I have decided to probe around a bit, to give it a complete review, so that you can decide for yourself whether it is worth your time and effort.
How exactly does it work to earn you money? Do they actually pay out to their members? Are there any red flags that tell us the plot may be deeper than it seems?
We will answer these and more, in my honest and in-depth review of Yestor.net, as I walk you through its inner workings, and the tell-tale signs that something seems amiss.
Without further ado, let's dive right in now!
---
Yestor.net Review Summary
Product: Yestor
URL: http://yestor.net/
Creator: Unknown
Product type: Binary options platform
Price: free to join
Scam / Legit? : Scam
Recommended or not? : NOT recommended
Yestor.net claims to be a binary options platform that allows you to earn by sharing the profits that its traders make through investments. Besides being unclear in how you will actually make money, its terms and conditions are written to your disadvantage.
Among numerous red flags, the biggest one is that its email address provided for their support does not exist. This makes me not trust this website at all.
---
---

What is Yestor.net
To find out what is Yestor.net, let's first take a look at its home page: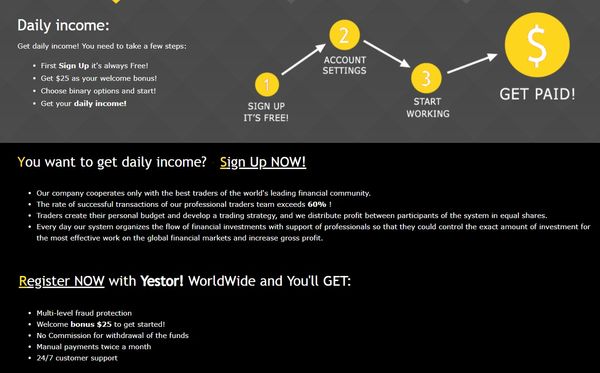 It claims to be a binary options platform that distributes profits based on their professional traders' investments. Besides this single fact, there is nothing else that tells us exactly how we will be making money on there.
They also assert that their traders are the best in the world's financial community. If that was really the case, why do they not provide some names?

Domain of Yestor.net
Take a look at what I found here: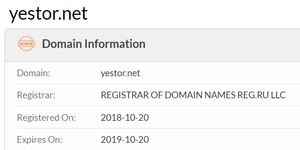 Would the best traders in the world want to work with a platform that is so new? They were just registered in October of 2018, making them just a few months old.
And it looks like they are not prepared to be in this game for the long haul, seeing their domain registration is only for one year?

Sign up bonus is unrealistically high
If this was a platform that allows you to earn money already, why would they gift you $25 just for signing up? This amount is much too high, too good to be true. Where do they get this money from?
From the many make money platforms that I have reviewed so far, ALL websites that promise a $25 sign up bonus are scams.
Their minimum cash out amounts are way higher, requiring you to do a lot of work on there, or refer many people, before you try to cash out. By the time you realise that they never had any intention of paying out right from the start, it would be too late.

Exact way to earn is not clear
Yestor.net does not make it clear how exactly you are going to make money on their platform, before you sign up.
In their FAQ, this is what they say: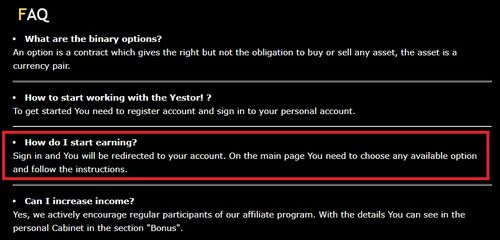 To me, it is not clear at all, what entails within the system. If it is an investment platform, what are the risks involved here? Do I have to make an initial investment? Will I stand to lose all my money?
There is just no information at all. All I am told to do is 'choose any available option and and follow the instructions'.

Poor standard of language
No, I do not judge anyone by the standard of their English. Mine is not perfect either.
But for a COMPANY, it is an entirely different story. As a platform with the best traders from around the world, we would expect them to get their English right, otherwise how do we entrust them to make money for us?
Look at the very poor standard of English scattered all over Yestor.net.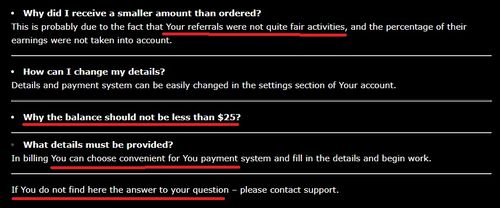 Just look at the number of grammatical and structural mistakes in just those few lines.
Would you trust a company that does not bother to check their language use, or hire someone to make sure their communication to their members and the public is clearly put across?

Terms and conditions of Yestor.net are to your disadvantage
According to their terms and conditions, Yestor can block any user's account without any explanation. I definitely to not want any dealings with a platform that spells out its terms like that, as it means my earnings can be taken away without rhyme or reason.



Moreover, it is irresponsible of them to state that they are not accountable for any losses or consequences as a result of any inability to use their service. If they can foresee such a situation, shouldn't they have an active and responsive call centre to deal with any down times of their website?

Email address of Yestor.net does not exist
To me, this is the biggest and most telling red flag: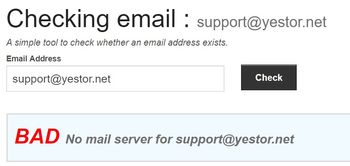 Their support email address is fake, it does not exist at all. They never had any intention of getting in contact with you.
Most people will not be contacting them until they face problems trying to cash out their earnings. By then, Yestor.net would have gotten what they wanted – for people to leave their referral links everywhere, so that they get an avalanche of new members signing up onto their platform.

No one has made any money with Yestor.net
I have not been able to find any payment proof of anyone actually cashing out from Yestor.net. If you know of anyone really making money with this, do drop me a comment below this article, I will be happy to be proven wrong.

What Yestor.net really wants from you
What do they gain out of this then, if you had not parted with any money?
All they want is for you to sign up, and refer many more others to sign up, so that they get a list of contacts, with names and email addresses, that they can sell at a high price to third party advertisers.
Since they can prove that their members are all very interested in making money the easy way, this becomes a very targeted audience group, for which specific products can be promoted to.
So if you sign up with them, you can expect to get spammed with useless offers of done-for-you software or programs that promise you can get rich in an instant, all of which are never created to work for you.
That is also exactly why they entice people with the $25 sign up bonus. They just want the whole world to sign up with them, that is how they will make money, by selling your contact details.

The proper way to make money online
I guess everyone starts off wanting to make it rich fast. It's a very natural thing, that's just human nature. I wasn't spared of all the temptations on the internet myself.
But when I realised those empty promises are only going to make other people rich, and not me, I stopped looking for shiny objects.
I found a dull-looking object, but I knew in my heart that is the real deal. From then on, I have never looked back.
I am now working full time from home, growing my internet business, and making an online income. I started from scratch with zero knowledge in this area. If I can do it, you can, too.
Here's a peek into my earnings on a recent day:



That's almost $200 in just one single day. It's nothing to boast about, though, as it's just a small fraction of its full potential. I just wanted to show you the possibilities.
Check out this training platform that provides all the resources, tools, along with an entire community of aspiring as well as already successful online income earners. The best part is, you get to start for free:
---
Now, let me recap all the good and bad about Yestor before concluding this post.
Pros of Yestor.net
There is not a single plus point about this platform. If they cannot provide a valid support email, then you should not place your trust in them. Their intentions are no good to start with.

Cons of Yestor.net
1. Complete waste of your time
You could be spending lots of time on the platform, or trying to get more referrals signing up through your link. All that time and energy will be wasted, when you eventually discover that they will not let you cash out.
2. Be prepared to get spammed
Your contact details will be sold, so your inbox may be flooded with promotions and offers that you never opted in for. It's just a minor irritation, but still, it is a betrayal of trust.
---
Is Yestor.net Scam or legit? 
Yestor.net is quite definitely a scam, from how their support email is fake, among numerous other red flags.
Stay away from it, as it will do you more harm than good, just like these other platforms that I have reviewed: CloutBucks, Workmines.com, and CashLoad.net, to name just a few.
---
Recommendation
If you really want to make some serious money online, you have to first accept that there is no easy way to achieve it. If someone tells you he or she knows of an easy way to make lots of money fast, with little effort, you've got to run in the opposite direction.
There are many possibilities on the internet, many of which are simple methods, but simple does not equate to easy. Ideas and concepts involved can be very simple, but you have to stick with it, and work hard at it, if you want to achieve any level of success.
Otherwise, you will easily fall prey to the countless scammers out there, who know too well the human weakness of wanting instant gratification.
Let me show you the method that I am using, to earn my online income.
This real deal does not promise instant results, but instead provides the knowledge and lifelong skills required to grow a successful online business, which is exactly what I have done. Check it out by clicking on the button below:


And for reading all the way to the end of the post, I believe you have it in you to make this work. Here is your FREE PDF Guide: 4 Simple Steps to Making Money Online. Fill in your details to claim it:


If you have any concerns or questions regarding this Yestor.net review, do comment below, and we will start a conversation from there.
---