Welcome to my SerpClix review.
Whether you are considering signing up as a clicker on this platform, or you are a website owner intending to buy organic traffic on it, you're at the right place.
Here I will provide all the details, from how to set things up and how much you may possibly earn as a clicker, to the advantages and disadvantages of buying organic traffic.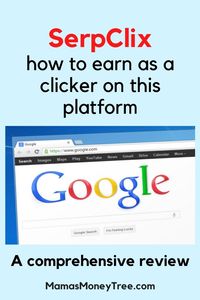 By the end of this post, you should be able to make a better-informed decision for yourself.
Without further ado, let's dive right in now!
---

SerpClix Review Summary

Product: SerpClix
URL: https://serpclix.com/
Product type: platform for buying organic traffic to your website or working as a clicker
Price: free to join as a clicker, organic traffic packages start at $197 per month
Rating: 3.5 out of 5 (for clicker), 1.5 out of 5 for buying organic traffic
Scam / Legit? : Legit
Recommended or not? : Yes if you are looking for a bit of side income as a clicker, no if you're a website owner trying to get traffic to your site
SerpClix is a legitimate platform that pays a reasonable amount of money for people to click on its clients' websites and stay for a designated duration. It is easy, and they pay out on time, though you should not expect to make big bucks from this. So it is something worth trying if you are looking for some extra pocket money.
If you are a website owner looking for organic traffic to your site, I will not recommend SerpClix, or buying any organic traffic for that matter. You never know when and how the search engines are going to clam down on this. And why pay when you can get organic traffic for free?
---
---

What is SerpClix

To find out what is SerpClix, let us first take a look at its website: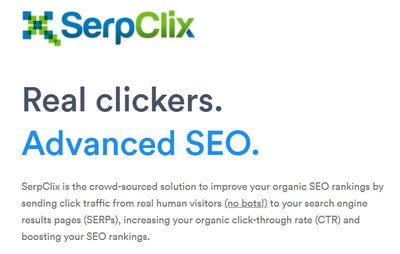 For any website owner, organic traffic from search engines is the most sought-after traffic source, because there is search intent, and very possibly strong buyers' intent. Hence it is usually accompanied with a high conversion rate (into customers).
When visitors landing on a website hang around a bit to engage with its content, it sends a strong signal to search engines that the site is able to meet the needs and answer the questions of its audience.
This will push its ranking up the search engines results page (SERP), attracting even more traffic, creating a vicious cycle (in a good way, of course).
And that is what SerpClix sets out to do – get 'organic' traffic onto website owners' online properties, requiring them to stay for a designated amount of time (to signal to search engines that the sites are worth hanging around), hence boosting their search rankings.

How SerpClix Works

SerpClix has its own team of clickers – anyone can sign up (provided you meet some minimum requirements that I will discuss a bit later).
When a website owner purchases a traffic package, the job will be made available to clickers, who will go about
– entering specific keywords into search engines,
– looking for the correct website,
– clicking onto the website,
– and staying on it for at least one minute.
Clickers earn money doing this easy task, and website owners get a boost to their CTR (click-through rate). Everyone wins, including SerpClix.
It's not all perfect, though.
No matter how good the concept seems, this is a black-hat technique at getting organic traffic to any website – something that search engines frown upon. I'm not sure when and how they may penalize sites that engage in such traffic-buying activities, but I'm definitely not taking such a risk with any of my own websites.
---
---

For the SerpClix Clicker

Signing up and setting up
It is free to sign up as a SerpClix clicker, but you would need a credible IP address that is trustworthy. This means you cannot be using a VPN or a proxy.
Once you're signed up, you will be prompted to download and install the SerpClix add-on onto the latest Firefox version on your computer.
Do note that you cannot carry out the work of a clicker on your smartphone. It has to be a Windows or Mac device.
In the SerpClix add-on, enter your email, and that sets you up to start receiving assignments through the platform.
Working on SerpClix
The tasks are very straightforward. Clicking on any available assignment from the SerpClix add-on will bring you to the Google search page, with the search term already entered. Simply hit enter to start searching.
The target website will appear somewhere in the search results, boxed up to grab your attention. Click on it to land on the website, and stay on it until the timer runs out.
While you're on the site, you might as well engage with its content, by scrolling down the page or navigating to other pages on the site. This will push up your quality score as a good clicker, and hopefully give you access to more and better assignments.
Cashing out on SerpClix
Each assignment will earn you between $0.05 to $0.10, depending on your location.
Do not expect to be able to work full time on this, as there will definitely not be sufficient assignments to occupy your day.
Hence a reasonable monthly income could be between $20 to $50, depending on how active you are, and the number of assignments made available to you.
The minimum amount for cashing out is $5.
SerpClix pays through PayPal, at the beginning of each month.
On top of your work as a clicker, you can also earn by referring others to join the platform. For their first 3 months, you will earn a 10% commission of your referrals' earnings.

For the Website Owner

These are the traffic packages that you get to choose from, ranging from $197 per month (for about 660 clicks) to $2,497 per month (for 16,500 clicks).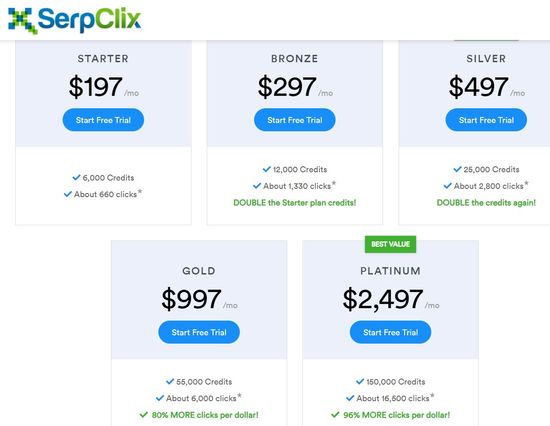 Though it sounds like the perfect plan to pay people to click on your website and stay on it for at least a minute, and even engage with its content, personally I will never do this.
My websites are too precious to me. Genuine organic traffic has been the main source of my websites' traffic, so I know it can be done, all for free.
I do not have a pay a single cent to get people landing on my site. At the same time, I do not need to risk using a black hat strategy and having all my hard work go down the drain when I somehow get discovered and penalized for it.
Though this may look like a foolproof plan, do not underestimate the power of search engines' algorithms and what they can detect.
I'm sure there are people who do this and get away with it, or even have their objective achieved – rankings pushed up on SERPs (search engine results pages). Ultimately it is your decision, and your responsibility to bear the consequences, good or bad.
I hope that by considering my perspective, at least your choice is a prudent one.
---
---

To round up this article, let me recap and summarize the pros and cons, before I finally make my conclusion.

Pros of SerpClix

1. Legitimate site that pays out
SerpClix has proven to be a trustworthy site that honors its payment to people who contribute their time and work on it.

2. Sends real traffic to your websites
With its checks in place, SerpClix makes a good effort to prevent fraudulent traffic to its clients' websites. So I do believe you will get real human traffic.
But since this traffic is only there because you're paying them, I'm quite sure they will not convert into buying customers on your sites.

Cons of SerpClix

1. You will not make a fortune of this
As a SerpClix clicker, you can expect to earn some extra coffee money, but this will never get anywhere near a full time income.

2. Black hat traffic method
When you employ this technique, you are in essence, trying to cheat the search engines into believing there are more people who found your site through their search results than the real numbers.
---

Is SerpClix Scam or Legit?

SerpClix is a legitimate platform that pays out on time to its clickers. It is something you can consider in trying to make some money online, along with other GPT (get-paid-to) sites like Swagbucks, Inbox Dollars, and PrizeRebel, to name just a few.
---

An Alternative

I know you want to be rich. Believe me, I do too.
It's a very natural thing, that's just human nature. I mean, find me someone who doesn't want to get rich fast, and with minimum effort.
I wasn't spared of all the temptations on the internet, hopping from one shiny object to the next, one easy method to the next.
But then I realized there are some opportunities that earn you peanuts, and then there are others that require a lot more hard work, and is where the real money is.
I found the lowest cost method that can be built into a full time income. And from then on, I have never looked back.
So now, let me extend my humble invitation for you to join me on this online journey.
I am now working full time from home, growing my internet business. I started from scratch with zero knowledge in this area.
You can do this too.
Here's a peek into my daily earnings: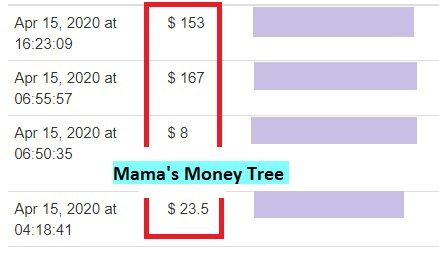 That's $350 in a day. Nothing to boast about, as it is still far from reaching its full potential. I just wanted to show you the vast possibilities here.
Check out this training platform that provides all the resources, tools, along with an entire community of aspiring as well as already successful online income earners:

This real deal does not promise instant results.
Instead, it provides the knowledge and lifelong skills required to grow a successful online business that will sustain itself in the long run.
And for reading all the way to the end of the post, I believe you have it in you to make this work. Here is your FREE PDF Guide: 4 Simple Steps to Making Money Online. Fill in your details to claim it:

If you have any concerns or questions regarding this SerpClix review, do comment below, and we will start a conversation from there.
---