Welcome to my Email Elite Academy review.
I'm so glad you're checking things out before buying this make money system, because this review is going to save you money, time and lots of frustration.
I will examine the claims that the owners of Email Elite Academy are making, and bring you on the inside so that you can see clearly for yourself how things work exactly.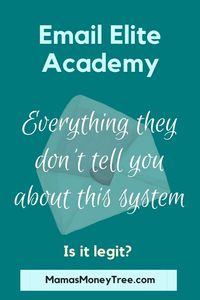 I will be upfront here – this system is no good for you and me. The only ones who will benefit from this are the people behind it. I have had experience with them while testing out an identical system under a different name, so I know what these guys are up to.
The promises they make will never happen. All they want is for you to fall into their trap.
Without further ado, let's dive right into the review now!
---

Email Elite Academy Review Summary

Product: Email Elite Academy
URL: https://emaileliteacademy.net/
Creator: Unknown
Product type: Cost Per Click (CPC) email advertising
Price: $34 per month + upsells
Rating: 0 out of 5
Scam / Legit? : SCAM
Recommended or not? : NOT recommended
CPC (cost per click) email advertising is a legitimate way to make money, if done properly. It's unfortunate that Email Elite Academy is hiding behind the veil of CPC marketing and cheating people of their hard-earned money.
This program will not earn you a single cent, even though it may look like you are making profits at first. They will not let you cash out, and instead will keep hounding you to pay more and more.
---
---

What is Email Elite Academy

To find out what is Email Elite Academy, let us first take a look at its website: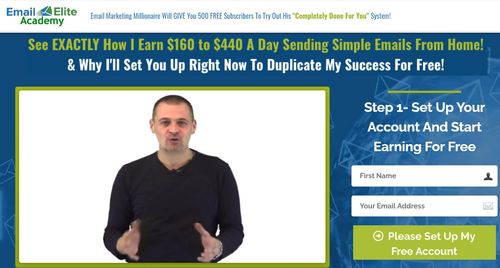 So "Bobby", a multimillionaire, wants to give you his make money system, all for FREE. And this fact cannot be missed, as he keeps repeating it throughout the video.
His 'company' is all about email marketing. Which is a genuine and effective way to bring any product or service to its target audience. As the saying goes – the money is in the (email) list. And I firmly believe so.
In CPC marketing, when you send out emails to promote something (a product or a service, or just a company with all that it has to offer), and people click on the links in the emails, you earn a commission.
But doesn't it sound too good to be true that someone who can actually make the money for himself is willing to let you take over a part of his system, or so-call clone it? And let you keep the profits for yourself?
Well, according to "Bobby", his company is not able to manage the huge number of subscribers, as there are thousands of new signups onto their email list everyday. So he wants to gift you this opportunity to earn $160 to $440 a day, just to do the simple task of sending emails from home.
But wait, things are not as simple as it sounds.

Red Flags in Email Elite Academy

CPC advertising, combined with email marketing, can work. It is what many big corporations are doing to get their names and products out into the market.
Sadly, "Bobby" is not running his company the honest way.
Touted as free, Email Elite Academy is far from that.
1. Deceptive marketing
After a simple registration process that takes a few seconds of filling out my name and email address, I am brought to another video, in which they bring me right into the members' area.
Notice how the system is actually called 'Copy My Email System', which sounds completely different from Email Elite Academy.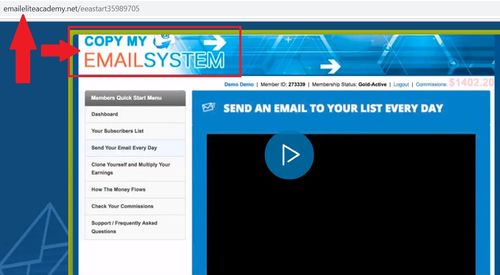 In fact, I had done a thorough review of Copy My Email System back in 2019, and as it turns out, Email Elite Academy is an identical plot to cheat people of their hard-earned money, just under a different name!
An even earlier version of that was Instant Email Empire.
This is the path scammers take. When their scheme gets busted and has earned a bad reputation for itself, they throw it aside, and move on to a new name to continue deceiving innocent victims.
Another way they try to lure people in is this – remember how "Bobby" keeps on and on about the system being completely free? Well, it is not.
Once past the registration stage, you will learn that it costs $34. They make it sound like a one-time fee, but when you try to click away, they offer it at the lowest price of $1.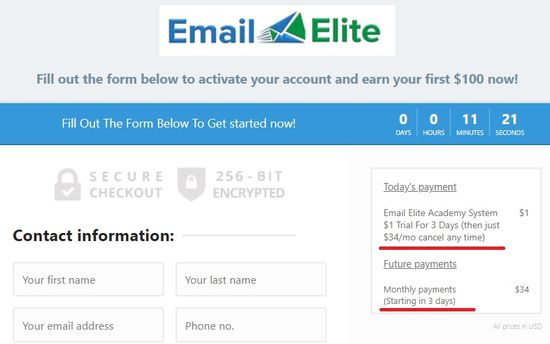 If you're thinking what can you lose with $1, then here's what you stand to lose, because 3 days later, they will start their recurring charges of $34 per month.
Not just that, they will aggressively try to sell you traffic packages, so that you get a larger list of email subscribers to send to.
So I'd really think twice about this. Because once you step in with one foot, it's not easy to get out of that muck, as I will explain in a later section further down.
---
---

2. No legal documents
The second red flag that was waving at me was right at the bottom of the sales page of Email Elite Academy.
It seems like there are the necessary legal pages that make the website of a legitimate company complete – terms and conditions, privacy policy, earnings disclaimer, and contact us.


But when I tried to mouse over this footer menu, these items cannot be clicked on at all.
To me, this is serious. It is not something that a sincere and honest company will overlook.

3. Big earnings claim
Let's be painfully honest here. Sitting at home, simply sending emails and waiting to earn hundreds of dollars a day is something that appears only in our dreams.
It is just not going to happen, no matter how much we wish it could.

4. Zero control
Since this system belongs to "Bobby", and they are the ones doing all the backend work, you really do not know how it actually works.
Where do their traffic (email subscribers) come from? Are those real people, or just bots? Even if they are all real, how can you be sure that the commissions will be credited to you whenever someone on the list clicks on the links?
Because the system does not belong to you, it means you have no control over anything, and you will be putting yourself at their mercy.
For all you know, they may simply pocket all your money, without having the system running as it should.

5. Who is "Bobby"?
Now comes my favorite part. The "Bobby" who spent much time convincing us that he is a multimillionaire turns out to be a Fiverr actor.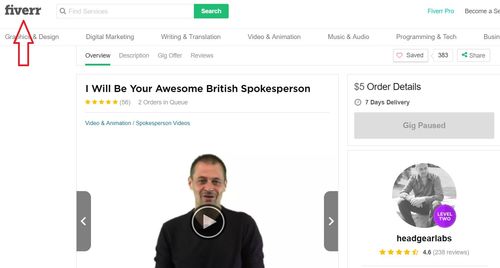 I guess I have nothing left to say.

How Email Elite Academy Works Exactly

Once you provide your contact and payment details, they will hound you to the other side of the earth.
Multiple emails a day in your inbox, every single day – that is what you will be dealing with. Not just from "Bobby", but also "Michael", "Claire", and God knows who else.
They are not any professional entity at all.
Trying to unsubscribe from their list seemed to get me on to yet another email list. Frustrating is an understatement.
Though I do not have proof for this, but I highly suspect the whole Email Elite Academy system is a fraud. An empty shell that does nothing that it is meant to do.
At the start, you may see your earnings go up, as people supposedly click on your links. But when you try to cash out your earnings, they will find excuses, or say you have to send out even more emails in order to cash out, and all kind of nonsense.
They will try to empty your wallet by getting you to buy more and more traffic packages, in terms of a certain number of email subscribers.
There's no way to earn if you don't do that. But buying these packages does not guarantee any earnings too, especially if these guys are trying to scam you right from the outset.
At the end of the day, you will just be throwing money down the drain, feeling more exasperated and disillusioned about the whole make money online business.
---
---

To round up this article, let me recap and summarize the pros and cons, before I finally make my conclusion.

Pros of Email Elite Academy

What good thing can I say about this Email Elite Academy system, when its real owner does not even dare make an appearance?

Cons of Email Elite Academy

1. You are paying them to promote their business
You pay to buy an email list from them, and the system then sends out emails that promote the exact same program to the list.
If the system really works, you are helping them bring in more customers. And yet you are bearing the entire risk, by paying an upfront cost to promote them.
Whether it works for you or not, they are the sure winners in this game. They still win big even if no one from the list responds to your emails.

2. No one is cashing out
So far I have not seen a single person who is cashing out from this program.
---

Is Email Elite Academy Scam or Legit?

My take is that Email Elite Academy is a scam, based on my personal experience with them in Copy My Email System, which is an exact duplicate.
If you want to learn the proper way to do email marketing, here are some related posts that you may be interested in:
– how to do email marketing yourself and do it right
– my favorite email autoresponder
---

An Alternative

I know you want to be rich. Believe me, I do too.
It's a very natural thing, that's just human nature. I mean, find me someone who doesn't want to get rich fast, and with minimum effort.
I wasn't spared of all the temptations on the internet, hopping from one shiny object to the next.
But when I realized those empty promises are only going to make other people rich, and not me, I stopped looking for shiny objects.
I found a dull-looking one, but I knew in my heart that is the real deal. And from then on, I have never looked back.
An honest, down-to-earth method that will get you there. It's not going to be easy, but it will get you there.
Versus the fast and easy way to empty your pockets and get you nowhere.
Which would you choose?
I think I can guess your choice. 🙂
So now, let me extend my humble invitation for you to join me on this online journey.
I am now working full time from home, growing my internet business, and making an online income. I started from scratch with zero knowledge in this area.
You can do this too.
Here's a peek into my daily earnings: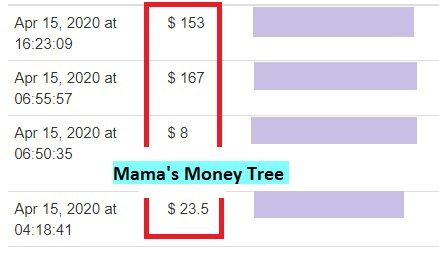 That's $350 in a day. Nothing to boast about, as it is still far from reaching its full potential. I just wanted to show you the vast possibilities here.
Check out this training platform that provides all the resources, tools, along with an entire community of aspiring as well as already successful online income earners:

This real deal does not promise instant results.
Instead, it provides the knowledge and lifelong skills required to grow a successful online business that will sustain itself in the long run.
And for reading all the way to the end of the post, I believe you have it in you to make this work. Here is your FREE PDF Guide: 4 Simple Steps to Making Money Online. Fill in your details to claim it:

If you have any concerns or questions regarding this Email Elite Academy review, do comment below, and we will start a conversation from there.
---