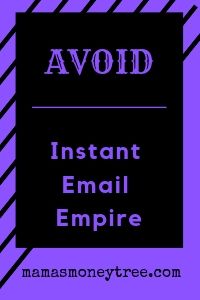 If you are here to check out the Instant Email Empire scam, I can tell you now, it is a BIG BIG SCAM. Stay away from it, and I hope you haven't found this article too late.
Can you really make $125 a day, just by sending simple emails at home? All the endorsements by Fox, NBC, and CBS News, shouldn't it be the assurance that they are a legitimate entity?
NO!!! I'm afraid that's far from the truth! You will be shocked to learn the atrocities going on here. Read on to find out the whole scam behind this worthless product.
In this article, I will provide an in-depth review of Instant Email Empire, through the following sections:
---
Instant Email Empire: Review Summary
Product: Instant Email Empire
Creator: "Bobby"
Product type: Email marketing and affiliate marketing
Price: "Free" but with upsells
Scam / Legit? : Scam
Recommended or not? : Not recommended
Instant Email Empire gets you to subscribe to BuilderAll so that you can use the email autoresponder in there, to send email swipes to some subscribers list (of unknown source). In those emails, you are actually promoting Instant Email Empire itself, and also getting people in the list to subscribe to BuilderAll to do the same as you.
You earn a commission when anyone on the list signs up with BuilderAll.
"Bobby" who appeared in the video as the owner is fake, he is an actor that the real owners hired to do this gig. This is enough for me to call it a scam.
If you do not want to waste anymore time and money on scams, check out my #1 recommended way to make money online:

Read on for the detailed review of Instant Email Empire, and why I do not recommend it.
---
What is Instant Email Empire
Information presented in sales video and landing page
I could sense something very suspicious about this product, so I just had to try it out. It seems so simple: get your free account, and start earning $100 in 10 minutes.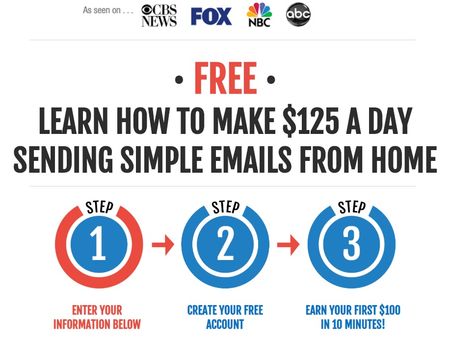 So I created my account, and was brought to a news video clip: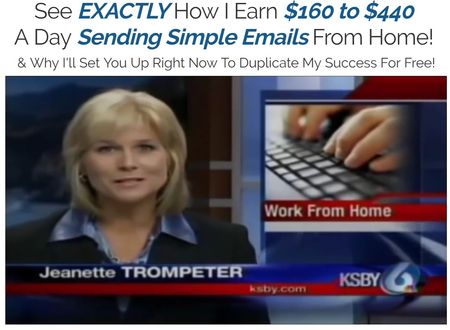 These are just a collection of news clips from the past, all talking about work from home opportunities, about how scams always require you to pay upfront, etc. Those news reports had nothing to do with this product Instant Email Empire, but were placed strategically right before "Bobby's" speech, to appear like this product is credible and is endorsed by those news channels.
Then in comes our friend "Bobby", here's how he looks like.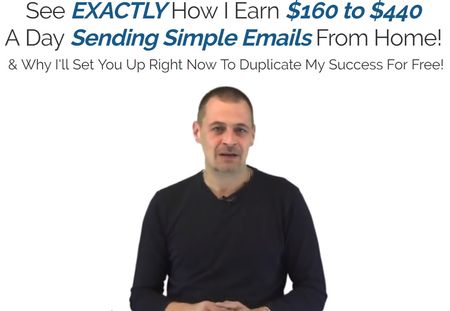 He talks about how successful he is, shows off his car, how his beautiful wife is not working, and he is able to spend time with his two lovely kids, all thanks to email marketing, which drives sales like no other traffic sources.
His company sends millions of emails out to people who have requested for the information that they were sending to them, like more ways to make money, or to further their education, or to get grocery coupons, etc. These people specifically requested for those information, so they do not see those emails as spam.
The thing is, due to his email service provider's limited bandwidth, there is a limit to how much emails he can send out, there is so much more that he needs to do, but he just can't.
So now he is asking that you partner him, without paying him anything. Getting the subscribers list is the difficult part, but that part has been done for you. He will also help you set up a free account with an email provider, and then he will pass you the subscribers list, which you will send out marketing campaigns to.
With affiliate links inside those emails, when people click on those links to buy the products, you earn a commission, and you then share your profits with "Bobby".
But then… guess what? Turns out that "Bobby" is actually an actor they hired from Fiverr. Or maybe this multi-millionaire was too bored playing with his kids at home, so decided to take up some acting gigs just for fun.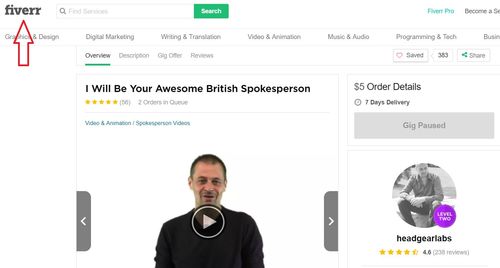 There you have it. I don't think we need to probe any further into the method used to make money here: email marketing and affiliate marketing, whether it's a good marketing strategy or not, and stuff like that.
They are out to scam people. The entire 12 minutes video, you would have wasted 12 minutes of your life, if you had watched it.
But since "Bobby" kept insisting everything is free, how does the money get out of your pocket then?
How Instant Email Empire really works
Once you enter your information for the free email provider account, you land on a page where you are asked to pay $34 to get your first 5000 'hungry' subscribers onto your list.
You do not know where this list comes from. "Bobby" said they are highly targeted traffic, since they specifically asked to be sent those information. But would you even trust him now, knowing that he's totally fake?
So the origins of this subscribers list is questionable, you may get zero conversion, and an angry list that is irritated by your 'spam' emails.
The next sum out of your pocket is a recurring monthly subscription of $29 for a page builder, called Builderall (this is a legit one), which has email autoresponder capabilities, in order to help you send out the emails. When you sign up with Builderall, you probably did it through "Bobby's" affiliate link to Builderall, so 'he' earns a commission.
The last thing you are taught to do is to promote this very product Instant Email Empire through a duplicate website, to earn commissions.
Now, in those emails that you are supposed to send to your list, those are called email swipes, as they had been pre-written for you. Those are spammy, and simply promoting Instant Email Empire itself to your list. When anyone receiving the email clicks on the link to land on the Instant Email Empire sales page like you did, you will earn a $0.20 commission, just for them clicking to that page.
And if they go on to make the 'purchase' by paying $34 for their list, you get another commission. When they set up their Builderall account like you did, they will do it through your affiliate link, so Builderall will pay you a commission.
This entire scheme has got nothing to do with Builderall, which is a legitimate platform for people who want to build their websites using nicer looking pages, with features to build up their own email list for people who subscribe to their website's mailing list, and many other cool stuff that will help in an online business.
So it is a legitimate platform, with an affiliate program, such that when people apply to be an affiliate, and use their affiliate link to promote Builderall, they earn a commission whenever a sales is made.
So Builderall is of no use to you until you know what you are doing, and want to seriously build up a website for an online business (which is in fact how I'm making money online). Once you're in the business, you will get to know of many other page builder platforms, and take your pick from there. Builderall is just one of them.
So there's nothing wrong with promoting Builderall, it's just the marketing strategy is not ethical, since you are promoting it to people who do not have a need for it, but enticing them to sign up for it by giving them the hope that it will make them money. They will be going through the exact sales pitch as what "Bobby" has put you through.
So if you had really tried this product, I'm sure you're not seeing any real results. If there is any result, even one person who signs up, some random desperate person who badly needs to make some money, and falls for this, then I'm sure you won't feel good about it too.
So just stay far away from Instant Email Empire. Instead, I'm going to show you how I'm making honest money online.
The proper way to make money online
With a website, I choose a niche area that I'm passionate about. It can be anything under the sun, my hobby, or something that affects my life a lot, like health, or kids, and so on. Then I build content on my website, so that it has got great information in my chosen niche, and the search engines see my site as the authority in that area.
When people go on search engines to look for stuff related to my niche, my site gets ranked high, because of the trust and credibility. People click on it, and find the perfect match to what they are looking for. They take my recommendation to buy certain products through my affiliate links, and I get to earn a commission.
This is the best way to make money online, because I get free organic traffic to my site. I'm serving up the exact stuff that people are looking for. I'm not blindly sending promotional emails to a bunch of people that I do not know, and who do not know me too. I get to build my own email list when people subscribe to my newsletter or some freebie, then I build and nurture relationships with my readers.
This is how a real online business should be built – around helping people and adding value, and the earnings will come at the side. Because when people trust you, they will buy from you, or rather, buy through you.
This is also a neat and hassle free way to earn, as I do not have to own any products, or manage any customer complaints. I'm simply driving business to the companies whose products I like.
Do not be put off by the idea of setting up your own website, because I started from scratch, knowing zero about website building or any technical stuff. In fact, setting it up is the easy part, it's the sustaining and topping it up with content that takes time and effort, but that is how people have succeeded on the internet, no one has ever succeeded without putting in some hard work.
So are you ready to take the first step towards making money online? Click on the link below and see the platform that helped me achieve all these.
---
Pros of Instant Email Empire
1. Builderall is a legit tool
I think this is about the only pro about Instant Email Empire that I can think of. So you do get a legitimate product when you pay for the $29 monthly subscription. But it is something quite costly to maintain if you have not even learnt the basics of setting up your own website and creating content, those should form the foundation of any online business.
Page builders and email autoresponders will come in at a later stage, when you have generated free traffic from the search engines to your site. Then you may look at beautifying your site further, and starting to add a subscriber list to your business.
Cons of Instant Email Empire
1. "Bobby" is fake
Yes, that is the major issue. The supposed owner of this product is not even real. So I really do not know what else to say.
2. Email list is not targeted traffic
The subscribers list of 5000 'targeted' traffic that you pay $34 for cannot be that targeted as "Bobby" has promised. Because if you really buy a targeted list, it cannot be that cheap.
Buying other people's email list to promote your own marketing campaign is a legit method, it's called Solo Ads. Rightfully, people on the list have agreed to receive promotional emails for certain types of products, like how to make money, or kitchen appliances offers, or cameras offers and information, etc. Those kind of lists are much more expensive than this $34 for 5000 subscribers.
So this must be a low quality list, of people who will not convert into buyers.
3. Spamming people's inboxes with stuff that they do not need
This marketing tactic is no good, and you may get complaints from people on the list. And you can't just point your finger at "Bobby" and say he claimed the list was a targeted one. Ultimately you are responsible for whatever emails that are sent out from your account.
4. 'Free' is misleading
"Bobby" said he will give you the subscribers list for free. Turns out that you have to pay $34.
He also said he will set up your email provider account for free. Turns out it's $29/month subscription.
Apart from these, you will be bombarded with further upsells, like for yet some more subscribers list. It just never ends, the greed that has intoxicated the real owners of this product.
---
Do not waste anymore time and money on scams (like Cash Formula, Million Dollar Replicator, and RetailPay.org that I have reviewed before, just to name a few).
There is no way to get rick quick. Not on the internet, not in life. It just doesn't work like that. Anyone who wants to believe he or she can get rick quick, without putting in much work, is simply vulnerable to all the vultures out there, preying on this mentality and belief that many people have.
Tell those scammers, enough is enough. Get ready for some hard work if you want to succeed.
If you're ready, I can hold your hand and show you the way…

---