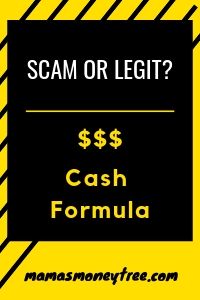 What is this newly launched (January 2019) product that is so crazy it is promising you $5K in the first 24 hours? Is Cash Formula scam? Can it be the real deal that you have been searching for so long for?
You have landed at the right place.
I will answer all these questions and more, in my honest and unbiased breakdown of this latest product.
In this article, I will provide an in-depth review of Cash Formula, through the following sections:
---
Cash Formula: Review Summary
Product: Cash Formula
Creator: "Michael"
Product type: Affiliate marketing
Price: $37
Scam / Legit? : Scam
Recommended or not? : Not recommended
Affiliate marketing is a legitimate way to make money, but it is never going to be instant big bucks like what is promised in Cash Formula. Dubious owner and proven fake testimonials prompted me to label this a scam. Stay far away from it.
If you seriously want to make money online, don't waste anymore of your time and money on anything that promises easy money with zero effort or any done for you systems.
To see how I am making my online income, check this out:

Read on for the detailed review of Cash Formula, and why I do not recommend it.
---
What is Cash Formula
Information presented in promotional video and sales page
Really? $5000 pure profits in the next 24 hours, and $100,000 in the next 30 days? Only 7 spots left?

And so the sales video went on and on about how much money you can actually earn with this done for you system, with zero to minimum effort, without divulging what the product really is and how it really works.
This is so typical of useless products that promise you can get rich fast, without doing any work, as it targets the human weakness of laziness and wanting to go for instant gratification.
In fact, there are red flags everywhere. I know because I have seen enough of this kind of products in my reviews. There were very familiar scenes scattered throughout the video that I have seen before, in other scammy products' sales videos.
And let me show you the real proof to bust this one. Look at the testimonial given by this guy in the sales video. He is actually an actor hired by the product owner, from Fiverr, to give this false testimonial!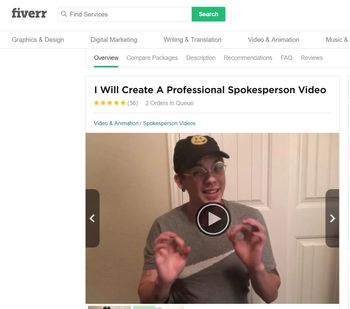 Or maybe I misunderstood, maybe he really did earn $100,000 in 30 days using Cash Formula, and yet still finds great joy and satisfaction in doing spokesperson gigs for $5 each.
I have totally nothing against him, this is his job, and it's a legitimate, honest job in which he exchanges his time and skills for the money. It is clean, hard-earned money. And he's at least a thousand times better than "Michael" who hired people to do the fake video testimonials!
I think I won't waste my time busting the other testimonials, and even the picture of "Michael" himself. I believe it's not real too, but to get busted in one instance is one too much.
If the product is really that good, why does he need to get people to give false testimonials? Can't he find even one single happy user of his product? What does that say about the $100,000 in 30 days? It's a big lie?
It is enough for me to call this product a scam.
My patience was wearing down when he went on and on about how he just wanted to help people who are in financial difficulties, because he himself went through hard times before (that was one long sob story). So he had to do all the work for you, give you a done for you system, because he wants you to succeed under his program.
Oh and the big commerce companies are mad at him for divulging this secret method, so he can't open it up indefinitely, and today he only has 7 slots available, after which you will never see him again because he is going to disappear and retire to enjoy his luxurious lifestyle. (More like run away because people are coming after him for selling them this scam?)
And guess what, he can't even be truthful about the duration of the sales video! Something that must be about 20 minutes or more, he proclaimed it to be 2 minutes and 45 seconds long at the start of the video. Just don't waste your time on this product.
I will just go straight to explaining what it really is inside Cash Formula.
How Cash Formula really works
So somewhere near the end of the video, there was some mention by "Michael" about earning affiliate commissions from some loophole of this system that is generating him tons of money.
Yes, affiliate marketing is a legitimate and profitable way to make money. In fact, it is what I am doing too, to make my online income. But never will you find a product that does all the work for you and you just wait to collect the commissions.
If someone tells you you can get rich quick, just run in the opposite direction.
If someone offers you a done for you system, also head the other way.
Think about people who succeeded on the internet. Do you think any of them made it by doing nothing? Nothing in life is free. You want to make it big, you have to put in effort big time.
I didn't waste my time buying Cash Formula to see what is really inside. A scam is a scam. It must be some outdated training on affiliate marketing, that has been recycled, when in fact, much better quality training and information can be found all over the internet, you just need to search in the right places.
The proper way to make money online
The internet is full of noise, con men trying to bank on the human weakness of instant gratification, harmless people trying to offer suggestions that may or may not work.
One thing is for sure. An online business has very low barrier to entry, as start up cost is close to nothing. So competition is extremely stiff. If you want to succeed, you just have to learn the proper way, and stick with it, do not get distracted by shiny objects tempting you along the way. And when many others have fallen out of the game because they are impatient for success, then you would have outlasted them, and you will reap the rewards.
I can show you the path that countless successful internet marketers have trodden on, on their way to success. I am following this path. I know it works because I am seeing the results. I know it works from the community of real people that I am a part of.
Making money online is not an easy route to take. It can make things that much easier by having a community that support each other, all taking the same route towards success, but each running his or her own online business.
I suddenly realised this may sound like an MLM business opportunity, but don't worry, it is not. I personally do not condone the MLM way of running a business.
So if you would let me, I can show you how I built up my online income stream from scratch. Check out the link below:
---
Pros of Cash Formula
1. 30 day money back guarantee
This basic refund policy is in place, for people who are dissatisfied with the product. And sadly, this is the only plus point that I can think of.
Cons of Cash Formula
1. Dubious owner, fake testimonials
Need I say more…
2. It is not going to work like he said
No system is going to earn you the big bucks instantly, not even anything that costs $1K. To make your online business work, you have to build it up yourself. That is what a business is all about.
Ultimately you are going to deal with real people, they are your customers, they are the ones deciding whether or not to trust you enough to buy from you or take your recommendations. You are not dealing with robots.
So trust and relationship is important. And nothing can replace that. No one can do the hard work for you. Copy a sales pitch that is not yours, and your fan base will know instantly it's not you. Use a system that recommends people to crappy products that were not handpicked by you, and you lose all your following instantly.
So if you are not prepared for the hard work, then running your own business is not for you.
3. Upsells
Like any other product whose sole purpose of existence is to line the creator's pockets with cash, Cash Formula is no different. Expect upsells that promise you faster, bigger earnings. Still banking on the greed in human nature.
See how much an affiliate promoting this product can expect to earn: $398.25! With the multiple upsells!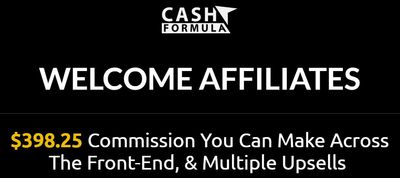 ---
I absolutely do not recommend Cash Formula. It drains your time, money, and energy, like some of these products that I have reviewed: Million Dollar Replicator, RetailPay.org, and Contenu, just to name a few.
Among many legitimate ways to make a full time income online, I find affiliate marketing to be the best because I do not have to own or create any products, no inventory or deliveries to deal with, no customer complaints to handle.
With affiliate marketing, I simply recommend people to some great products in the niche that I choose. When they click through my affiliate links to make purchases, the suppliers and vendors reward me with a commission, for driving customers to them. It is win-win for everyone.
I get the flexibility to work from home, in fact from anywhere I want, at anytime I prefer. And this can be built into a passive income stream. Let me show you how it works exactly:

---