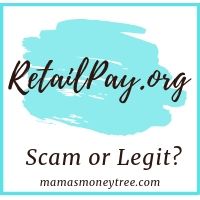 Are you trying to find out what is retailpay.org because you are getting phone calls or texts, or emails from people promising you high pay by working for just 1 to 2 hours each day, and they are directing you to this website?
You are at the right place! Kudos to you for doing your own research, and not simply believing that anyone tells you at face value. Especially these days, there are so many scams and frauds around, you really can't be too careful.
So can you really earn $14,000 per month? Or is this retailpay.org just another scammy product that promises the moon but fails to deliver? Or is it much worse – an outright scam that blatantly cheats you of your hard-earned money, and running away without delivering anything it promised?
In this article, I will provide an in-depth review of Real Profits Online, going by the website retailpay.org, through the following sections:
---
RetailPay.org: Review Summary
Product: Real Profits Online
Website: retailpay.org
Creator: unknown
Product type: Work from home opportunity
Price: $47 + upsells
Scam / Legit? : Scam
Recommended or not? : Not recommended
Retailpay.org is a website that people are directed to, promising them a work from home opportunity. From that website, they are then linked to another page with a fake news, or the Real Profits Online sales page, which is the real scam. After paying for a product that they never get, when they try to contact the company, no one can be found, the phone number provided is not even real.
So this is a legitimate scam, through and through. Stay as far away as you can. There are a few websites that also lead to this scam program called Real Profits Online. So be wary when seeking work from home opportunities, or any make money opportunities in general.
I am earning my online income right now, in a way that allows me to build it up into a passive income. The work I put in now will translate into a bigger future income, which is self-sustainable. So I can free up the time for things and people that I love, or just use it to start building up another income stream.
This is not MLM, in case it's what you are thinking. I don't have to sell anything to anyone, I don't have to recruit anyone.
Check it out, to see how I make money online:

Read on for the detailed review of RetailPay.org, and why it is a huge scam.
---
What is RetailPay.org
In trying to answer the question: what is RetailPay.org, I dug right into it, excited to uncover the dark secrets that I was hearing about.
RetailPay.org is a very new website that was just set up in August of 2018. From it, they link you to the Real Profits Online page (which has been around for some time now), or some fake news on 'CNN', reporting how people are working from home and earning tons of money with Amazon, simply by putting in a few hours each day. The method they mention is affiliate marketing.
Affiliate marketing is a legitimate way to make money online. In fact, many successful affiliate marketers are earning tens to hundreds of thousands each month. But there is no magic to those earnings, it's all good old hard work. I make my online income this way too, I will get into that later.
For now let's focus on our review of retailpay.org: So back at the Real Profits Online page, they will ask for your information, like your name, email address, and phone number. And you will soon start receiving marketing campaigns of other equally dubious products, as your information has been sold or rented to other marketers trying to sell you their products. Unethical, but still, nothing more than a nuisance so far.
Here is where they say it:

Upon probing a little into easykits.org, which is the support site address as seen above, we found lots of complaints and negative reviews on it:
Another red flag: why would the support for RetailPay.org be on another website that sounds totally unrelated, I really have no idea. All I know is that for any legitimate business, support is offered within the company's website itself, never on another website with a totally different name. It is a matter of accountability for their own products and towards their customers.
So on the sales video, you are told that you do not need any skills or experience to make this work. You can supposedly make a full time income just by working a few minutes a day. Doesn't it sound absurd to you? Don't they realise it does sound absurd to everyone?
Once you get tricked into this get rich quick scheme, by parting with your $47 to buy the front end product, which is promised as a done for you website on which you can do your affiliate marketing, you will be bombarded with upsells, where they try to get you to part with even more money!
And yet, they give you NOTHING in return. This is the worst part. People who have innocently fallen for the scam have not even been able to access the members' area after a few days, and they could not contact anyone from the company, the owners have just disappeared, not that we know who they are even.
You can see quite clearly by now, RetailPay.org is an outright scam. Blatant and in plain sight… what audacity!
One thing is for sure: they will be shutting down pretty soon, with this extent of fraud.
The proper way to make money online from home
To me, this is the best way to make money online from home, and that is why I have chosen to do it this way: affiliate marketing.
In essence, I obtain my affiliate links from the companies whose products I want to promote, place these links on my website. When my website visitors click through these links to purchase the products, I earn a commission from the companies.
Simple concept, win-win-win situation for everyone involved. I promote products that I know are of great quality and value. My website visitors get recommended these products to help resolve certain issues that they are facing, at no extra cost. Companies that create these great products get more business, so they reward me with a commission.
Depending on the niche that you choose, higher priced products will likely earn you more commission. Also depending on the companies, some offer higher commission than others.
And then there are companies like Amazon that has millions of products for people to shop. As long as your website visitors land on the Amazon page through your link, you get to earn a commission off their entire shopping list, not just the product that you promote. That is the beauty of being an Amazon affiliate.
Check out the exact way that I earn through affiliate marketing:
---
I absolutely do not recommend RetailPay.org.
And I do strongly recommend this way that I make money online, working from home: affiliate marketing. This method that I am using is the way to build a passive income, because I don't have to go chasing after the money, looking for traffic to come to my website.
I focus on building up content on my website, that will help my readers solve certain problems and provide information and resources in the niche area. When people go on search engines to look for advice or solutions to their problems, they land on my website, because I get high ranking in search results.
How do I rank so high? By consistently producing authentic, helpful content, which my website visitors will spend time interacting with. Search engines then see my site as the authority in the niche area, so will keep sending traffic to my site.
This traffic is called free organic traffic, and is the most precious kind of traffic because what they are searching for and what my website can provide are the perfect match. That is how they landed on my site in the first place. So they are the most likely to take my suggestions, buy the recommended products, and I get to earn my commission through affiliate marketing.
Free organic traffic will last forever, because as long as the website is up to date, search engines will always see it as the authority. That is how passive income can be built up. Once your website gets established and earnings become full time or even more, you can ease off on your content creation, but yet traffic will continue to land on your site, generating your online income, which has now become a passive income stream.
I learnt all these through an awesome training platform. It has a free starter members area, which you can explore, totally risk-free because you do not even have to enter any credit card details. You get 10 lessons and 2 websites, absolutely free. Take a walk in there, and you will understand how life-changing it has been for me, and can be for you.

---