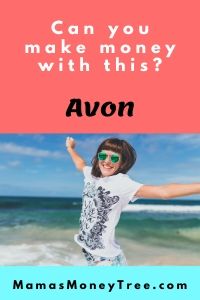 Is Avon a scam? Will joining this oldest MLM company dealing with cosmetics be the break you so badly need from that 9 to 5 job?
First and foremost, I need to make it clear that I have no association with Avon, so you can be sure I will be providing the most honest and unbiased breakdown of Avon's products quality, as well as their business opportunity.
Is Avon really the pyramid scheme that you have been hearing about? Or can you safely join them as a sales representative and expect to profit from it?
How much time and effort do you need to put in to start earning? Will the income be even worth your time?
Join me as we answer all these questions and more, in this in-depth look at Avon.

Without further ado, let's dive right in now!
---

Avon: Review Summary

Product: Avon
Creator: David McConnell
Product type: MLM (multilevel marketing) company in the cosmetics niche, branching out into personal care and skincare products too
Price: $10 registration + choice of starter kit ($25, $50, or $100)
Scam / Legit? : Legit
Recommended or not? : Not recommended
Avon sells mainly makeup, skincare and personal care products, among some other stuff.
The strong point about this company is its low pricing compared to other MLM companies. This makes its products affordable to many, so sales are based on a real demand. Entry level for sales representatives is also at a very affordable price, one of the lowest in the MLM industry.
Unfortunately, the market is already very saturated with Avon sales representatives. It will not be easy to recruit new reps to build your own team at all.
Moreover, when it comes to retail of the products, Avon does not protect its sales reps well, since anyone can simply buy from its main online store. This breaks away from the direct sales philosophy, hence it is difficult to make any profits being an Avon distributor.
---
---

What is Avon

Let's start off with a brief history and background of this oldest MLM company on Earth.

A brief background of Avon

Avon, with a tagline of "THE company for women", is ironically founded by a man.
David McConnell started the company in 1886, more than 130 years ago!
It was an accidental start to this company. David was actually a book salesman, making door to door calls, trying to sell books. He made some fragrances to give away for free, as "door-openers", to start the conversation and get his customers interested.
As it turns out, the housewives were more interested in the fragrances than the books. So he went back to his office, started making perfumes, and the rest is history.
Avon now has its headquarters based in London, and is currently led by CEO Jan Zijderveld.
With an annual revenue of $5.7 billion worldwide, Avon is second only to Amway, in the direct sales sector.
This is truly an amazing feat, even though in recent years, Avon is seeing a decline, as it fails to catch up with modern technology. This sales figure of 2017 is in fact a drastic drop from its 2011 revenue of $9.23 billion.
The saving grace is that Avon is heeding the call to modernize its methods, one initiative being its ebrochure, which is made available in 12 countries. Besides failure to modernize its sales methods, its financial toll also comes from deviating too much from its core business of cosmetics and skincare.

Avon products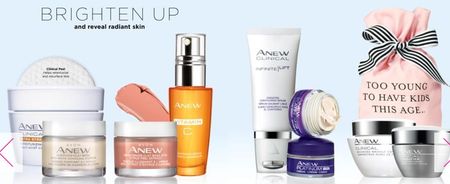 Avon has a whole wide range of product lines, mostly catering to women, with a small range of products now catering to men as well. These are the main categories of items that it carries:
Makeup – powder, lipstick, eye liner, nail polish, brush and accessories, etc.
Skincare – moisturiser, cleanser, toner, scrub and mask, eyecare, etc.
Bath and body – body wash, bubble bath, deodorant, shampoo, hand cream, insect repellent, etc.
Fragrance – perfume, candles, deodorant, etc.
Jewelry – earring, necklace, bracelet, watch, ring, etc.
Fashion – clothes, intimates, footwear, handbags, accessories, etc.
It even has branches in the wellness and home niches. So it is evident how much Avon has tried to diversify, which may or may not be a good thing.
The next few years will be telling of whether this mega MLM company has taken the right step in putting its eggs into so many baskets.
In general, reviews on Avon products, especially in its core business of makeup and skincare items, have been mostly positive.
Of course, no matter which company it is, there will be some negative reviews about its products, in instances like causing rashes or allergic reactions, drying out the skin, etc. But considering the vast amount of sales it is generating, the number of complaints are actually quite small.
Not only is Avon producing great quality products, what I really love about them is the affordable pricing, making it available to the masses, creating a real market demand for their products.
This is a completely different way of operating an MLM business from most other companies using this business model, as most tend to place an exorbitant price tag to their products, in the name of product supremacy.
Don't go and sign up as Avon's sales rep just yet. Although low pricing is a fantastic thing for its consumers, it spells a different story for its sales representatives, or distributors, whatever you may call them.
---
---

The Business Opportunity in Avon

In all my reviews of other MLM companies, I always lament about their high pricing, resulting in no real market demand.
So they have to use their incentive structure, a.k.a. the compensation plan, to draw in artificial demand created by their distributors, who end up supporting the company financially as they are charged a high registration fee, on top of a minimum monthly purchase requirement, which can burn a hole right through their pockets.
So the fact that Avon products are actually reasonably priced is very refreshing.
Since it supports real market demand, then sales reps should be able to earn the fair way: through retail commission, and get rewarded based on the amount of sales they generate.
If you are already with Avon, and would like to up your retail sales volume, you need to get online. Not just with any replicate website provided by the MLM company, but with your very own website.
If you have not noticed it yet, do a simple search of any product line of Avon.
Distributors making the big bucks are the ones up there, showing up when people search for Avon and its products.
You will be doing your business a great disservice if you do not pick up this set of high income skills.
Check out the exact method here:

But there is a major issue with the way Avon runs its marketing. We will reach that part in a while, after this part on how to register and start making money.

How to make money with Avon

Just as with any other MLM companies, there are two ways to make money with Avon:
Retail commission: as a sales rep, whatever Avon products that you sell to people earns you a commission between 10% to 50%.

This sounds rather lucrative, but remember Avon products are quite low priced, so you won't be earning a lot unless you have a substantial sales volume.

As you move up the ranks, your commission rate increases, so you start off at about 20%. The exact commission rate also depends on the product category.

Commission and bonuses from recruitment: As you recruit people to become sales reps like you, they form your downline, and you build your team. As the team makes sales, and get more new members into the team, you get to earn more.

How to qualify to start earning with Avon

First you pay a $10 registration fee, this is extremely low when compared among all the MLM companies.
So they make the entry barrier low, which means there will be many sales reps around, the real figure being close to 6 million.
Low entry barrier is good, as you pay a small amount. But it also means stiff competition in trying to sell stuff to people, as the market is very much saturated. The person you approach is more likely than not to already have someone promoted Avon to her.
On top of the registration fee, you also have to buy a starter kit. You can choose one out of the following three packages, all including products which are valued at higher than what you pay for.
Quick starter kit: $25, with products valued at $80
Advanced starter kit: $50, with products valued at $140
Premium starter kit: $100, with products valued at $400
You will also need to purchase brochures and marketing materials, on a regular basis, in order to stay in the business.
Although the amount is not much, but remember your earnings are also not much because of the low price tag on the products, so it is in fact very easy to go into the red each month.
The up side of the Avon business is that there is no minimum monthly purchase requirement on your part to buy in their products, which is another refreshing point. As many MLM companies require you to spend a minimum sum each month on their products, setting you back $100 or $200 or even more each month, which is the artificial demand they create for their goods.
---
---

The problem with Avon marketing

Since everything sounds so good: low start up cost, low recurring cost on brochures and other marketing materials, then why aren't Avon sales reps making money?
Besides the products being tagged at a low price and a saturated market since it has been around for 130 years, in combination with 6 million representatives spread all across the world, there is another main issue posed by Avon itself that is simply disadvantageous to its sales rep.
That is: anybody can buy its products on its website, they do not have to go through any sales rep. To make it worse, people can even just sign up to be a sales rep on their main website, without providing any referral code.
At least this is from what I can gather.
If you are an Avon Rep reading this, and know this information to be wrong, please correct me.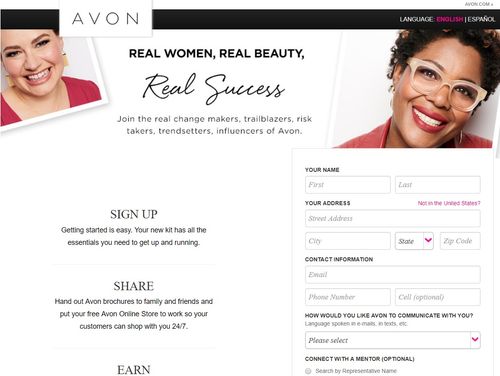 This is bad for existing sales reps, as they are not being protected.
Most other MLM companies require new members to provide a referral code when they join, so they have to sign up through someone. They have to join as someone's downline, join their team, and that benefits the team.
And since their products are so affordable, people will happily shop online, they do not have to go through you (as a rep) at all, they can shop at their own convenience, as and when their makeup powder runs out.
Why would they take the trouble of going through your URL just so you can earn your commission, unless they are people close to you and willing to support you and your business.
Now do you see why it is so difficult to make money with Avon, even though their products are good and cheap, and cater to real market demand?

Avon gets the best of both worlds

In teaching its sales reps how to make money with the organization, Avon still heavily focuses on the recruitment aspect, and not the retail aspect.
This works great for the company because recruitment comes at zero cost to them, and makes them earnings from registration fees, and recurring sales of marketing materials.
While at the same time, sales reps are doing all the free advertising for them when promoting their Avon 'home businesses'.
On the other hand, Avon does its own retail marketing on its website, generating massive revenue without having to pay out any commission to their sales reps.
With this hybrid approach, Avon wins no matter what.

Forget about MLMs

Avon seems different on the surface, but at its core, it is no different from any other MLM.
It just wants to make money for itself.
It sets up a system that only benefits its owners and a few of the top ranking sales reps who joined at the right time, when the company was just starting out.
That will always be the way for any MLM.
And then they show you those professionally-taken pictures of supposedly successful women, beaming away, leading the carefree luxury lifestyle that everyone has the opportunity of attaining, simply by joining them.
Forget Avon, forget any MLM. Forget about working your butt off to feed the mansions, limousines and yachts of those at the top.
Build your own business. That is the way to financial freedom.
Build something that centers around your own passion. Then monetize it.
The online opportunity is limitless these days, countless people have succeeded and become millionaires through the internet.
Of course it is definitely not easy. And that is why it is critical to pick up high income skills on the internet – driving free organic traffic to whatever you are promoting or selling.
Once you master this, you will have the world under your feet.
Let me show you how I am making my online income working full time from home. Check out this button below:
---

Pros of Avon

1. Low start up cost
The registration fee of $10 is extremely low, so are the recurring fees for brochures, flyers, business cards, and other marketing materials.

2. Great products at affordable price
The products in Avon's core business, makeup and skincare, have been great all these 130 years, with no major issues among people who use them. The price is very affordable and reasonable too.

3. Well established company
With more than 130 years behind it, and the latest revenue figure of close to $6 billion, I'm sure they are not something to be trifled with. It should be a rather stable enterprise, at least in the foreseeable future.

Cons of Avon

1. Saturated market
Because it is an old and established company, with 6 million sales representatives all across the world, people who could have been persuaded to join them are already sales reps themselves.
People who love their products are already buying through the sales reps that they are familiar with, or even doing their shopping online.
So there is really very little potential for new sales reps joining Avon.
Of course you can try to sell to your family and friends, but either they start to shun you, or their cupboards get filled up pretty quickly, probably enough to last them a few months. Where do you go to get your customers or leads in the meantime?

2. Low profit margin
Products priced affordably also means you cannot earn too much on the commission, even though the commission rates are respectable.
So you could be making a number of sales, but after accounting for the cost to buy the marketing materials, it may amount to less than $100 a month of profits, which is a very realistic figure, coming from someone I know who is involved in this business.
I'm not sure how many hours she spent talking to people, convincing them to buy or to join the business opportunity, to earn this amount.
But to me, this is definitely not a productive way of spending your precious time.

3. Products easily accessible on Avon's website
How do they expect you to make any sales, if everything is easily accessible on their main website? And for affordable daily necessities like these, people just shop on the go, or as and when they realise they have run out of those makeup remover at home. They may not turn to a sales rep even if they might have bought it through them before.

4. As with any MLM, majority of sales reps do not make money
Generally, MLMs tend to be rather elusive about the income statements of their sales rep, for obvious reasons. It wasn't easy to find an updated one, so here is the income statement from Avon's 2015 annual report:


These are the earnings. $1000 for the whole year. That's like a bit more than $80 per month.
And we have not discounted the marketing materials costs yet.
So you see, it's totally not worthwhile to invest your time with Avon, or any MLM for that matter. With Avon, at least you won't be making a huge loss, since the recurring cost is a small amount.
---

Is Avon a scam or can it really be your full time income?

Avon is definitely not a scam. It is a well established enterprise that is making the big bucks in the industry, but sadly the big bucks do not go to their sales reps.
So do not waste your time on them, as it is very unlikely that anyone will be making a full time income with it.

An Alternative

I do not recommend Avon. But look at their successful founders, and of other MLMs too like Amway, Jeunesse, MakeUp Eraser, Color Street, and Arbonne, to name just a few.
They carve out their own businesses, and that is how they succeed. 
I am not asking you to set up your own MLM company, because I personally feel it is not ethical, the way MLMs operate.
But to set up your own business, is very possible.
In fact it is extremely simple to own an online business these days, and make a full time income out of it.
Do not worry that you know nuts about starting an online business. I knew nuts too, when I first started out from scratch.
I was lucky enough to come across this amazing training platform that taught me everything I know today, from setting up a website, finding my niche, getting traffic to my site, and monetizing it.
All the while adding value to my website visitors, so that it's win-win for everyone.
I do not have to own or create any product, no headaches about inventory or delivery, no customer complaints to deal with.
Low start up cost, unlike the huge capital investment required of a brick and mortar business.
The best thing is, I know it works because I did it. If you are interested to learn how the business model works exactly, let me show you how it is done:

And for reading all the way to the end of the post, I believe you have it in you to make this work. Here is your FREE PDF Guide: 4 Simple Steps to Making Money Online. Fill in your details to claim it:
If you have any concerns or questions regarding this Avon review, do comment below, and we will start a conversation from there.
---