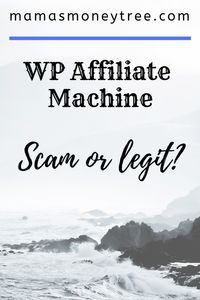 Is this another plagiarism tool that promises you fast cash rolling in, while at the same time jeopardising your website's ranking? If you are here to find out whether WP Affiliate Machine scam is real, you are at the right place.
With no association with WP Affiliate Machine, you can be sure my analysis of it will be an honest and unbiased one.
Can you really launch a site in 60 seconds, and start earning commissions without writing content or doing any manual work?
In this article, I will provide an in-depth review of WP Affiliate Machine, through the following sections:
---
WP Affiliate Machine: Review Summary
Product: WP Affiliate Machine
Creator: Ankur Shukla
Product type: WordPress plugin, with downloadable content. Plagiarism tool.
Price: $9.95
Scam / Legit? : Legit (only because you do get some content)
Recommended or not? : NOT recommended
WP Affiliate Machine is a WordPress plugin where you can schedule 30 pre-written articles for downloading. These are reviews of digital products on the affiliate networks like JVZoo, WarriorPlus, and ClickBank. You simply enter your affiliate links for each network into the plugin, and schedule the articles for posting, to start earning.
Not only will WP Affiliate Machine not work for you, it will actually jeopardise your search engines ranking, and erase whatever hard work you had put in prior to this. Please stay far away from this product, unless you simply want to make reference to how people do product reviews, which can be learnt for free simple by searching for them on the internet.
Like whatever else we do in life, an online business must be run honestly and integrity. Trying to take short cuts, being lazy to even produce your own content will simply lead to your own downfall.
Good things do not come easy. If they come easy, they are no good for you.
If you don't want to waste anymore time on useless products, check out my recommendation below, to learn to make money online the proper way:

Read on for the detailed review of WP Affiliate Machine, and why I do not recommend it.
---
What is WP Affiliate Machine
Information presented in promotional video and sales page
"Create and launch an affiliate site in just 60 seconds, start earning commissions from JVZoo, WarriorPlus, and ClickBank, without writing any content or doing any manual work."
Do you believe this is even possible?
What I find it even harder to believe is the method that they are teaching you…
Download their WordPress plugin, which contains 30 pre-written reviews of digital products from the three affiliate networks, and start collecting your commissions.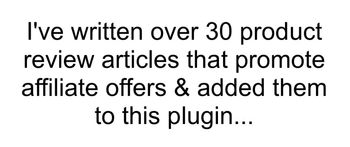 I am just speechless. Why didn't I think of this brilliant idea? That would have saved me hundreds and hundreds of hours, toiling away at my computer, just writing content!
PLEASE DON'T DO THIS, SERIOUSLY.
Plagiarism will deal a serious blow to your website
I was just joking, simply appalled by the atrocity that is going around the internet these days. This is plain old plagiarism, nothing more, nothing less. And I can guarantee you this: the search engines will penalise your website for this. So please stay far away from this product.
Do not be fooled by Ankur's income statement that he showed in the sales materials: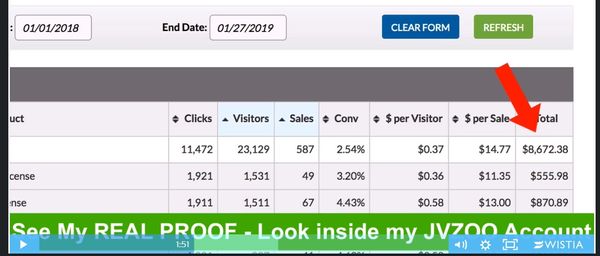 He built up his own website flooding it with unique content, that is how he got so much free traffic in the first place. He claimed that he generated more than $8K profits from the more than 23K visitors that flooded his website, just by uploading one article from WP Affiliate Machine each week.
That is absurd.
Free traffic is no magic. It is pure hard work. 
Traffic is built up over months and years. Whatever content you produce on your website accumulates and gains you the authority and trust of search engines. No 23K visitors will ever come overnight, on an affiliate website that you launched within 60 seconds.
Those successful internet marketers that he named, yes, I know their names. They are birds of a feather, all in the same business of creating products that promise fast and easy money, to lure unsuspecting newbies into parting with their hard-earned money. So do not fall for this.
Their success did not come overnight. They reached success the proper way, by toiling and building up content, and over months and years, gained authority and trust of the search engines enough to get ranked on the first page the moment they produce a new article now.
Unfortunately, they then use this success to go around making people think they succeeded using those crappy methods. Because that is how they can earn the big money, everyone is looking for the easy way out. If they told the truth about what it takes to succeed, nobody will buy it because it takes too much time and effort.
Ask yourself, how much do you want success?
Ok, so my point is, if you still want to look for shortcuts to success, then good luck to you, there are hundreds of products out there promising you success within 24 hrs, or within a week. Go ahead and try each of them.
If you're here because you really want very badly to succeed making money online, and you're willing to accept that it takes hard work, I can show you the proper way. There is no easy way, the hard way is the only way. It is proven, successful internet marketers have all walked this path.
But only those with grit and perseverance will eventually start earning and building a full time income online. Because most people do not have the patience to see results, and they end up going back to their day job, working as an employee, trading their time for money.
If you will let me, I can show you how I built up my online income:
---
Pros of WP Affiliate Machine
1. Real owner
Well, at least the owner of this product is a real person, and he is willing to put his name and reputation out there, so I think he deserves some credit for that.
2. 30 day money back guarantee
This basic refund policy is in place, for people who are dissatisfied with the product.
3. You do get your 30 product review articles
Despite the fact that you should not post these articles on your website, you could probably just use them as a reference in writing good product reviews, if you have already bought it. But of course, great reviews can be easily found on the internet, if you just do a simple search for it.
Cons of WP Affiliate Machine
1. Only works in the internet marketing niche
This product only works in the internet marketing niche, as the three affiliate platforms involved here: JVZoo, WarriorPlus, and ClickBank, all mainly deal with digital products. And that brings us to one big drawback: although these are very established and legitimate affiliate networks, unfortunately the quality of products does not seem to be very well governed these days. There are so many crappy get rich quick products swarming these platforms.
So it is really not a good idea to have Ankur decide for you which product reviews to include on your website. Because it simply means you endorse those products, as your affiliate links will bring your website visitors to purchase those products. Your reputation is at stake. Imagine recommending a useless product, which turns out to waste their time and money. You would lose all the trust of your followers. So you should always make sure you have absolute control of what goes on your website.
2. PLAGIARISM
This is the biggest issue with WP Affiliate Machine, which makes it a no-no right away. No matter how great the content is, how good the SEO (search engine optimisation) is, plagiarism is plagiarism. There will be hundreds of duplicates of this content all over the internet, depending on how many copies of it they sell. So just steer clear of this.
3. Traffic
There is no way anyone is getting 23K free traffic from search engines by posting one article each week, unless they have been building up their website for years, and it is already established in the good books of the search engines.
It is possible for your website to get there some day too, but it takes time and lots of hard work. That is precisely how these internet marketers have succeeded. The income statement he showed was from his legitimate website that he poured his sweat and blood into, not from some stupid 60 seconds website that published 1 duplicate content per week.
4. Upsells
Like any other product made to line the creator's pockets with cash, you can be sure once you buy the front end product, even before you have any chance to try it out, you will be pushed the upsells, which always claim to make you bigger profits faster. Yes, only the product creator's pockets will fill up faster, if you buy into these upsells too.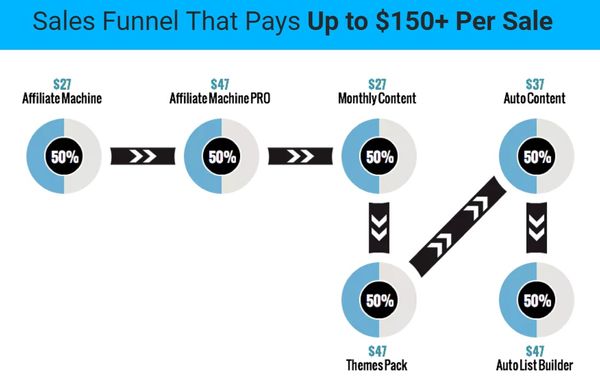 So you see their affiliates can actually earn up to $150 in commission, if people buy these upsells through them.
---
I absolutely do not recommend WP Affiliate Machine. It will be a waste of your time and money, like some of the other products I have reviewed: Contenu, Easy Cash Club, and Auto Chat Profits, just to name a few.
In the online world, it's the hard way, or no way.
Many people get lost in the noise and chaos on the internet. And they get confused by all the information overload, on what it takes to succeed. So they try different things, fail, try another method, don't see results, get frustrated, and many give up.
As long as you are willing to put in the hard work, what you need to do is to learn the proper way, and keep going at it until you succeed. Take a look at the training platform and community that brought me to where I am today. Without it, I would still be going round in circles. With it, I am shown one straight path to take. Simple, but not easy.
Looking back, it really helped a lot to know that the direction was right. Because there is immense support from the community of many highly successful internet marketers who are in there to coach the newbies, set up webinars and tutorials, share openly with anyone who is willing to learn, on top of the very structured and comprehensive training modules.
I followed the training, took action, stuck with it, and I know it absolutely works because all the traffic I get are free, from the search engines. I do not have to go and look for traffic, they will come to me. Change your life now, give yourself a chance, and let me show you the way…

---