If you are here to check out what is Contenu, you are at the right place! I was highly suspicious when I first heard about this product that could give you instant 100% unique content, without you having to write a single word.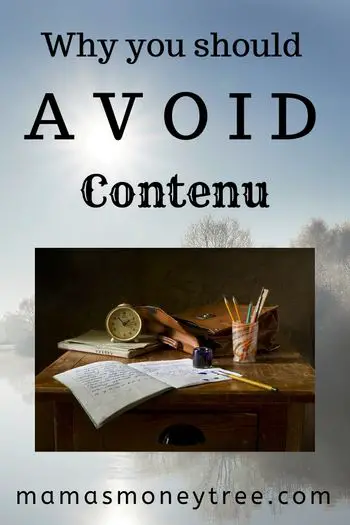 And boy, was I right! This content generator will not work for you. Please stay far away. It is going to do your online business more harm than good.
Let us dive right into it and see why, through this honest and unbiased review.
In this article, I will provide an in-depth review of Contenu, through the following sections:
---
Contenu: Review Summary
Product: Contenu
Creator: Mark Bishop and VenKata Ramana
Product type: Content creator, a.k.a. content scraping software
Price: $22.57
Scam / Legit? : Legit
Recommended or not? : Not recommended
Contenu basically scrapes content off public YouTube videos that you identify in your own niche, and scripts it into a blog post. It allows you to churn out content that is copied from others' hard work, and is not your own.
Do not fall for such products in trying to get your search ranking up, because it will most certainly backfire. Once the product goes out, everyone will be plucking the content off YouTube videos, there will be duplicates all over the internet, and all these websites will be seen as plagiarising, which will be heavily penalised by search engines.
So, for the sake of your own reputation and to safeguard all the genuine hard work that you have put into your business so far, please do not jeopardise it with your own hands.
Yes, content is king, but it has to be original, authentic content. Like every other aspect of how we live our lives, let's conduct our online business with utmost integrity and honesty. This is the path successful internet marketers have taken. No one has ever succeeded by scraping content off others' hard work.
If you don't want to waste anymore time and money on useless products, check out my #1 recommendation here:

Read on for the detailed review of Contenu, and why I absolutely do not recommend it.
---
What is Contenu
To answer the question: What is Contenu?, let's first check out what the creators have to say about their product.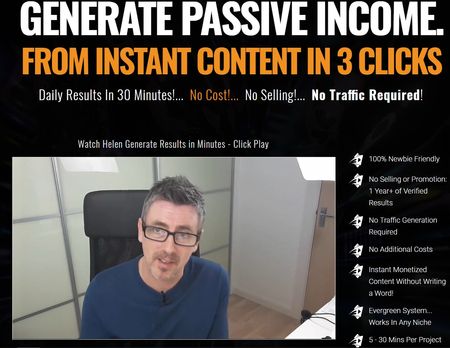 Information presented in promotional video and landing page
Apparently, Helen, a single mum of two, makes $916 per week using Contenu to generate unique content for posting. With this system, you get instant content in 3 clicks. No cost, no selling, and no traffic required.
It is 100% newbie friendly, and is an evergreen system that works in any niche. It allows you to instantly monetise content without having to write a single word.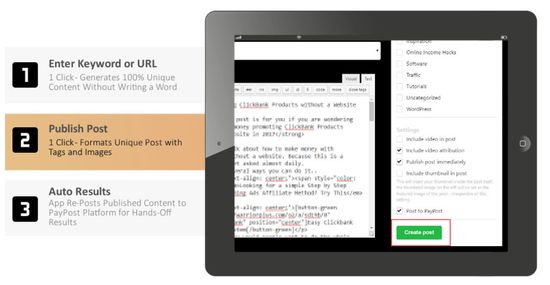 In these 3 steps:
Enter keyword or URL (of the YouTube video)
Publish post
Auto results (the app reposts the published content to PayPost platform for hands-off results)
You earn while you build your business day by day. Content is king. Good content ranks on search engines, bringing you free organic traffic daily without lifting a finger.
Contenu extracts the spoken word from any YouTube video and turns it into unique readable text in less than a minute. Simply type in your keyword, or the URL of the YouTube video that you want extracted. The app then builds you a fully formatted blog post, which you then publish.
This content is then republished on PayPost platform, where you can profit by simply publishing content. You do not need any traffic at all. It is a social network platform which supposedly pays you for posting.
There you have it, this is Contenu. I'm amazed people can actually try to sell products like this.
Why Contenu will not work for you
Contenu will not work for your online business, because it is plain plagiarism. It is teaching people to steal off other people's hard work on YouTube. It is simply not the way to run a legitimate business. Running an online business does not mean that we can hide behind the screen and just resort to unscrupulous means to make money.
Think about how you really want to live your life. If making money is more important than your integrity, then good luck to you, you have no need for what I have to offer here.
Mark (the product creator) himself did not succeed off stealing people's content. He did it with plain old hard work, and then chose to use the authority that search engines have given him to lead people astray. Why?
The answer is simple.
If he tells people that the way to success is to slog and sweat at it for months or maybe even one to two years before you can finally earn a full time income, who will be willing to take his advice? People will go off looking for easier and faster ways to make money!
So that is precisely what he is doing right now, offering easier and faster ways to make money, so that many newbies and struggling marketers will fall for it, and he himself gets a much bigger paycheck than directing people in the correct path.
Do you see the big picture now?
Content is king. He is totally right in this statement. That is what has been drummed into my head too. That is what every successful internet marketer knows.
But there is no way you can churn out great, unique content without lifting a finger. You simply cannot get around pure hard work, because that is what search engines want to see, before they will send loads of free organic traffic to your site.
I know it works, but it takes time, patience, and effort. If it were so easy, then who exactly is to rank on page 1? Search engines only want the stayers, not those who will give up after not seeing results for 3 months. Outlast your peers (or competitors, whatever you want to call them) in the niche, and you get the approval of the search engines.
Keep toiling at it, even when it doesn't look like this online business is bringing you anywhere, only then will your first commission start to come in. When you are about to give up, tell yourself that you are actually so near, if you give up now, you will never know how close you were.
To be a successful internet marketer, you need a winner's mindset. The attitude that nothing can get in your way, and you just have to barge forward and go for it. The honest and proper way. I can show you the way, the path is for you to walk. It is the exact same path that countless successful internet marketers have tread on.
It is also the reason why so many people fail. It is simple, but not easy. Simple concept, not easy to put into action. Because it is human nature to crave instant gratification. I know it, I have felt it before.
That is why it is essential to have a whole community behind you. A community where everyone is working towards their online success, in an honest and upright way, aiming only to add value to their traffic.
When you are genuinely trying to help your website visitors, your visitors know it. Through the way they interact with your website, search engines know it. So your business picks up, you get motivated to create more great content, and when the effect snowballs, you will get traffic that you cannot stop.
In this community that I'm a part of, there is awesome training in there, which is what I used to learn everything about internet marketing from scratch, including how to set up my own website. There are the experts, people making tens to hundreds of thousands each month, hanging around to guide newbies, setting up webinars and tutorials, offering their advice and support generously.
Every now and then, people on the platform would post about their success story, which really helped to spur me on. I would not be where I am today without this training platform and community. Do check it out, it can change your life like how it has changed mine…
---
Pros of Contenu
1. Real owner
The product owner is a real person, established in the internet marketing niche. So I guess there would be some accountability and credibility.
2. 30 day money back guarantee
This basic refund policy is in place, for people who are dissatisfied with the product.
3. Script YouTube videos for your personal reading
You can use the software for legitimate purposes. For example, if you found a really good video in a subject of interest, you could use the software to script it, for your own future reference or reading pleasure.
Cons of Contenu
1. Plain plagiarism
Do not do this, if you really want to succeed online. Have some pride and write your own content.
2. Not the promised income from PayPost platform
Seriously, $900+ a week from a platform that pays you just for posting? Who are you kidding?
3. Conversion of spoken word into writing may not be accurate
I am sure you have seen before those ridiculous subtitles that simply do not make sense, precisely because they are translated from the spoken word by some software, and not a real person with enough sense to bring context to the video. Such that even when some words may sound muffled or blurred, but taken in context you can quite confidently make out those intended words. While the same job given to a software may just throw a bunch of gibberish back to you.
4. Upsells
Like any other product created to make money for its owner, you can be sure Contenu is full of upsells that will be sold aggressively to you once you purchase the front end product. Here they are:
Upsell 1: $37 – Contenu Pro (for unlimited extraction of content from videos, and unlimited re-posting)
Upsell 2: $37 – Contenu Master (schedule your posting, so everything becomes fully automated)
Upsell 3: $198 – Contenu Guru (allows sites to be sold with plugin installed)
Upsell 4: $67 to $117, depending on the reseller package that you take.
---
I absolutely do not recommend using Contenu to create content for your website. There may be tens or hundreds of the exact copy of any YouTube video that you convert into text, because people who buy into this product will be doing it, searching for the best videos in their niche and generating the text version of it.
Instead, strive to add real value to your website visitors, the honest and proper way: by creating your own content, based on your own knowledge, expertise, and experience in the chosen niche area of your choice. If need be, go ahead to do research on any topic that you intend to write about, but NEVER EVER plagiarise.
Search engines will heavily penalise your website for it, and you may never be able to recover from it. It is not worth it to let something you have painstakingly built up disappear from the face of the internet because of trying to take shortcuts.
It is tough building an online business that can earn you a full time income, but it is very possible with hard work, and the faith that you are going in the right direction. Many times, I have questioned myself, in my online journey, especially when I did not see real results despite putting in the effort.
But with the support of an awesome community, I knew it was the correct path, because that was what every successful internet marketer on there was doing. When in doubt, I asked, and I would be answered. Every other day, I saw a success story. I connected with these people, followed their blogs within the training platform and community, and got inspired by them.
I would not be here today, showing you the proper way to go about making money online, without this platform that helped me build my online business from scratch, from zero knowledge of setting up a website, to earning an online income now, which is growing to be my passive income stream.
There is a free starter members area, check it out and see if it speaks to you like how it did to me. Zero risk, as you do not even need to provide any credit card details. Go in, take a look, you can always hop right out if it's not for you. But trust me, this will be a life changer.

---