It is a very recent trend that I am hearing and reading about Survey Junkie complaints everywhere.
They used to be a hot favorite among their millions of users, but things seem to be going downhill these days.
Here I uncover the truth about what is really happening with Survey Junkie, so that you can make a better informed decision as to whether you should join this platform to make some side income, or if you're already with them, whether they are still worth your time and effort.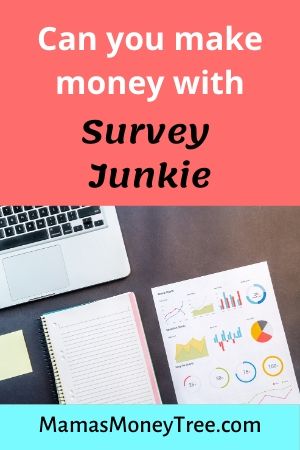 Welcome to my Survey Junkie review.
In this article, I will provide an honest and in-depth look at Survey Junkie, by examining all the details from ways to earn and payment methods to users' feedback and all the pros and cons of this well-established survey platform.

Without further ado, let's dive right in now!
---

Survey Junkie Review Summary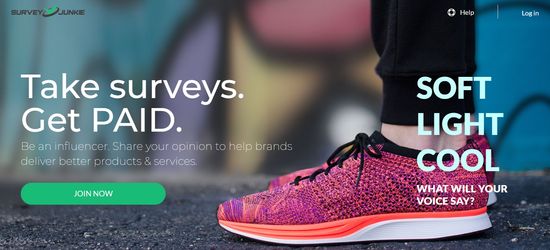 Product: Survey Junkie
Product type: Survey platform
Price: Free
Scam / Legit? : Legit
Recommended or not? : Yes, still recommended as a trustworthy source of side income
Survey Junkie, like any other survey platforms, provides you the opportunity to earn some extra pocket money by completing surveys.
It is a legitimate site, but in recent months it has been receiving a number of negative reviews from its users. Fortunately, many of these had been resolved, such that on the whole, the good still outweigh the bad.
From what I can tell, it is still one of the more reliable and trustworthy survey platforms out there. If you have some time on your hands while commuting, or just unwinding after a hard day at work, and would like to make some quick cash, Survey Junkie may be your answer.

Read on for the detailed review of Survey Junkie, and why I still recommend it even though its user experience seems to have seen a drop in recent months.
---

What is Survey Junkie

To tell you the truth, I started off intending to write a raving review of Survey Junkie, as I know it to be a very well-established and popular survey site, with great track records in terms of customer satisfaction and payment terms.
But as I began doing my research on it, I was quite surprised at the number of negative reviews that showed up.
I know I can't dismiss those complaints and treat it like I never saw them, just because I still think Survey Junkie is worth promoting. I owe it to all my website visitors to present the facts honestly, so that you can decide for yourself if Survey Junkie is still worth your time and effort.
Let's try to take an objective look at the platform and how it works, before revealing what its users have to say about it.

Signing up with Survey Junkie
Signing up is an easy process (oh, by the way, it is only available to people in the U.S., Canada, and Australia). Once you complete the registration process, you get 25 points!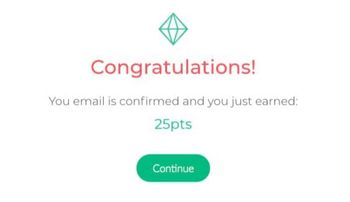 Go on to complete your profile, and you get to earn more points.
One thing to take note is always be completely truthful when completing your profile, because the survey site will assign surveys to you based on those information.
If the profile information is not accurate, it will show up as you are doing the survey, and you may get disqualified half way through it, which means time wasted.

Complete surveys to earn money
The main method to make money with Survey Junkie is, of course, to complete surveys. You will receive notifications of surveys that are available to you, with the points that will be awarded upon completion, and the estimated time required.
100 Survey Junkie points is equivalent to $1. To cash out, you need a minimum of 1000 points (which is $10).
You can cash out your points via your PayPal account, or through electronic gift cards. The gift cards are for popular brands like Amazon, Target, Starbucks, and more.
This minimum amount of $10 required before you can cash out is rather low, when you compare across all other survey platforms. This is one thing I really like about Survey Junkie.
There are other platforms that need you to accumulate $30 worth of points before you can cash out. Many people give up simply because it takes too long to see any tangible reward.
But the thing with Survey Junkie is that the first cash out or so is usually done without any problem, which tends to give people a positive impression of the payment system being a very efficient one, leaving them happy customers.
Subsequently when you try to cash out more, that is when the problems may start to come in. We will take a look at this issue further down in this post.

Join Focus Groups to earn money
There is a second way to earn money in Survey Junkie: join their focus groups.
You have to first meet their requirements, as they do have certain demographic criteria, depending on the conditions set by the company that asked to form the group.
Once you are in, you get to express your opinions in a slightly different way from the conventional surveys. It may take a bit more time and effort, but you can be quite sure the earnings will be higher too.
So definitely try to find your way into some focus group and try it out.

The potential earnings with Survey Junkie
With this platform, if you clock in at least 20 minutes a day to do surveys, for 30 days in a month, you would likely be able to make $20 to $80 in that month.
You can consider it good coffee money, so go for it if it's what you are looking for.
However, if you're consistently using up big chunks of your free time engaged in online surveys, then you may want to seriously reconsider how this time can be put to better use.

Survey Junkie Complaints

These are the Survey Junkie complaints I have been talking about: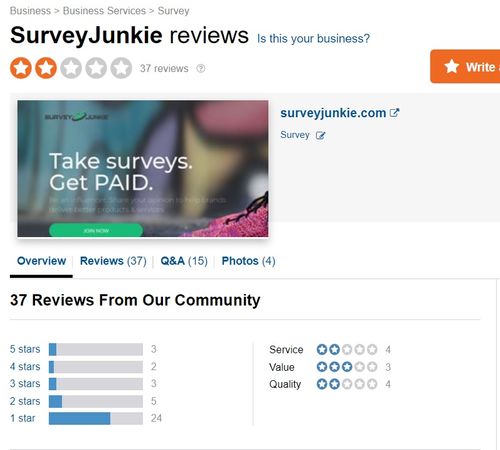 On this review site, the vast majority of the users gave Survey Junkie the lowest rating.
Many complaints have got to do with not being able to redeem points because of some problem with the verification process.
This definitely created some angry users, and they made known their unhappiness loud and clear. To them, this is extremely unethical and unfair because they had already completed those surveys, and even accumulated enough points to cash out. Survey results must have been delivered to the companies.
Email verification was the very first thing that was done upon any new signup.
What logic is it that only when users try to get their hard-earned money then they are faced with verification problems? This is perplexing.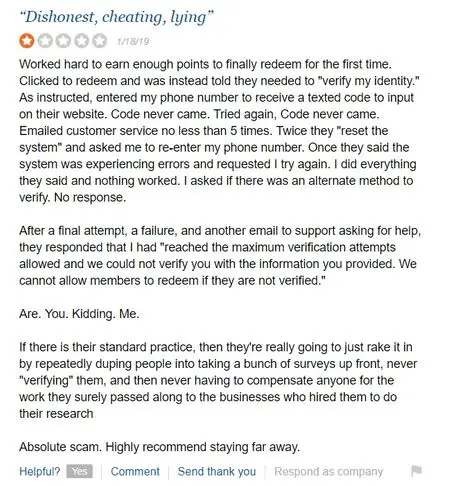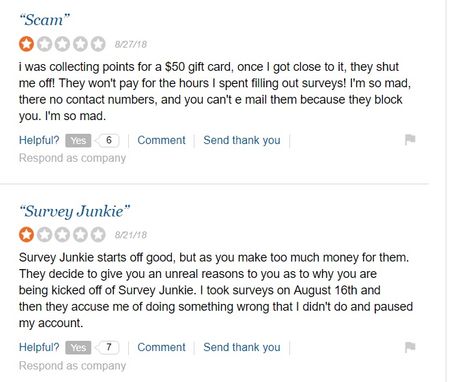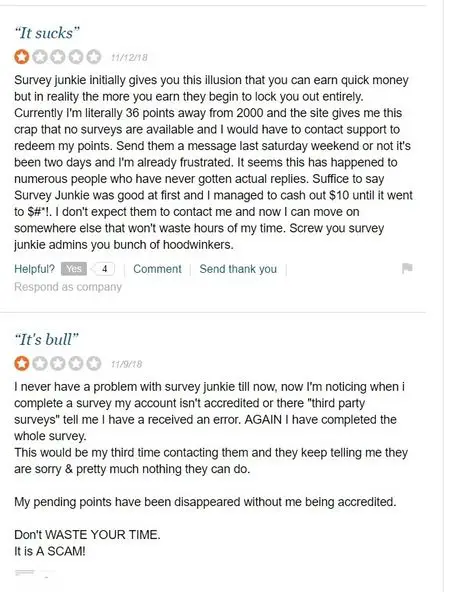 No doubt, the number of complaints is still the minority of Survey Junkie's users, but that is only because they have millions of users.
It is a fact that negative reviews about their payment process are sprouting up everywhere, a lot more in 2018 and 2019 than ever before.
June 2020 Update: Survey Junkie seems to have redeemed itself over the months since this post was first published. On Trustpilot, 88% of the 16,800 users who left their feedback gave it a rating of 4 or 5 stars. The vast majority find it an honest platform reliable in payments, but feel that it is time-consuming, with surveys that should be worth more.
Thus I believe the Survey Junkie team working behind the scenes has made drastic improvements in their processes, and it is showing up on customer satisfaction survey platforms.
Do check it out if you like:
Having said that, no surveys in the world can ever let you quit your job and earn a passive income. No surveys can let you earn while you sleep.
How about shifting gear from chasing after a few small bucks, to building up your very own work-from-home business that can eventually allow you to lead a laptop lifestyle?
Here are my earnings on a recent day: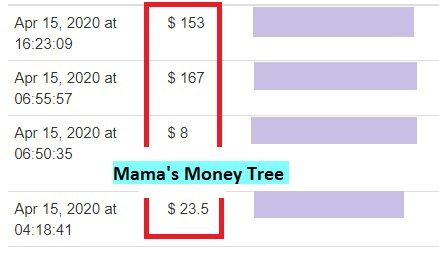 That's $350 in a day. Nothing to boast about, as it is still far from reaching its full potential. I just wanted to show you the vast possibilities here.
If it sounds good to you, allow me to show you all the details of how this can be done. Check out the link below:
---

Pros of Survey Junkie 

1. Legitimate way to Earn on the go
It is a good way to earn a few dollars if you have some little pockets of spare time here and there, like half an hour on the train commuting to work. It is a productive way to spend your time, rather than doing nothing, or mindlessly scrolling through your feeds on social media.
It is easy to use, and convenient. Surveys are simple to do as well.

2. Low minimum cash out amount
At the minimum of $10 cash out amount, it is relatively low compared to some other survey platforms. So that makes you more motivated to work towards this easy target, as you can see tangible rewards within reach.

3. Established survey platform with proven credibility
Survey Junkie has seen its share of complaints, which is pretty normal for any survey platform, due to common unavoidable issues like being disqualified from surveys half way through.
Nonetheless, it has redeemed itself and proven its worth since being plagued by unhappy customers many months back.

Cons of Survey Junkie

1. Low earning potential
I recognize survey sites as easy ways to make some quick bucks legitimately, but personally I do not use them, as I find them not worth the time and effort.
On Survey Junkie, the hourly earnings average at $3 to $4. That is, provided everything runs smoothly for you.
If you ask me, our time is worth much more than that.

2. No mobile application
There is no mobile interface for this survey site, so using it with your mobile phone may prove to be a bit awkward. It is more user-friendly when accessed from a computer.
June 2020 Update: Survey Junkie can be used as an app on your mobile device, so there is no more issue with it not being responsive on your handphone.
---

Is Survey Junkie Scam or Legit?

Survey Junkie is definitely a legitimate platform to earn by completing simple surveys. They have been around since 2013, and have proven their trustworthiness in the industry.
If you are looking for a good survey platform, Survey Junkie fits the bill, and I do recommend it.
Other survey sites that may interest you include:
– Inbox Dollars
– Swagbucks
– Vindale Research
– Toluna Surveys
– OneOpinion
– PrizeRebel
– LifePoints
– Mindswarms
– OfferNation
– RewardingWays
– InstaGC
– PointsPrizes
– Unique Rewards
---

Alternative

Survey Junkie is a great choice when it comes to survey sites.
But it is not going to make you rich, as is explicitly stated on its website. So why not better spend your time on building up your very own online business?
Given patience and hard work, it can earn you a full time income, depending on where you want to take it.
It is definitely not MLM, in case that's what you are thinking right now.
It is about setting up your own website (I did it from scratch, with zero knowledge, so I know anyone can do this), in a niche of your choice. When you make your business center around your passion, it no longer feels like work.
This is a very lucrative way to make money online, and not just earn peanuts, but make a full time income out of it. Learn exactly how it can be done here:


And for reading all the way to the end of the post, I believe you have it in you to make this work. Here is your FREE PDF Guide: 4 Simple Steps to Making Money Online. Fill in your details to claim it:

If you have any concerns or questions regarding this Survey Junkie review, do comment below, and we will start a conversation from there.
---