When it comes to survey sites, some provide good earning opportunities, others are outright scams. Is Mindswarms legit? Does it really pay $50 per survey, or is it another waste of your time?
Welcome to my Mindswarms review.
This is crazy:
$50 per survey, or $10 per question, is something I have never seen before, on any other survey platforms. Does it really pay out? Or is it an obvious scam?
We will answer these and more in my honest and in-depth Mindswarms review, as I explain something unique about the way you are supposed to complete the surveys, and point out some common issues faced by its users.

Without further ado, let's dive right in now!
---
Mindswarms Review Summary
Product: Mindswarms
Product type: survey site
Price: free to join
Scam / Legit? : Legit
Recommended or not? : Recommended, but this needs patience
Mindswarms is a survey site, but it is very different from any other I have seen, in the format that you have to complete the surveys: by answering the questions in the form of a video.
It is a legitimate platform that does pay out to members, via PayPal, and right after your submission is checked and verified.
The main issue is that there are too few surveys that people can qualify for, and the customer support seems to be rather slow in responding to queries.
While you are waiting and banking on the hope that you get qualified for a Mindswarms survey soon, why not check out my #1 recommendation to making money online:


Read on for the detailed review of Mindswarms, and why I say you really need some patience for this to work.
---
What is Mindswarms
To find out what is Mindswarms, let's first take a look at its home page.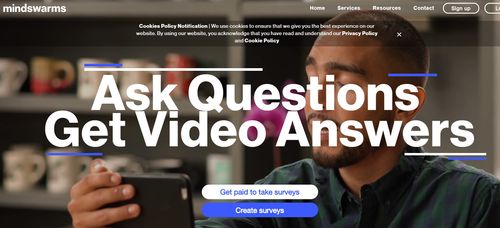 It is a survey platform, where market research companies pay them to collect data and information through surveys, so when you complete a survey, Mindswarms shares a part of their revenue with you, for doing the work.
The huge difference here, which sets Mindswarms apart from most other survey platforms, is the format in which the surveys are being conducted.

Answer surveys questions using videos
Instead of a 'pen and paper' type of survey where you click your options, or type out your response, the surveys in Mindswarms are submitted through video recording of your answers to the questions posed.
This makes it a very refreshing way of doing surveys, and I guess the companies that do this want to look at the entire person in his or her response, including the attitude, body language, etc. and not just written answers.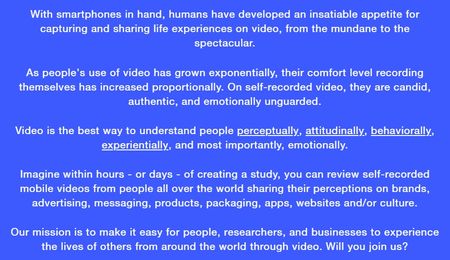 They want to see the real 'you', so to speak.
This is not all. The most exciting thing about Mindswarms is that they actually pay you $50 per completed full survey of 7 questions!
Frankly, I have never seen such high earnings before, on any survey platform that I have reviewed. There are those that promise to pay $30 per survey, but unfortunately, those are all scams, simply data harvesting sites camouflaged as survey sites.
But on Mindswarms it is different. They are a legitimate company that has been paying out to its members. More on that later.
For now, let's see how one can sign up with them

Signing up with Mindswarms
The great thing about Mindswarms is that you can sign up with them no matter where you are in the world. Besides the usual email address and name, they will also need your age, home address, and PayPal email.
Signing up is free and easy.

Create your profile video
The first thing you do after getting onto Mindswarms is to create your profile video. This will allow companies to know you better, so that they can better decide if you are the right person to take part in their surveys.

Apply for surveys on Mindswarms
On the dashboard of your account, you will get to see any survey that you pre-qualify for, based on your profile.
If you are interested to participate in those surveys, you would have to apply to them. The application process includes answering several multiple choice questions.
Then you wait to hear from them through email, about whether you eventually qualify to do it. Waiting time is usually 24 hours.

Completing surveys
For surveys that you actually qualify for, you would have to answer the questions through video recording, following the guidelines and requirements listed.
It could be a standard survey consisting 7 questions, or just a short one-question survey, or any other number (which are less common) depending on what the company is trying to do in its data collection.
In taking the video recording of yourself answering the survey questions, you can use your mobile device, or your desktop or laptop, as long as it has a webcam and a microphone. You do not need any special equipment.
There are some surveys that ask questions about a certain product, and the fact that you own the product would likely have qualified you. In some cases, you will need to have the product with you while doing the video recording, so get prepared for that.
After you are done with the video, simply submit it, and wait for it to go through the verification process, which usually takes another 24 hours.

How much do you get paid
For a standard 7-question survey, you will be paid $50. For a one-question survey, you earn $10. Anything in between, the earnings will be somewhere in between as well.
Yes, this is for real, no kidding.
I couldn't believe it myself when I learnt about this. BUT, don't be too happy yet, let me show you some of the negative points after the next section, before you go running to sign up and apply to do surveys.

How do you get paid
The payment terms of Mindswarms makes it so unique. After each survey, cash goes into your PayPal account directly.
It will not show up on your dashboard, it doesn't come in coins or points or whatever else. It is just money that goes straight into your PayPal account. You do not even have to accumulate to some minimum threshold in order to withdraw it, like all other survey sites.
There is no other form of payment, though. So if you do not currently have a PayPal account, you should get one first, before trying to sign up to Mindswarms.

What's the catch to Mindswarms
Yes, the amount they pay you for each survey is quite incredible, but think about it. Where does this money come from?
There must be companies that are willing to pay this much. In fact, more, because Mindswarms will take its cut as well. And where do we find so many companies willing to pay more than $50 per survey participant?
I guess you can see by now, it must be quite rare.
Hence it is not surprising that there are so many complaints about the number of available surveys being few and far in between.
The moment there are available surveys, you can be sure the number of people applying will far exceed the available seats. So the companies get to take their pick, only selecting those who they think can really provide the information they are looking for, I guess.
So if you are giving this platform a go, be prepared that you may be spending lots of time applying to surveys, answering questions involved in the qualification process, and yet end up earning nothing if you eventually do not qualify.
This is a common frustration faced by many of its members.
But once you qualify, grab the chance because it will be an easy job, spending about 20 minutes to record yourself answering the questions, and then having $50 paid straight into your PayPal account. How cool is that?

Slow customer service
It seems that in recent years, more people have been complaining about Mindswarms' customer service not getting back to them promptly.
I get the feeling that the platform is seeing a downturn on the number of companies willing to pay such a high rate for video surveys.

Is Mindswarms Legit?
Yes, Mindswarms is definitely a legitimate survey platform, which will pay out promptly if you submit video surveys that meet their requirements.
The thing is, you can't depend on this platform for a steady income stream, because it won't be able to give you that.
If you can be qualified for one survey per month, I think that would be already considered a very lucky thing!
Other great survey sites and GPT (get paid to) sites include:
Swagbucks
Inbox Dollars 
InstaGC
OfferNation
OneOpinion
PointsPrizes
PrizeRebel
RewardingWays
Survey Junkie
Toluna
Vindale Research

The more reliable way to make money online
I want to show you a method to make an online income, where you do not have to depend on any platform or company giving you the job.
It is not as easy as doing surveys, but with hard work, it can be built to eventually replace your full time regular job.
I am now working full time from home, growing my internet business, and making an online income. I started from scratch with zero knowledge in this area. If I can do it, you can, too.
Here's a peek into my earnings on a recent day:



That's almost $200 in just one single day. It's nothing to boast about, though, as it's just a small fraction of its full potential. I just wanted to show you the possibilities.
Check out this training platform that provides all the resources, tools, along with an entire community of aspiring as well as already successful online income earners. The best part is, you get to start for free:
---
To round up this article, let me recap and summarise the pros and cons, before I finally make my conclusion.
Pros of Mindswarms
1. Established survey platform that pays out
Mindswarms does pay you for the work that you do, they will not cheat you of your time and effort.
2. Earnings are huge
$50 per 7-question survey is huge.

Cons of Mindswarms
1. Not easy to be qualified
Companies cannot afford to pay everyone who pre-qualifies, and this simply means that for every opportunity, there could be many people who are disappointed.
As long as you are mentally prepared for this, then hopefully the frustration will be more manageable, because you may spend a lot of time trying to get yourself qualified, and end up not earning a single cent.
2. The country you are in can affect your opportunities
This is true for any survey platform that is open for anyone from anywhere in the world to join.
---
Recommendation
Mindswarms is a great and honest survey site, totally transparent.
If you have a PayPal account, go ahead and give it a shot if you would like. But do be prepared for the frustrations you may experience if you go for months without qualifying for a single survey.
If you do not want to depend on such platforms for your earnings, let me show you how you can build up something big, that you can call your very own.
This real deal does not promise instant results, but instead provides the knowledge and lifelong skills required to grow a successful online business, which is exactly what I have done. Check it out by clicking on the button below:


And for reading all the way to the end of the post, I believe you have it in you to make this work. Here is your FREE PDF Guide: 4 Simple Steps to Making Money Online. Fill in your details to claim it:


If you have any concerns or questions regarding this MindSwarms review, do comment below, and we will start a conversation from there.
---